What a good night's rest. Last night was going downhill fast and then it shot back up the hill after we met Hector and he gave us such a nice place to stay. We made plans to have breakfast with Hector and Lorenzo so we got up early. After a quick grocery run to AMPM we were stocked and ready to go. The fresh croissants were AMAZING! Wow, I should have bought more. We had a nice breakfast with the guys in the house and heard about their adventures from the previous night. Unfortunately Hector had to leave early to go to a bike rally so we said goodbye and got a group photo.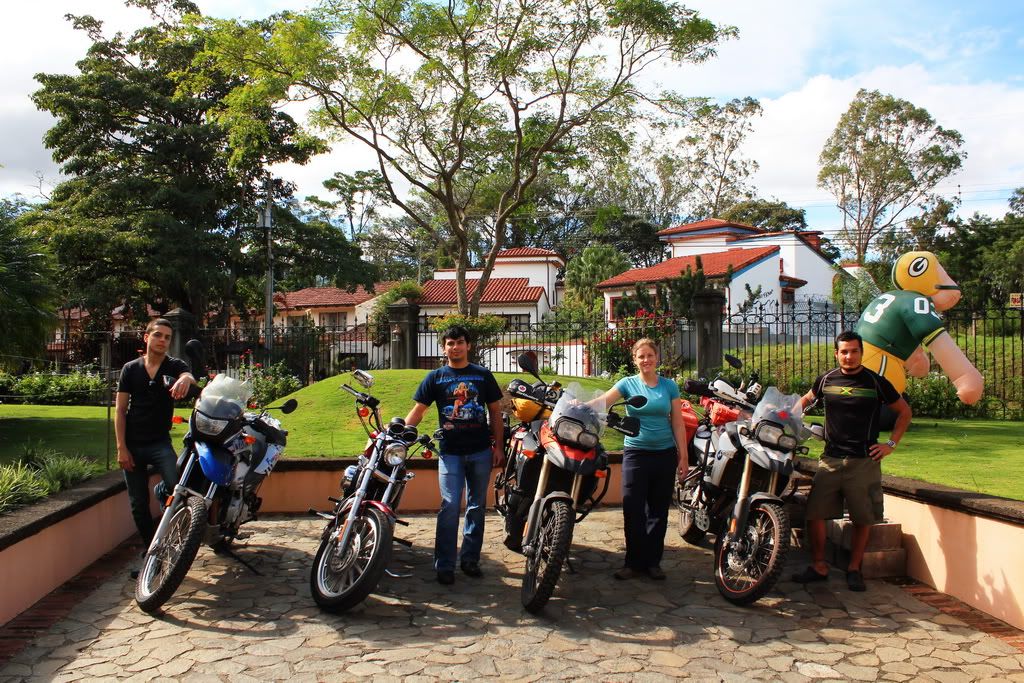 Outside with the bikes
We spent the rest of the morning doing laundry and getting things up-to-date on the internet. We also played with the dogs. They were so cute. By mid-day we were ready to leave. The sun was out, and it was actually quite hot. We knew it was going to be tricky navigating ourselves to HWY 32 but off we went in sort of the right direction.
We got hopelessly lost, asking for directions and getting turned around several times over. In the end Alberto sent me to ask for directions and a fellow motorcyclist offered to show us the way. I didn't realize it at the time but I was using the ol' Daryll technique. The biker weaved his way along the tiny roads and took a million different turns (we weren't going to find our own way). He sent us on our way at the sign that said San Isidro (with an arrow). Oh the illusive San Isidro, how you had evaded us until now. We took a few more wrong turns until we eventually found 32, but we didn't have to go back into San Jose.
We had to pay a toll 50 colones (which is almost nothing) per motorcycle to take the road but it was well worth the effort to find it. The road travels through the Braulio Carrillo National Park and I thought it was amazing. We were driving through a mountainous rain forest. The vegetation was so dense and green, it was almost taking over the road at times. It was a cool experience, and I enjoyed it very much. It was the type of scenery I image when I think of Costa Rica.
Once we popped out on the other side we were on the hunt for a place to stay. First we tried Guapiles, but all we could find was a fancy country club/hotel. Then we tried Guacimo but it looked like a sad town. We were starting to get worried that the search for a hotel would end up as successful as last night but while driving on the highway en route to Siquirres (our last stop to find a hotel) I spotted a hotel: Rio Palmas. Interestingly enough, it turned out to be a nudist hotel. It could have been a cannibal hotel for all we cared, we were happy to find a nice hotel within our budget for the night.
The owner was from Florida and she was amazingly friendly and helpful. We had a delicious meal at the restaurant and went for a swim in the pool. There were nudists about but I guess a lifetime of growing up on SSI and certain someone's affliction for gardening naked prepared me well for an occasion such as this. I didn't really notice.