While I had a bad first impression of Nicaragua it was quite the opposite with Costa Rica. I think Costa Rica and I are going to get along very well.
Another hot and steamy morning in Granada. We packed the bikes and hightailed it out of there. When we reached the Panamerican highway I assumed we should go left (since that seemed like the logical thing to do) but again there were no signs. I just had to assume. It was the correct decision, but it's more comforting when there is a sign to confirm that you've made the correct choice. It was a windy ride on the road. The road follows the coastline (more or less) of Lake Nicaragua and I guess the wind whips across and then onto the road.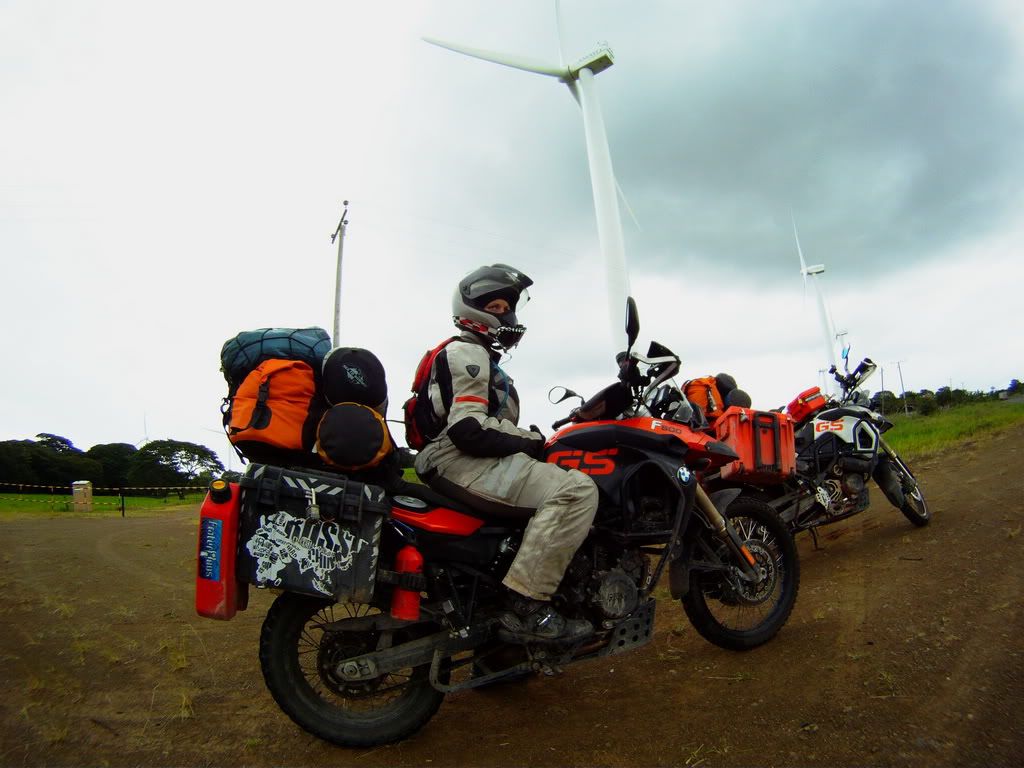 Windmills to take advantage of the strong wind
We got a glimpse of Isla de Ometepe from the road but sadly the peaks of the volcanoes were covered with cloud and of course there was nowhere to really pull over and take a picture (the story of our lives). This border crossing had the potential to be very painful because it is more or less the only border crossing.
It was a really ugly border; a dirty mess both in terms of paper work and general appearance. Very muddy and completely disorganized. It took us about an hour to exit Nicaragua. The line-ups were pretty crazy because tour buses come and go and tons of people get dropped off at once. Thankfully the Costa Rican side was much more organized, though it still took us quite some time to get everything sorted out.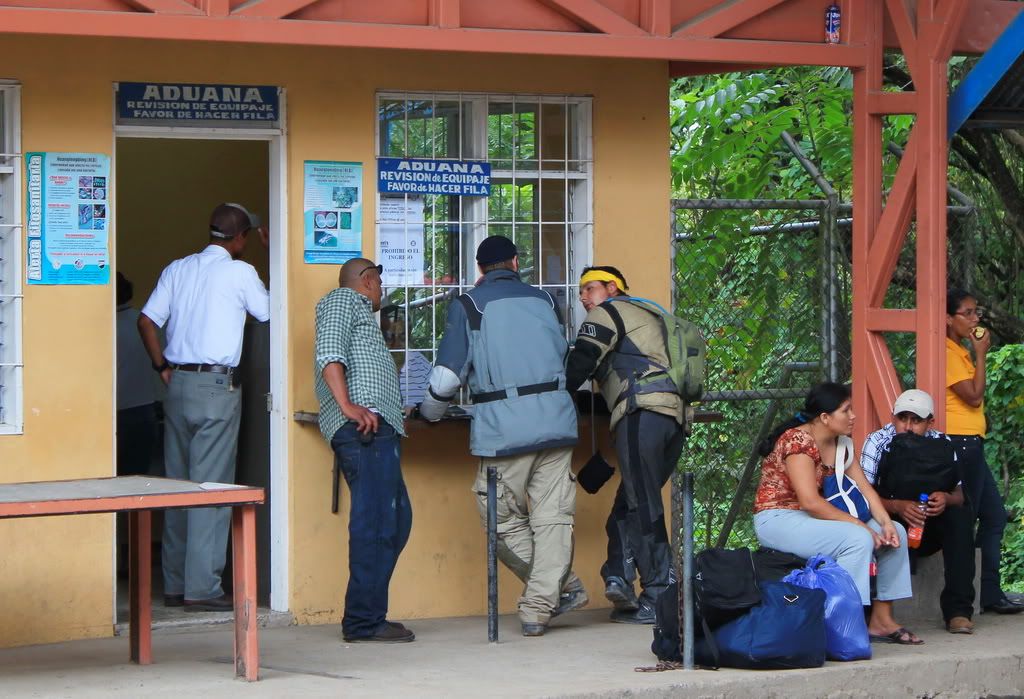 Alberto and Throttlemeister trying to figure out the border
It was raining by the time we left the border (the customary afternoon rain shower). We didn't have far to go though so we didn't bother with water proofs. After a quick gas and money stop we made our way to Santa Rosa National Park. It was so nice. It was organized and civilized just like a Canadian or American park. We camped next to an huge funky tree and watched the wildlife: huge birds, deer, monkeys (though not at the campground).
The campground: with a picnic table!
Final Thoughts Nicaragua:
We didn't really stay in Nicaragua long enough to have any final thoughts. The roads were very nice and the drivers were more laid back that other places we've been.
Lake Nicaragua was a disappointment. There were very few speed bumps though. Which is always nice.