During the night it started to rain, and continued to rain all night. It was absolutely pouring down when we woke up this morning. The field we were camped in was half field, half lake. We waited out the rain and ate some breakfast inside the tent. The rain didn't stop persay but it did relent a tiny bit. We saw our opportunity and grabbed it. We quickly packed everything and drove East.
To illustrate the soggyness
Once on the road the rain varied from extremely hard to light drizzle. Either way we got very wet. The route we wanted to take wasn't exactly straight forward; it involved lots of turns and new roads but it was more or less easy to navigate thanks to the signage in Costa Rica. Only a few times did we have to take a leap of faith and assume we were going the right direction based on process of elimination. Our final navigational change came when we took an awkward right hand turn towards Volcano Poas. The road was fun and it seemed like it would have been scenic but 150m from the road was engulfed in a gray haze.
The road was narrow, windy and straight up. Then there was a series of signs (which I blissfully missed as I drove along) stating "No Access" and then a second sign "Detour" and lastly "Road under maintenance". We drove over a bridge and then the road turned to dirt. The road alternated between terrible weathered pavement and dirt. It was a windy mountain road and pretty fun. We had no idea that today would turn into such an adventure. The rain had subsided somewhat and was coming down only lightly.
For our efforts we got to see a cool waterfall
We arrived back into civilization shortly after 1pm. We were only about 30km from San Jose (the capital) and you would have never guessed it by the state of the road. The plan was to find a hotel anywhere in the area and take it easy for the rest of the day. We were both wet and I was cold. The only thing on my mind was a hot shower and dry clothes.
We started the search for a place to stay in Heredia. After driving around (stopping, asking) for almost an hour we found no suitable matches. We were only 7km from San Jose so we decided to drive into the city and find the BMW dealer. They had not answered our emails or the phone when we tried to call them yesterday. We made it to the BMW dealer (with the help of a taxi driver) but it closed at 1pm on Saturdays.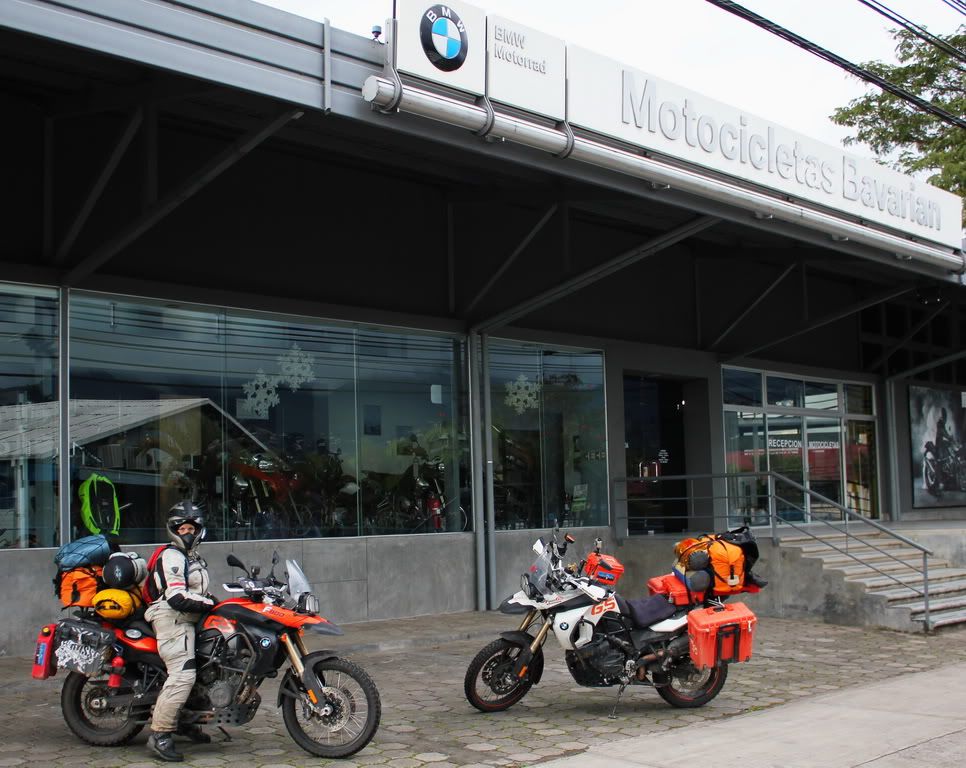 Lurking outside a closed BMW
It was now after 3pm so we restarted our search for a Hotel. Again we could find nothing suitable. We did find a Subway so we stopped for a bite to eat. It was delicious. Our last ditched plan was to go downtown and find a hotel. We stopped at a Days Inn; it was 112 USD for the night. We managed to navigate ourselves to the city center but it was dirty and a bit of a disaster to drive in. Again we found no suitable options. Five o'clock was now approaching and we had still not found a place to sleep. We decided to give up on San Jose and drive back out of town.
We saw several Subways driving around San Jose
We were on our way back to Heredia to stay at the dirty hotel that was charging 36 USD/night. Beaten and tired we were ready to accept defeat. In situations like this a guide book, such as a Lonely Planet, would come in handy to point us in the direction of some cheap accommodation. While we were driving back a young guy in an SUV flagged us down. We talked to him and it turns out that he rides a BMW Dakar. He offered us a place to stay for the night and we gladly accepted. Hector (our friend in the SUV) led us to his home where we stayed for the night.
Hector's Dakar hanging out with our F8GSs
We are so grateful to Hector. We were given amazing accommodations. He came along at the perfect time. It turns out that he would like to do a similar trip one day. Good luck Hector and keep in touch.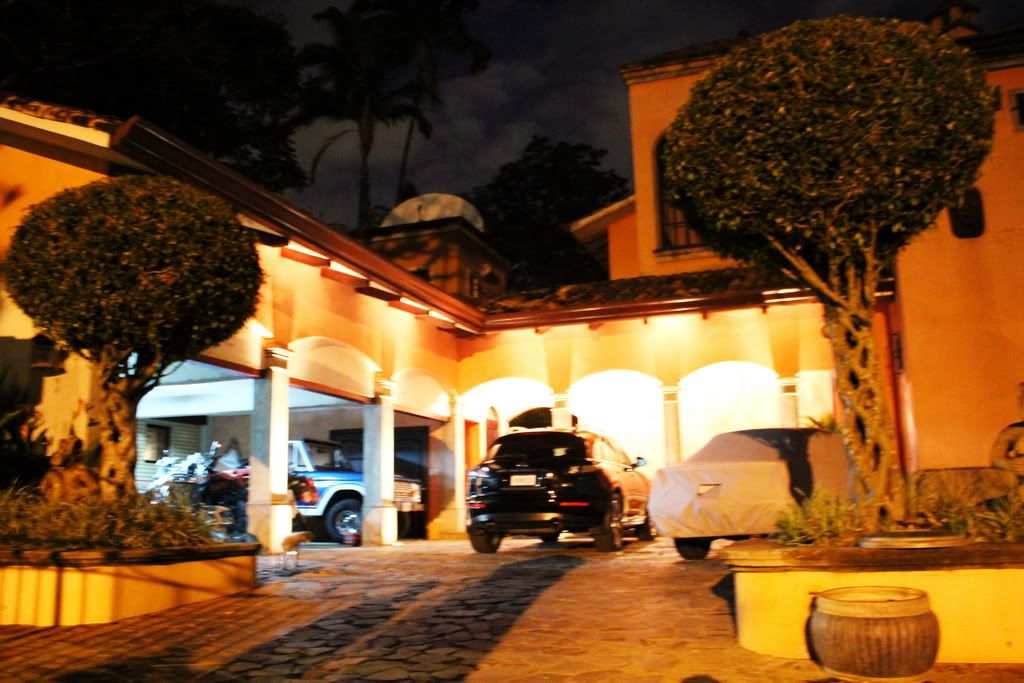 Where Hector lives