Tikal was under 70km away, so we didn't have a very big day ahead of us. We did all the hard work yesterday. The climate is slightly warmer here than from where we last were but it's still comfortable. Getting out of the hotel courtyard was a bit tricky but I managed.
The road to Tikal was well signed and quite pleasant. We made excellent time and before we knew it we were at the park gates. 150Q to get in you say!!! Oh my. I don't think Palenque was that pricey, but oh well. We are here now.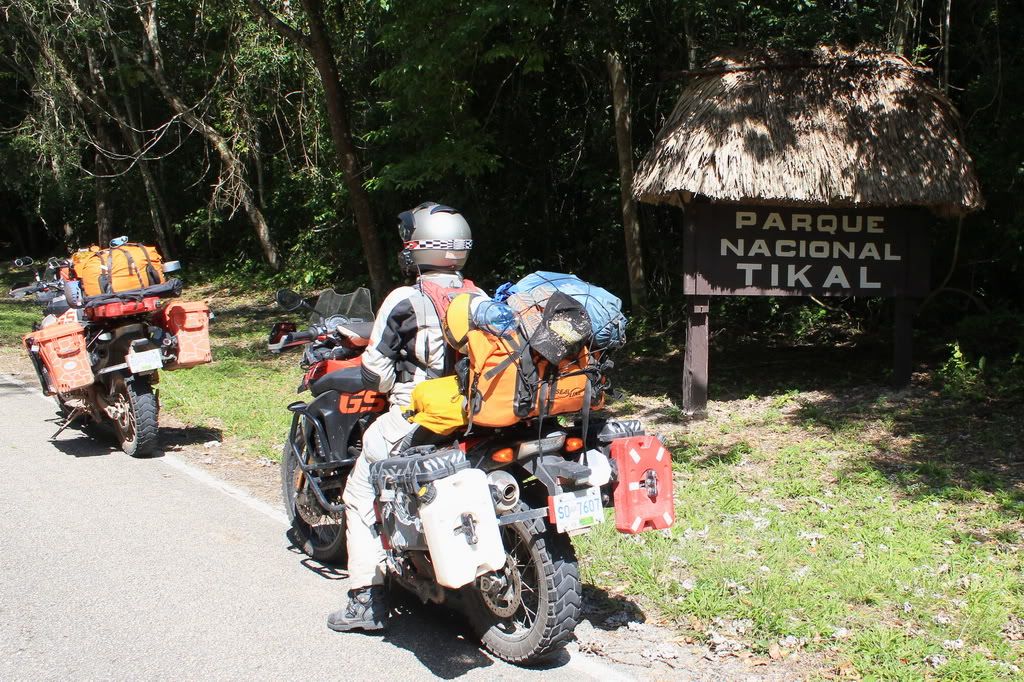 Entering Tikal
The drive in the park to the ruins is interesting. Lots of signs for different types of wildlife, including a jaguar (or maybe a puma). Either way I'd fall out of my chair if I saw a jaguar cross a busy road, it seems a little unlikely. It was still fun though looking out for animal sightings and we were rewarded with some wild turkeys and a Coatimundi.
Wild turkeys at the campground


Coatimundi crossing
Once we got to the end we asked information about camping. There were two options: Tikal official camping and Jaguar Inn. Both had their advantages but in the end Tikal official camping won out because of shade. We had to hike our stuff in, but it was worth it. There was also a larger wildlife component to the official camping, which I like.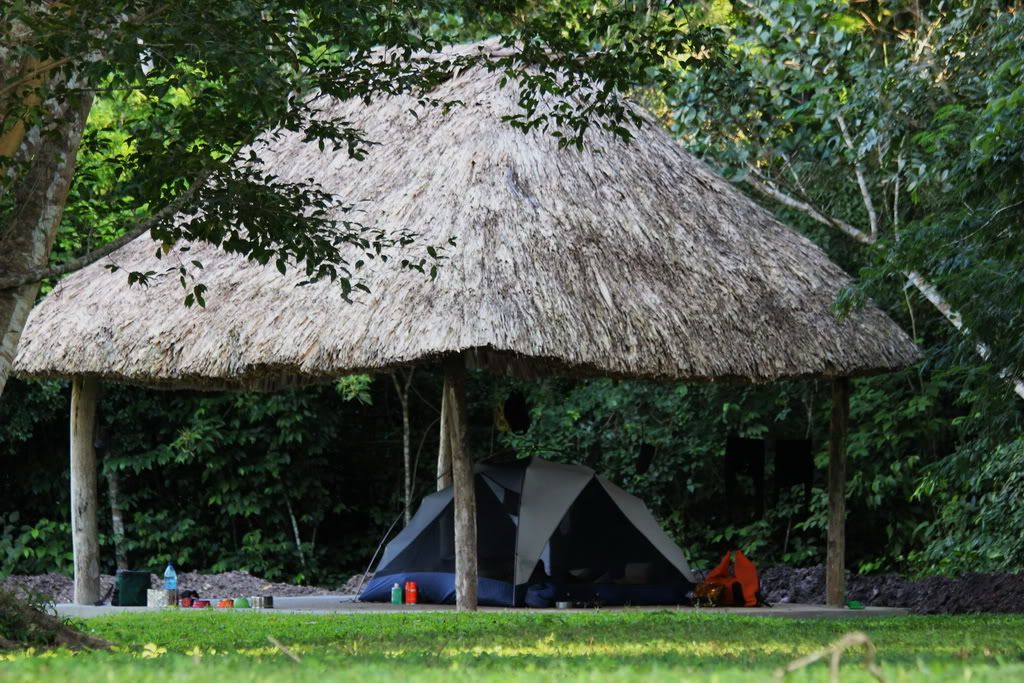 The camping we decided on
While I was grabbing something from the bikes I saw two BMWs arrive and go to Jaguar Inn. Later we went by to check out their bikes and met them: Aaron and Robert (650GS and 800GS). They invited us over for a drink and we happily accepted. Their neighbours at the Inn also joined us: John and Ann. Aaron and Robert are also going to Argentina so it was nice to talk with them. Aaron shared his Belize cashew wine which was an interesting but pleasant experience.
Once it got dark the party dispersed and on the way home we saw a rhino beetle. Holy moly it was huge. When it started to fly my initial instinct was to duck for cover. Back at our tent we listened to the amazing jungle noises and watched the light bugs dance around.