This morning it felt like we were waking up in BC. It was enjoyably cold over night, and it was raining when we were packing up the tent. We were camped among pine trees too, which just added to the experience. The dream didn't last and soon we were out of the mountains and back into the hot valleys.
We didn't get to check out that many of the lakes yesterday but since it was raining we just took off this morning. Yesterday we didn't make it to the nice big sign for the park so maybe it's really amazing if you go in at the big sign. The colour of the lakes (which is kind of the point) was muted by the rain as well so that played a part in our decision to continue on.
Today we needed to leave Mexico; our Visas were expiring today. It was a pretty painless exit: the road was nice but I lost the lid for my tool container. I guess Alberto's dream (nightmare) came true. Probably going over one of the thousands of topes (speedbumps). There weren't many signs indicating where the Guatemala border was, but we managed. Even though we had an excellent step-by-step for the border from Daryll and Angela we missed the Banjercito and Mexico Immigration. Maybe because at that point I was faced with a trifecta of vehicles trying to run me down. So with paper work to leave Mexico complete we headed back to the Guatemala border. There were a bunch of other bikes at the border (most likely doing some travelling after the Chiapas convention) so our parking spot was a little awkward. Alberto actually dropped my bike when he was moving it for me. It was hot at the border but pretty painless. The immigration officer didn't even try to scam us, and we never saw a fumigation guy.
So into Guatemala we went. It was an immediate topographical change: we were in the vertical mountains. Also we have now entered the land of Asian cars. We have seen a significant bias for Toyota, Mazda, Nissan … as opposed to the copious amounts of Chevy and Ford we saw in Mexico. Driver's seem to be slightly better so far, but it's still too early to tell. There was one guy we were behind and he was weaving ALL over the road. Alberto overtook me and got the attention of the driver, when he noticed the driver was completely drunk like a skunk. Gotta be careful with drivers. We made it as far as Huehuetenango where we thought we had the inside track on some camping. Turns out we didn't and it was sketchy so we overpaid for a hotel. We are just way too lazy to shop around for hotels at the end of the riding day. The good part was the amazing steakhouse next door. The food was amazing, though the speaker system outside was probably at 200 dB.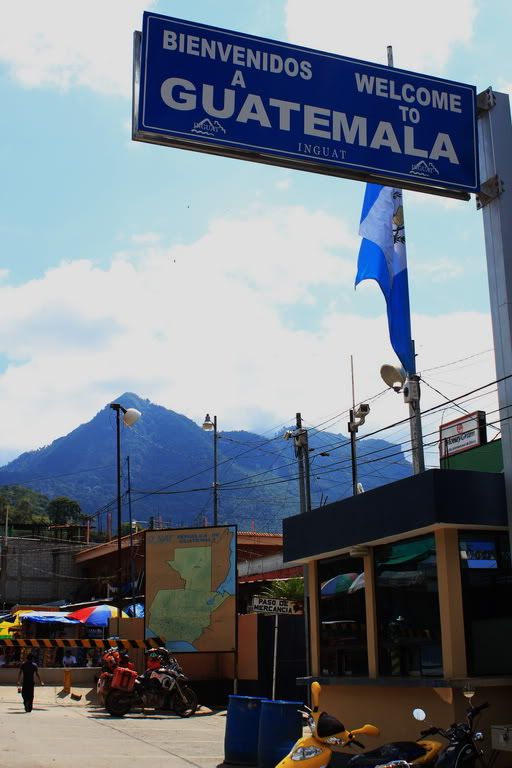 And here we go
Now that we have arrived in Guatemala we have started a new photo album:
CENTRAL AMERICA
We ended up having to make a route change because of the damage done to Veracruz and Oaxaca, so maybe one day we will need to come back and explore the Gulf of Mexico but we very much enjoyed our time in the country and our alternative route along the Pacific Coast.
The initial entering at Nogales was a massive culture shock. In particular noise pollution. Pretty much anything goes, from loud cars to random shops (like a pharmacy) blasting pop tunes from outside their doors. After getting over the cultural difference we found all the people we met were incredibly amazing: kind, generous, helpful … We only met one person that was difficult and that was the transit policeman in Hermosillo who had an unlikable personality. Also a special thanks to the Fraterhnos bike club in Chiapas for their generosity and kindness.
Mexico is a diverse country which makes it fun to explore by vehicle. You can travel to beautiful beaches or head up into the mountains (which is what we did). We very much enjoyed the scenery and natural side of Mexico. My favourite area was Chiapas, there was plenty of natural beauty to explore. We took a raincheck on the Yucatan Peninsula, the Baja and the Gulf of Mexico, but those will be for another time I guess. In general, the roads took some getting used to. This includes the roads themselves with inconsistent road surfaces all the way to drivers on the wrong side of the road. Probably the biggest Mexican road complaint was the signage, because we were expecting the drivers to be bad. It would be flattering to call it inconsistent because at best it was random. From warnings for tight turns and road construction to signage for important intersections. In most circumstances it's just not safe, so you have to drive with extra caution and slower than you normally would in a similar situation in Canada. I guess more to come in the rest of Latin America.
Food, that's always a key topic when entering a new region. Ironically, the best Mexican restaurant of the trip to date was El Rio in Baggs, Wyoming. Props to the Mexican family running the show there and put it on your list to stop anyone passing through. I guess I've grown accustomed to American style Mexican food. I found the food in Mexico not to my style: everything was picante. EVERYTHING. From fruit to some gummy candies I bought that had spicy gel centers. Why... why?? the best meals I had were when locals took us out, so I guess in this case local knowledge is an asset.
We only saw 3 other travellers while on the road in Mexico. Two of them on BMWs. All the BMW GS riders we saw and met at the BMW event in Chiapas had very clean bikes and tarmac-oriented tires. We only met one group of guys at the convention whose bikes had knobbys and were dirty: they rode back roads all the way from Mexico City to San Cristobal. In general I'd say that most of the Mexicans who own R1200GSs should get Ducati Multistradas instead.
Other random thoughts: In Mexico I saw the biggest diversity of cowboy boots I've ever seen. I've never seen such unique designs and materials for cowboy boots.
We went through many military checkpoints and probably got stopped at 50% of them. They typically asked: where are you coming from, where are you going? Sometimes they would look in our side cases, sometimes they wouldn't. Never were we asked for any documents or paperwork.
We found Camping a bit few and far between. We really had to be on the lookout for places to camp and it wasn't always cheap.
Internet was everywhere. We never had an issue finding good speed wifi.
Surprisingly I didn't find it that hard to understand people speaking Spanish to me. Well at least the men. I found it almost impossible to understand Mexican women when they spoke to me. I also can't understand anything when I'm wearing my helmet because of my earplugs and beanie.
The American and Canadian media have been scaring people away from Mexico, probably because they want people to stay home and boost their economy. We never had a single issue with security in the places we went or the places we passed through.
We stayed near the ocean for the most part which means that the weather we experienced was very humid. We only got rained on once and it was briefly.
All in all we really enjoyed Mexico both the coast and inland. We thought it would be cheaper but we ended up spending about the same amount or maybe more per day than we did in the US.
The big question is: knowing the level of safety and enjoyment we get from riding a motorcycle in Canada would we be bikers in Mexico? No, it's not safe enough for us. There are too many variables out of our control that make the experience to risky. But we would love to come back and spend time in the country.