Today we decided to leave the BMW event and do some exploring of our own of Chiapas. I was really looking forward to it since there is a lot of natural beauty in Chiapas. I was hoping to get back to my Canadian style touring over the next few days (camping/enjoying nature). Our destination for today was El Chiflon waterfall.
On the road to Chiflon
We went for breakfast with Victor, his wife and a friend from Guatemala. Then we did some shopping and one last stop downtown to say goodbye. Then we hit the road, which wasn't that easy since it wasn't very clear which way we needed to head out of town to get to the waterfall. Different people gave us different directions.... anyways we eventually found our way. The road sucked bigtime! It might have been the worst day of driving in Mexico. At one point the road was flooded and we had to take a rough detour route. There were no signs to get to Chiflon, which was surprising since we thought it was a tourist attraction. We made it though, but it was getting too late so we didn't have enough time to hike out to the falls. Our camping area was pretty nice though and the staff were very friendly.
The road suddenly was under water. Hmmm...
Alberto met some BMW guys (who were in the area for the convention). They were riding 1200s and wearing the BMW suits. They were complete snobs. They even asked Alberto how he likes the small bike. Afterward when he told me the story I say he should have replied with "the 8GS is a superior bike, otherwise I would have bought the 1200. duh". They also weren't staying for the night and took off out of the place like they were starting off the MotoGP grid.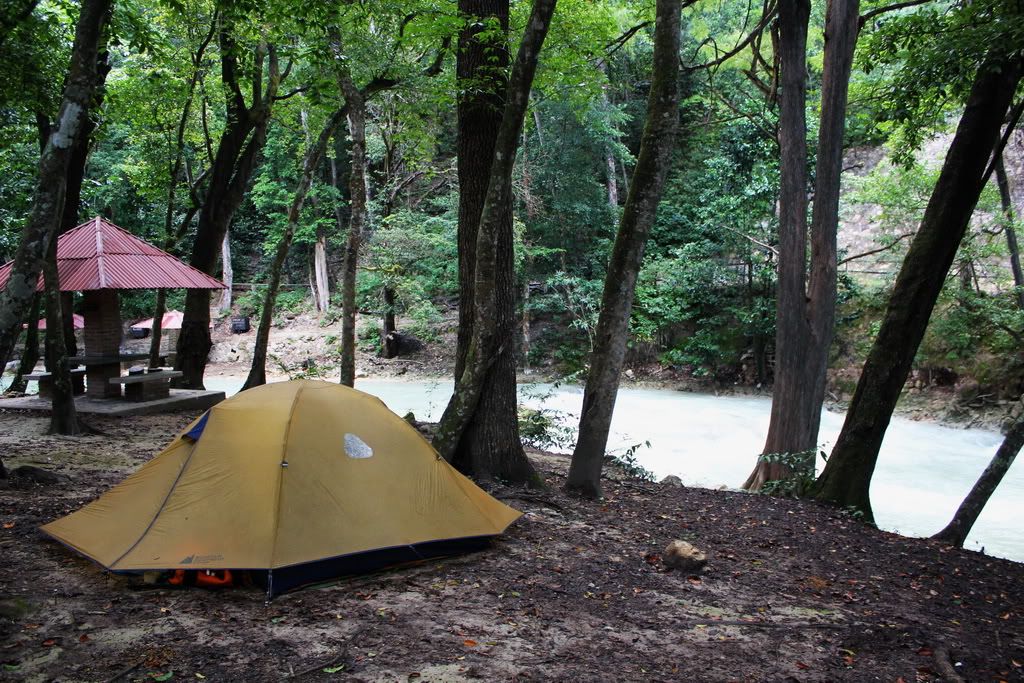 Special camping