Today we must have crossed half of Honduras. There were two routes we could take, according to our map, from La Ceiba to Tegucigalpa (the capital). Option 1: unknown road 41 and then highway or Option 2: soulless highway all the way. It was raining, and it had been raining hard. We tried to get confirmation from locals what the state of 41 was; pavement or dirt? We couldn't confirm the quality of road 41 so we had to surrender and take the mindless highway all the way to Tegucigalpa. We just couldn't risk ending up on a road that was mud soup and then having to back track.
The rain was on and off in the morning but we decided to wear our rain gear. For a while there (until we reached Tela) it looked as if it wasn't going to rain. I was a bit disappointed. If I am going to go to all the trouble to put my rain gear on and then go through the inconvenience of wearing it, it had better rain! Once we started heading south inland we got some rain.
We passed a beautiful lake, Lago de Yojoa, and then it REALLY started to rain. There was no messing around now. There were rivers running down the road and I could barely see. The problem with driving in the rain in latin america is that driver's don't drive with headlights on so it's very hard to pick out oncoming traffic. We seemed to drive over a summit of sorts before descending into Tegucigalpa and there was road construction going on. We got amazingly lucky because we were always in the line that was moving.
We were looking for a hotel outside or on the outskirts of Tegucigalpa but we didn't see any. So we followed the signs to the airport thinking there would be hotels there. Again we didn't see any. It was now dusk and I was cold and wet. At this point all we wanted to find was a hotel of any kind. We started to leave town and on the way out we found a terrible motel you can rent by the hour. Oh well, it had a hot shower. That was about the only perk, and it wasn't cheap! We started looking for a hotel about 1.5 hrs ago and this was the only one we saw.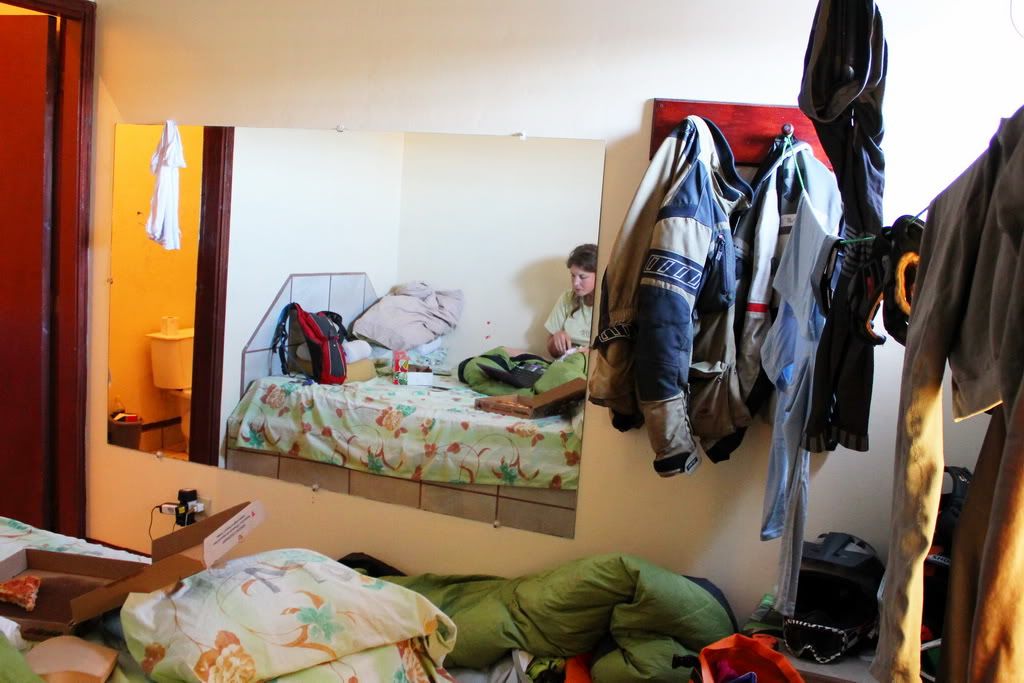 Drying out our clothes in our sad hotel room