We gained an hour by entering Guatemala, and subsequently we woke up really early because we weren't used to it. We had lots of things to do since we hadn't had internet access for a while though so we spent all morning using the internet.
We hit the road in the middle of the day but it wasn't too hot. Thank you Guatemala highlands. So much more pleasant to ride, and a nice change of pace compared to the roads in Mexico. Once we hit the intersection to go to Panajachel the road turned into a dream! It was two lanes, smooth paved and it was amazing. There were a few sections where there were detours because of recent slide damage but it was no biggie. The only thing you have to be on-guard about is the chicken buses hurtling down the road. They were probably doing 40kph faster than us and we were cruising.
When we reached the first turn off for Panajachel there was a sign saying the road was closed. We were suspicious so we confirmed with a guy at the gas station. Turns out it WAS closed but there was another way so that's where we went. There were tons of signs for the alternate route so we found our way no problem.
Since it took us a bit longer with the detour we arrived in Panajachel only with enough time to find the campground and get set-up before it got dark and rained. The campground is ridiculously expensive but it's nice and it probably has the best view to price ratio in the area. So we sucked it up and paid the big bucks.
The waterfront campground...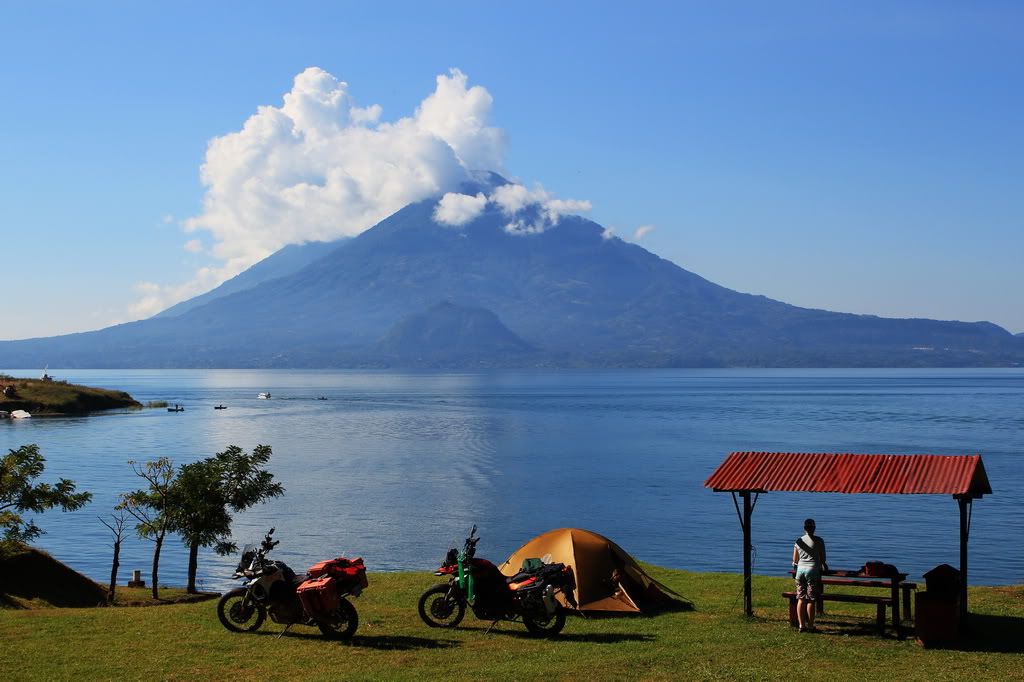 ... and the view!