Again the rain was coming down this morning. It is sort of the theme of our adventures in Costa Rica. Luckily it cleared long enough for us to pack the bikes and set out. Actually we put on our rain gear for nothing cause it didn't rain on us at all.
We were heading to the coast. Nowhere in particular, just to a nice beach somewhere. We figured we could decide when we got there. Soon enough we got to Puerto Limon. We didn't stick around but from the road it looked like a dirty place. All we could see was a cruise ship at the dock. We quickly took a right and headed for the Panamanian border. The road paralleled the ocean for a little while and then snaked inland.
Banana country!
We decided to stop for some food in Cahuita. It is a little sleeper of a town on the coast. The lunch was actually quite amazing, but again pricey. Food in Costa Rica is on par with prices in Canada. It's quite shocking actually. We picked up a guide book for the beaches and began to make some plans over lunch.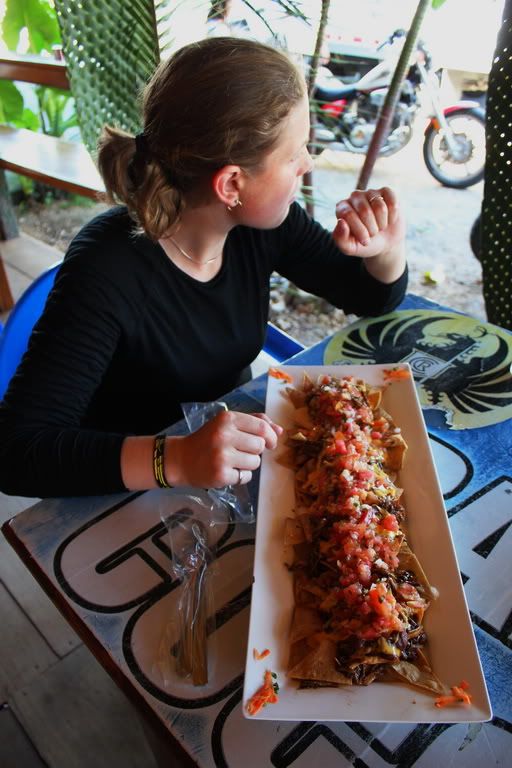 mmmmm nachos
Our first choice was Puerto Vargas in a national park. After lunch we drove up there but found out that they no longer offer camping. Okay Plan B was to check out a few campgrounds we'd read about in town. We found them all right but they were pretty sketchy, though in fairness they were quite cheap and near the beach. We decided to give camping a miss and went into town to check out a cheap hotel option. We ended up staying at the hotel. By the time we got the bikes unpacked it was windy and rainy so we didn't even go to the beach.Time flies when you are trying to find a place to stay.
So we didn't achieve our goal of the day: going to a nice beach. I guess tomorrow is another day.