The morning was amazing. The sun was shining and the view of the volcanoes were completely uncovered by clouds for the first time since we arrived. There was also a pretty good wind (there were whitecaps on the lake) so that kept the climate pretty much ideal. It would have been an amazing day to go windsurfing but the locals appear to prefer kite flying. There were tons of people flying kites everywhere we went.
German inspired kite flying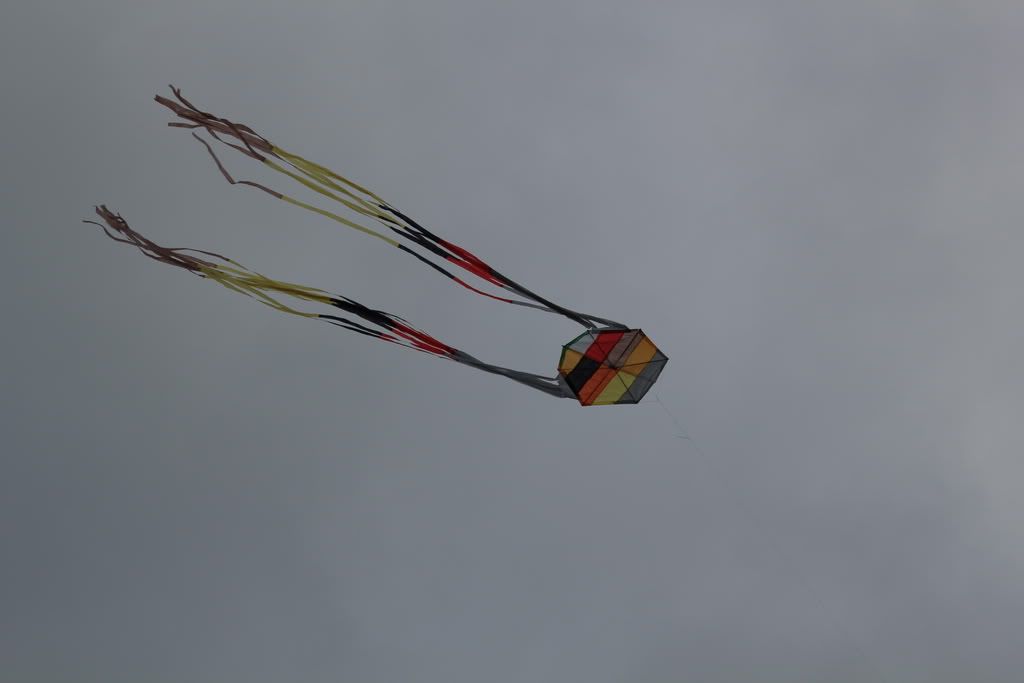 Flying proud
The route to Antigua wasn't completely straightforward and the section of the Panamerican highway we drove today wasn't as nice as before Solola. I missed the signs to head towards Antigua instead of Guatemala City and it was a huge pain in the butt to correct the mistake thanks to construction, but we managed. Then on the road you have to take a left, which is unsigned. Thankfully Daryll warned us of that fact so we did not fall victim to another error in navigation.
We arrived in Antigua and managed to orient ourselves with our tourist map of the city. Once we knew where we were we didn't really have any issues finding the free camping place that Duncan (a fellow traveler from Texas that was staying at the campground in Panajachel) tipped us off on. I guess paying to stay at Hotel Vision Azul paid off in that regard because we got some priceless advice.
When we arrived at the Tourism Police base (where we had been told we could camp) the guy manning the office was quite grumpy. He tried to tell us we couldn't camp there despite there being a sign right beside us saying "Area de Acampar: camping/RVs". We eventually broke him down and he let us stay but he didn't seem happy about it. It is primitive camping but it's free and very secure (since it's guarded by the police).
Tourist camping
Once we got settled we took a short walk to the market to buy supplies for our stay in Antigua. It was a fun experience and I finally managed to buy some cashews. Still no luck in finding dried guava, but we did buy a fresh one. I'm pretty sure dried guava is the perfect snack. I wish I could buy it everywhere; I'd never leave home without it.