When we left the room this morning to go have breakfast we were pleasantly surprised by the amazing views surrounding us. It was pitch black last night so we didn't notice anything, but this morning everything could be seen and the views reminded me of Montana a little bit. Breakfast was Americano, whatever that means. I did make an observation though, my bacon came practically raw. At first I thought it was just a crappy restaurant (since the service was terrible) but then my bacon at lunch was almost raw again. This was now a trend and not an isolated incident. Apparently in Peru bacon is enjoyed rare to medium rare as well. Too bad for you crispy bacon lovers out there.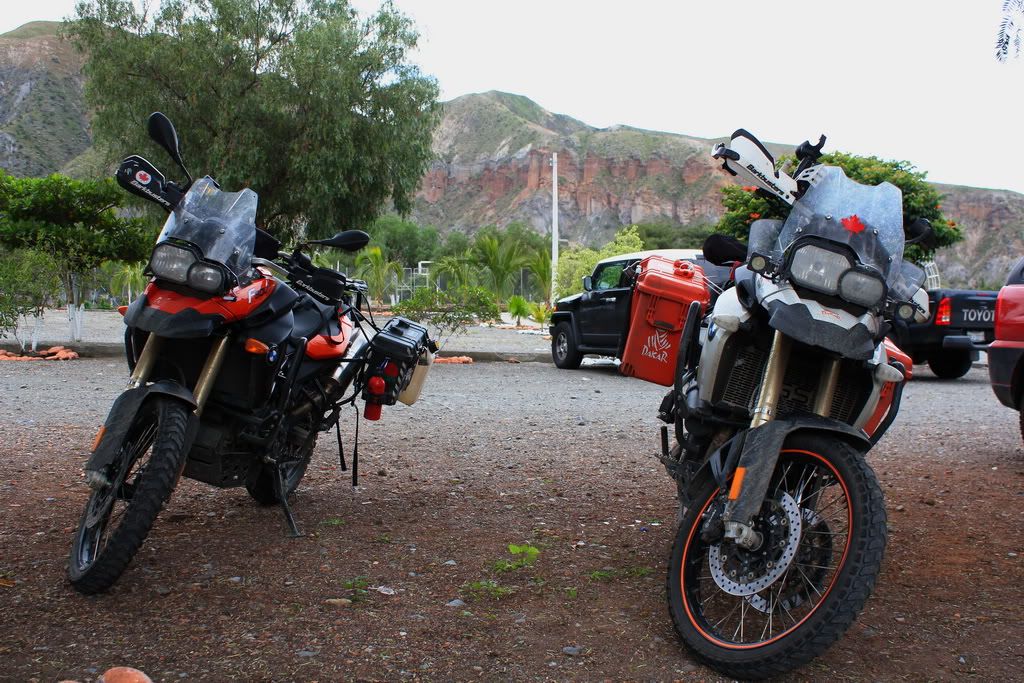 The views from the parking lot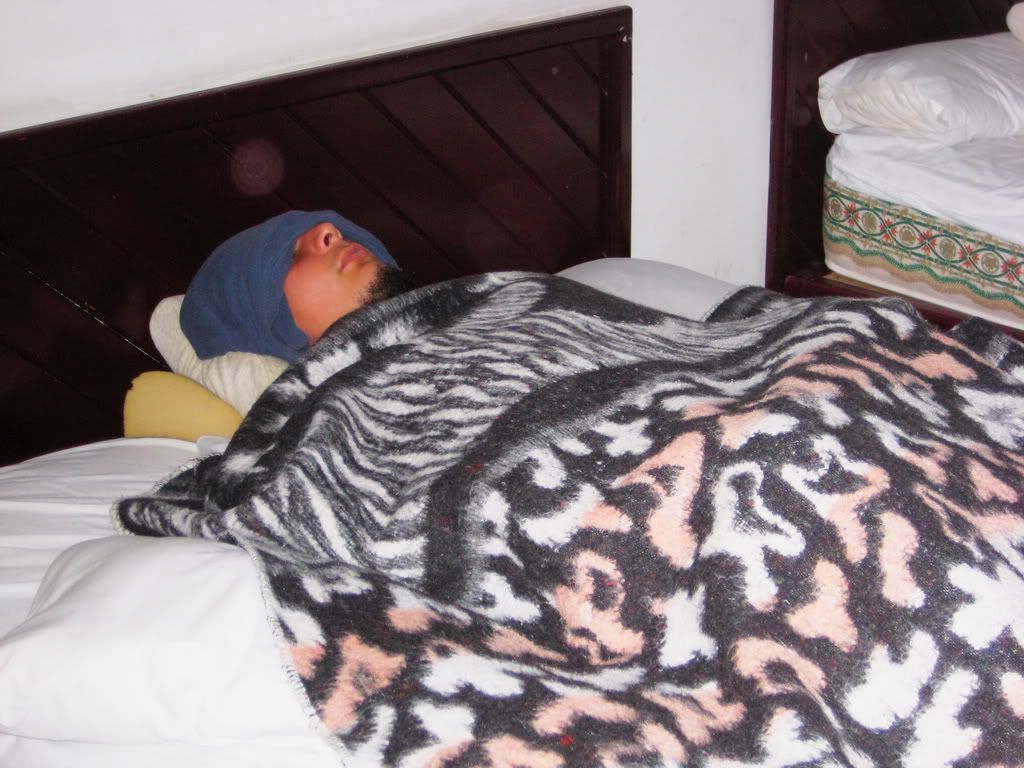 Alberto warding off more nighttime mosquitoes
We were going to have a lazy morning around the pool but just couldn't be bothered once all was said and done so we left for Quito. The Panamerican Highway is really nice in Ecuador with only one small complaint: the toll booths. They are not expensive (like Mexico) at only 0.20 USD per bike but the inconvenience is really annoying. I wish they would do what Colombia does and make a by-pass for bikes. It takes me quite a while to stop, take off a glove, fish around for change, put change and receipt away, put glove back on and leave. Bikes definitely hold up the line, so I think they should be exempt!
It was nice seeing the scenery of Ecuador in daylight. It is most impressive. I'm loving the cold weather riding; it's very refreshing. I'm in no hurry to get back to the beach. The road changed to 3 lanes briefly going through Ibarra. The annoying thing was the traffic lights, until we came up with a game. We did a MotoGP style start to see who had the best skills. I was Dani Pedrosa and true to form Alberto was Valentino Rossi.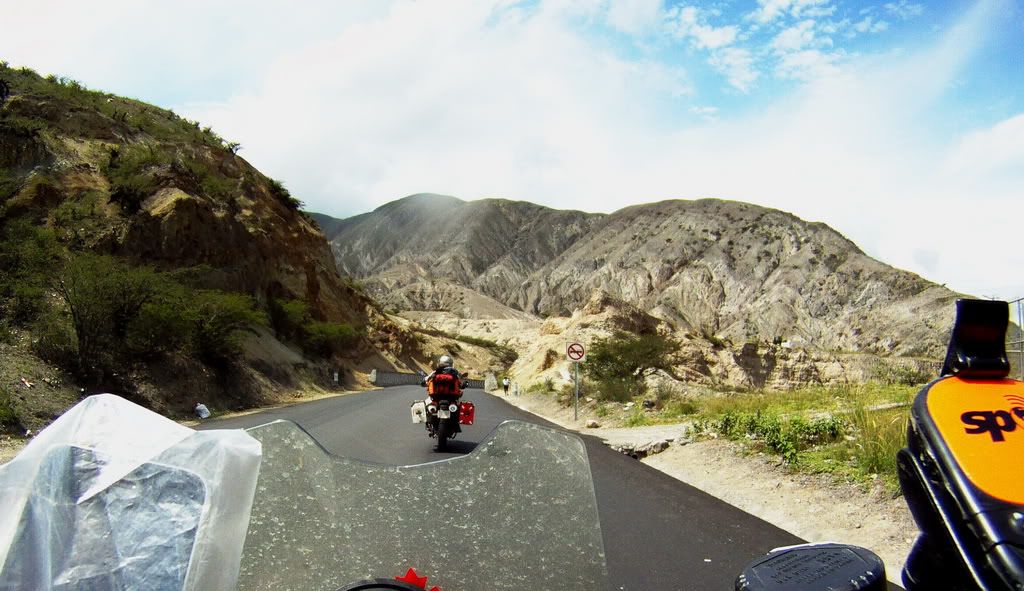 Riding in Ecuador during the day; nice
Daryll and Angela had recommended a hotel they had stayed at in Quito so that was our Plan A. Knowing somewhere has bike parking is nice and removes the hassle of possibly trying several hotels. It was fairly easy to find since there were good signs to navigate around Quito. We were about to give up and ask somebody when we realized we were parked right outside of the hotel. They didn't have any of the cheap rooms available but we didn't feel like moving on so we stayed anyways. Thankfully there was a bookstore right around the corner and I got a full tourist/map guide for only 5 USD. What a deal! Also there was a nice fancy restaurant nearby which we treated ourselves too. It was a great!
Yummy lunch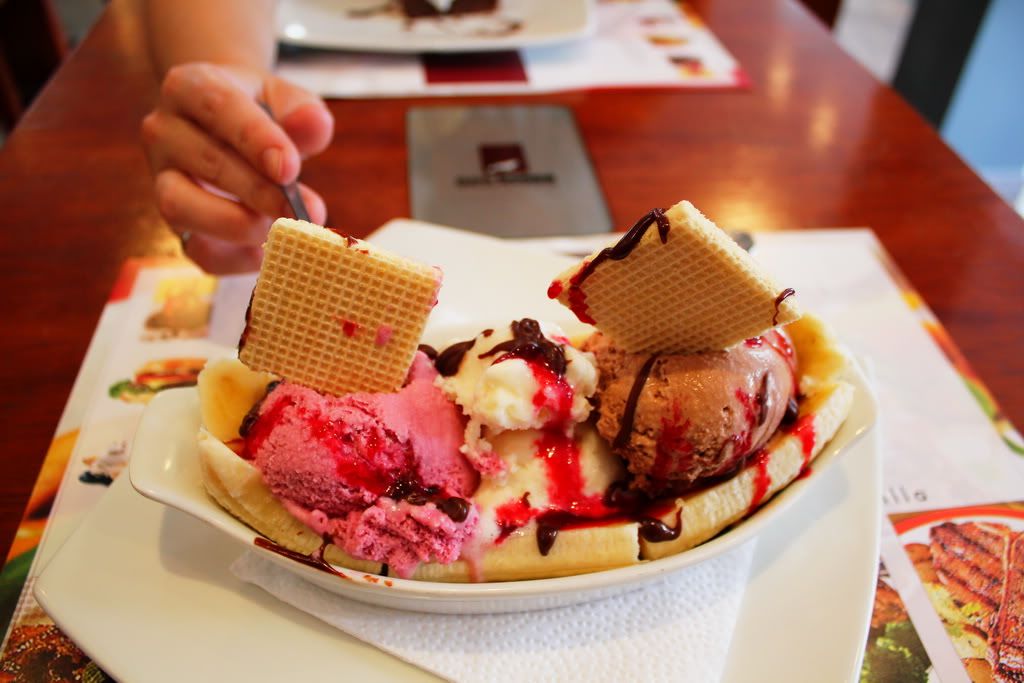 and dessert
Later in the evening we met up with Alberto's cousin (who lives in the area). We will be going to stay with her tomorrow since we are getting kicked out of the Traveler's Inn because they are full up for New Years.