Still in search of beaches we went for a walk this morning (after the rain had stopped). We walked as far as Playa Blanca where there was a gate for the national park. So we just had a look and went back to the hotel to pack. Cahuita has two main but contrasting beaches: Playa Negra and Playa Blanca. We visted Playa Negra on the way out, just for continuity.
Playa Blanca


Puerto Viejo, which is only 20km away, seemed to have better beaches and we'd heard about camping. So that's where we went. The town is certainly bigger. We camped at a Hammock Hostel called Rocking Js. It's supposed to be a must see hostel in Costa Rica, not that I would know anything about that since I'm not tuned in to the Hostel scene. We camped in their camping area (which as it turns out was luckily under cover). It is a really funky place, and I bet it's crazy during high season. There are hammock dorms everywhere it seems.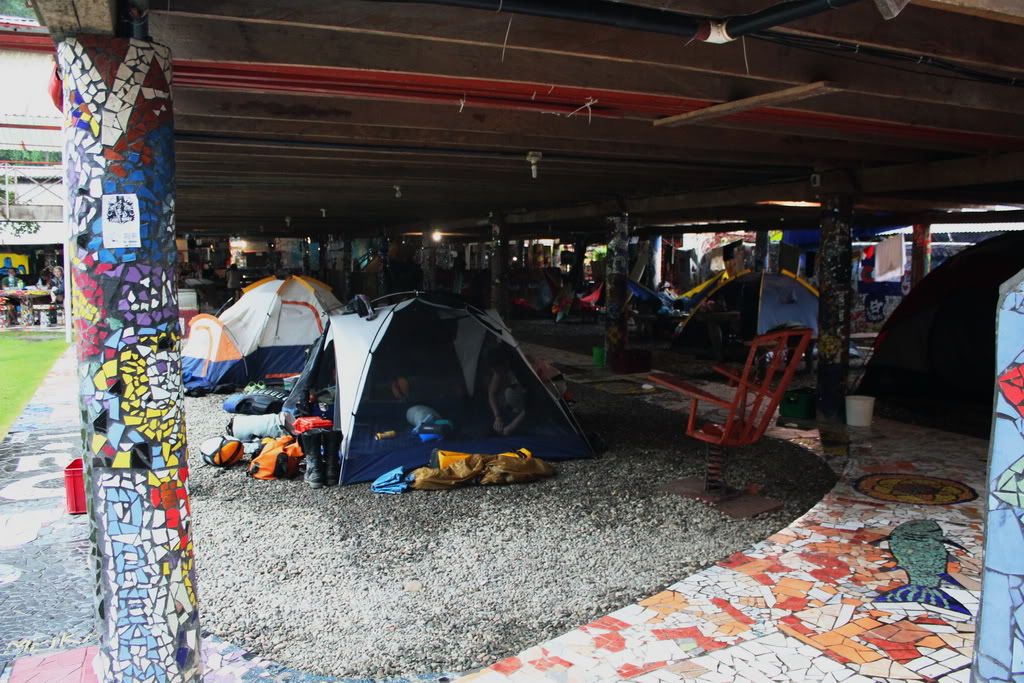 Rocking Js camping area
The two reasons why you should put Rocking Js on your list are that it's practically on the beach and a great place to meet people. We met tons of really cool people. It was kind of amusing because there was a rumor going around that we were the owners of the bikes parked out front. People would come up to our tent and ask if it was really true that we came from BC. It's something I really hadn't thought about because it seems so normal in the bike community. I don't really find this trip to be that exceptional, sure it's amazing, but lots of people do the same trip every year. People have their own experiences and each one is different but we are not alone out there. It just seems weird to me sometimes to find so many people who are shocked by the journey (both locals and travelers we meet) because it seems so normal to me and not that uncommon.
Anyways back to the story. Once we had set up our tent we went to the beach and then walked into town. The town was a mix of touristy shops and funky places to eat. We saw some pretty cool stuff I wished we could have bought, but alas, no room and we can't guarantee it's safety in our luggage. We did buy ourselves some early Christmas presents though (some clothes). It was easy to see how amazing the beach would be on a sunny day. Even though it was grey outside the water kept a bright blue colour.
It started to rain, HARD, when we walked back and Alberto was soaked by the time we got back to the tent. We made some dinner and got to talking to some cool people

(Brits, Canadian, Americans

) and then somehow it was 10:30pm.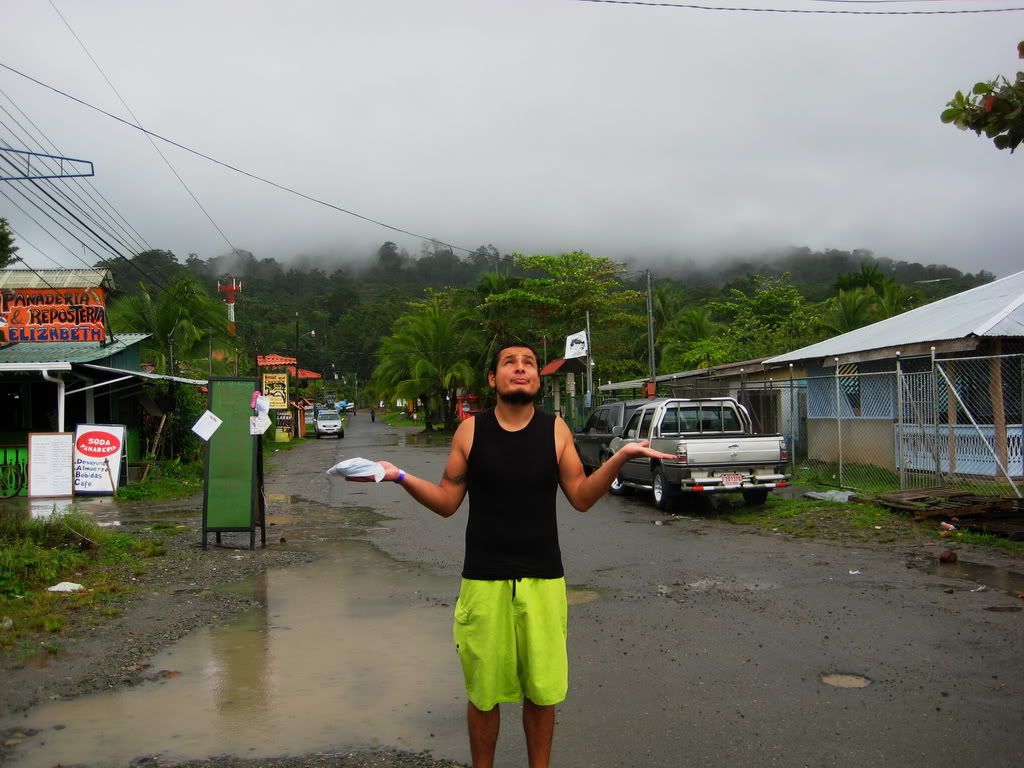 The rain starting while we were in town