We woke up extra early, for us anyways, since we were going to try and get to Medellin. We were on the road by 8am and it was raining. The ride from San Gil to Bucaramanga is amazing and would have even been better had it not been raining. There was cloud cover hiding most of the scenery.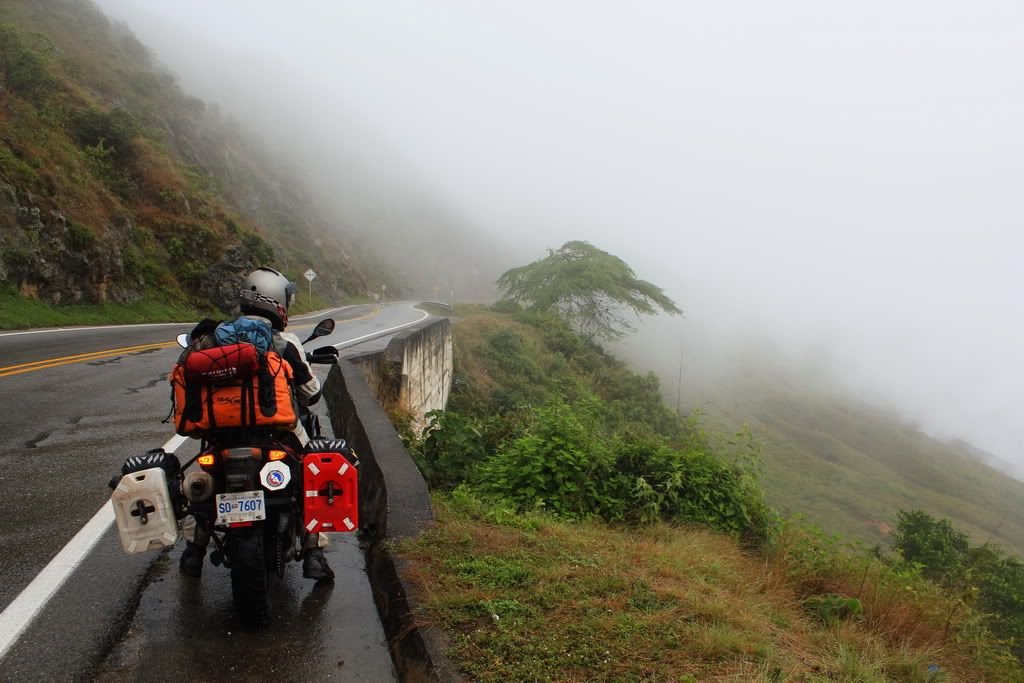 The cloud and fog hiding the view
There was one section where the road climbs down into the canyon where we caught glimpses of the scenery and it was spectacular! The road wasn't too shabby either, switch backing it's way down. The driving was shocking though; bordering on offensive. I was following behind a medium size bus and the driver would position himself in the other lane before tight corners with complete disregard for anyone else who might be coming the other way. It was impossible for him to see if anyone was coming, but he didn't seem to care. That type of driving attitude is just completely offensive, but unfortunately common so it's hard to fully enjoy the twisty roads.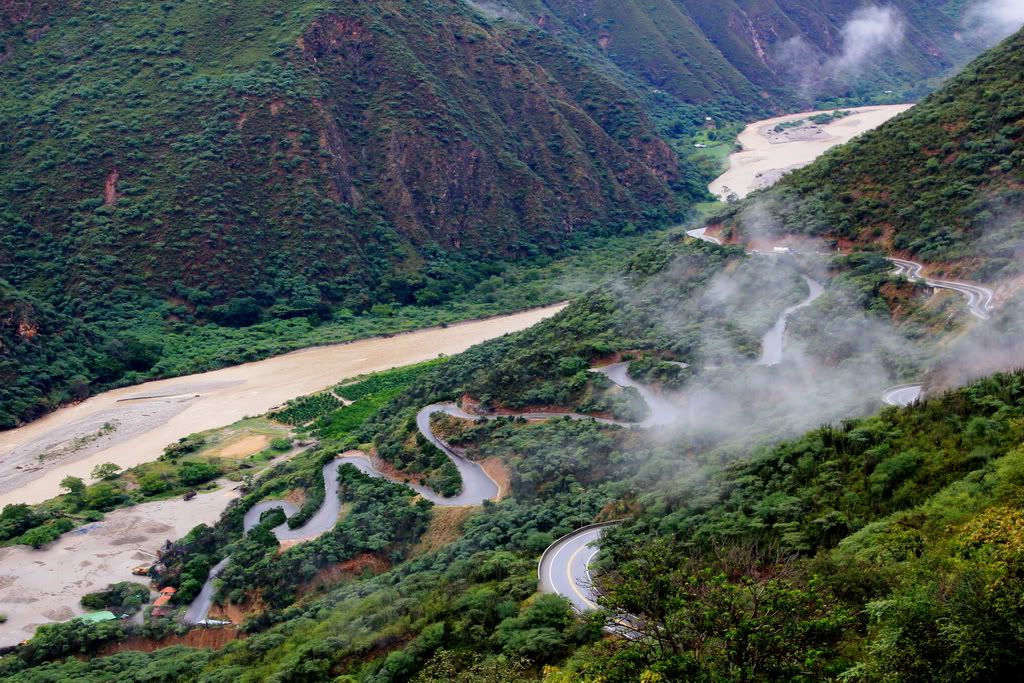 The amazing riding in Colombia
Bucaramanga was a bit of an issue to navigate since there were no signs. Especially since it's a pretty big junction with major roads leaving in all directions. We found our way towards Medellin only to be stopped by the police 10min down the road. It turns out that the road is closed and we can't get through. He recommended that we go to San Alberto and then come back South to Medellin. Okay, at least that's better than going back to Bogota. Unfortunately when we got back to Bucaramanga we spent an hour driving around in circles trying to get on the road to go to San Alberto. People kept telling us to go different ways and we were getting nowhere fast. We stopped to ask the police for some help. We also wanted to confirm if the road was even open. The police made some calls and found out the road would be opening around 2pm. They pointed us in the right direction and off we went.
Soon enough we approached an endless line of semi-trucks parked. Of course we zipped to the front of the line and explained that we wanted to go to San Alberto. The police officer let us through. The road was completely empty and it was obvious the sections that had been cleared up due to landslides. We reached another line of semis and again went to the front. This time we had reached the closed section of road. All the motorbikes were at the front (probably about 50 small little bikes). Soon we had a huge crowd around us and our bikes. People were very curious. One lady even asked Alberto what type of car his bike was. He kindly informed her that it was in fact a bike.
Alberto and his bike are in there somewhere
We only had to wait 2 hrs to be let through, which I guess isn't that bad because later that day we talked to a truck driver who'd been there for 4 days. It was chaos though. The police let the bikes go, then another one stopped us. Then we went again, and were stopped. Eventually I got behind an ambulance and followed him the rest of the way through the troubled section. It was great because he was going fast. There were countless sections of road that had been inundated by tree branches and mud. Some were clear, some were not. Either way our bikes are now quite a bit dirtier than they were.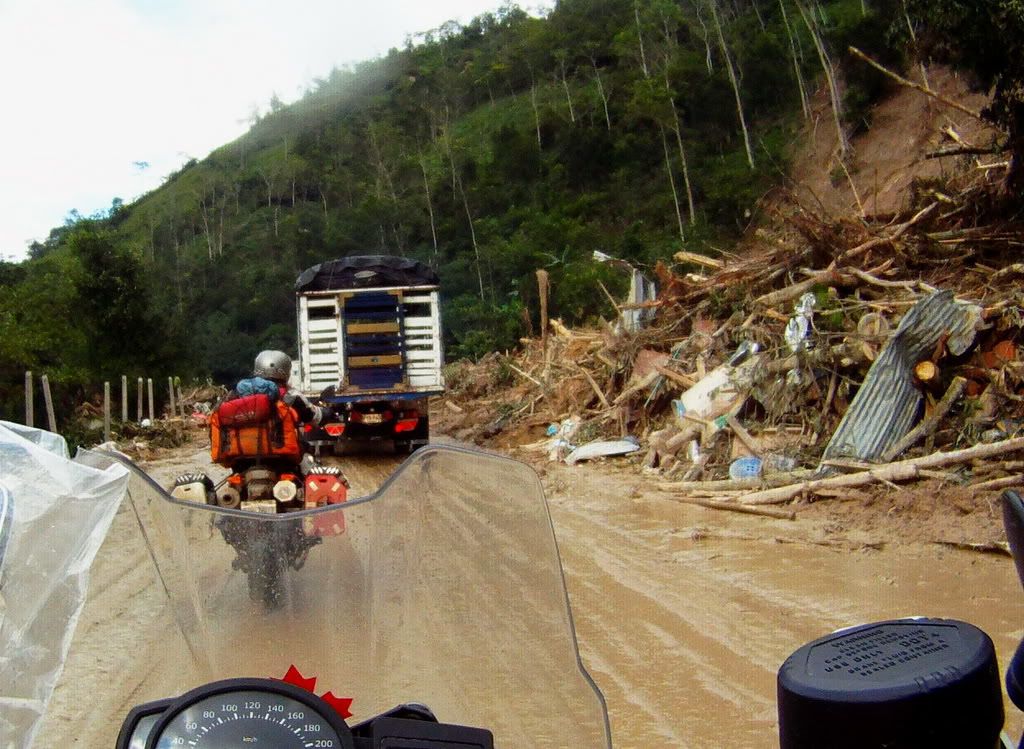 Lots of sections of road like this
Once we were out of the bad section the road was quite nice. Smooth pavement and twisty. We were really enjoying ourselves when I came around a corner to see a semi-truck passing another semi-truck on a steep up hill. He was completely in my lane and I had no where to go except the drop off into the ditch. I braked hard (thank you ABS) but then Alberto ran into me from behind. This sent me wobbling forward completely off balance. I somehow stayed upright and the semi moved back into the other lane just enough so that we could get past. Alberto gave the driver a piece of his mind and it was definitely the most dangerous road encounter we've had on the trip (well I guess after the horse incident).
It was still another hour or so until we reached San Alberto. We looked for a hotel but didn't see any passing through town. It was getting late and it had been a long day. We stopped at a gas station out of town to ask if there were any hotels and just our luck, the gas station had a hotel. It was actually extremely nice for the price so we were ecstatic to stay there.
At the end of a long day