We still had to do some banking this morning (because things were closed yesterday) so we said goodbye to Daryll and Angela knowing we'd meet up with them somewhere on the road. We rushed around, sorting out money and were on the road by 10am.
Leaving the city was pretty straight forward, though we had to pay two toll roads. The road was wet from rain, but it wasn't raining while we were riding. We had just left a town called Chepo when we approached a police stop. As we got closer we could see that Daryll and Angela were parked at the side of the road and they had somewhat discontent expressions on their faces. We pulled up beside them and let Alberto work his spanish magic to find out what was really going on. It turns out that the road was closed due to flooding and landslides.
We knew that our turn to go north was only 15km past the blockade so we tried to convince the officers that we were fully equipped to make it through tough roads and that we had a boat to catch. The road had been closed by presidential order so there was nothing they could do for us. We decided to wait it out for a bit to see if they changed their minds. The police officers were really nice, and we chatted them up. After 3-4 hrs it was clear that the road wasn't opening up anytime soon. One of the officers said a bridge was out and that it would be months before it was fixed. Another police officer let me use his phone so I called our boat captain, Fritz, to tell him what the situation was. He told us to go back to Panama City and to keep in contact with email. So we accepted defeat and went back the way we came.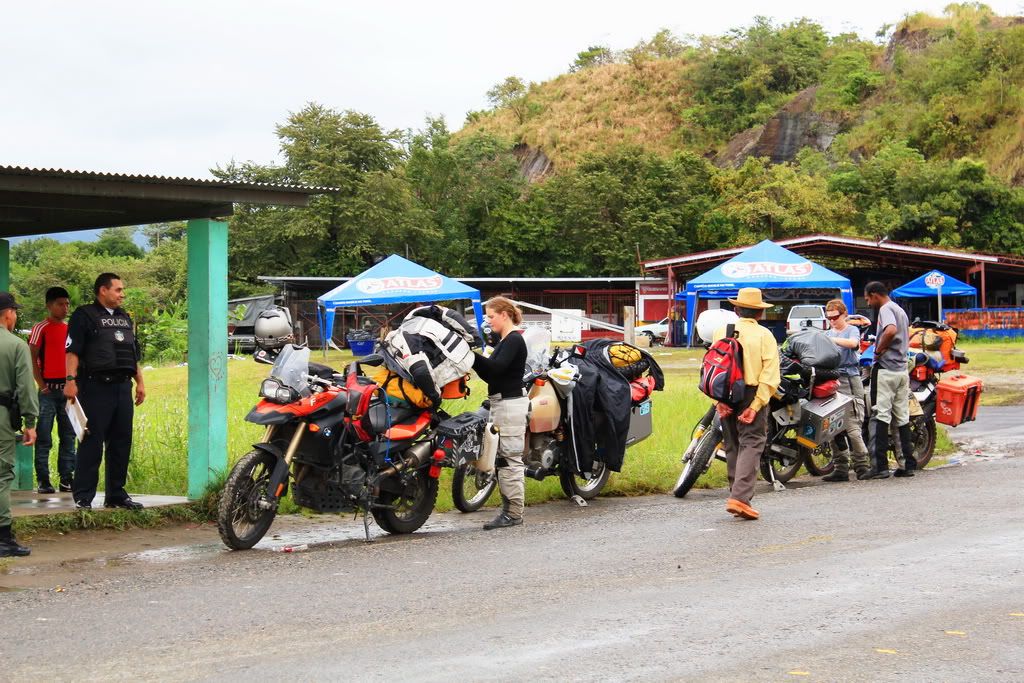 Camped out at the side of the road; sizing up suitable places to camp
Once again we paid the tolls, and once again we checked back in to Residencial Alameda. We went across the street for dinner. During dinner the news was on and it was clear to see that Panama was dealing with bigger problems than we were (trying to catch our boat). They were evacuating people in the area we were trying to go and the entire region was in a state of emergency. We were content to accept defeat since the situation was quite a bit bigger than us.
When we came back to the hotel after dinner Fritz had left us an email saying that the road opened in the afternoon and that we were expected to get there tomorrow (since the other backpackers were coming first thing in the morning). I was in shock and also extremely doubtful that the road had opened. We were at the blockade for most of the day and there was no indication that the road was being opened. Suspicious we went to Mamallena hostel (only a few blocks away) to inquire. Mamallena hostel books San Blas boats so they would most likely be in the know. The guy at the front desk was a bit of a know-it-all and confirmed that the road had indeed opened and that his guests who were going to be on the same boat as us were leaving first thing in the morning.
We left the hostel in shock, and still disbelief, and decided to leave at 7am (when it gets light) to head off to the boat together.