In the morning we went down the street to a grocery store to pick up some things for breakfast. Holy moly. It was the nicest grocery store I'd been too since leaving the US. So much delicious selection. I went a little crazy in the bakery section.
Beatriz came over and we spent the day with her. First we went downtown. It was funny because Alberto and I were in t-shirts and shorts and people we saw were wearing scarfs and winter coats. We were so happy to be in a cooler climate; it felt great. We checked out the buildings and went to a the Botero Museum. I quite enjoyed his work and looking forward to seeing more in Medellin. Then we went down to the main square, where believe it or not, an ice rink was set up. It was cute seeing the kids, and adults for that matter, wobbling around the ice rink. I was under the impression that countries south of the US didn't really partake in skating as a past time. A quick poll confirmed this: Daryll and Alberto both hadn't skated before coming to Canada. I guess the world is becoming a smaller place.
Mona Lisa - Botero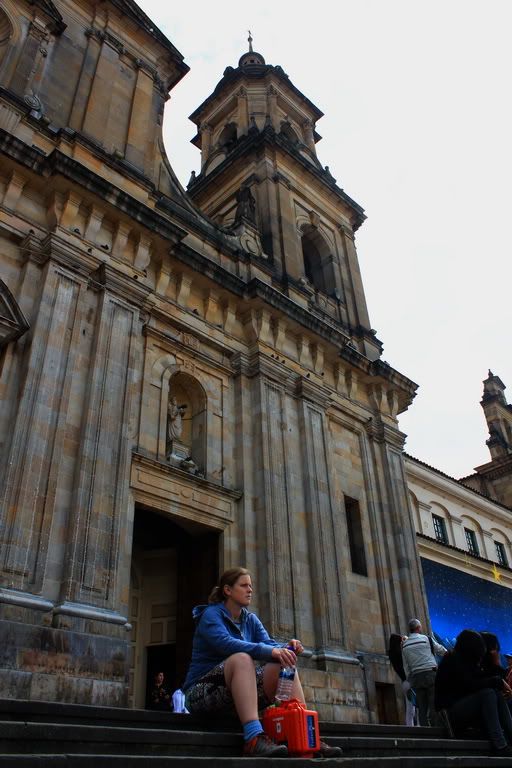 Sitting outside the church watching the skating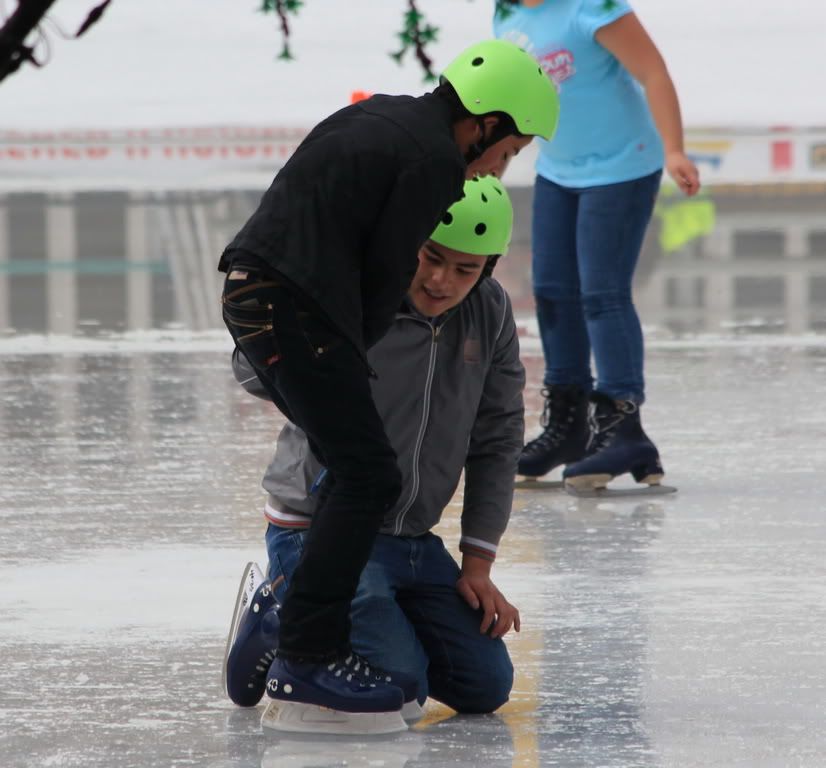 Skating in Bogota
After downtown we met Beatriz's cousin, Alejandro, at the apartment. He lead Daryll (on bikes) to his cousin's bike shop, and Beatriz, Alberto and I followed in a cab. We inquired about tires, and Daryll got his brakes done. Next we went to the first of two doctor's appointments Beatriz had set up for Alberto to try and help with his back. That took about an hour then off to the second one which took a bit longer. We got back to the apartment at around 7:30pm.
Tonight was Andre's last night so we went out for dinner. Just around the corner from where we were staying was an El Corral. It's a gourmet burger restaurant chain. It was a nice place with a good atmosphere. We had amazing burgers and a hilarious time. I think we barely stopped laughing all night. Andre is so much fun, and brings a real energy to the team. It was nice to be able to go out with him on the last night. While we were having dinner a Christmas parade of bikes went by in the street. There must have been 500 bikes altogether. It was pretty cool to see.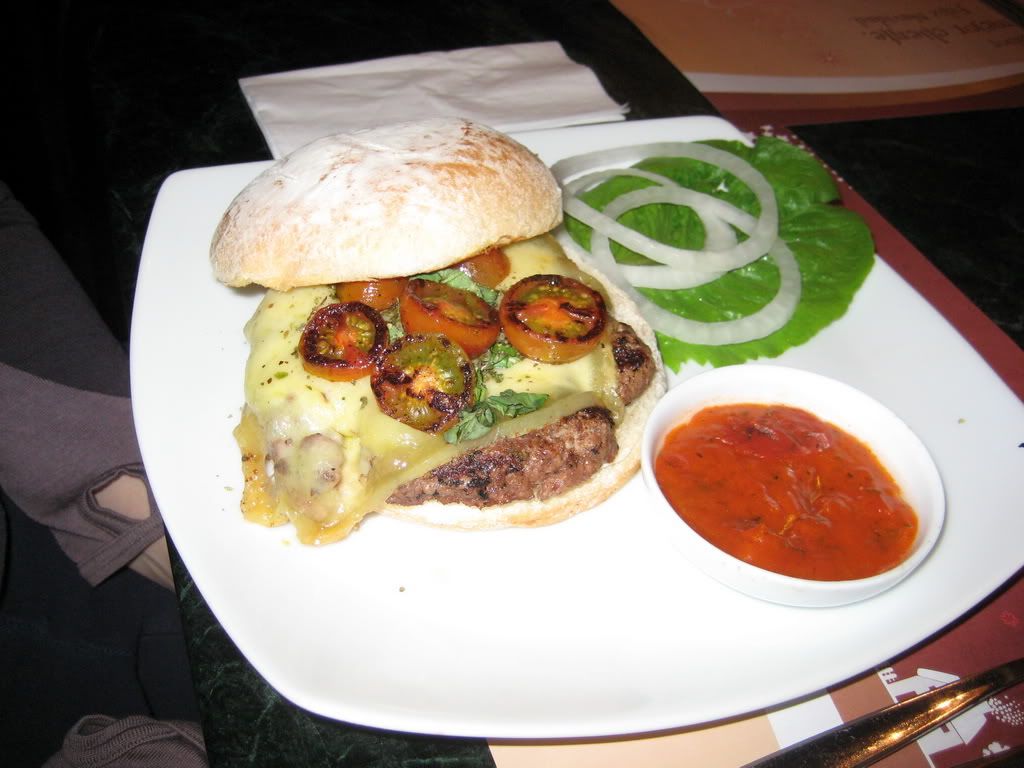 My provolone burger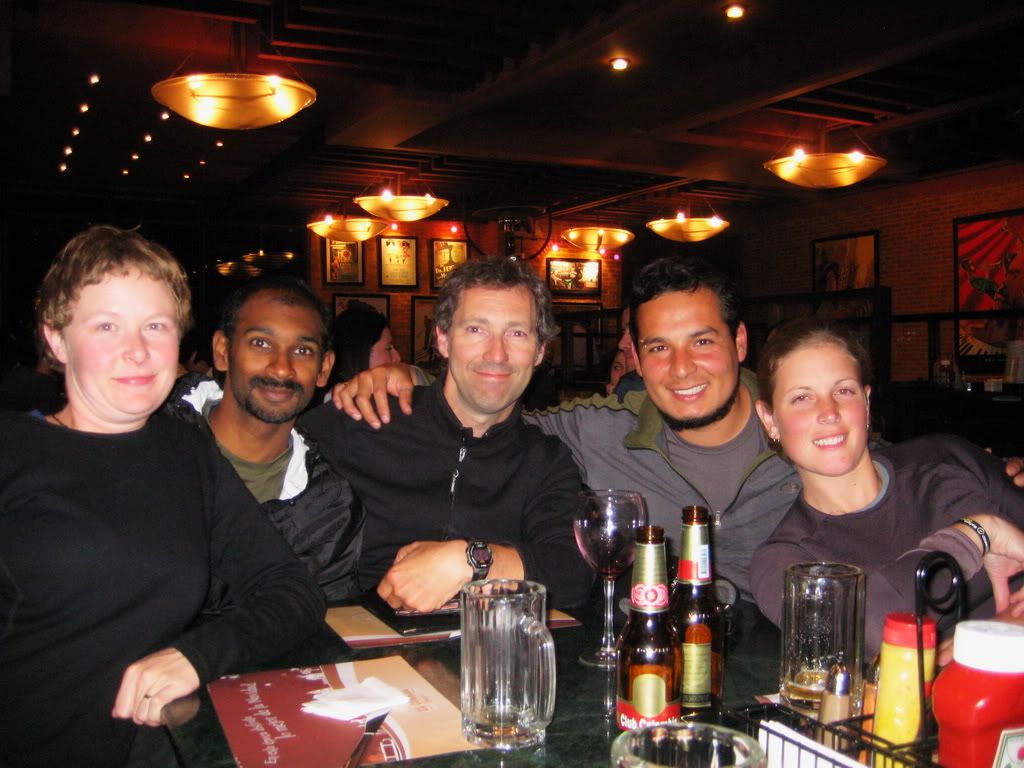 Team photo at dinner
Which brings me to a point: there was a noticeable difference after leaving Central America, coming to South America. In particular the biking culture. From what we've seen in Colombia there is a strong biking culture. People drive small 125s but also full size bikes. They wear helmets and riding gear.