If I had an advent calendar. This morning we were going to decide whether or not to spend another day in Puerto Viejo based on the weather. We decided to leave for Panama because the skies were grey and it was raining. However rain does not even begin to describe what was happening. It was like a never ended river crossing the whole drive to the border (~50km). Us and our stuff was soaked just from trying to pack the bikes. The only good thing was that the rain was getting "lighter" as we approached the Panamanian border.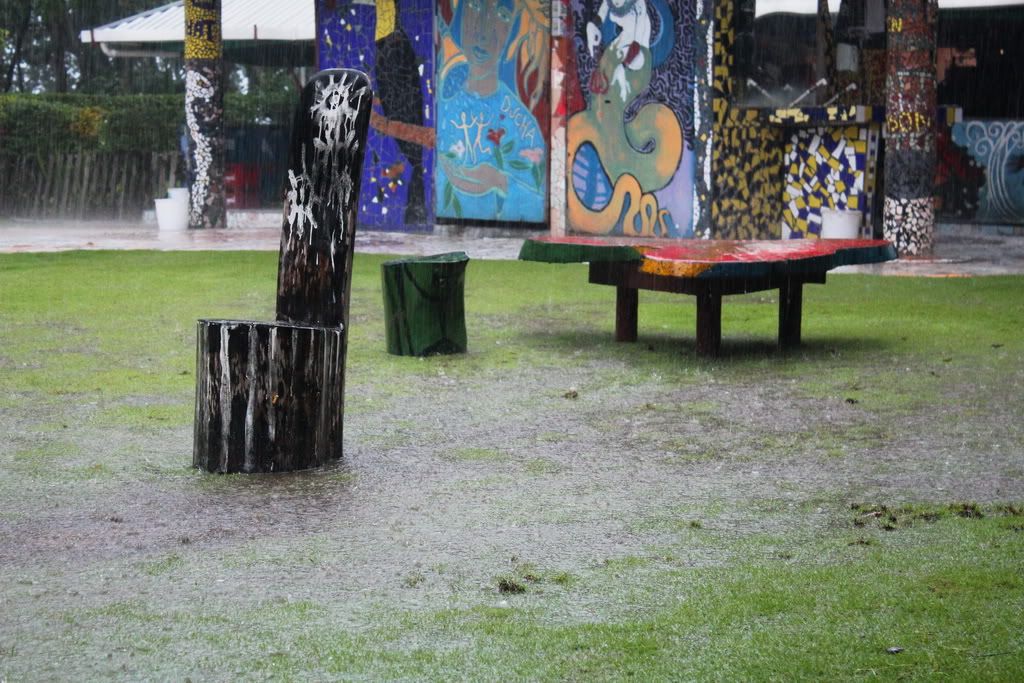 The epic rain
There is a river that demarcates the border. The Costa Rican side was a breeze. So civilized and straight forward. They are somewhat official too because they are the only country that has required me to physically go and get my passport stamped (all other countries Alberto goes on my behalf while I watch the bikes). Once we were stamped out of Costa Rica we needed to go to the Panama offices, but standing in our way was a 200m long treacherous bridge. It appeared to be an old railway bridge and the surface was wood. Old wood combined with all the rain we had experienced that morning equated to a very slippery and sketchy situation.
We decided to go straight down the middle, in between the railway tracks, because the wood planks were installed perpendicular to our direction of travel. There were still huge gaps but at least our tires wouldn't get lost in them... or so we thought. Things were going fine except there were some large beams placed in the center, why? I can't be sure, but there wasn't enough room to fit on either side and jumping up and driving on top of them would have been a Simon Pavey move. Albert (leading) tried to muscle his way through and got stuck. He eventually powered through and moved the beam for me. There was a second beam further down and a courteous pedestrian moved it for me. Then up ahead I could see Alberto struggling with the slippery wood. He was skidding all over the place trying to gain traction. Another passerby tried to assist but ended up slipping and falling. Eventually the bike went down. Someone came to help Alberto but while they were trying to upright the bike his leg went through a gap in the bridge. We recovered the situation and Alberto got his bike off the bridge. He came back to help me with mine and, learning from our experience, pushed my bike off the bridge. A latino truck driver wasn't too impressed by the delay, typical latino impatience: reving and honking. We had no choice it was extremely unsafe. Not only could you break an ankle on the railway tracks but your foot/leg could go through a gap.
At the other side of the bridge is the Panama border offices. We were kindly informed that we needed to buy insurance and that it was closed for lunch. Neither of us were too impressed since the door said closed from 1-2pm and it was 12:40pm. The border employees though were very friendly and helpful. We did all the paper work we could do while waiting for the insurance place to re-open. Again we had an issue with Alberto's visa. He only got two visas for this trip and each time has had issues trying to use them. The migration officer tried to pull the old 'this visa has expired' routine. Thankfully this visa actually said on it that the '30 days started when entering the country'. She still wasn't buying it but after some official phone calls let him in.
It was raining, we were wet. Not sure if I prefer the border crossing where we were dripping with sweat or this new soaking wet experience (once again, my Rev'it! jacket and pants let me down). It's probably a toss up. We were on our way shortly after 2pm and blissfully unaware of the navigational disaster that was before us.
There were essentially no signs to go anywhere. We must have gone through half a dozen unsigned intersections where we were guessing (sometimes wrong) before we saw a sign for a city that was in our direction. We stopped for gas in Changuinola, which also had a wide assortment of hotels. I said, stupidly, that we should continue cause we were still so close to the border. I did not realize we were entering the hotel barren wastelands. Big mistake on my part.
We thankfully found a dive of a hotel to stay in for the night just as it was getting dark. I was completely soaked, (Alberto's Rukka gear works as designed), since the skies opened up again for one last time as we approached Chiriqui, cold and tired. They didn't have parking but I convinced the women to let us park in the store downstairs. The only catch is that we need to get up early to get the bikes back out.
When we went for dinner it was raining very hard again. The road was permanently covered in about 4cm of water from the rain; it was coming down that hard. We made a made dash to the nearest thing to our hotel. Lucky for us it turned out to be a delicious Chinese restaurant.
Costa Rica Final Thoughts:
No surprise, it was expensive. Everyone says this and we were expecting it, but I don't think I was fully prepared for it to be as expensive as Canada! For that price I'll just stay and ride my bike in Canada thank you very much.
Unfortunately Costa Rica's beauty may have been lost on us because it was either raining or too expensive for our budget. We tried to get a mix: Pacific Ocean beach, Volcano, Rainforest and Caribbean Beach. But tragically it rained everywhere we went (our fault probably for being here during the wet season).
The amazing road signs though made getting around much less of a chore. Not only were there extremely good signs for places but also distance markers. It was as if we had died and gone to Canada. The signs were spot on. Also the drivers were a dramatic step up in quality from the rest of Latin America. They were courteous and rarely tried to kill you.
The border process stands out as a beacon of light in all of Latin American. It was so easy and straight forward. It sits below the US on our list of border crossings but is miles ahead of any of the other countries we've gone to.
I enjoyed the resourcefulness of the people. When we were riding in the rain we saw other, local, bikers riding as well. They wore grocery bags over their shoes to keep them dry. Clever.
Alberto wants to add that Costa Rica had the best looking girls in Latin America so far.
Everyone was extremely friendly, and we say this a lot but in Costa Rica it was different. Cars driving by would be yelling things, people would be waving. It took us a while to figure out they were yelling 'Pura Vidaaaaa!'. Even when asking for directions most times than anywhere else people physically showed us the way.
Costa Rica just felt ahead of the game, which I guess explains the cost. "Normal" comes with a premium price.