Apparently we changed time zones at some point. When? We can't be sure since our clocks are the sun and our stomachs. Anyways, our alarm was set incorrectly to take the bikes out of the store (I felt bad) and the owner had to come upstairs and knock on our door. Ooops.
We said goodbye to the Bocas del Toro province and returned to the suckiness of the Panamerican highway. We had wanted to check out the islands in the Archipelago; they are supposed to be amazing. In the end a combination of factors deterred us. Mostly we didn't have anywhere good to stash the bikes and the weather was terrible. So instead this morning we put on still wet riding gear and headed south.
The main road that goes through the Bocas province is amazing. It has been our favourite road in all of Latin America (to date). It's twisty, but not too twisty, it was more or less empty, and the road surface is pretty good. Not to mention the beautiful scenery, a combination of lush greenery and rivers/waterfalls. The rain was only drizzling which at this point in the game pretty much qualifies as dry riding. It was a good start to the morning.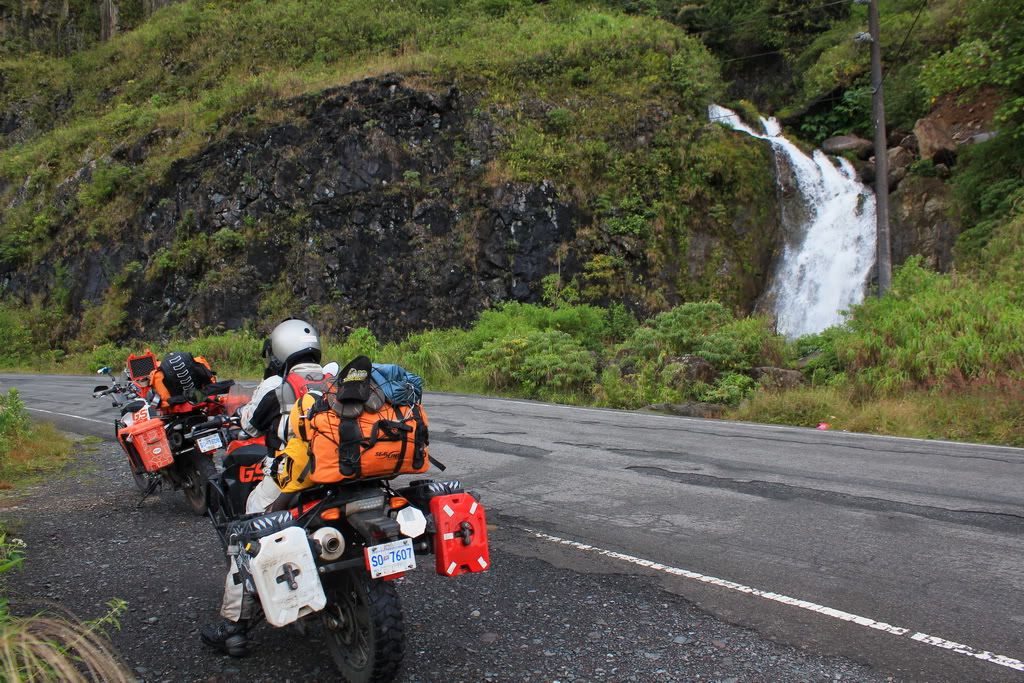 One of the many waterfalls we saw
Near the end of the road was a toll road/military checkpoint of some kind. It was a bit weird. Anyways an official wanted to see our documents that we got at the border. We showed them to him, all was well. Then after he had confirmed that everything was good he tried to get money out of us. Uhhh..... no we don't have to pay here. We ignored him and took off.
Finding the Panamerican was not as easy as one would think. First the road sign had been run over at a key intersection so we took a wrong turn there. Then when you actually hit the Panamerican highway it's completely inconspicuous, with no signs. We ended up accidentally going to David and riding through torrential rain for our troubles. What a joke trying to navigate in Panama is. Once we were pointed in the right direction we headed for Santiago where we thought we'd be able to find a hotel.
The road was probably in worse condition to what we had been riding that morning. So far (of the sections of the Panamerican highway we've ridden) Guatemala has been the best by a fair margin. It was still raining slightly and there were lots of trucks on the road. No big deal they are pretty easy to pass when you have the power to weight ratio of a bike in your favor. I had just finished passing a convoy of about 12 trucks and trailers all backed up when we reached a checkpoint. It was a migracion checkpoint. They pulled us over and we were furious because we had just got past all the traffic. They had seen us pass one of the trailers on a bridge on a double yellow line. One pencil pusher was talking to Alberto. He wanted to see his driver's license, then his passport. Alberto's preliminary strategy was to ask him who the hell he was and what he needed to see identification for. The pencil pusher got angry (but never identified himself) and called over the military guy. Alberto talked to him for a while. He advised us to pay off the pencil pusher to which I say, when hell freezes over! The more money these guys get, even if it is just a few dollars, the more likely they are to try again on some other biker. I will stand firm, for my fellow bikers and because I think it's stupid. Anyways as far as I'm concerned we did something wrong but they did not have the authority to do anything about it. I gave them a wave signaling that we were leaving and left it at that. They didn't seem too worried that we were going. The pencil pusher had tried but most of these guys are lazy and don't really want to put in the hard work it sometimes takes to extract money from gringos. They didn't seem too worried that we were leaving. Piss, we have to pass all those trucks again though... booh hiss!
It was a miracle, the highway turned to two lanes and we managed to get back out front without too much hassle. We rolled into Santiago and thankfully there were plenty of obvious hotels. A nice change from some of the dumpster towns we drove through in Costa Rica. We took our time and found satisfactory hotel. It was next to a mall so that's where we went for dinner, and did our banking.