We only broke 100km today because we used my bike to go back into town for groceries.
It was another typical morning, a little bit of frost but not too bad. It soon warms up with the sun. We stopped for a picture at the campground which was at 9,200ft. Off we went down the road to join the CDT. We didn't bother loading the end of the itinerary we were on, instead we loaded the next one and tried to join it. This was a bad move.
We started out on a pretty rough/rocky road. And when I say rocky I no longer mean little rocks.... these were pretty big rocks, with some small loose rocks thrown in for fun. We approached a small river crossing with a rocky creek bed. I dropped my bike before the crossing in the loose rock and it was at this point that I didn't want to go any further on this road. It was getting increasingly more challenging as we climbed and my bike is not the tool for the job. At this point we realized we had taken the wrong road for Marshall Pass. We were not ½ way but I was out-voted in the group and we decided to continue forward.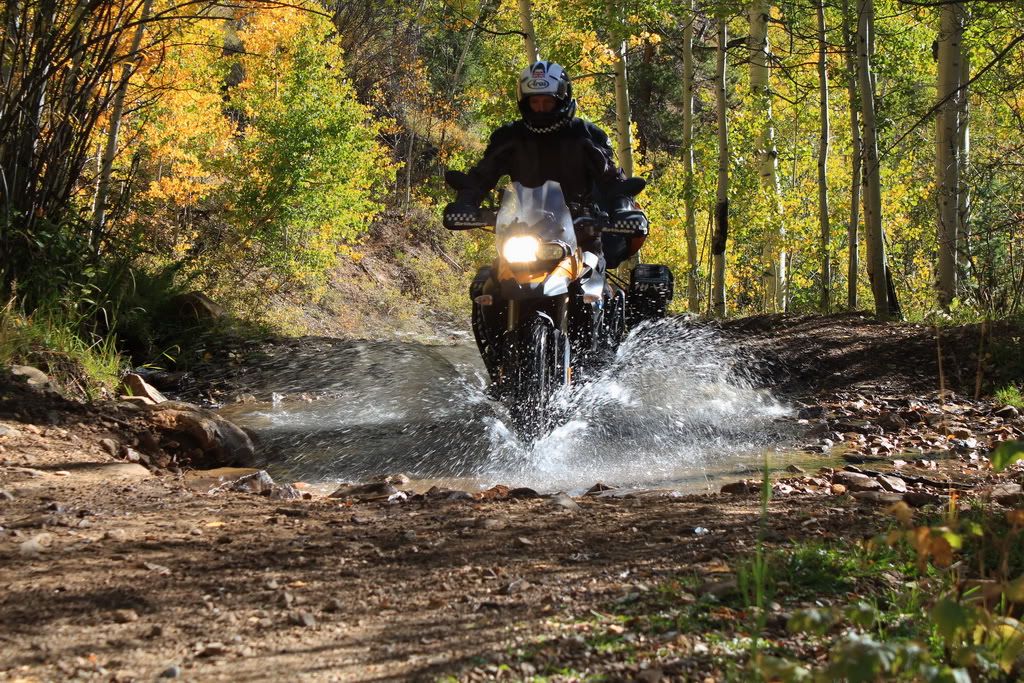 100% forward, apparently
I pretty much spent the next 5km walking to Marshall Pass and either Alberto or my Dad rode my bike for me. I don't mind challenging roads, but I would not choose my F800GS out of the toolbox, I would be more inclined to use my jeep, or a dirt bike. Anyways, it got to the point where my Dad had dropped his bike in a large rocky section and him and Alberto had quite the job driving it up this section (since my dad had already made it 1/3 of the way). Next they tried my bike; but it ended up in the bush. It was at this moment that a group of dirt bikers lead by Hayduke (sp?) came across our path. Hayduke and his posse helped get my bike to the top; he actually rode mine up for me. Thanks Hayduke and friends for your help. Alberto managed to drive his bike himself, and earned himself the nickname: full throttle. He almost crashed straight into my Dad's bike, but didn't so I guess good for him. After a stop on the trail for lunch (we were all exhausted) we finished the last part and made it to the forestry road we should have been on. We stopped for gas once we were back on the highway and met a group of Dutch guys riding the TAT. They had started it last year but were rained out. Good luck this year guys! After that it was smooth sailing to the highway. So 5 hrs to do 24 kms. I'll pass on doing that anytime soon.
Alberto crashing my bike into a bush
Just a little bit further
Alberto avoiding the HUGE rocks
We got some gas back on the Highway and only made it as far as Gunnison before we cut our losses and gave up on the day. By that point the sun was shining and we were in search of somewhere with showers. Bonus, we got showers, laundry AND wifi all for $22. Seek out Tall Texan RV park. Also this is the first place we've stayed that has grassy campsites. We'd missed good old fashioned green grass.
On grocery duty.... the picture is a blur cause we are so speedy