How do I classify south? Well last night we were not the only ones camping in a tent. Not only that but there were SEVERAL other people in tents. Also today was the first day I did not use my heated vest. There was a tiny bit of frost on the ground when we woke up but nothing like the previous morning. Our plan for the morning was to let TomTom lead us back to the CDT. In doing this we stumbled upon the holy grail of biking roads. Being a Saturday, we saw probably 50 bikes out today and in particular a Ducati club (oh that was great). This amazing road goes by the name of HWY 93 I believe. Then onto HWY 285 which was a very bizarre experience indeed. First it was a two lane fast, boring highway, then all of sudden traffic came to a dead stop (because we found out later the road merged to a one lane).
After that we came through a small town where a high school parade was happening... again at this time the road was going from a two-lane to a one-lane and traffic was backed up. The road was surprisingly busy, or so we thought. Again we came upon a slowing of traffic and cars were parked everywhere on the side of the road, and there was a full parking lot. We were frantically looking around hoping to see a grizzly but all we could tell was that there was a trail head and a bunch of Aspen trees and people were photographing. Quick lets get out of here. To top it off, at the end of our journey on 285 the road was closed due a traffic accident. The detour took us on a pretty dusty back road. My white suit now has a redish hue. I now look more authentic. I felt sorry for all those street bikes we passed on the detour though.
Phew off 285 finally and onto some nice dirt roads. The scenery looked a lot like the foothills of Alberta. We took a wrong turn, or rather TomTom lead us on a detour, where we went through a housing development. No worries, it was a nice view from up there.
After breaking back out of the wilderness we had lunch in Hartsel. Burgers all around.... well Dad had a taco salad.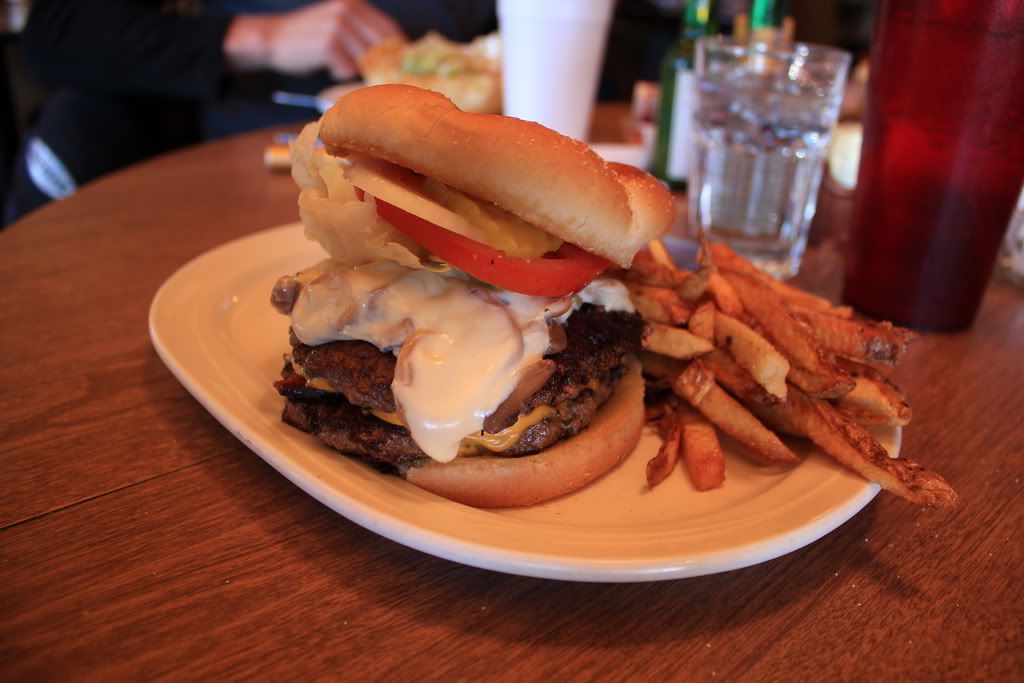 Burger time!
Then back onto the dirt to Salida. It was a nice road and we had our first river crossing. We all survived. On the decent into Salida you come out of the dry hills and sit perched above the Valley. It was an amazing view. The road takes you winding down into the Valley and then you come to Salida. It was a very cute little town with lots of nice little houses. Since this looked like our last chance at civilization we got some groceries and got out of dodge (the heat was killing us). We camped for the night at 9200ft at O'Havre Lake just outside of town.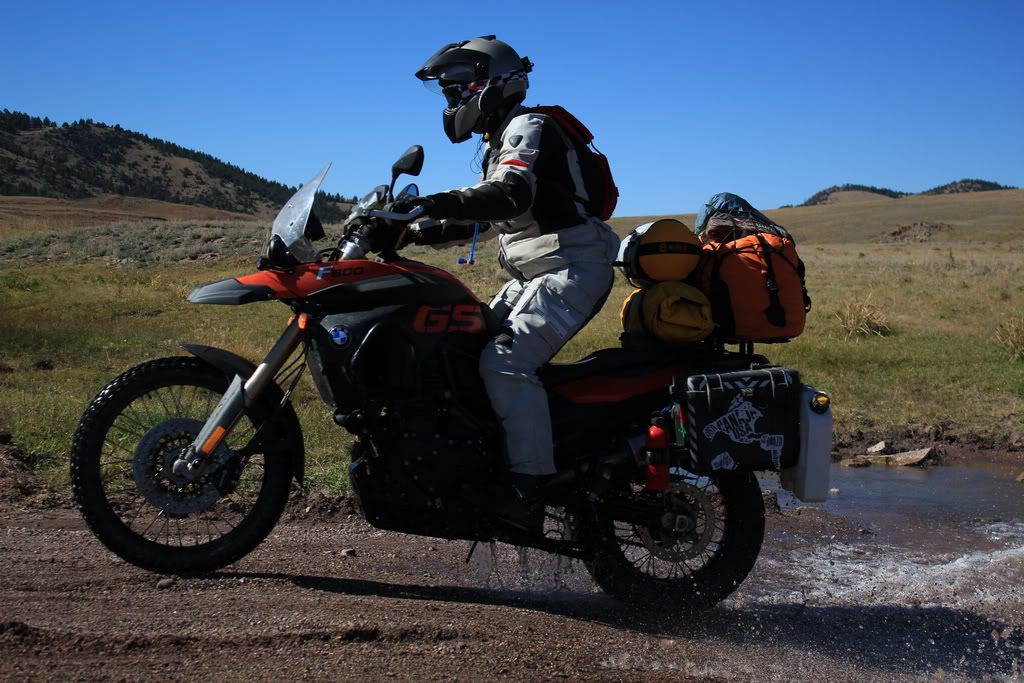 First river crossing