Apart from the accordion music I already mentioned (which I didn't even identify as Christmas music until Alberto told me that's what it was) things didn't really feel like Christmas. At home Christmas has a strong presence: my mom decorates the house hardcore, there is a large selection of Christmas music always in the background and there are Christmas treats up for grabs in the kitchen. While there are Christmas decorations (nice ones) around the big cities in Colombia, and Christmas trees everywhere, because we are traveling it just doesn't really feel like the holidays. I should insert a shout-out to Angela for decorating our bikes back in Nicaragua, when I look down I am reminded it's Christmas. Anyways today came and went like any other day on the road. I actually have a very hard time keeping track of the date and the day so I'm not particularly conscious of holidays. I also have a hard time remembering my own birthday so I guess that says something.
The first part of the day was still driving in the flat lands. There was evidence of flooding on either side of the road. The effects of flooding are quite devastating. I can't say that I've ever really been all that conscious of this type of natural disaster due to where I grew up in Canada. We don't even have rivers on Salt Spring, or at least not that I can think of. The weather was similar to yesterday, more or less hot with a few rain showers mixed in for good measure.
Pretty flat and straight
Once we started climbing into the mountains the temperature started to drop, thank you! Colombia is so amazing and due to the toll roads I assume, the roads are in very good condition. This combination you'd think would be a motorcyclists dream but there is one catch: the truly terrible drivers. Some people might find this aspect of riding in Latin America exciting as it provides an adventurous exotic flavour, me not so much. I would prefer to remain alive an uninjured.
This guy on the bicycle was getting a helping hand
The road as we rose in elevation was amazing. Deep valleys to the left, twisty roads up ahead, and then I come around a corner and a bus (which is clearly going too fast for the conditions) is in my lane. I honk my horn and give my best WTF hand gesture. He mostly moves back over and I squeak by. I can't help but think that if I was a full size vehicle the situation would have resulted in an accident. This happened twice more, and I'm only mentioning the truly extreme cases. People are continuously in your lane. It's a way of life.
As we reached the summit there was fog. The not so fun part of fog, despite the lack of visibility, is all the moisture that gets on the visor and goggles. It's very hard to see. I end up having to ditch the visor and wipe my goggles every 10 seconds. It was very refreshing though, about 12 degrees. When we popped back out of the fog we were greeted with more amazing views of green mountains and valleys. Yay now we get to descend to Medellin.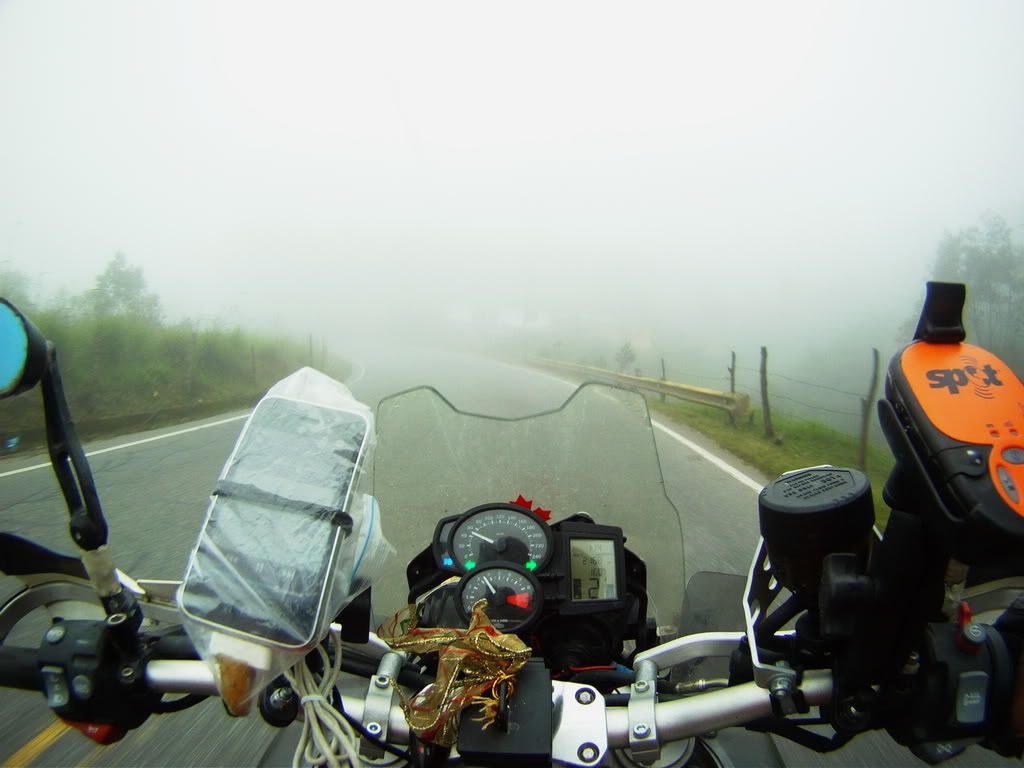 The fog
During the descent another offensive traffic interaction happened. There was a bus following a large truck. The bus wanted to pass the truck so he took a peak, saw us coming, thought about going back into his lane, then decided what the hell and decided to pass anyways (he was traveling uphill). We both honked our horns and Alberto produced a hand gesture involving the middle finger. I had to practically drive in the drainage ditch as we were all using the road 3 deep. Truly crazy driving.
On the way down there was a nice spot to pull over and take a look at the view. What we found out when we stopped is that it was a launching point for hang-gliders and para-gliders. It was crazy to watch how those guys just throw themselves off the side of a cliff and hope for the best. I bet that is quite the feeling. The view was well worth the stop too.
This guy launched while we were there
The road we were about to take
La Gringa enjoying the view
After that, the ride was pretty uneventful to Medellin. It was a little tricky navigating Medellin at first. Lots of freeways going in all directions. We made our way to Hostel Medellin (a hostel I had read online had a garage for bikes). It was amazingly quiet at the hostel, because of the holidays? Either way it felt like we had the place to ourselves. It was fun looking at the wall of fame; plenty of bikers had been before us. The owner told me though that not that many women riding bikes come through. We cooked ourselves some Christmas dinner with the groceries we picked up at Exito: chicken sandwiches. I couldn't find mushy peas at the grocery store.