We left the coast for the interior highlands. Our destination was the Volcano Arenal one of the 10 most active volcanoes in the world. Being at the beach is nice but everything gets covered in sand and the humidity is gross.
We were excited because today, after a long time, there was an opportunity to take photos of riding en route. It is so difficult to take photos on the ride because there are very few places to stop and pull over (especially with 2 bikes). We stopped at the friendship bridge (a noted point of interest on our map) and above lake Arenal. It was a pretty full day that even included wildlife sightings: monkeys and a herd of coatimundi.
The friendship bridge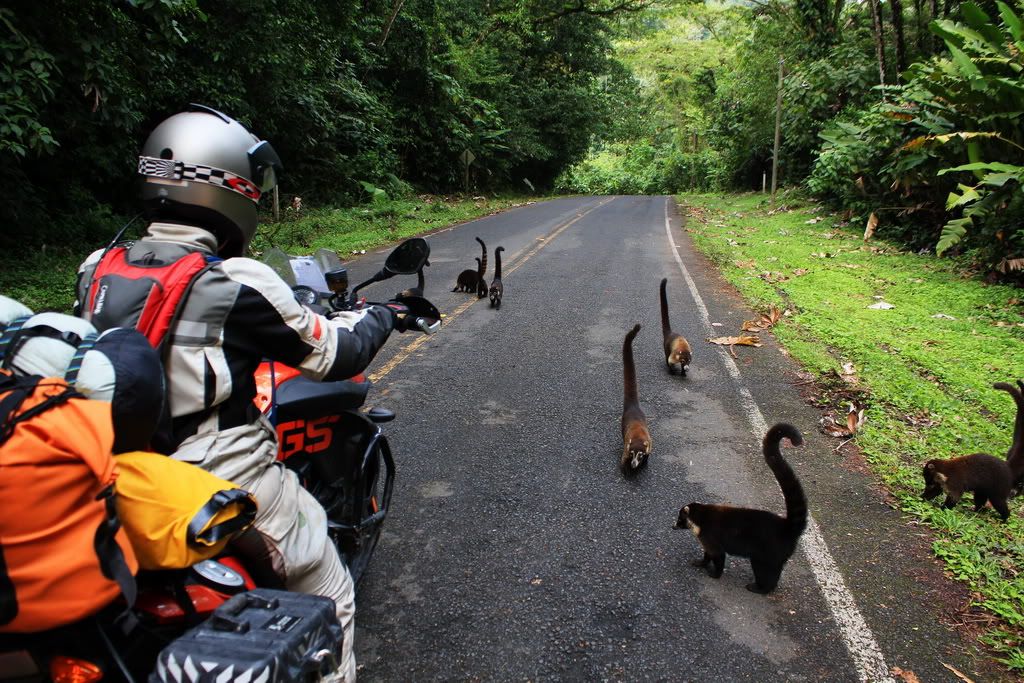 Coatimundi crossing
It felt like we were bypassing all the touristy areas to get to the "camping" at the entrance to the park. It was like tourist overload as we were driving through the Arenal area. I was frantically trying to read all the signs. I did notice that they offered kite surfing and wind surfing but I'm saving myself for northern Peru.
We got to the campground (which was just a field on some farming land) and set up camp. Unfortunately the volcano was covered with clouds and according to the camp host (Freddie) it had been covered for several days. That was a bit of a buzz kill but at least we could see the volcano from the camping area so if the opportunity presented itself we were ready.
It got dark. It rained. We didn't see any lava from the volcano.