As forecasted, it rained. The rain started sometime in the night, and it came down hard. It actually woke me up. It was fun to listen to lying in the bed, but it kind of killed our plans to soak up some beach time before leaving on the ferry in the afternoon.
The rain had stopped around 10am so I decided to go for a walk to the shops, which ended with hilarious consequences. Soon after I set out on my quest the skies opened up and the rain came down once again. I was immediately drenched. At that point I wished I had brought my gore-tex jacket and socks to the island. So I was a soggy wet mess by the time I got back to the hotel.
Leaving for the ferry I was still wet. In this situation my icebreaker clothing, which I stand by wholeheartedly most of the time, showed a kink in it's armor. Wool when wet has a smell not unlike wet dog. So I was cold and smelly.
Then disaster struck! When I arrived at the ferry terminal (a 20min cab ride) I realized that I had left my iphone in the hotel room. Crap. There were no cabs in sight and I had to get back to my room and back to the ferry. I eventually found a cab and managed to negotiate a decent round trip fare price. My phone was waiting for me at reception and I was a happy camper despite the 1hr plus round trip. That was almost a huge disaster.
It was a bit of a sad way to leave Roatan, in the rain, but after talking to the cab driver it sounded like we were extremely lucky with the weather. The sunny days we enjoyed were a small break in the rain they had been getting solid for the last 3 weeks. The crossing back to the mainland was a little rough but without incident. The sky was horrendously dark though and it was raining pretty hard in La Ceiba when we arrived. Given the circumstances we sucked it up and stayed at the expensive hotel where we had left our stuff for another night. We weren't exactly going to pack our bikes and ride off in the rain just to find a cheaper hotel and then unpack everything again. Instead we went to Wendy's for dinner and then walked through the Mall nearby.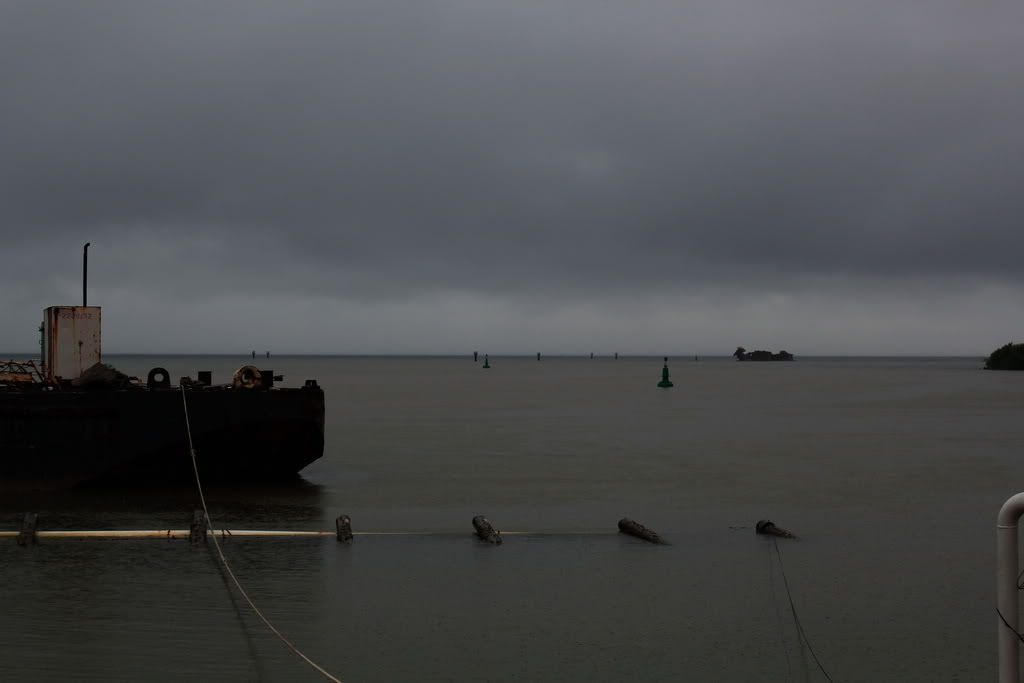 The sad weather
One thing we've noticed about Honduran major cities is that they are heavily influenced by American fast food chains. Food choices include everything you would expect to find anywhere in the US.