So at this point in the trip (and it's still early) I'm wishing I had just sucked it up, ditched our TomTom, and bought a Garmin before we left. But I was being cheap and we already owned the TomTom (which is useless outside of the US).
The hotel we had selected late yesterday afternoon was quiet and had locked parking. The hotel we woke up at was very loud. Why you ask? Because the street we used to access the hotel was now a full fledged market! When I went to go scope out the situation I think my eyes popped out of my head. I returned to the room to inform Alberto that it may be a bit tricky to leave. Once we were packed up we made our attempt to leave. Alberto was leading because he's the widest, so if he fit through I was good to go.
The hardest part was getting from the hotel parking to the road. It was a tight angle and one of the vendor's tables tried to break my ankle. I had to physically step over the table and do some weird balancing with my bike. Essentially it was a huge leap of faith that happened to work out. Now at least I was pointed in the right direction. From there it was just nice and easy to get out. One of Alberto's cases hit an impatient woman, that'll teach her. It was just astounding that the hotel operator failed to mention the "Monday Market" that would be blocking the road. I'm glad we weren't driving cars!
We had asked for directions to get out of the city to go to Coban so leaving Salama wasn't too bad. Once we were on the road, that's where the fun started. Road signs have been few and far between, something we learned on our adventures yesterday. At an intersection we took a left to go through a town (that on our map showed us going in the right direction) only to find out that we should have taken a right. Luckily the detour was only 8km. We then followed the signs to Coban, which were okay, and even the signs in Coban were good.
Our goal was to get to Flores but first we needed to get to Sayaxche. It seemed to take forever to get here, maybe because the road was painfully straight. At this point we had to take a "ferry", which was really just a barge that went across a 30m section of river. As the daughter of a BC Ferry worker I had to stop myself from pointing out the deficiencies of the system. They actually get the vehicles to drive, to shift the weight, while the barge is moving.
The STRAIGHT road. Could be somewhere in Alberta if it wasn't for the hills.
Waiting for the ferry, at the front of the line :)
Once on the other side we were on the hunt for Flores (apparently 1 hr away). I guess this is partly our fault since we don't have our map memorized, but we never saw a single sign for Flores. Something I found odd considering it's a large city and tourist destination. We would pass intersections and there would be no signs for anything. But to make this worse there is nowhere to pull over so we couldn't check our map, we just had to hope for the best. It turns out that hoping for the best isn't a valid navigation technique and we ended up taking the long route to Flores.
Me hunting for Flores on my map
Actually we never even went to Flores because it was getting late and we just didn't care anymore. We picked the first somewhat cheap hotel we could find, in Sta. Elena, and called it a night. I think we were more interested in the wifi than seeing the beautiful town of Flores.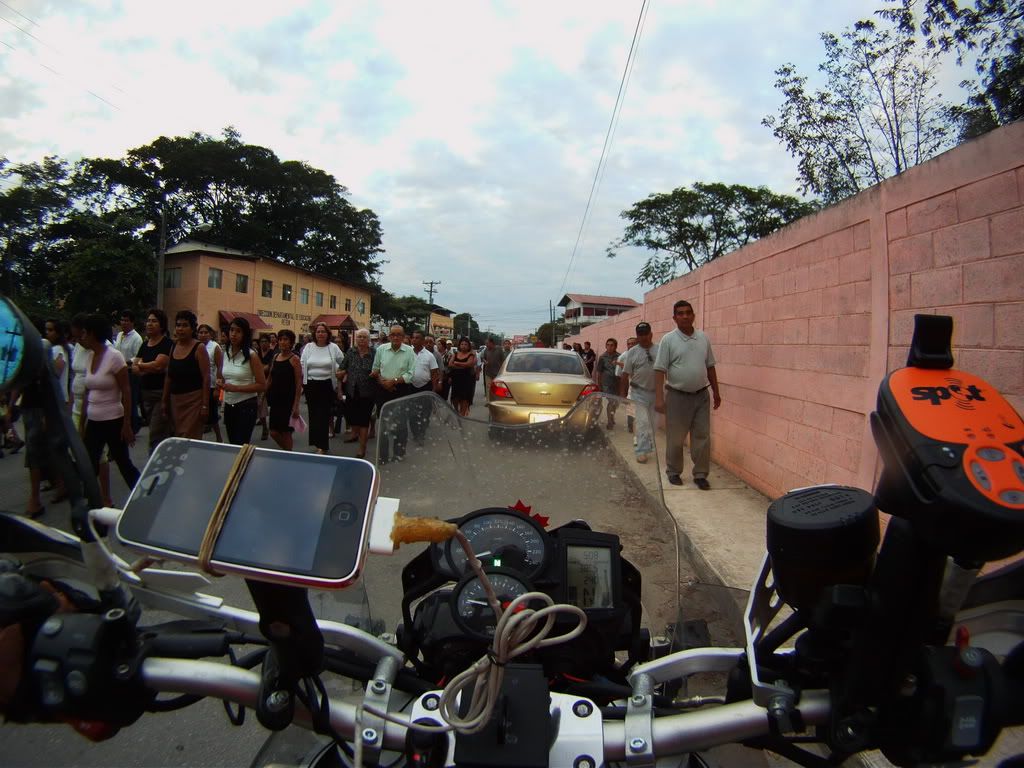 Navigating our way through a funeral on the road entering town
We went to Pollo Campero for dinner. We hadn't planned on going there for dinner, we just thought that if we got a ride there we could find somewhere to eat near there. Turns out there WAS nothing around there, so we ate at Pollo. But the amusing part of this story is that while we were having dinner Alberto asked two different servers for a drink. We waited forever with no success so he just went up to the pop machine and got himself a drink. Some employees stared at him in disbelief but sometimes you have to take things into your own hands. So Pollo is good for free internet, but we've found the service sucks.