The funny thing about traveling is the people you meet. Once we had the bikes packed up, we spent about 45min talking to people that were interested in us and the bikes. That's part of the magic of traveling. By the time we did leave Rio Dulce it was raining a tiny bit. We decided to chance it though and didn't put on our waterproofs.
The ride to the border was nice, and not very long. Finding the way was surprisingly painless considering our track record for navigating in Guatemala. It would be easy to miss the Guatemala check out though since it is a run down building, sitting unassumingly at the right side of the road. We got our passports stamped out and then our bikes sorted out with SAT. There was a slight issue because we didn't have a stamp in our passport for our bikes (thanks La Mesilla) but the SAT guy let us go. The Guatemala check out was several kms before the actual border and on the way to Honduras we reached a road blockage. There was construction work happening on a bridge and we had to wait, thankfully because we are bikes at the front of the line. It was about a 1.5 hr wait, but we managed to sneak through first once traffic started moving so that made a huge difference.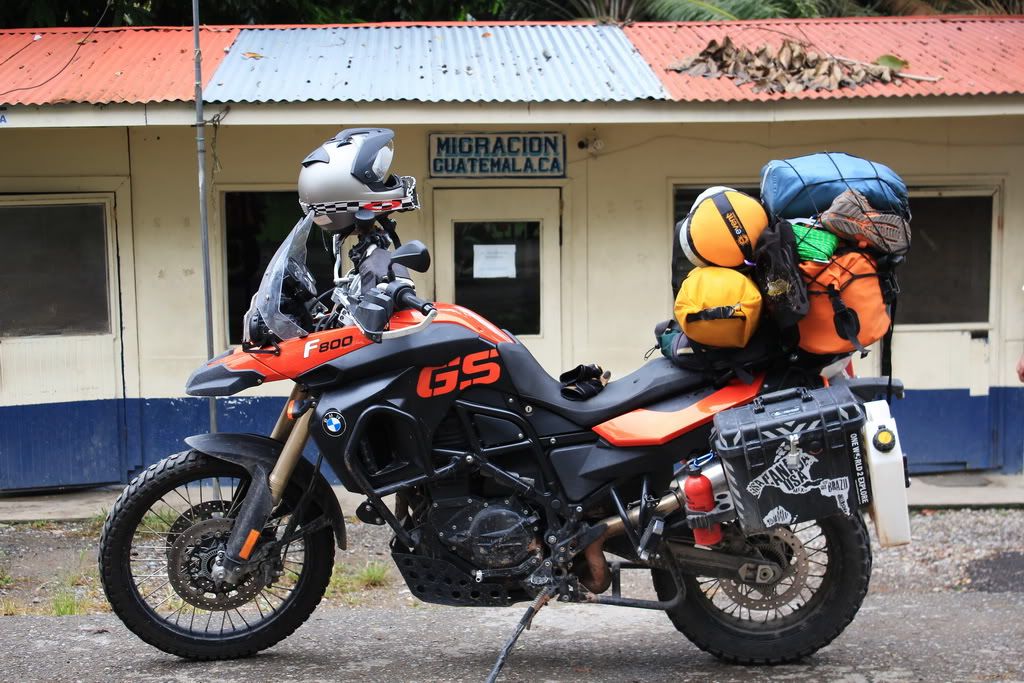 Guatemala customs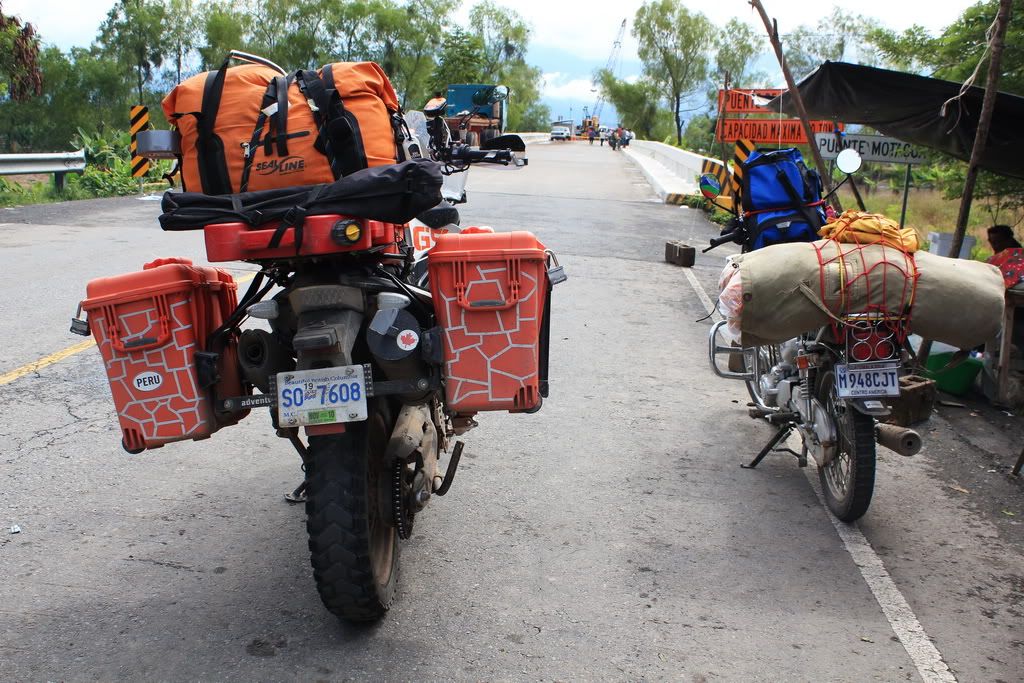 Waiting for bridge construction
It's very obvious when you reach Honduras (big sign, huge immigration complex ...). The Immigration guy was giving Alberto a hard time saying that the visa he acquired in Canada had expired. He tried to explain that his 30 day visa started the day it was issued not the day you enter the country. Not very likely since it's pretty standard operating procedure for a visa to start once you enter the country. Anyways, he was giving us a hard time and then did us a favour by letting us use the VISA. Then when he charged us the tourist entry fee (3$) he charged us in Lempiras; okay that's fine. He was a very difficult person and when I was asking him and trying to understand what the fee was for (since he had taken it upon himself to convert it for us) he just got angry and refused to explain anything. Not the best representative for the country of Honduras. So passports stamped, we went to the Aduanas to get our bikes sorted out. The girl at that office seemed more interested in selling jewelry to her co-workers than processing our paper work. It was an extremely slow and inefficient process but it was painless otherwise. Overall I would say it took 1.5 hrs.
We were happy to be on the open road, papers in hand. We asked the policeman at the checkpoint leaving the border area how long it would take to get to San Pedro Sula. He told us that we could probably drive 160kph and that it wouldn't take very long. Then he leaned in to see Alberto's speedometer and said, oh you can do at least 220kph and it will only take you 30min. So the police say we can speed like crazy on the roads? Good to know. We kept our speed at a more sensible 110kph and made good time to San Pedro Sula.
So far the navigational signage in Honduras has been a serious improvement to Guatemala. We only were lead astray once, in Puerto Cortez, even though we had been warned by a guy at the border. All of a sudden we were offroading, and I got very muddy. The road linked up with the main road though, and it was only 1-2 km. The HWY was a toll road and we didn't know what to do. Two of the operators came out of their booths to direct us around the toll booth since motorbikes don't pay. YAY! Take that Mexico!
When we arrived in San Pedro Sula we stopped at a Pizza Hut to call our contact in the city. There were no pay phones in the area but the Pizza Hut manager let us use their phone. Afterward it seemed like the entire staff was outside looking at our bikes and asking us about our trip. They were so generous and friendly; they even gave us something to drink. Soon Manuel arrived to escort us to his home.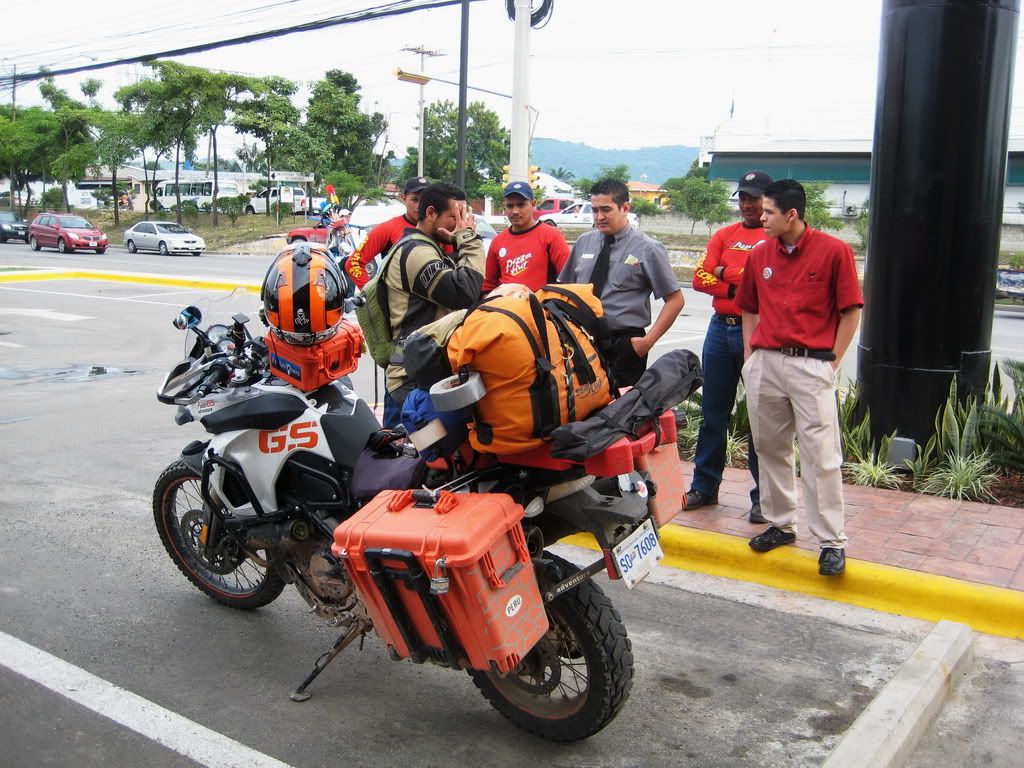 The Pizza Hut staff checking out the bikes
His home is amazing, and our bikes are safely guarded by a security guard. His family: Manuel and Pilar and their two children Manuel Jr. and Santiago have been very generous in inviting us into their home. It was Pilar's birthday during the week and she was having a party this evening. We had a great time at the party: Pilar and Manuel are flawless hosts, the food was amazing and we met lots of interesting and friendly people. I was so tired though, and already up waaaaay past my bedtime, so I didn't survive the entire party.