Another beautiful morning on the lake. The sun is always shining in the morning which makes for the best views of the volcanoes. We took advantage of the heat from the sun and went swimming. When the clouds started to roll in, we went into town to use the internet and do some shopping. Turns out, that was a good choice because the sky opened up and it poured down. We were safely tucked inside using the computer and eating some amazing food though. Result!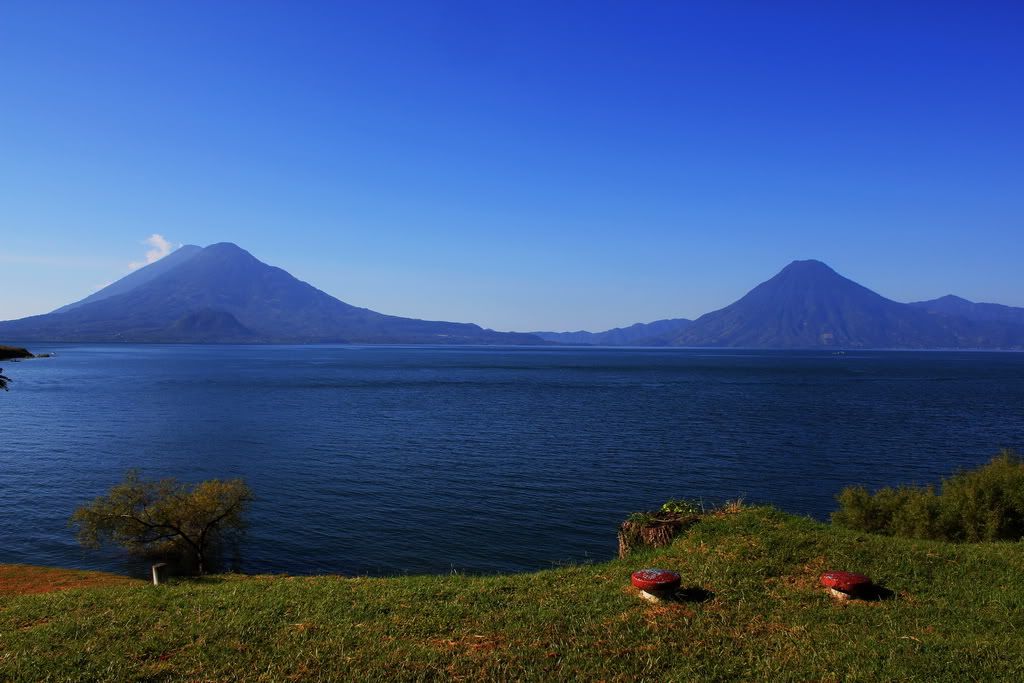 What a great view!
While we were in town, I did some wandering around and shopping. There is a bookstore (Libro del Lago) on Santander that sells good road maps and I got my fill for the rest of our trip. I also was browsing the local stalls but didn't find anything I couldn't live without. You have to shop carefully on a bike because there is not that much cargo space. I carefully consider any potential purchase to determine if it is a must have item. The only thing I have seen while travelling that I wish I could have bought were these copper pots we saw being sold north of Durango. They were amazing and I would have loved to bring one home to give to my mom.
The rain eventually cleared somewhat and we tuktuked back to our tent. The driver had put up plastic at the sides to keep the rain off of his passengers. It was a nice guesture. When we got back to the tent our million dollar view had been covered by a haze of rain. We pretty much just hid in our tent for the rest of the evening.