It felt like an early morning because we had stayed up so late last night. We dropped our bike's off at Check Point Moto Garage (Gerardo's bike shop). He generously offered to give them a once over, oil changes and a sprucing up. Muchas gracias! While that was happening he dropped us off at a local tourist attraction: Canon del Sumidero and the Ecotoursim Park Amikuu. Conveniently it's really close to the city.
The view from the water
The tour we took was based out of Chiapa de Corzo. It's a nice pretty town by itself. We took a boat ride down the canyon. It was really fun, partly because I just like being on the water in boats and also because the scenery was beautiful. There were crocodiles, exotic birds and interesting rock formations. The only negative was that there was a lot of garbage floating in the river, slum dog millionaire style. That part was disappointing. At the end of the boat trip was the Ecotourism park. We both felt this was worth the extra money because we got to see some of the natural animals to the Chiapas jungle (in a zoo setting) and also got to learn some history. The bonus was getting to hold a tucan on my arm and Alberto posed with a Britany Spears snake.
Alberto getting to know the wildlife
Dinner time
The Tucan experience
The impressive Jaguar
Saying goodbye to the canyon
Gerardo picked us back up in the evening; we retrieved our bikes and came back to the clubhouse to watch the UFC. Take that Brock Lesnar!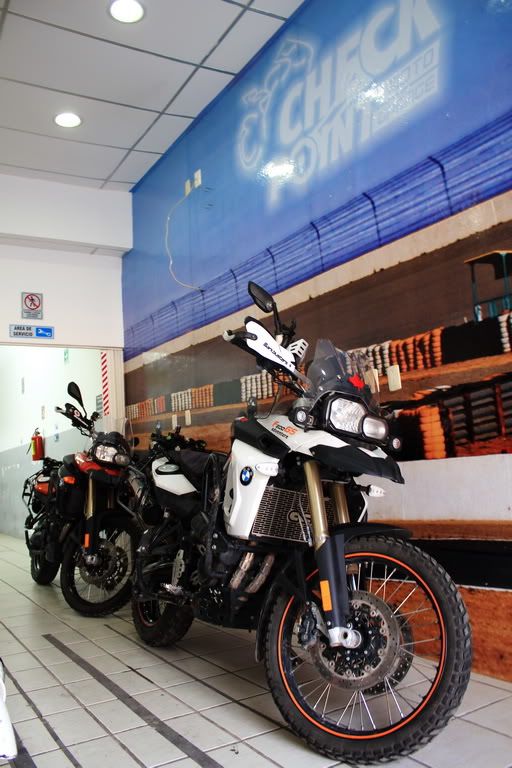 Our beautifully clean bikes
Sidenote: thanks Santiago for bringing our laundry back nice and clean!
You have to love the Fraterhnos Club hospitality and generosity: accommodation, bike maintenance and laundry! Thank you guys!