We stayed another day in Creel at the campground and took a day trip to El Divisidaro. We also coined a new term today: The Mexican Hello. Here's the deal. The Mexican Hello is when a driver in the oncoming lane is driving in your lane, or moves into your lane once he sees you. The driver waits until the last second then returns to his lane. He waves as he passes you. We decided that the driver drives in your lane to get your attention so that he can say hello as he passes, hence the 'Mexican Hello'.
The ride to Divisidaro is only 40km to we had a relaxing morning and then set off late morning. The temperature was pretty much ideal for riding. The road was a bit rough at the beginning: potholes and gravel. It got nicer near the end and there were lots of good curves. But you always have to be on guard for the Mexican Hello. When we got to the end we paid to get into the Barranca del Cobre area, which turned out to be a steal at 40 pesos for the two of us.
Spectacular view
We went to the end first, no particular reason we just thought we'd see what was on offer and work our way back. At the end was the Piedra Volada, which we chose as our first photographic stop. There was a road that went to a gondola, and it turned out to be our lucky day. It is a recent addition (the whole complex isn't finished yet) and it was running for free this afternoon. It was pretty awesome as it travels across a section of the canyon. Oh boy it was an impressive view. There is also going to be a restaurant/tourist complex but it wasn't finished yet. We did sneak in though to enjoy the view and check out the glass floor. The views at Divisidaro are well worth the small detour and the new additions (gondola etc...) will surely bring more tourists out.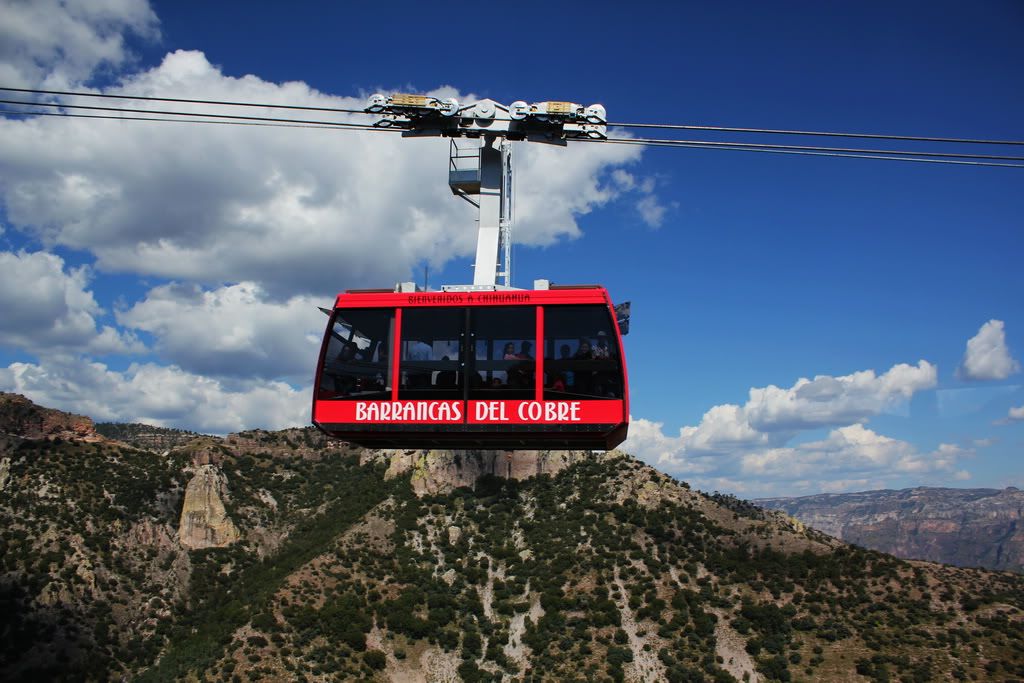 The Telescopico de Barrancas del Cobre