When I woke up because it was light out, I was already starting to sweat. I don't know if I'm cut out for these warmer climates. We went for a walk on the beach and had a swim. The water was amazing. It was the perfect temperature: score 1 point for the Sea of Cortez. There were lots of fish and some nice waves. When we walked back to Franceso's house he invited us in for breakfast. We had a lovely breakfast with him and Norma. Thank you very much guys for your hospitality.
Saying goodbye
By the time we had packed the bikes, we were both pretty sweaty (it seems to be a common theme) so it was nice to get moving and feel a bit of a breeze. Our cooling vests are working well. That was a good score in Tuscon. The road was pretty boring to Hermosillo, and longer than I had expected as well. But Bahia de Kino was worth the detour. It's a very nice beach town. We stayed in Kino Nuevo, so I can't comment about Kino Vejo. When we reached Hermosillo a cop pulled us over. I didn't realize he was trying to pull us over (since I was looking for road signs) until he chased us down. As it turns out we were speeding in a school zone. When my options are: 1) Follow the speed limits and get squashed by cement trucks, or 2) Have an outstanding ticket in Mexico I think I'll always choose option 2. The funny thing is, for anyone who knows and rides with me, is that I was leading... so MY reckless

driving got us pulled over. Now there is a shocker. So once the traffic police officer nearly killed us pulling us over he gave us the sob story: I'm keeping your licenses until you pay, you're wasting my time because I had to chase you down, blah blah. He even threatened to take Alberto to jail at one point. Anyways, long story short we got our licenses back, but wasted a bunch of time talking to the cop in the heat.
After finding our way out of Hermosillo and onto HWY 16, boy do I miss TomTom when navigating in cities, it was smooth sailing. The road was really straight and it was still pretty hot outside until we got through Tecoripa. Boy, then the twisties start flying at you from all angles. It was hard to fully enjoy it though for fear of oncoming traffic not being in their lane. Still it was a welcomed change, not to mention the glorious cooler temperatures of the mountains. The scenery was also very nice, but there weren't really any places to pull over and get photos. I guess the spectacular views will have to live on in my memories.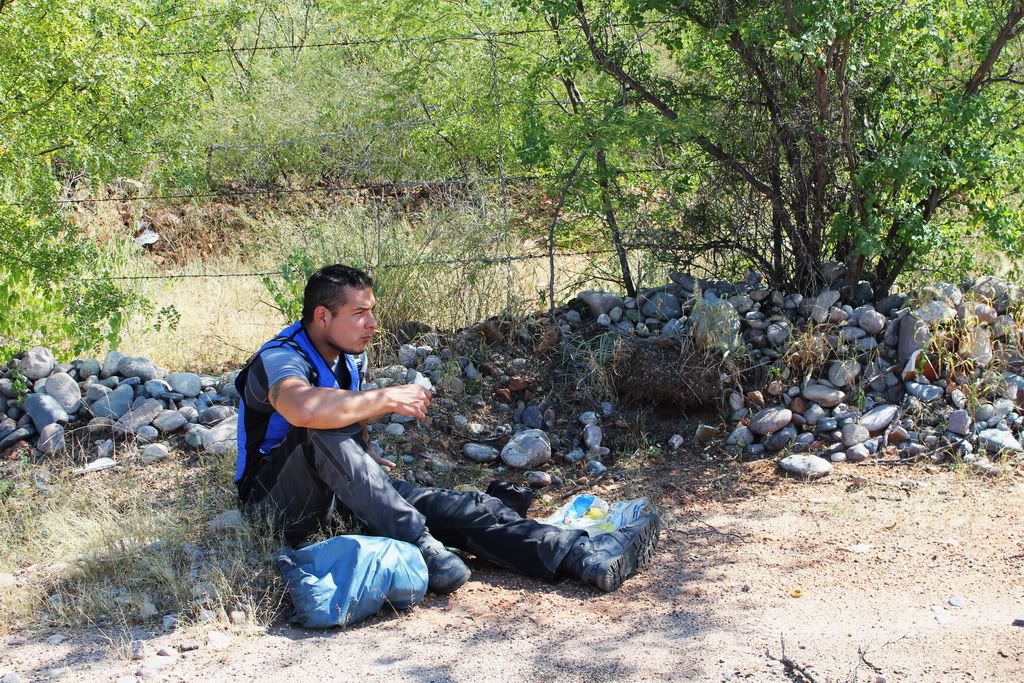 Taking a lunch break
A small taste of the scenery
We are resting our tired bodies in Yecora tonight. Sounds like Alma, QC with the people speeding outside the hotel and the music playing loudly.