It was only a tiny bit chilly when we woke up this morning. Actually last night was the first time I have slept with my toque since Colorado. It feels so good to wake up and poke your head out of the tent. It reminds me of when I was a kid on the boat. The first thing I would do was poke my head out of the hatchway above my bed to see what was going on.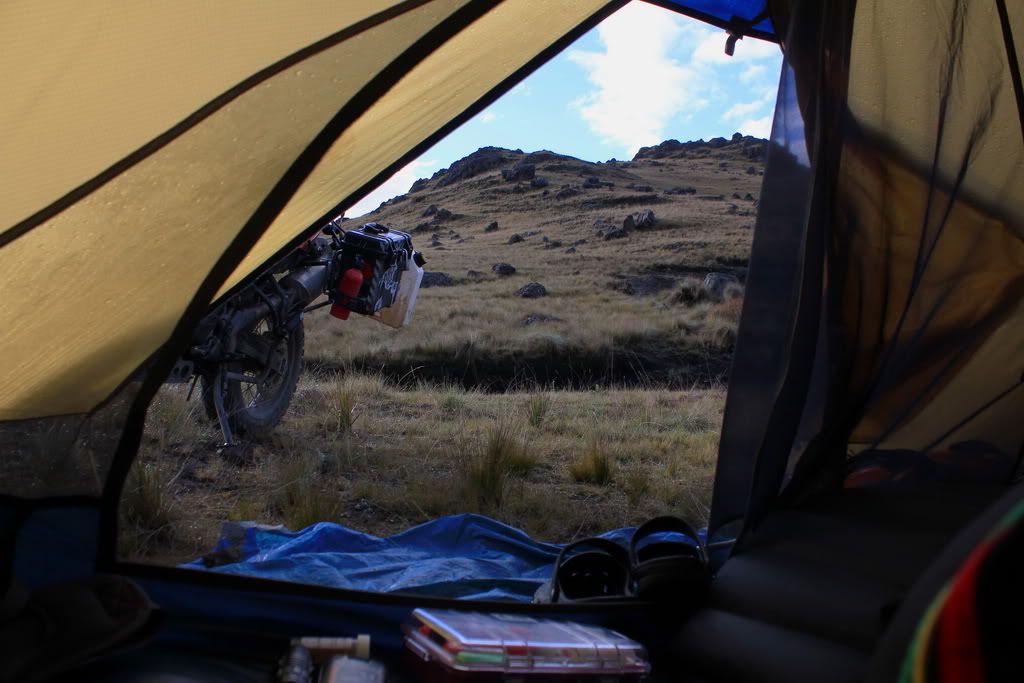 A great way to wake up in the morning
Our stove struggled a bit to get going (altitude?) and our lighters didn't work. Our bikes also took a bit of TLC to get going.
Cooking a hearty breakfast
All the rain last night had turned the road into a bit of a sloppy mess. The road was fine but when we reached the town of Shorey it was a disaster. Thick mud and puddles. Thankfully that was only about 750m worth of yuck. Soon we turned off the muddy road and were heading up into the mountains. The road wasn't really wet, only small patches, so it was a dream to ride. It was sort of a sandy dirt, but nicely hard packed without many rocks.
My favourite riding of the trip so far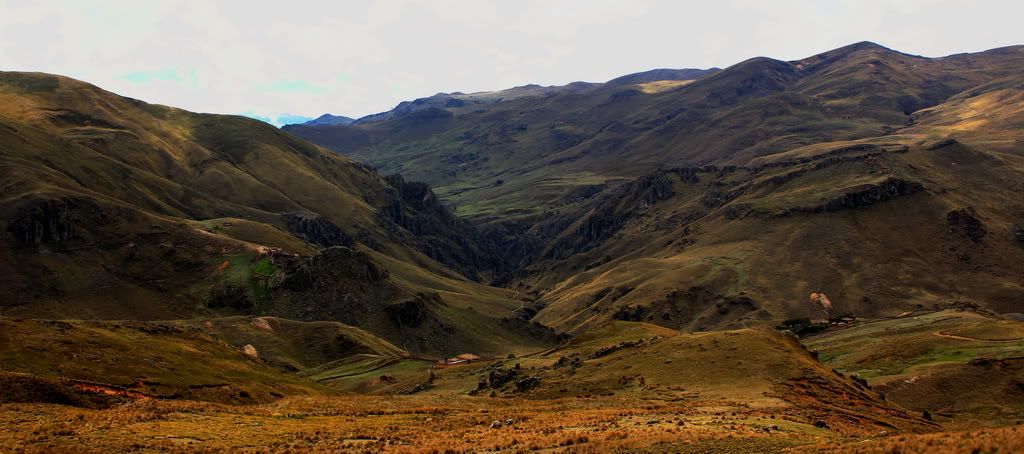 Plus, check out the view!
The scenery was amazing and the road was fantastic. I've never had so much fun riding a dirt road. At times, when we were at the highest points, it felt like we were the only people on earth.
Pit stop to put on my heated vest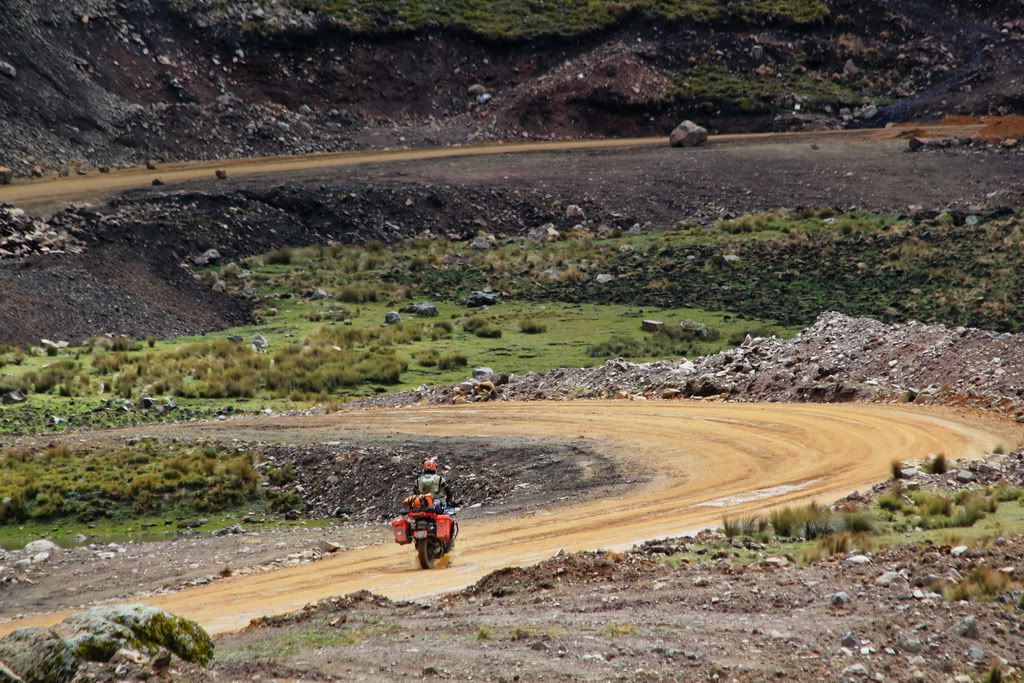 We pretty much had the place to ourselves
Before the town of Santiago de Chuco we met a couple from California on a KTM Adventure. We stopped and chatted for a bit. It was nice to actually meet someone else riding, and in such a remote place. After Santiago the road was taking us down and as we decreased in elevation the landscapes turned into farm land and the temperature rose. Actually we went up and down all day. We just never made it back up as high as first thing in the morning.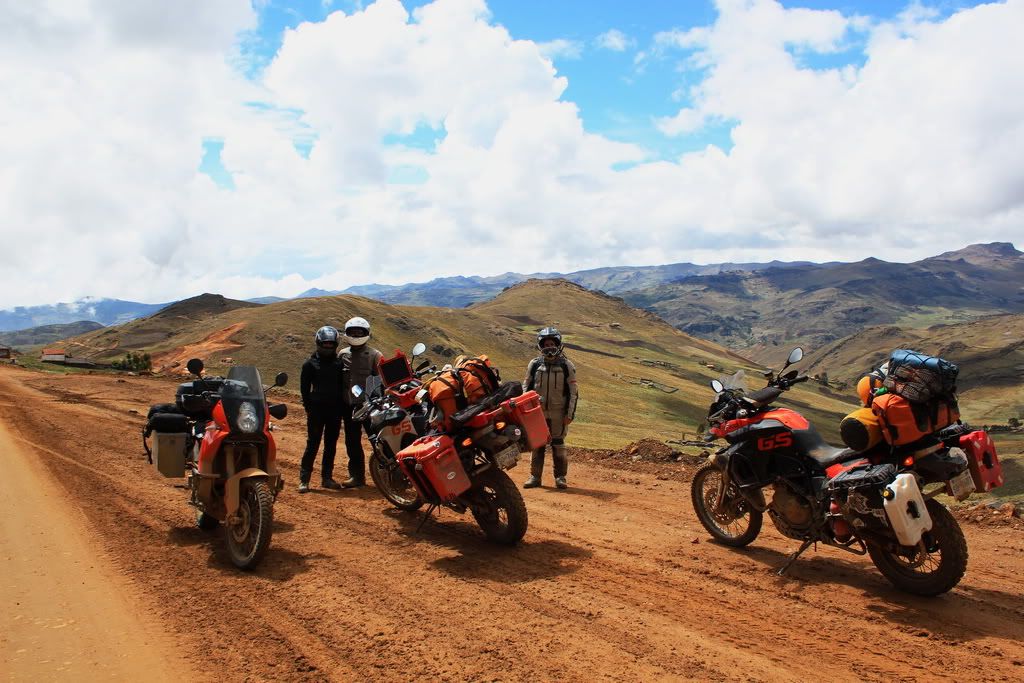 Stopping for a chat with the KTM adventurers

We stopped in a tiny little town for some lunch and then it started to rain. What I like least of all about the rain while riding offroad is that my visibility is less than 100% cause of all the rain drops on my visor. At one point there was a bus coming in the other direction. He was taking up the whole road so we stopped and moved off to the side. Alberto snuck past him while he was stopped and then I tried to but my back tire was stuck. While I was trying to regain traction the bus driver got impatient and then decided to literally drive me off the road. I fell into the bank. I hope my Pelican case scratched the hell out of the side of his bus. That's the problem with Peru, peruvian drivers.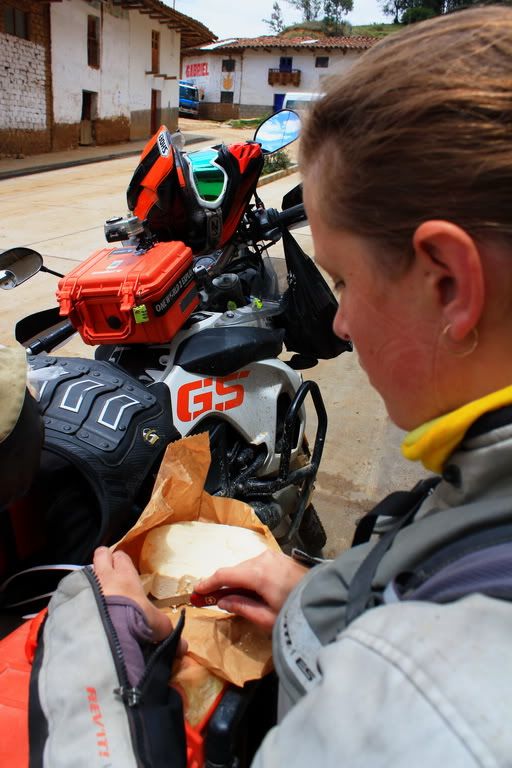 Some cheese and crackers for lunch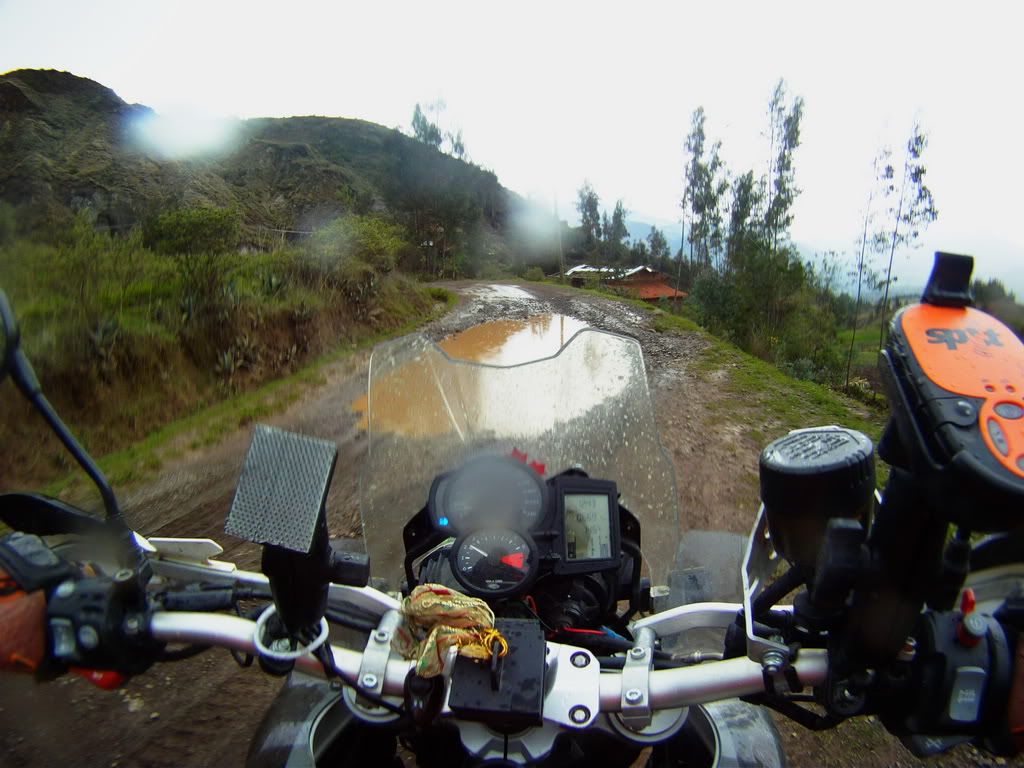 Puddles were starting to form from the rain
The rain continued and we arrived in another tiny town. Again there was atrocious mud in the town but now we were in clay territory. Alberto started to slide all over the place and before I could process what I was seeing I was sliding and then falling into the mud. When I got up it was hard enough to stand it was so slippery let alone ride a motorcycle with 80/20 tires. It was like walking on ice. Alberto took both bikes through very slowly with me standing by for support.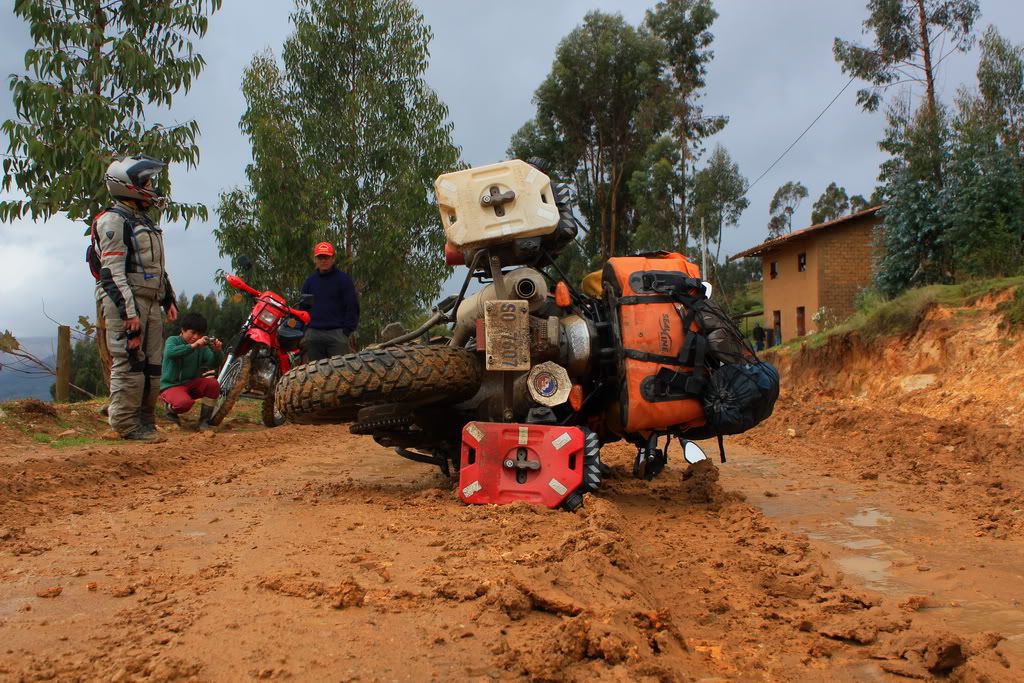 My bike taking a nap in the mud
Want to find out what the impact points of your bike are? Drop it in mud.
The road was slippery afterward but not too bad AND THEN we got to Angasmarca. We had to descend a steep muddy hill to exit the town. Alberto started sliding out of control and before hitting the telephone pole he bailed. We decided to walk my bike down. As we continued on the road leading out of town the mud continued to be very slippery. We lost track of how many times we fell.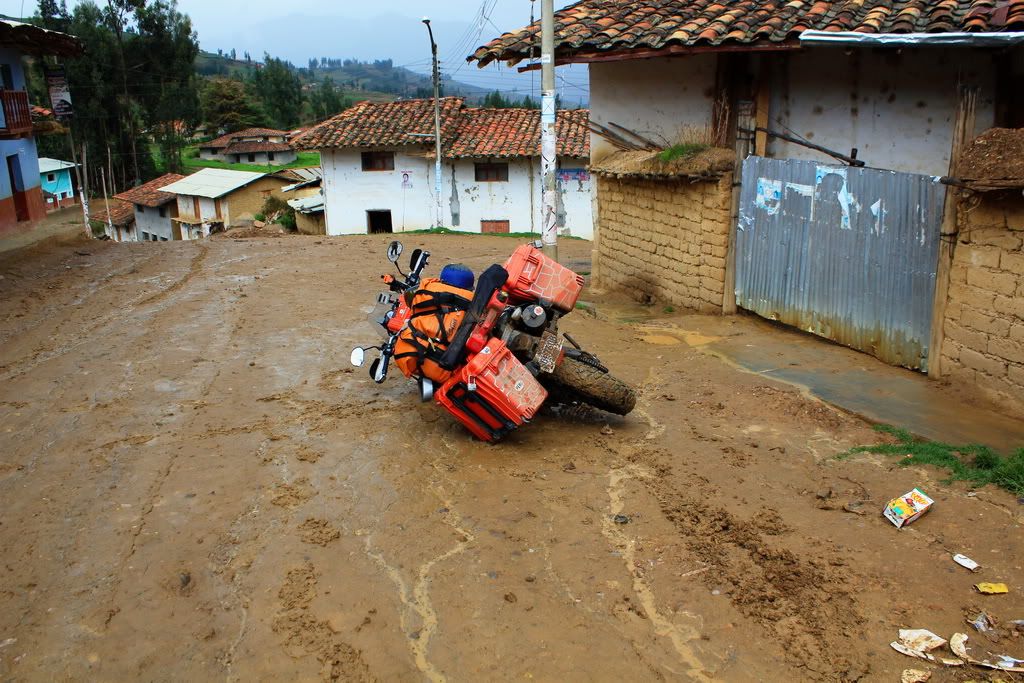 Avoiding the post at all costs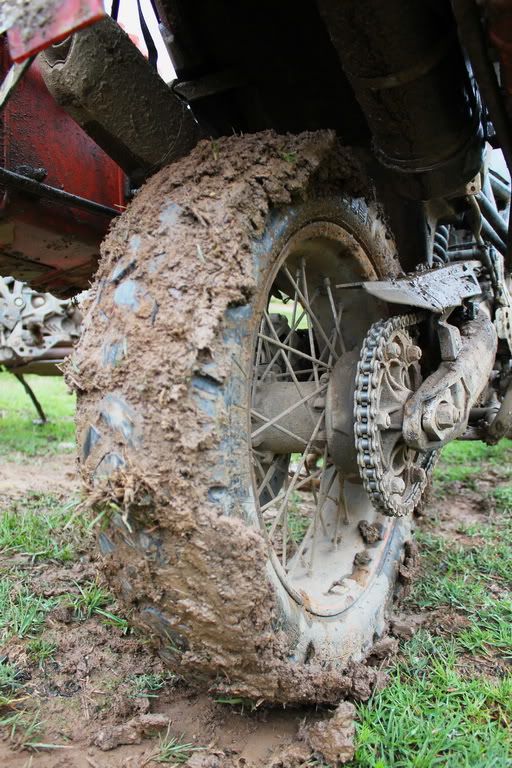 The state of our tires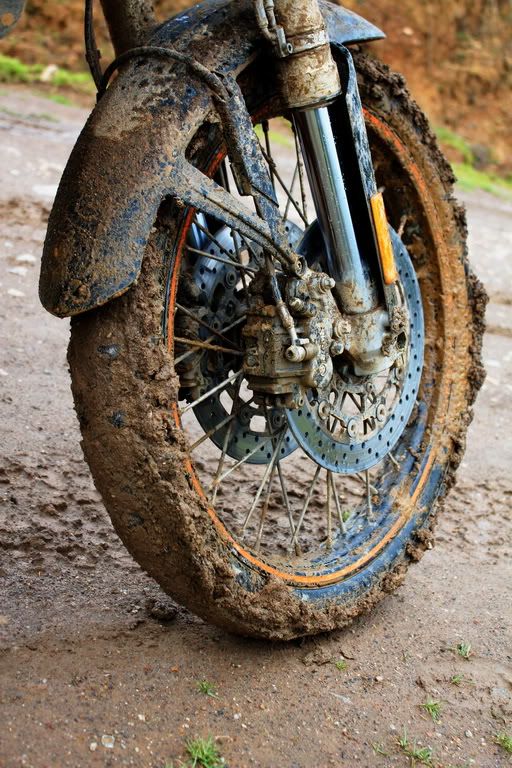 The front tire
Alberto was trying to get my bike unstuck at one point and the front wheel wasn't even moving, it was just being pushed along. In mud like that I think fully focused, uncompromising mud tires are needed, and even then I'm not sure because there was so much clay in the mud it would probably clog up the tread. When you loose count of how many times you've dropped your bike it's time to call it a day. We were tired and couldn't deal with picking up the bikes one more time at 3,200m. We asked a farmer if we could camp in his field. Since he just saw us crash two bikes I think he felt pity and granted us our request. So we camped out with the cows and sheep.
The straw that broke the camels back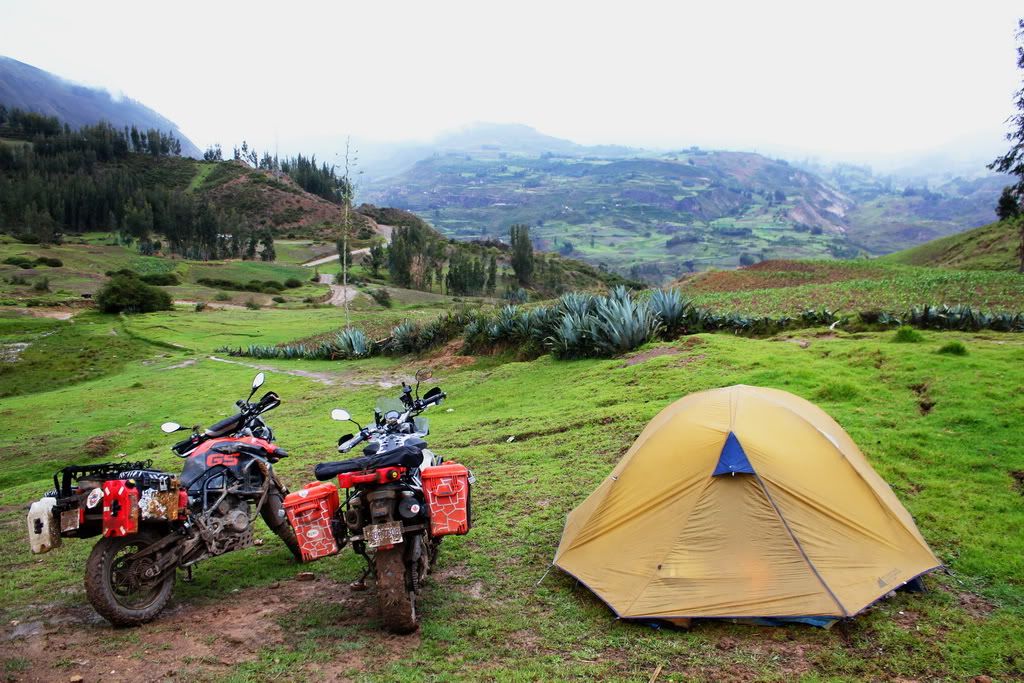 Camping with the sheep and cows
It was still raining off and on when we went to sleep. Hopefully it doesn't rain all night and the road gets a chance to dry out a bit.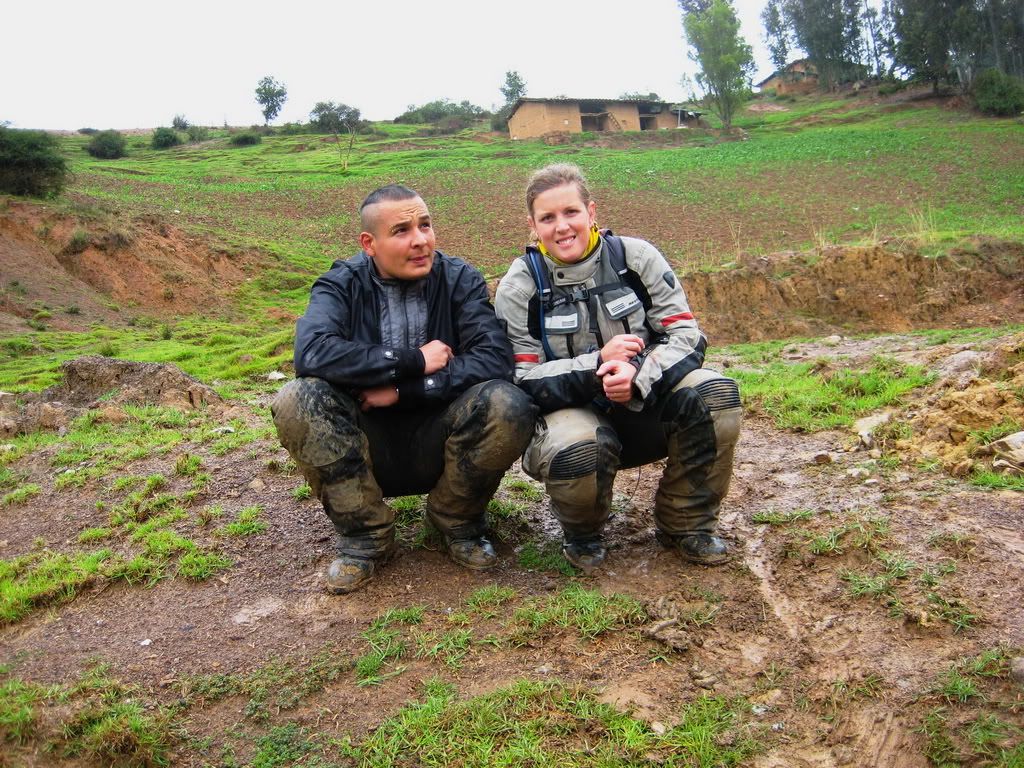 Pretty messy by the end of the day