This morning I discovered that fog is my nemesis. It seems that during the loop day (Day 112) my goggle lens was scratched to an unusable level. It was a fight for survival so while we were riding in the fog that day I was frantically wiping my goggles to regain some sort of vision. It hadn't occurred to me that we had been driving in dirt for a few hours before that and my goggles were more likely covered in sandy dirt. Anyways what's done is done and now I'm a little screwed.
It was raining when we set off to go south this morning. The weather was far too humid to put on waterproofs though so we took our chances. The problem with wet roads in cities is that there is a lot of traffic spraying dirty water at your face. I was having the hardest time trying to see since my visor kept getting smeared with muddy water. Thankfully the rain didn't last for long. Soon enough we were cruising down the straight Panamerican highway intersecting banana plantations. In the same way you see wheat as far as the eye can see in the Canadian Prairies, here all you could see was banana trees.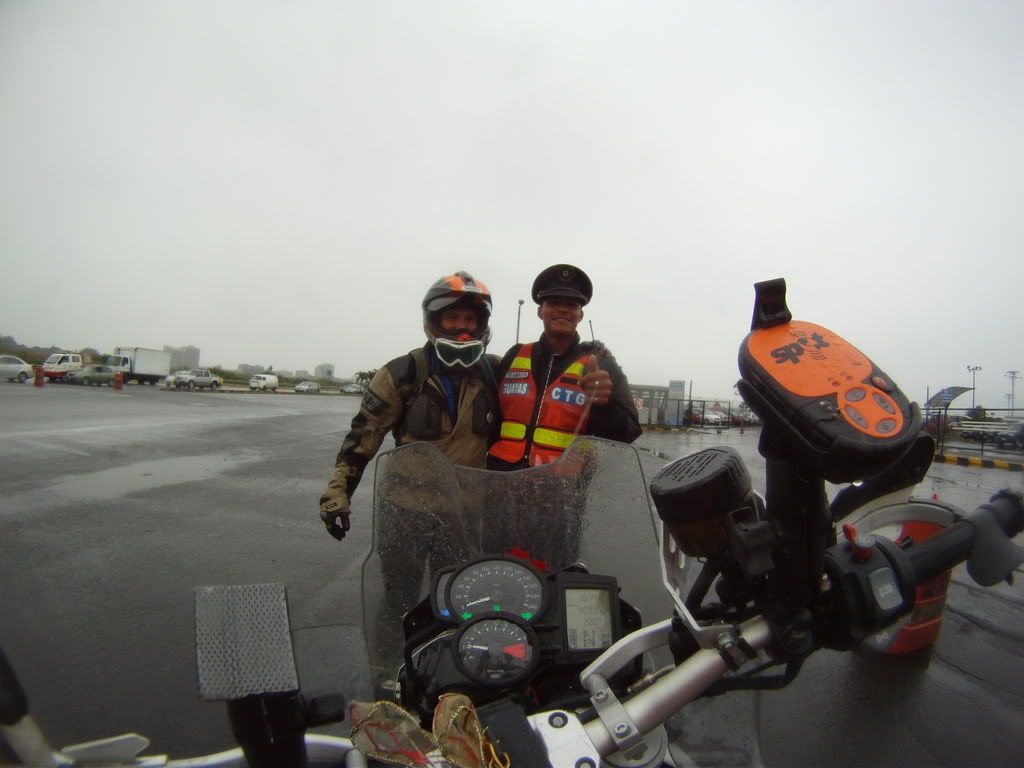 The police officer that helped us with directions out of the city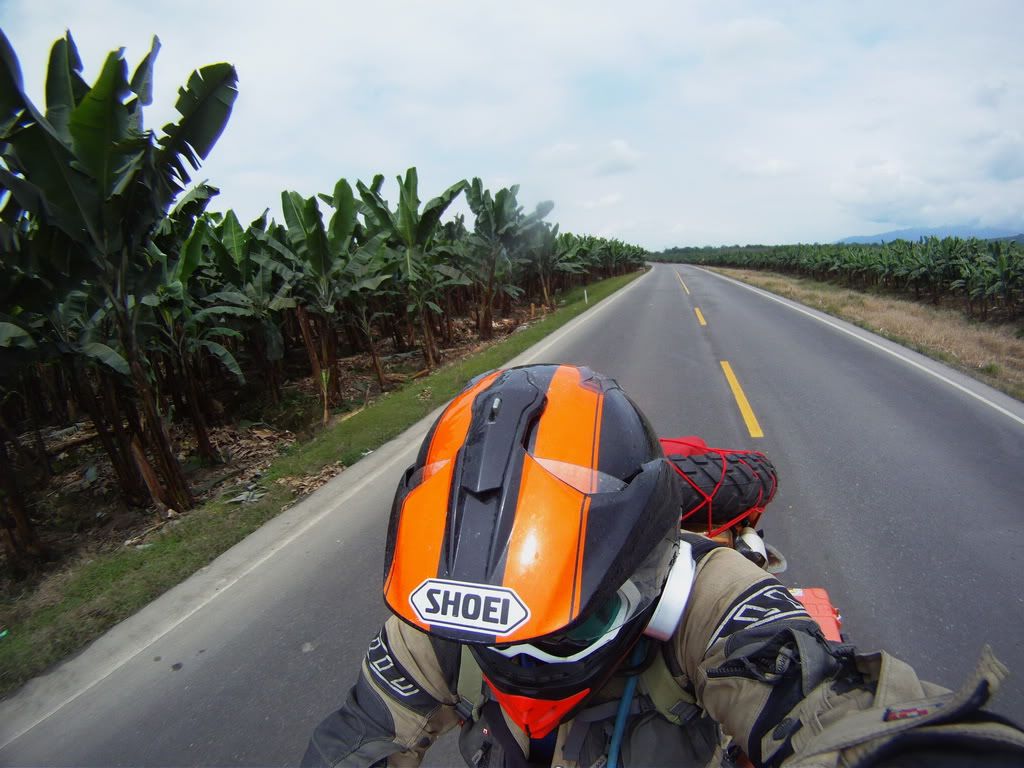 Banana trees: Chiquita bonita
My temperature gauge flirted with 30 degrees all day; I miss the mountains already. We did one last top up of our gas tanks (fuel here is very cheap) and then we went to the border. We stopped at a Migracion/Aduana office but they "couldn't" do our paper work. So we followed the signs to the border and before we knew it we were in Peru.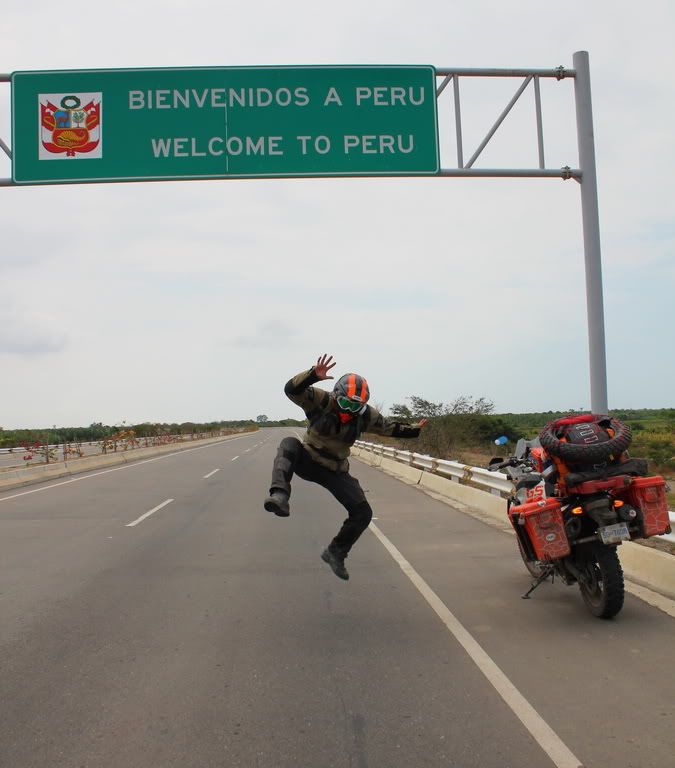 Entering Peru the first time
Of course the border turned us back to Ecuador to get stamped out. I was furious, once again disorganization strikes again. There was a brand new border complex built on the Ecuadorian side - it just wasn't in operation. When we were turned back we had to drive through it and everything was blocked off. We thought we weren't going to be able to get out. Alberto moved the logs out of the way so we could get back on the road. We had to turn into the border town to get our passports stamped. A sign would be nice, but of course too much to ask for. We couldn't get our bikes sorted at this place so we decided to say f*ck it and went back to the border. It's your own fault Ecuador.
The Peruvian border was uneventful. It was pretty much a ghost town. When we got back on the road again the first thing that struck me about northern Peru was how much it looked like southern Namibia. It is a pretty desolate desert. The other thing that is a noticeable change is the attack of the moto-taxis. It's like a plague of locusts. They are everywhere and especially swarming around cities. Truly bizarre.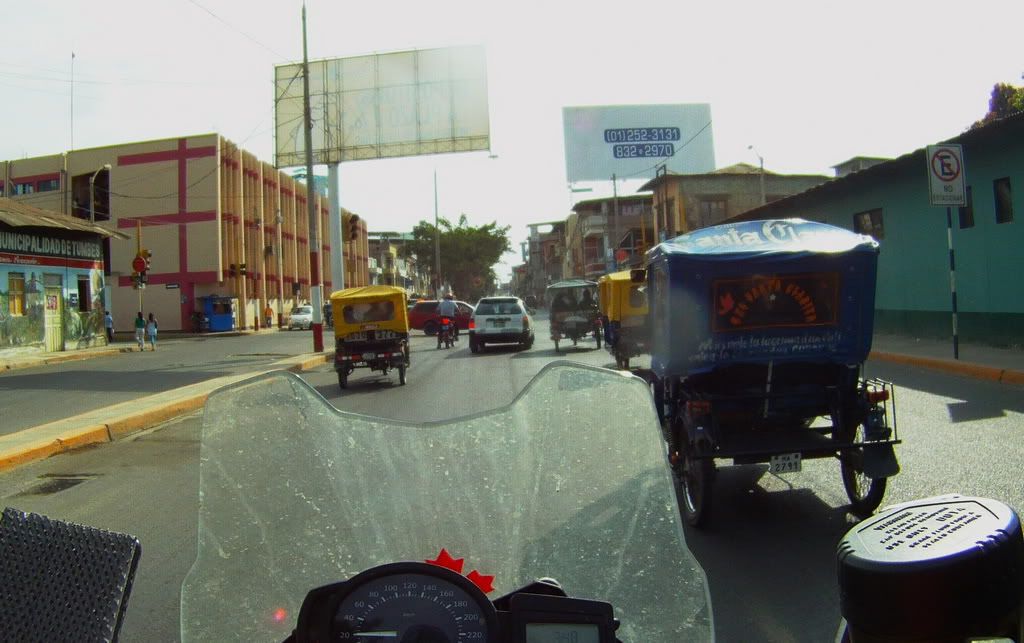 Invasion of the moto taxis!
As most people know the Peruvian panamerica highway is nothing to write home about. The next hour and a half was unspectacular. One thing I will say is that it was nice to see the ocean again. We planned to stop in Mancora for the night so once we got there we started the search for a place to stay. Alberto had stayed at a nice beach hotel a few years back but when we tried to find it we discovered that prices had risen significantly over the years. It was now out of our budget so we returned to the main town. We had just started our search when we saw a place with a garage with two normal sized bikes. A good sign we thought so we checked it out.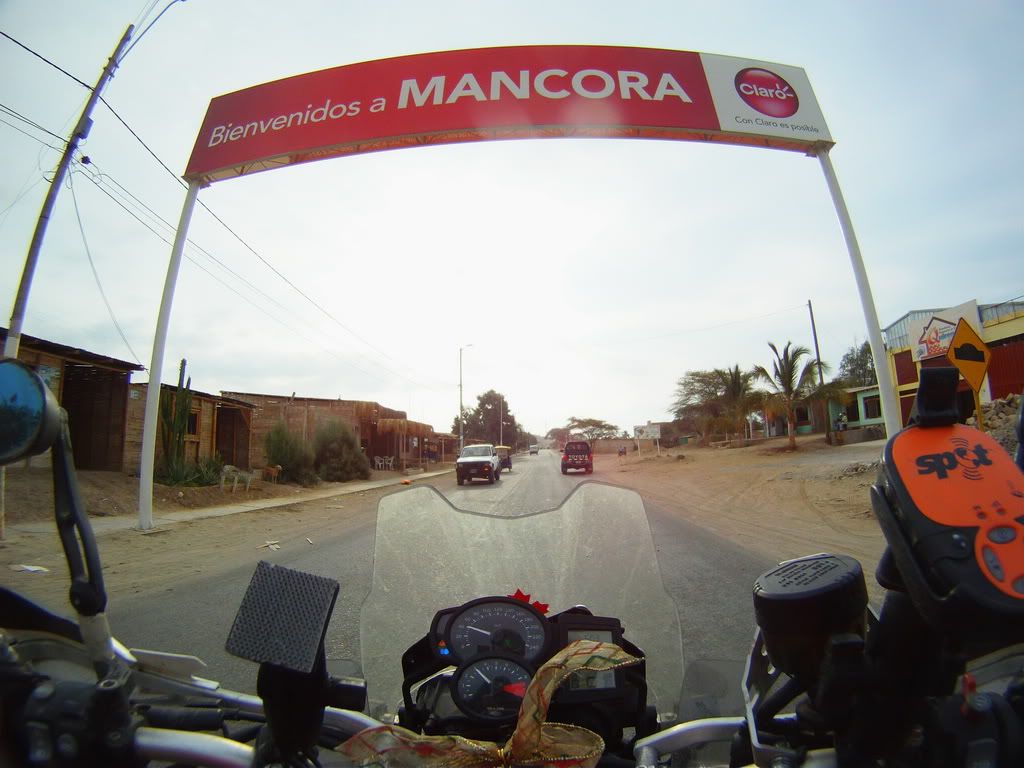 Arriving in Mancora
We ended up staying here for the night, and having a few beers with the owners of the bikes during the evening. Ramon and Juan (sorry if I mixed up your names) are Colombian bikers from Medellin. This was their first big trip out of the country and despite a huge problem with a defective tire but they were still in very good spirits. Great guys, and it was nice getting to talk about biking with them.
Having a beer with our Colombian friends.
Mancora seems like a party place and true to form our hotel was partying hard long into the night. I woke up to some Akon at 2am.
A small step into luxury? The hotels we stayed in were a step up (still at cheap prices) in quality. They all had very hot water and provided shampoo. I know, shampoo! Also a lot of them provided breakfast. I could get used to it.
We were a little sad not being able to take advantage of cheap gas in Venezuela but Ecuador came to the rescue, in it's own way. Very cheap gas and will probably be the cheapest of the whole trip. Thank you Ecuador for that little budget present.
Overall the roads in Ecuador were the nicest of any country we've been too. We discovered that this is primarily due to a big push from the current President. Not just the main highways but secondary roads as well. More or less, all roads are in very good condition and built to a good standard (wide, shoulders...). My only complaint is that some roads seem like they are made in two passes. So in your lane, in the middle, is a seam. Not a big deal in a car, but a bit worrisome when you are in a corner and your bike all of a sudden jumps down a level.
We got lost on our second to last day in Ecuador and it was probably the best day of riding we had. It was a great road, beautiful mountains the only comment I will make is that you should be prepared to go offroading if you want to go to Guayaquil.
In Ecuador I started to feel the effects of altitude for the first time. Especially in Quito when we were walking around the city sightseeing. Well probably altitude and riding a bike for the last 4 months with no regular workouts.
And finally a complaint of mine. It bothers me that countries with their currency tied to the American dollar make their own coins. Actually the fact that they have their own coins doesn't bother me, it bothers me that they don't accept each other's coins. I tried to use some Panamanian coins in Ecuador and I was rejected. This just seems completely silly to me since the currency is valued at the exact same price cause they are both fixed to the American dollar. In Namibia their dollar is fixed to the South Africa Rand. In Namibia you can use either Namibian currency or South African currency. People don't bat an eye because in the grand scheme of things it's worth the exact same.