Today we set back out on the road and for our time in Peru our goal is to avoid the Panamerican like the plague! After a delicious breakfast we packed up the bikes ready to go on our way. We said goodbye to everyone, which included a massive photo shoot.
We joined the Panamerican briefly until there was a roundabout. The way we wanted to go was blocked off. We went back to ask the police what the deal was and they said it was fine to go through. Okay weird. Then we came upon road construction. The first guy let us through and we were 4X4ing on the shoulder. Then we came to a traffic jam. Peruvian drivers really show their true colours in a traffic jam. I've never seen such erratic and aggressive driving. It was a bit scary. For whatever reason peruvian drivers don't like to let motorbikes go to the front of lines. Soon we were past all the traffic though and enjoying paved mountain roads.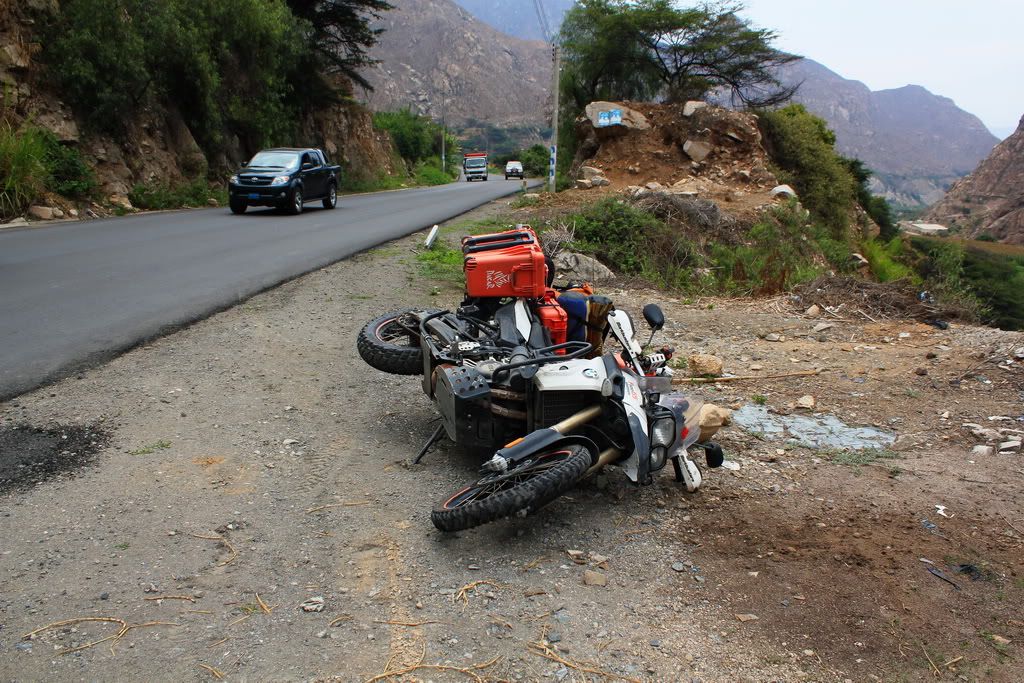 La Gringa taking a nap; note that the side stand is still deployed
We weren't enjoying the pavement for long. Soon the road was all dirt, but it was very nice. The nice thing about dirt roads is that the traffic decreases. There was some great scenery and I could feel that my South American bike trip had finally begun. For a long time now I figured that I'd really start enjoying the trip once we got to Peru and today didn't disappoint.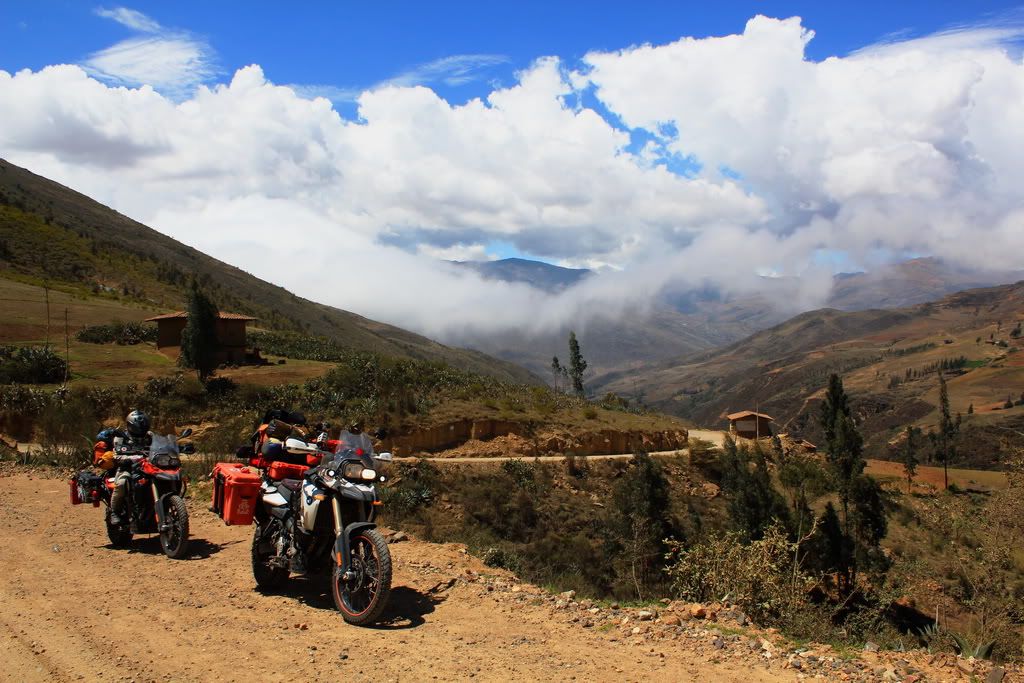 A taste of the road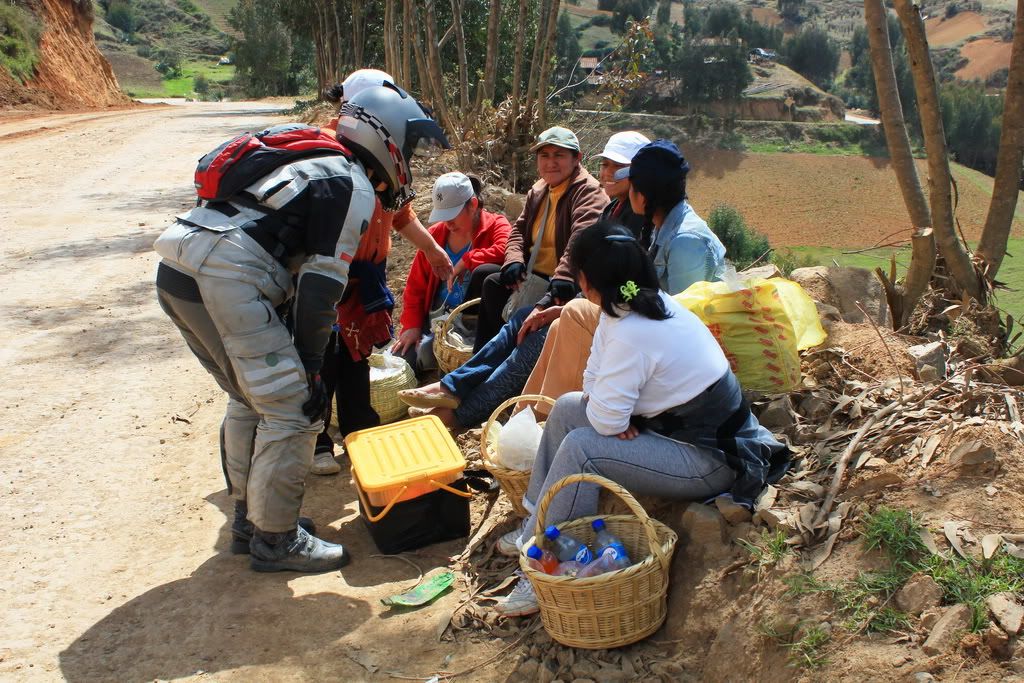 Meeting the crew
We ended up stopped at another area of construction. The traffic controller said it was going to be 20min so I got off and took a break. Immediately one of the girls selling stuff, who wasn't shy at all, came over to talk to me. I was telling her where we were from, blah blah, the usual. Then she introduced me to everyone. It was pretty cool. They were so excited to take pictures with us and the bikes. It made the wait go by pretty fast. The traffic started moving again and soon enough we were waiting for more construction. The controller told us 30min and Alberto was not too impressed. So he ran the blockade and we drove through the construction being yelled at by the angry workers. Please, motorbikes are small enough to get through without getting in the way.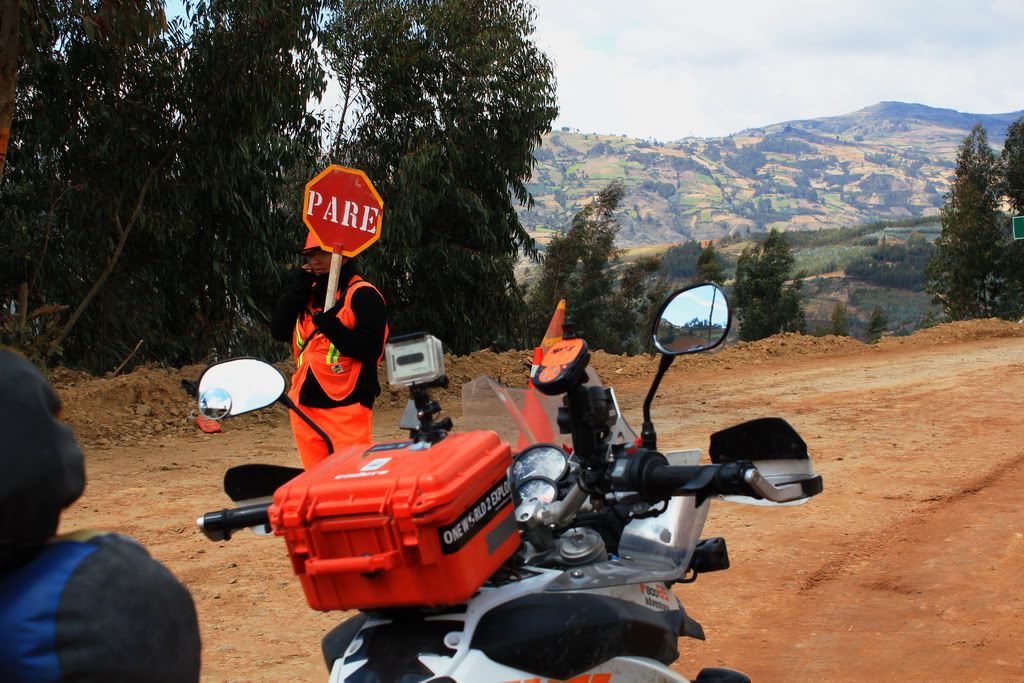 Waiting to be let through
Since we went through the construction early we had the whole road to ourselves. There was eucalyptus trees growing at the side of the road and it makes for some great smells.
Eucalyptus trees everywhere
It started to rain a little bit but we chanced it hoping it would pass. It did pass and we continued to ride a bit more but soon the clouds were looming and the rain looked inescapable. We quickly found a place to bush camp for the night and managed to get the tent up before it started pouring down. A couple of Ronderos aka watchmen (Alberto says their positions were created during the shining path years and never eliminated. They go around checking that everything is okay) on motorbike, Hector and Raul, stopped by our tent. They confirmed that it would be fine if we camped there.
It's a good life
It rained a lot; changing from hard to light rain so we hid in the tent. Too bad because it would have been nice to enjoy the quiet and fresh air.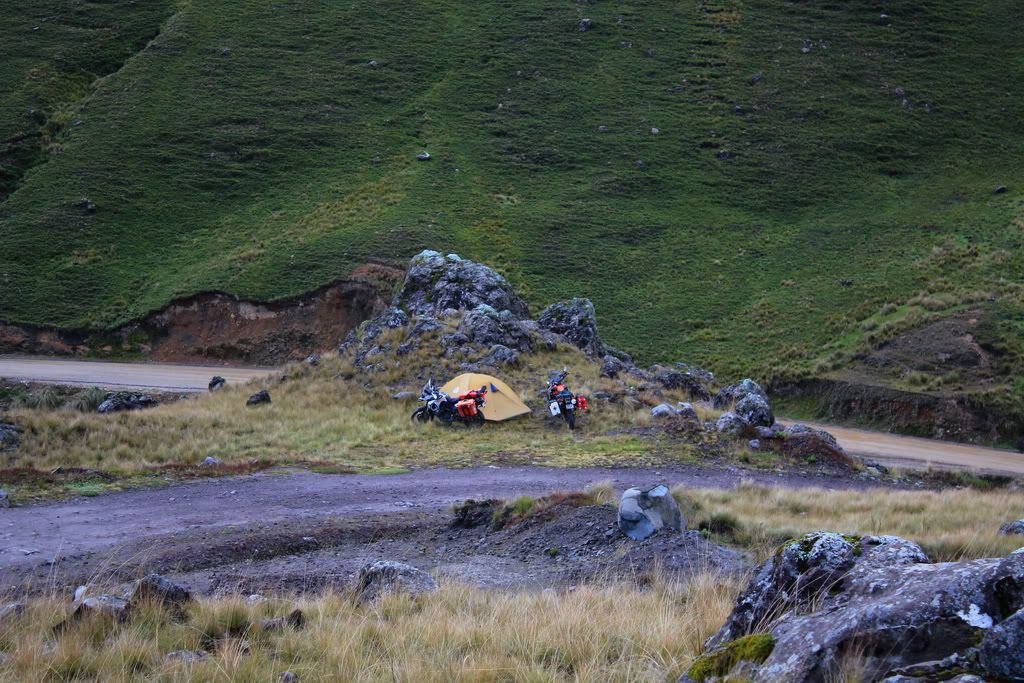 Camping