Armed with just a piece of paper with the communities of the Loop written down, we set off to Latacunga. It was raining a tiny bit in the Quito area but I was lazy and didn't put on my waterproof liners. I was hoping that the rain would pass once we started heading south. It did. Today there were two firsts since the United States. One, we saw snow, I believe it was Cotopaxi but the top was covered in cloud so I can't be sure. Second I used my heated vest.
We stopped for gas in Latacunga before heading off for the Loop. We both assumed we wouldn't find any gas stations where we were going. While we were stopped for gas, a fellow adventurer from Venezuela stopped by to say hi. He too is heading to the end of the world.
A little background on the loop (we did in clockwise order). From Pujili to Quilotoa it is paved. From Quilotoa to Segcho it is dirt. For about 5km around Segcho the road is cobblestone. Then from there back to Latacunga it is paved.
We veered off the Panamerican at Latacunga to Pujili in search of the Loop. We followed the road straight all the way to Zumbahua. More or less nice pavement and good scenery.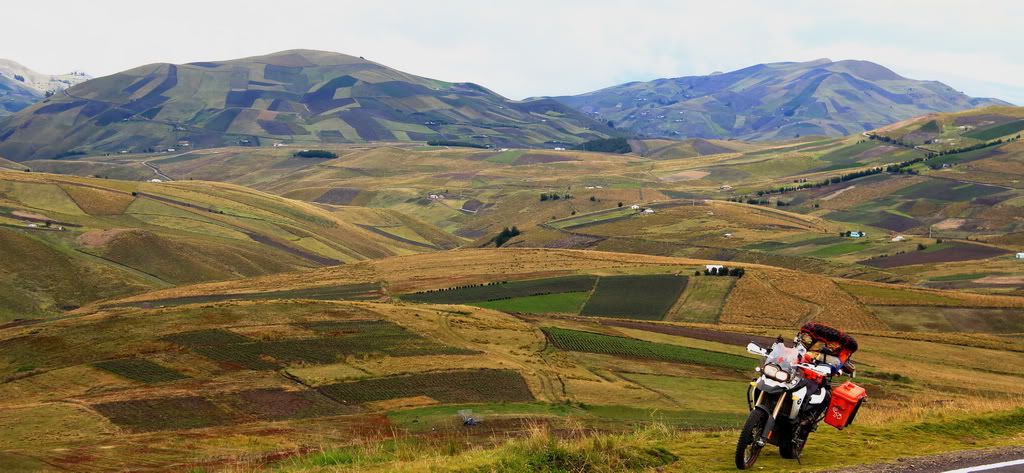 Farmscapes
In Zumbahua there were signs to go to Laguna Quilotoa so we followed them. The road looks like it has been recently paved, and it's pretty much right up to the Laguna. When we pulled into the touristy parking area we were immediately swarmed by several groups of people. They took their pictures with us and it must have been a good 15min before they had dispersed. Wow that was intense. I felt like I was on a red carpet. A shoutout to Mike, Jing and Sean (you know who you are). Some guy we were talking to at the parking lot remembered you guys and that you rode Suzukis. It was funny cause when he started describing you guys we were like, yeah we know those guys. Maybe that's why people think Canadians know all other Canadians.
The photo-shoot
Laguna Quilotoa in the background
It was foggy/cloudy but we could seethe Laguna. The combination of being on a bike trip and being out of shape coupled with the altitude was a little tricky. I was feeling the effects. We had no interest in actually hiking down to the water. Seemed like an all work no gain situation to me. I was quite happy to enjoy the view from the top. I bet in full sunlight the colour is spectacular. Even with all the clouds it was an enjoyable sight. Once we were sorted there we set out to ride the rest of the loop.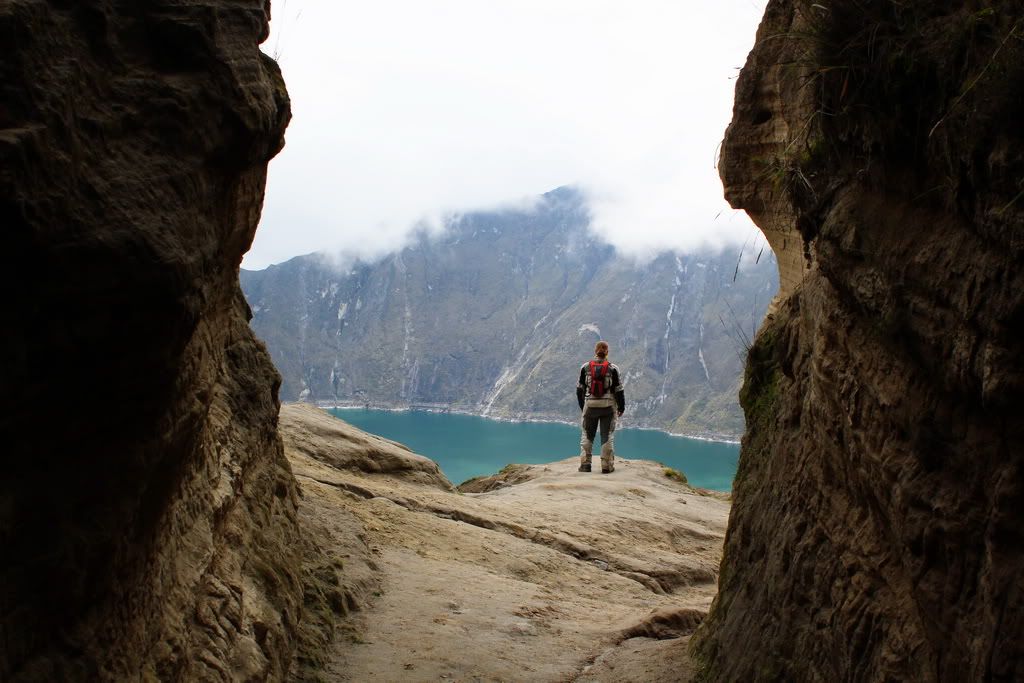 Taking in the amazing view
The road was now dirt but it was nice. It was dry for the most part, and the sand was never very deep. There were some sections that were bumpy due to rocks but it was pretty tame and very enjoyable. Only once did we have a moment. A bus was coming around the corner and the driver must have been daydreaming because we was taking over the road and driving straight for Alberto. He only came to once Alberto gave him a honk.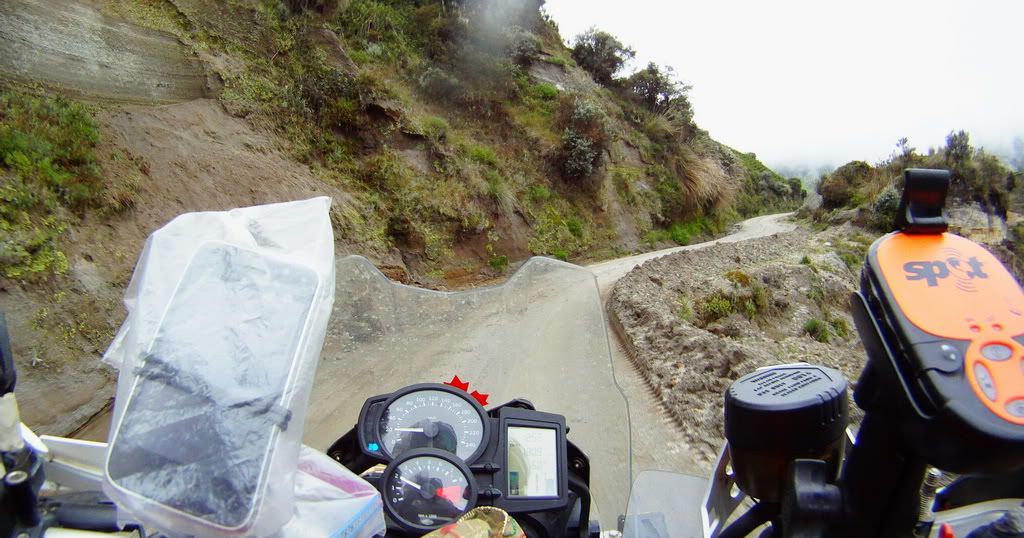 Enjoying a bit of adventure
It started to rain just as we were reaching Segcho, which was good timing because I don't like riding off road in the rain. I find it very hard to see through the rain drops and they don't move off cause I'm not going fast enough. The rest of the ride to Latacunga was kind of crappy. We spent most of it in fog negotiating tight switchbacks. Not a comfortable experience given the way people drive and don't use headlights. Once we poked out of the fog we could see that we were driving into a pretty nasty looking storm. We stopped to get suited up just in case but our number one priority was to find somewhere to sleep.
We found a nice place to stay in Latacunga, and we were all settled in before the rain came. It's nice to be riding in these cooler temperatures.