We discussed yesterday that it would be a long day to Trujillo so we decided to break it up into two days. This meant that we were in no hurry in the morning so we took it easy. It was comfortably warm and the sun was out.
The Panamerican in Peru follows the coast and the Peruvian coast is desert. This makes the road fairly uneventful because it can be built in flat and straight sections. We drove and drove. It was a bit of a battle because there was a strong wind.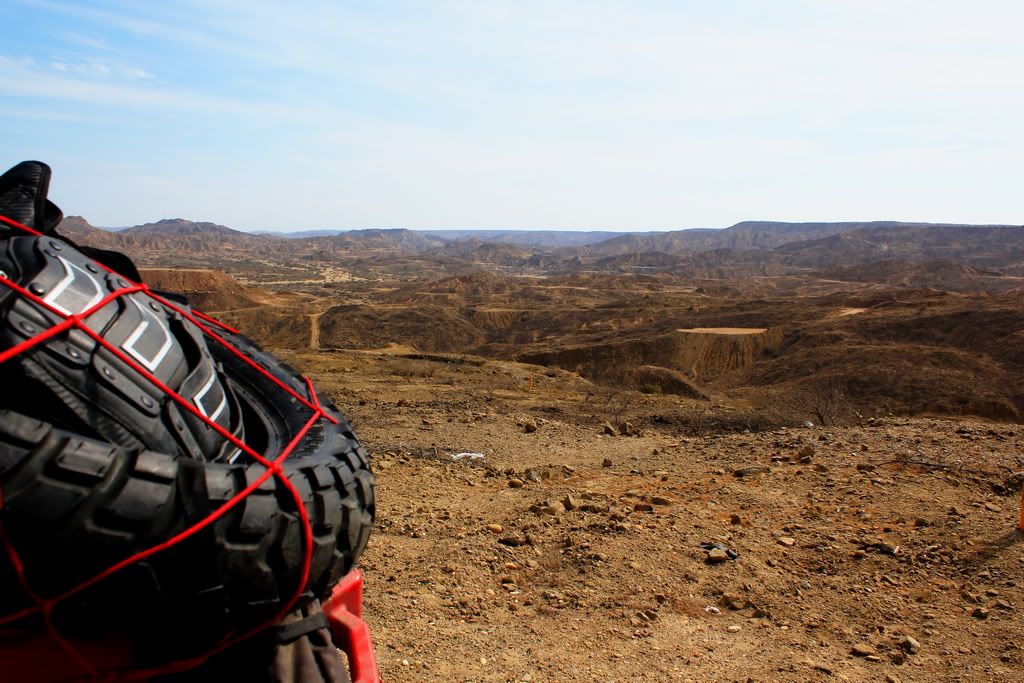 A taste of Peruvian panamerican scenery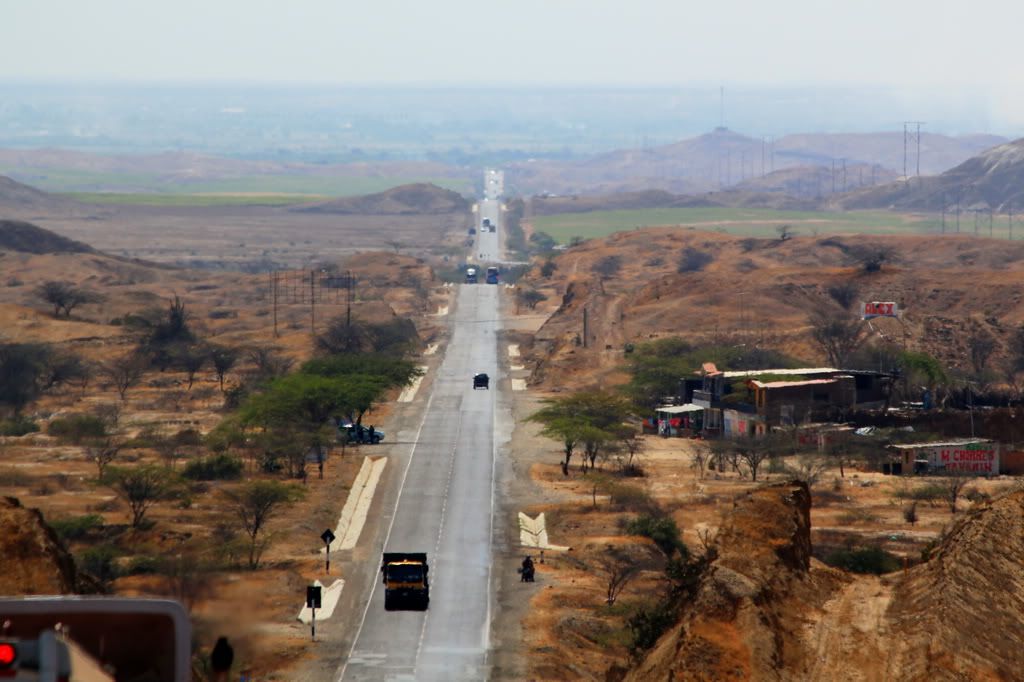 Straight and relatively flat
We filled up with some gas in a nondescript town. Further down the road Alberto was describing to me issues he was having with his bike: a weird noise and lack of power. I had the same problem. We both pulled over at the side of the road. We were in the middle of nowhere in the desert; our options were somewhat limited. Our first guess, since both bikes had the same problem, was that we got bad gas. So, unable to drain what we had, we used our gas cans to improve what gas was already in the tank. This made a slight improvement... at least the horrible noise went away.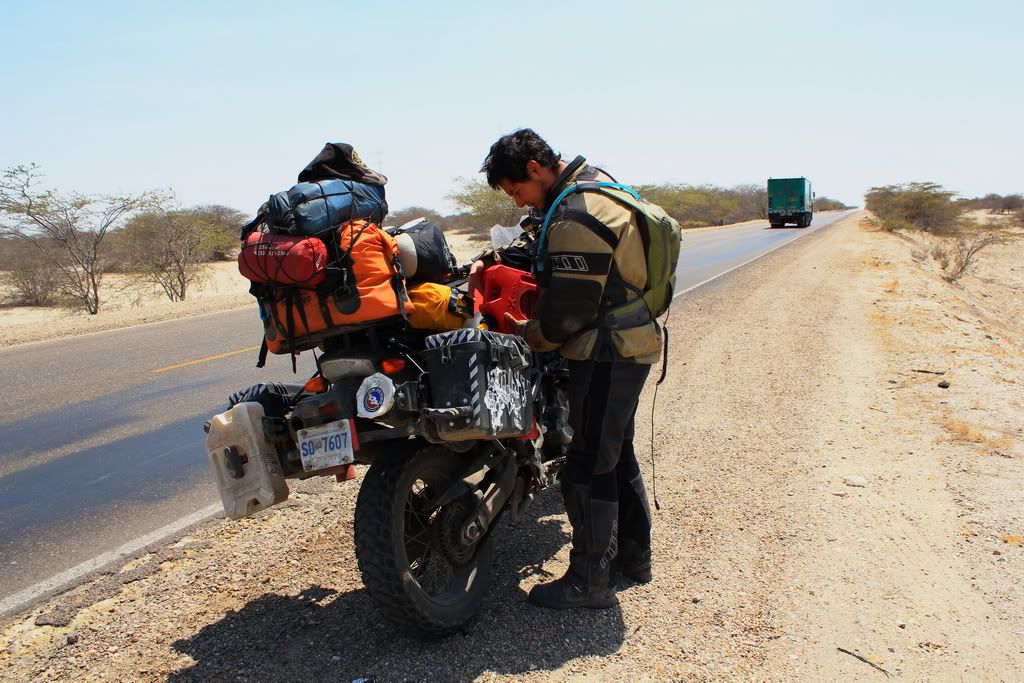 Filling up with gas
We continued driving, battling the sand blowing in our faces. It's pretty bleak out there and because of the sand storms we could barely see any scenery. We contemplated some bush camping and then realized we were making good time so we made the final push and drove to Huanchaco.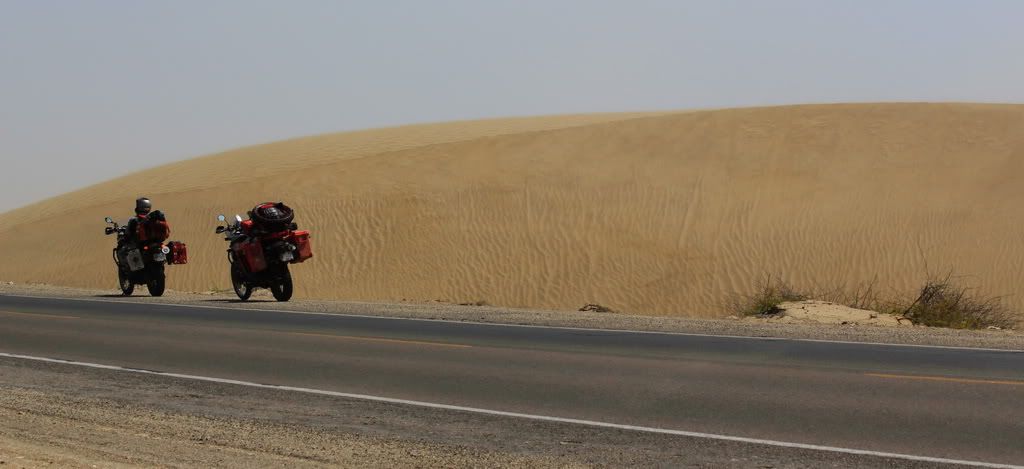 There are some cool dunes to see
The bikes were still acting up, which was a concern but at least we were still moving. Alberto took the lead and led us through the familiar streets of his hometown. We arrived outside his parents house as one of his sisters, Silvana, was riding up on her longboard. All his brothers and sisters came out to greet us (his parents were still at work). After all the pleasantries were over we went up to the roof to set up our tent.
Arriving in Huanchaco
Alberto and his mom
We had a quiet evening since we were knackered from battling the wind all day.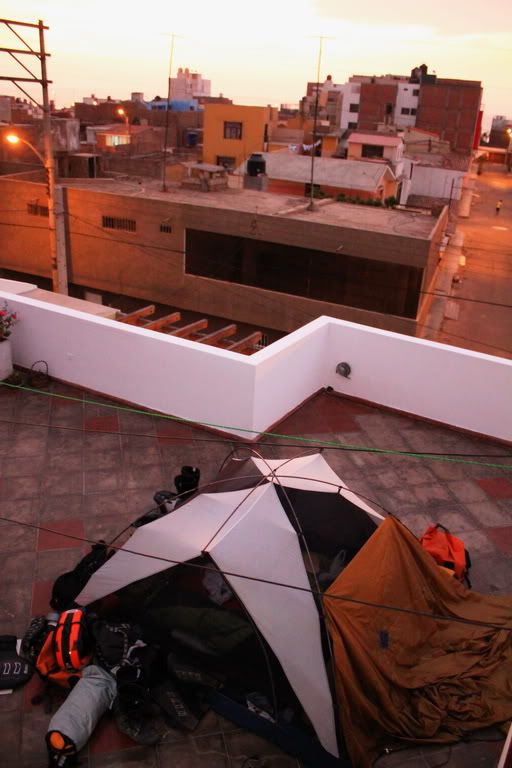 Camping on the roof
We made it to Alberto's parents house. We drove 20,968 km to get here.