We had been trying to get in contact with Alberto's cousin who lives in Mendoza through email, but had been unsuccessful. So we went to our favourite place, tourist info, to inquire as to where we could make a phone call. We tried phoning but there was no answer. Not much we can do about that so we set off in the direction of Mendoza.
The riding was again quite boring, but very warm. I think we've left that pesky wind behind us so that is a big plus. The road was straight and flat and then all of a sudden we were driving tight curves through a rocky hill. Where did that come from? When we popped out the other side the landscape was lush and green. Well maybe not lush like Central America but in contrast it was. We are officially in wine country.
We pulled into a gas station that had wifi so we decided to take a lunch break. We had received an email from Alberto's cousin and got an address so we were in business in that regard. We had planned to go to the BMW dealer in Tucuman, because it has been recommended to us by several bikers but once we started doing the math it became clear that we were probably going to be screwed over by the weekend and needed to take care of business in Mendoza instead. So we found the address for BMW online but were having difficulty loading up a map with the internet and it was getting late so we cut our losses and decided to figure it out once we got to Mendoza.
The sad state of my tire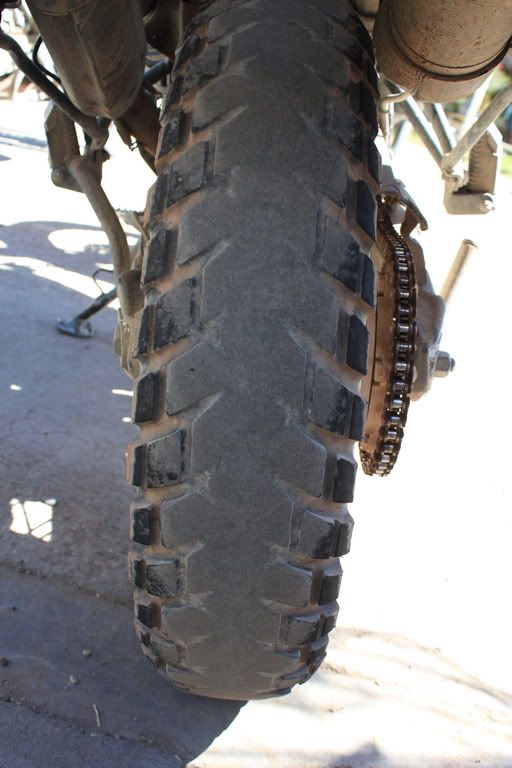 Alberto isn't looking much better
While at the gas station a couple from Vancouver, who have a house in the area, approached us and we had a nice chat. A little girl, Anna, also was looking at our bikes and came into the seating area to talk to us. She wasn't shy at all, and she started talking to us. Alberto told her we were from Canada, and then started to explain to her where that was. She was like, oh I know about Canada, Justin Bieber is from Canada. Oh snap! I was surprised and told her how smart she was since most people we've met on this trip think he is from the US. So, love the Bieber or hate him he is putting Canada on the map for a younger generation.
We were worried that the BMW dealer would be closing since it was late in the day so we were booting it to Mendoza. The roads, while not in the best condition, were straight and facilitated rapid progress. Then I did something that has become common practice on this trip. I passed a large semi-trailer on a double line. I feel safer in front of those guys where I can actually see but unfortunately there was a police officer watching me. So we got pulled over.
Pulled over by the police; Maybe they had bike envy. Neener neener, my bike is bigger than yours. haha
He spoke to Alberto first. He got our licenses and then was giving Alberto the song and dance. We didn't have time to play games so Alberto quickly told the guy I have somewhere to be please hurry up and give me my ticket. The guy probably wanted to work out a deal with us and was stopped in his tracks at this request. We went over to the shack where there was two other officers. They requested our TVIPs, and insurance. We avoided the insurance topic since we don't have any. Alberto was giving them a bit of attitude, which he has a tendency to do. This made them angry and they went slower with writing up our tickets. We had to give them some sort of "insurance" type documents to finish the ticket progress. We gave them some expired insurance we bought in Central America. They kept out license copies, we got our tickets. Every one goes home happy.
In Alberto's defense the cop was asking why we had passed on a double line. Alberto simply responded truthfully saying that we were in a hurry to get to Mendoza. The police officer didn't like his answer and told us that we don't have to be in a rush. Thanks for the tip, so Alberto answered by saying yes, but it's a personal decision to be in a rush or not. Again the cop wasn't happy with our answers and Alberto was losing patience because the cop was stalling to get money. So it seemed that both parties were losing patience with each other and things just escalated from there. No guns this time though.
After the long delay with the police we thought for sure we weren't going to make it to Mendoza before BMW closed. Bugger. We followed the signs for El Centro and pulled up in front of a small motorcycle shop. We asked someone for directions. He was a really friendly guy and came out to check out our bikes. We had a bit of trouble finding the place since there was an overpass (which we were on) and the dealer was on the lower level. We got there 30min before they closed and made arrangements for the services to be done the following day. We left the bikes there and took a cab to Alberto's cousin's house.
The cab driver didn't know where to go and he took a very awkward route to get there but we made it in the end. We had a nice peruvian dinner with Carolina, Alberto's cousin, plus some showering and laundry, and then went to sleep.
Having some delicious dinner