So now that we had some time to kill we thought we'd go check out the BMW dealer in Osorno (only 100kms away). My bike was leaking oil and we both thought that the bikes sounded weird.
Gourmet breakfast
Back onto Ruta 5 heading north. Pay at the toll booth. Drive, drive drive. We could almost see the Volcano across the lake. I think it is the Osorno Volcano. We got hit by a shower on the way to Osorno but we quickly drove out of it.
We didn't have the address of the dealer we just knew it existed thanks to a post on our ADV RR. We tried asking a cab driver but he didn't know. We used the telephone book from a gas station to find the address. We drove to that address only to find a rural neighbourhood. Hmmm... so we drove around town looking for a place we could find internet. We did, and looked up the real address "out by the airport". So we drove in that direction and Alberto spotted it from the road.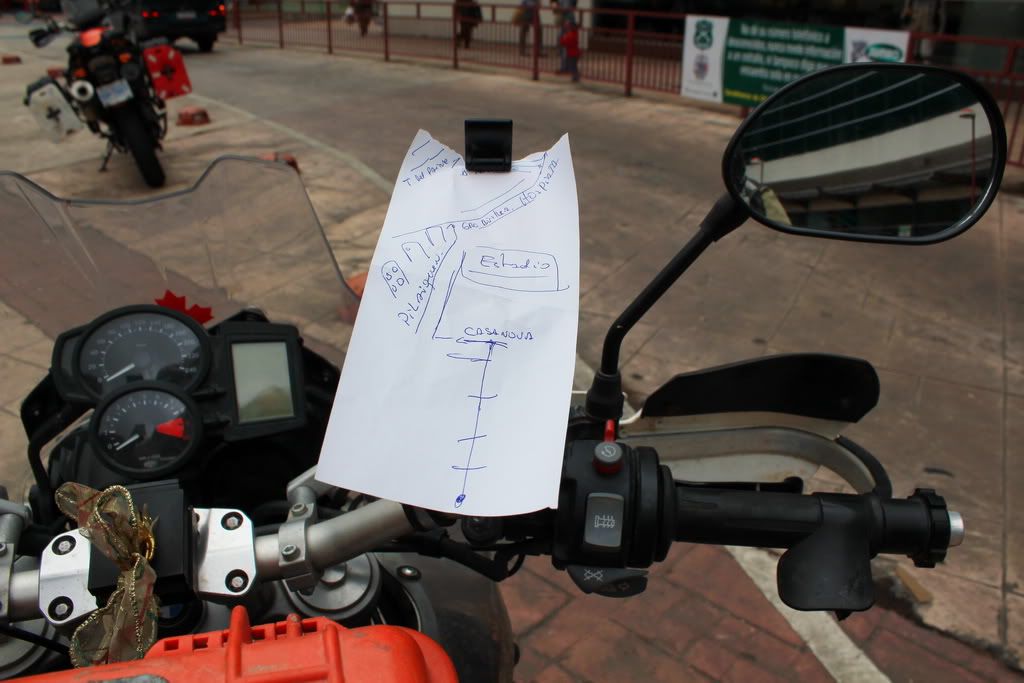 Directions to the first address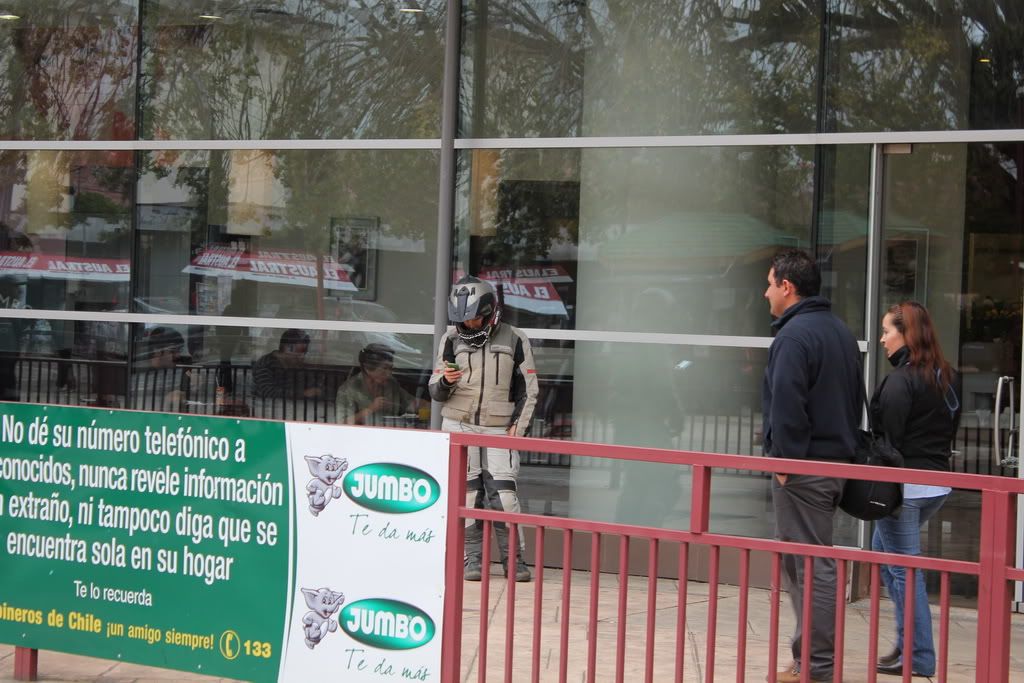 Hijacking internet to find the real address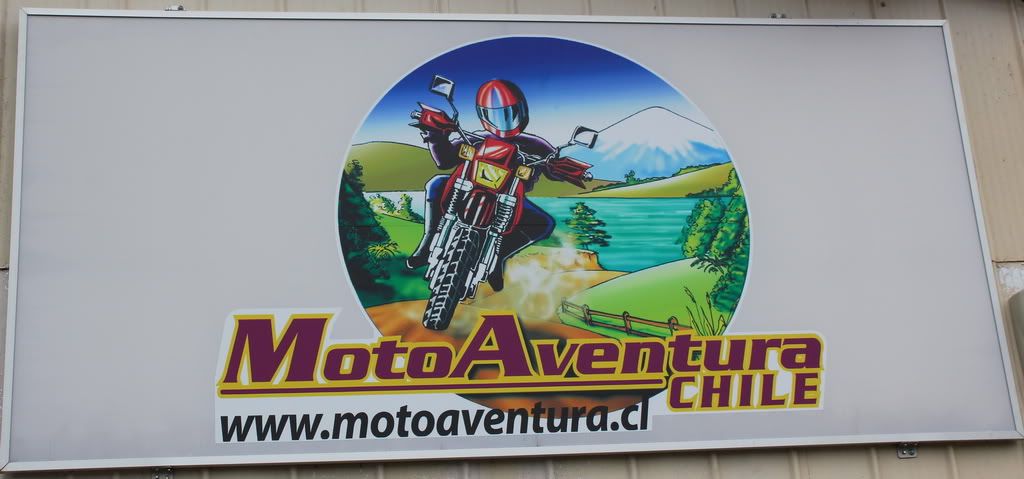 Yay we found it!
It doesn't look like much but they know their stuff. Again we got the same old song and dance about warranty coverage and blah blah. Trying to get things fixed in Latin America is a huge pain in the ass. My bike has an oil leak, it is a new engine. I feel that someone should do something and I don't plan on paying for it. So after being told they wouldn't do any warranty work we used their wifi to email our BMW Canada contact (as well as Brian at Island BMW). Thankfully he replied right away and within the hour I was receiving a phone call from, I believe, a representative from BMW Latin America HQ. She told me that their mechanic thought that the overfilled oil might be the problem. She also informed me that I typically didn't need to put oil in my bike between services. That annoyed me a little bit. I didn't put any oil in my bike, it came this way from a BMW dealer! Argh.
The mechanic for Moto Aventura (the BMW dealer in Orsono) confirmed that the weird noise we were hearing was normal weird and not problem weird. I guess we were just being paranoid, but after all that has happened we can't help it. He also thought that the oil leak could be because the oil was too full and that some of the screws needed to be tightened. The mechanics were all busy so Alberto put the bikes in the corner and did the work himself (we just borrowed a few tools). During the job we discovered some more damage and missing screws... BMW Lima strikes again.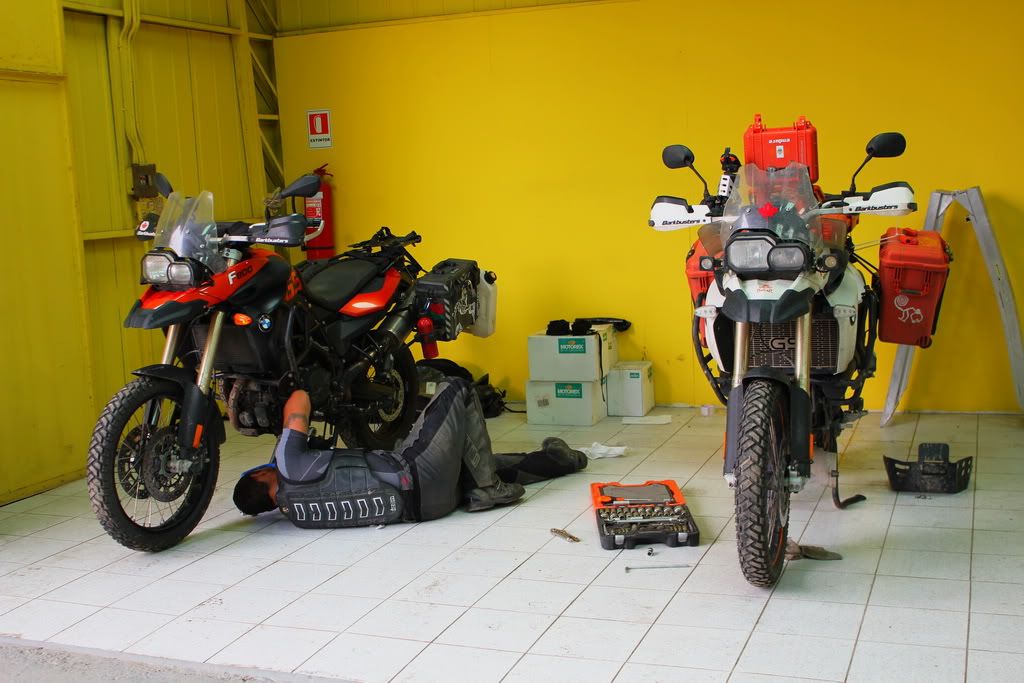 Alberto working on the bikes
Quite a bit of oil came out. Also on my bike a few screws were loose, around where one of the oil leaks was. So we tightened those and maybe that will fix it. The oil leak wasn't really concerning, the oil level wasn't even dropping. It's just one more thing. Until Peru we never had any problems with our bikes and now it feels like they will never be the same again. We keep finding superficial damage and missing things every time we investigate. I scratch my bike all the time and it doesn't bother me but when it's done by the dealer it really pisses me off.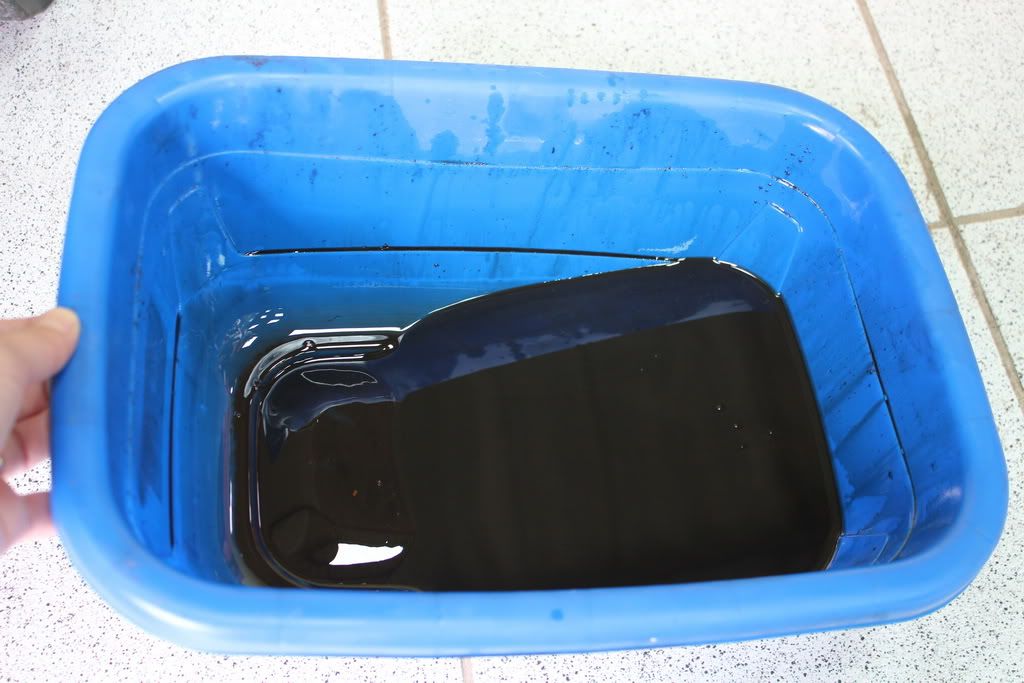 The amount of oil that came out of the 2 bikes
The positive that came out of all this is that once again BMW Canada proved that they are the kings! Andre was on the case right away making sure Osorno would fix the problem. Also this little hole in the wall BMW place is amazing. They have all kinds of accessories to choose from and if you call ahead they will order in anything you might need.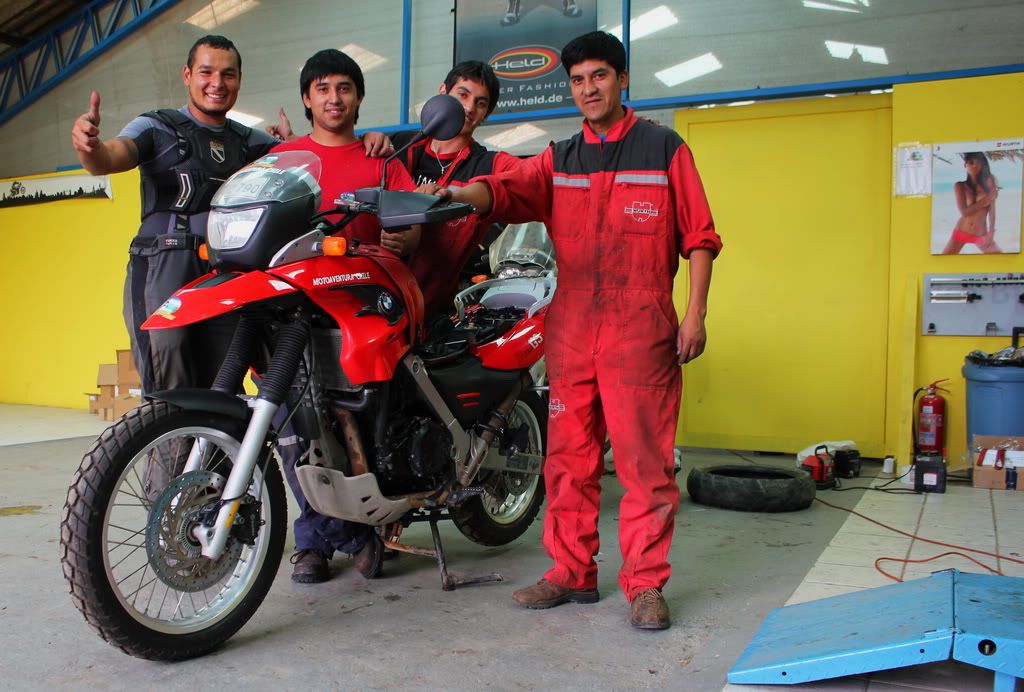 The mechanics were really nice and helpful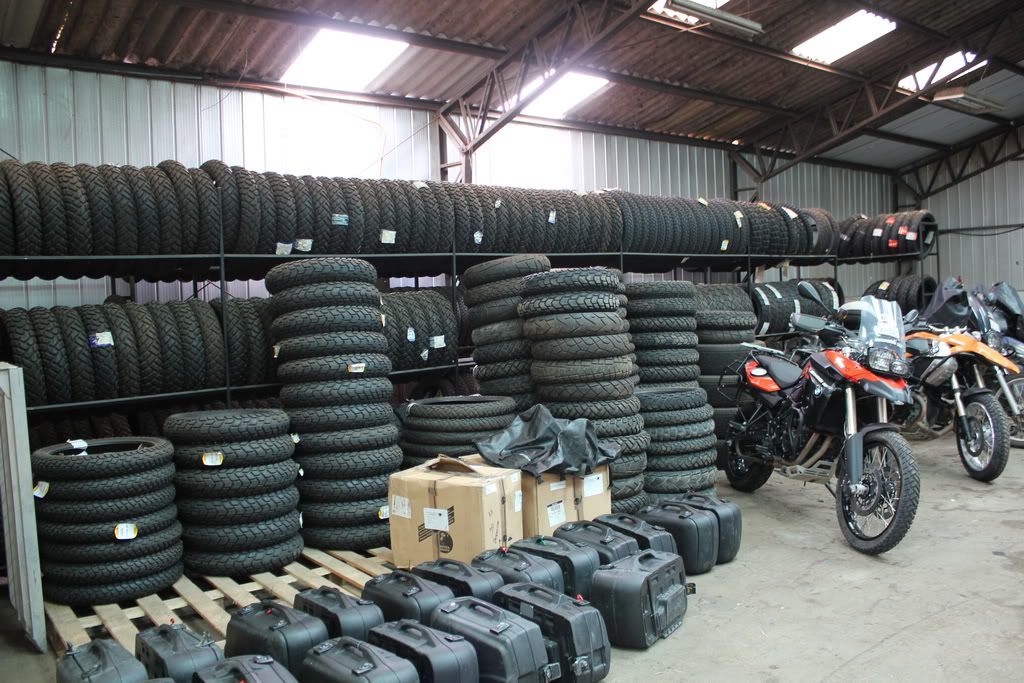 Check out that tire selection
On the ride home we got rained on again. We also got pulled over by the police. To my knowledge we were going the speed limit. He asked for my license and bike documents. I gave him my driver's license copy and kept my bike running. While I was getting it he took a look at my plates. He asked where I was from, took a look at the license and then told me to go. I'm not sure why he pulled us over.
I checked my bike at the campground and there didn't appear to be any fresh oil, so that's a good sign. Either way I'll keep an eye on things. We started to make dinner and it rained. It rained hard. We were committed though and stuck it out to make dinner hiding under a tree. We were both pretty wet by the time we hid in the tent with our cooked food. The rain was unbelievably hard all night. When it hit the dirt ground it splashed dirt back up and all over the tent.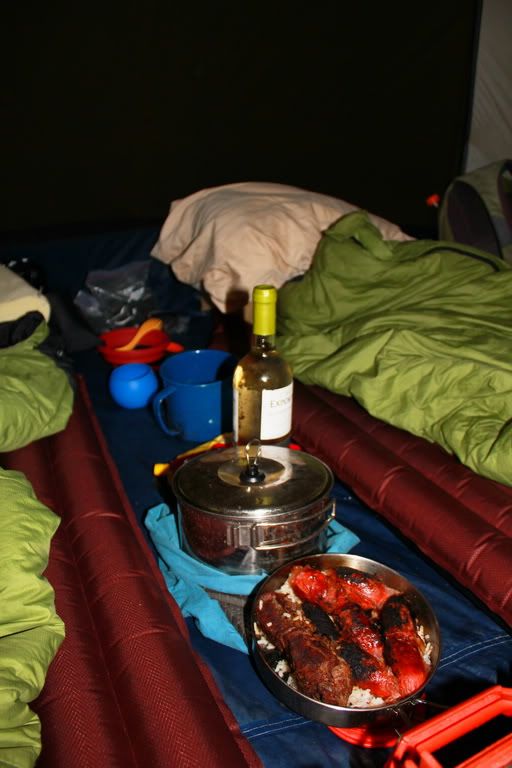 Our classy dinner hiding in the tent