The day started out really good. We stopped off at the delicious bakery to stock up on snacks, and pick up some breakfast. Life is good when there is a good bakery nearby.
Back onto Ruta 40 and same old same old. The road sucks, the wind sucks, riding in Argentina kinda sucks. I was freezing my bum off at 5.5 degrees. Maybe perfectly sunny days aren't the best thing ever. It was dirt all the way to Rio Mayo and we kind of got screwed up trying to get out of town. All the direction signs were only in place for southbound traffic, so we had to stop a few times and figure out what was going on.
After we were on the right path we used the pavement and cut over on to 20, which then turned into 40. I declined to get gas in Rio Mayo and we had to tap into our rotopax gas to get to the next gas station. Stupid wind.
The scenery got more mountainous as we approached Esquel; it was a nice change. I saw some more Flamingos and wondered if the cold bothers them. We were hoping to make it to Bariloche but it wasn't going to happen. As it turned out I was happy to call it quits for the day. My neck was killing me and we found a nice little campground as we entered town.
*note: Looks like my photographer was on strike today. No riding pictures.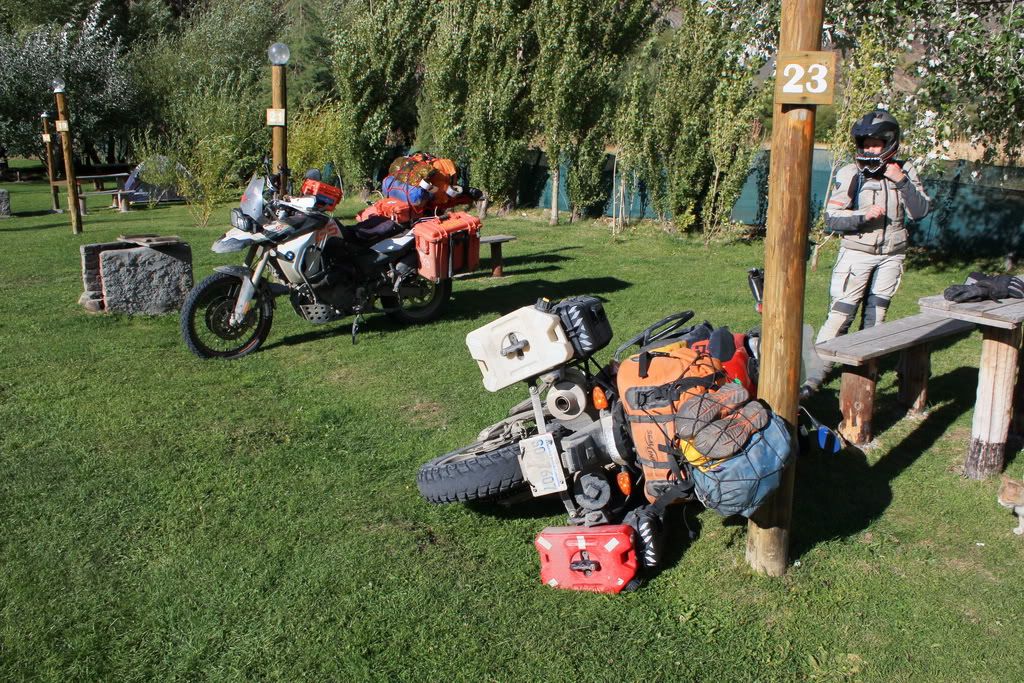 I dropped my bike in a hole. All of a sudden I couldn't reach the ground
Camping