It was a cold windy night. When I made breakfast I had to use gloves. The bike said it was 4 degrees when we left so I imagine it was around 2 or 3 when I was making breakfast. Again riding out on the crazy pampas was an experience. It constantly feels like you are out of control, but somehow it manages to all work out.
Today was the first day of solid Ruta 40 riding. The famous Ruta 40 kinda sucks, but I knew this before even laying tires on it. Ruta 40 comes as described, half paved half dirt. The scenery is a slight improvement on Western Alberta and there is strong wind.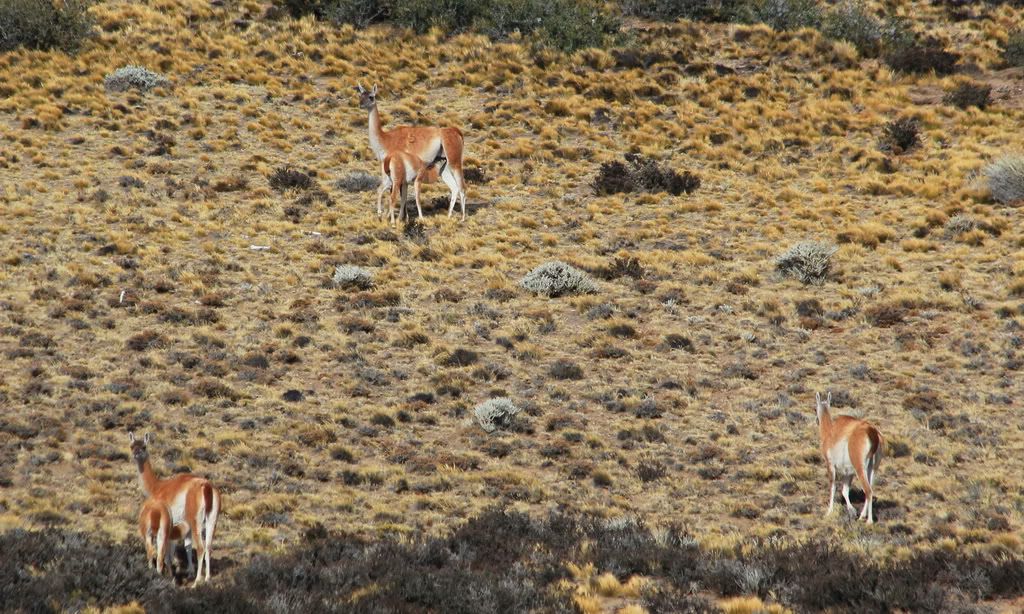 Some Ruta 40 wildlife
There is lots of construction going on where they are paving it so we were zigging and zagging on random roads but you can't really tell the difference between the detours and the road itself. It is easy to make good progress as long as you stay in the tire lanes between the gravel. The lanes are big enough but it involves a lot of focus and concentration thanks to the wind. The wind pushes you around the ruts like a bobsled. Twice I found myself doing the snake dance as I was blown into the deep gravel. The first time was just a blip. The second time lasted for 5 seconds and I thought I was going down. At the speed I was going that would not have been a good thing. The bike snaked back and forth about 3 times and I was like oh no, and then it just kept snaking but staying in control so I rode it out and moved myself back into the lane. It was a scary moment but somehow it all worked out.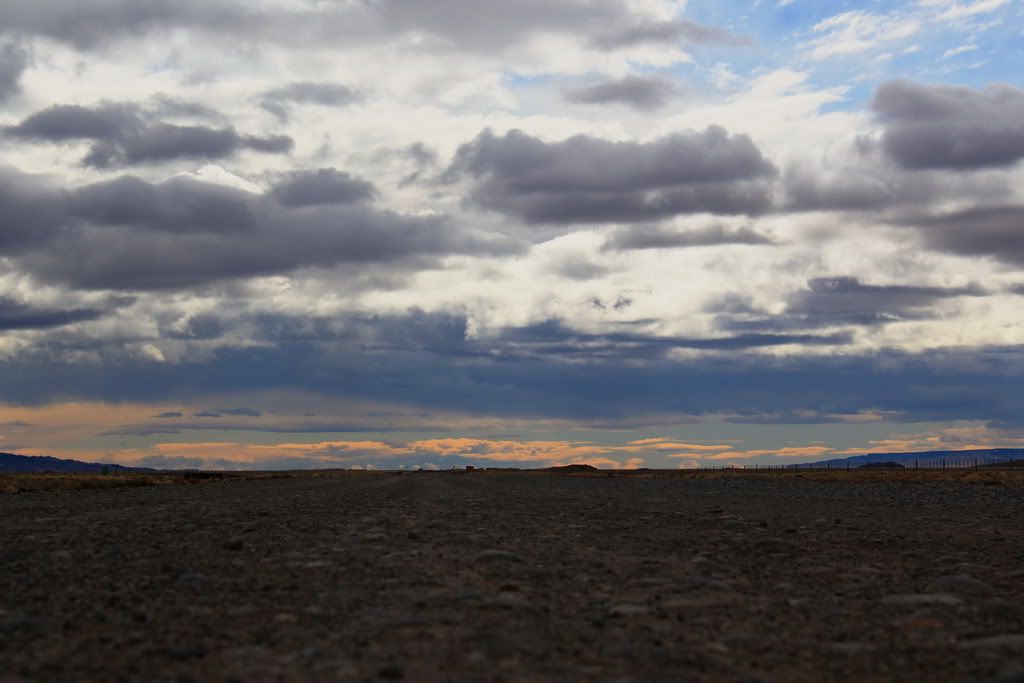 The legendary road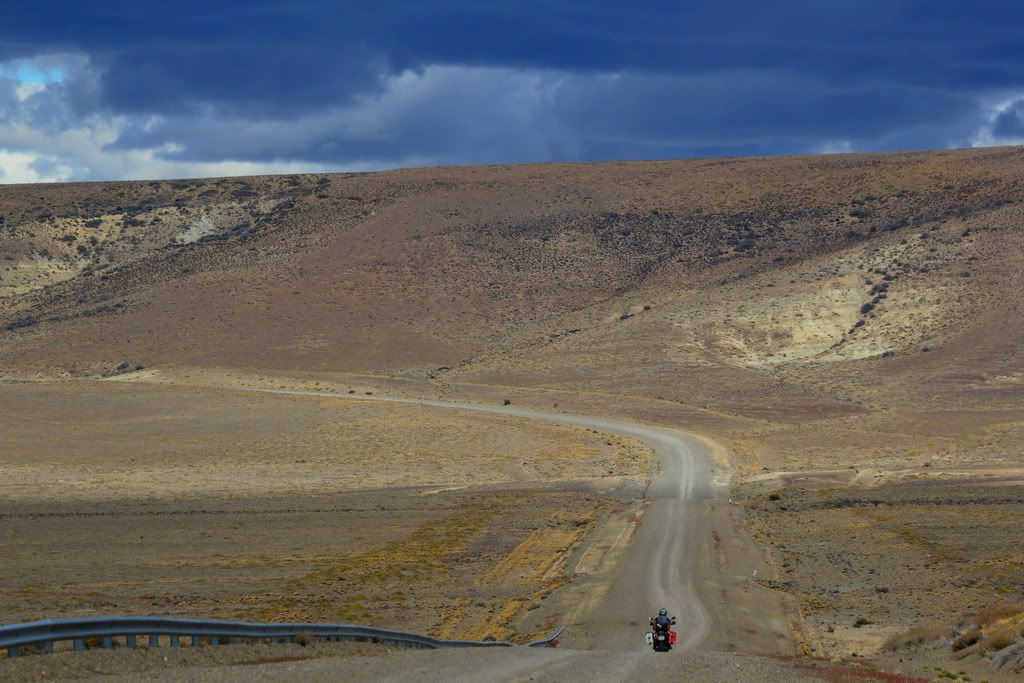 Me riding off into the distance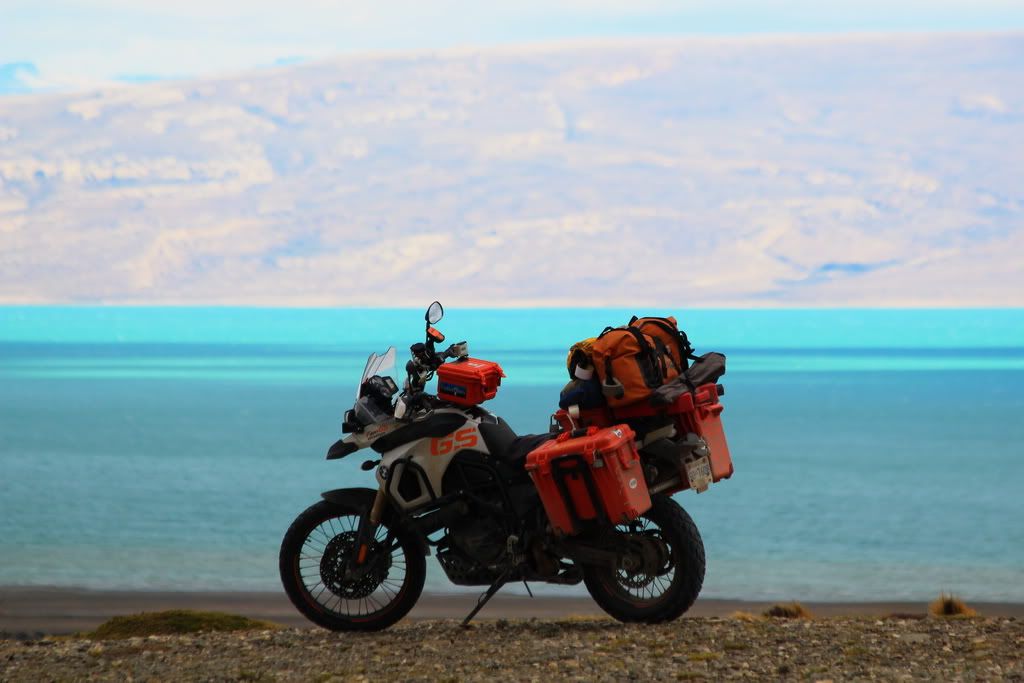 Not to be outdone, Argentina has nice lakes too
We were approaching Tres Lagos and I was thinking to myself why does Argentina put so much gravel on the roads. It seems like overkill to me. Surely not that much gravel is needed, when suddenly we crest a hill and Alberto is doing a massive snakey. He only manages one snake before he is kicked off the bike and a huge crash ensues. I quickly slow down and see the massive pool of gravel. He's lying on the ground and our communication system hasn't been working so I don't know if he is okay. It takes me a little while to park my bike in the gravel but I do and go over to him. He's more or less fine, just surprised I think. We get his bike up and assess the situation.
Typical Alberto
His case got dislodged so we have to fix that. It's been attached by zapstraps since the Peru Sierra muddy day so that was a quick fix (just replace the straps). We take a moment to admire the gravel. The stones are like river rock and it is literally a pool of gravel. It's about boot length deep where Alberto went flying through. Why!?!? So much gravel. The next day we asked some bikers we met in Calafate if they went through the gravel and they didn't, so it must be a work in progress situation. You'd remember this gravel, it was unavoidable.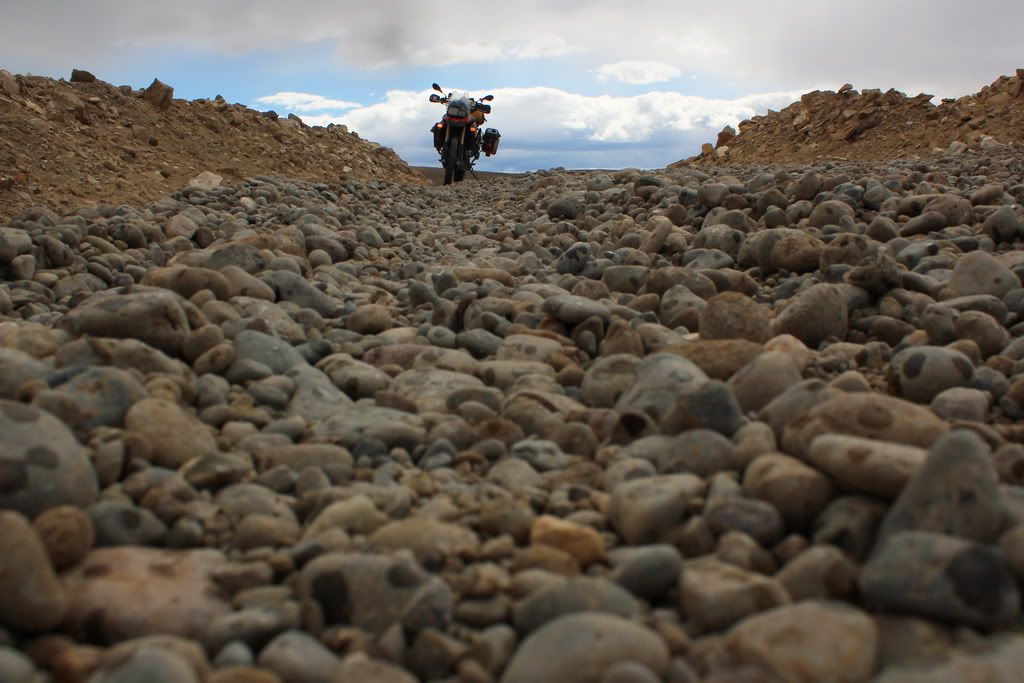 Naomi's bike waiting in fear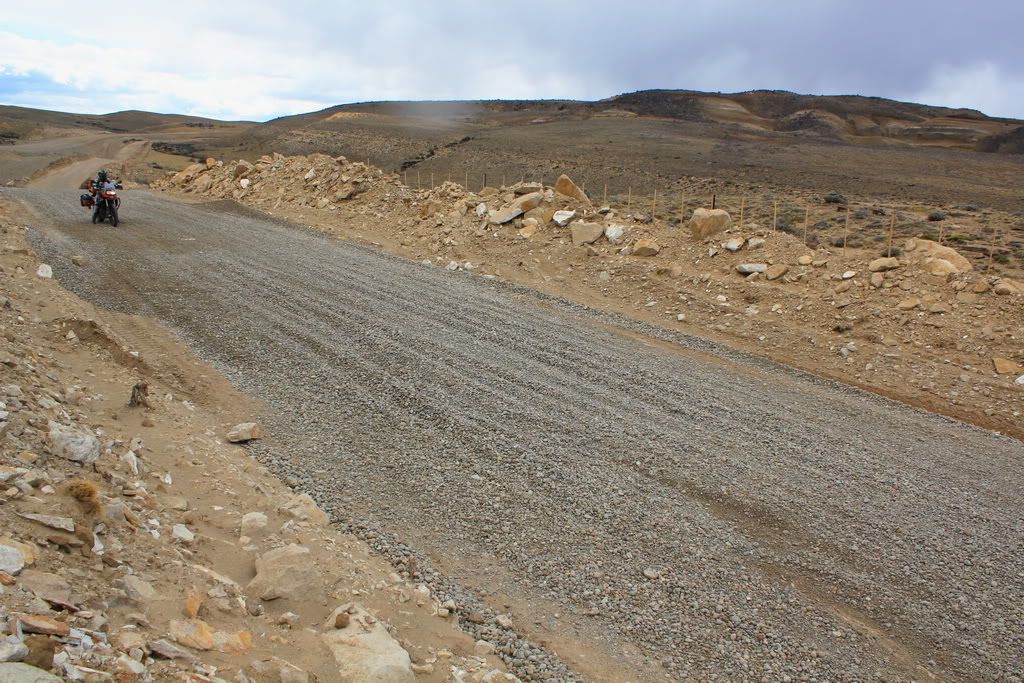 The sea of gravel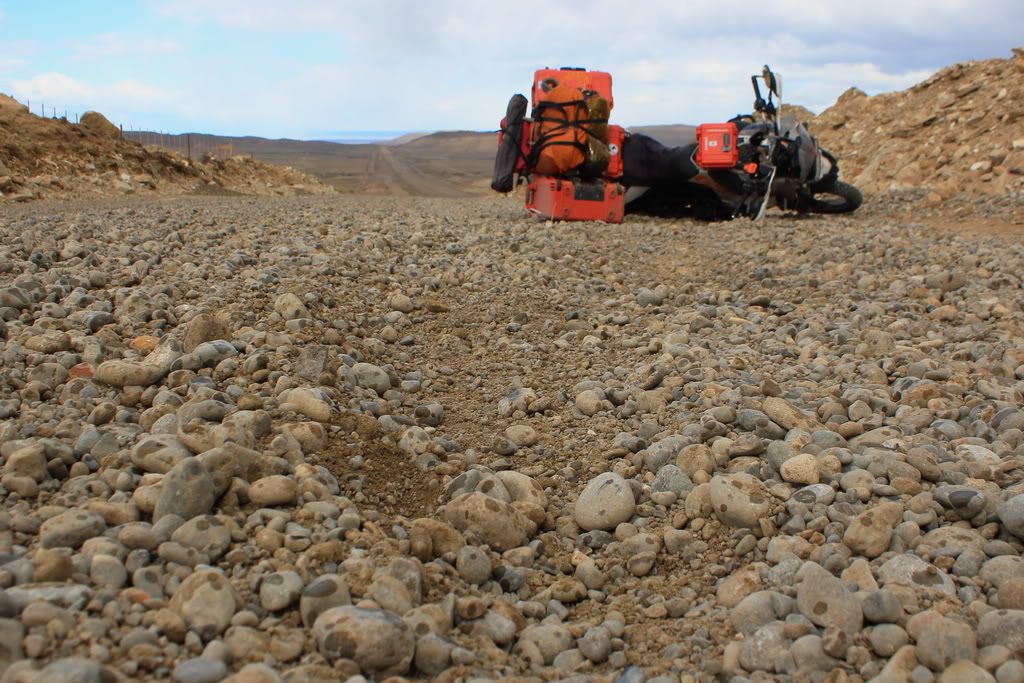 A defeated bike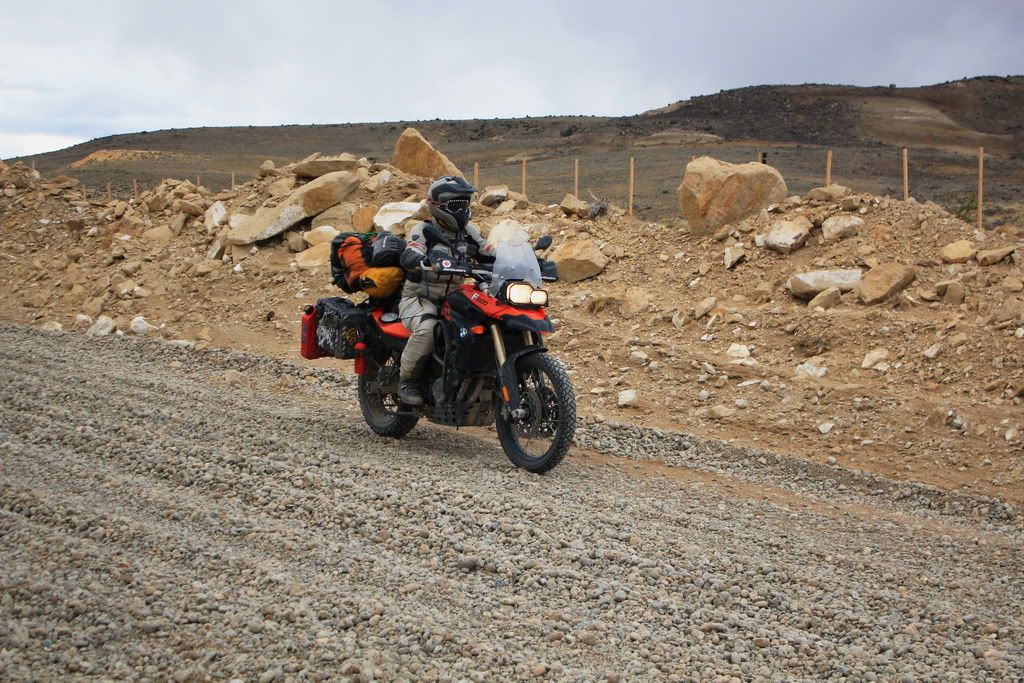 Aha! I know the trick
Drama aside we went to Tres Lagos to fill up with gas. The gas isn't in the town it's a little further down the road. Again we hear about some bikers that passed by earlier. It sounds like the Canadians we've been chasing since the black bike was mentioned again. The road is paved at this point so we pick up a bit of speed. Shortly down the road is an amazing viewpoint at the side of a lake. A bonus for all the boring scenery we've seen all day.
Glad we saw this on a sunny day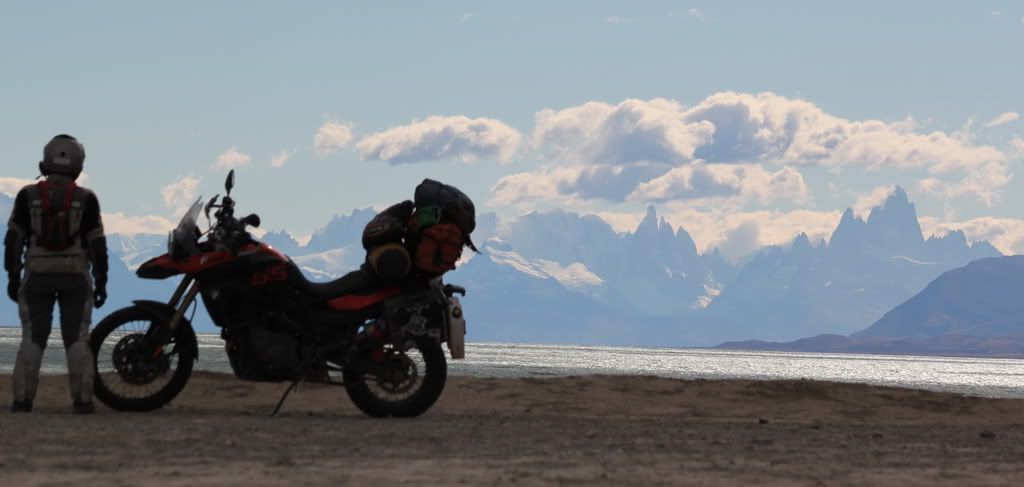 Taking some time to enjoy the view
After a long photo-op we get going. The wind is strong and I overshoot a corner. Wow that was scary. I tried to turn but couldn't. Note to self, leave larger buffer when deciding my corner speed. Once we turn west to go to El Calafate I notice that my gas mileage goes to 8.1L/100km, ouch! This wind is killer.
When we arrive in town we go to the tourist info to ask about campgrounds. She gives us a map and points out 4 of them. We go check out the first one which has wifi and laundry so we are sold! We decide to treat ourselves to the "Parrilla Libre" their restaurant offers. It's awesome and our server was amazing! The best service in all of Latin America by a long shot. We were loving every minute of this dinner we treated ourselves too. Fully satisfied with the evening we retire to the tent.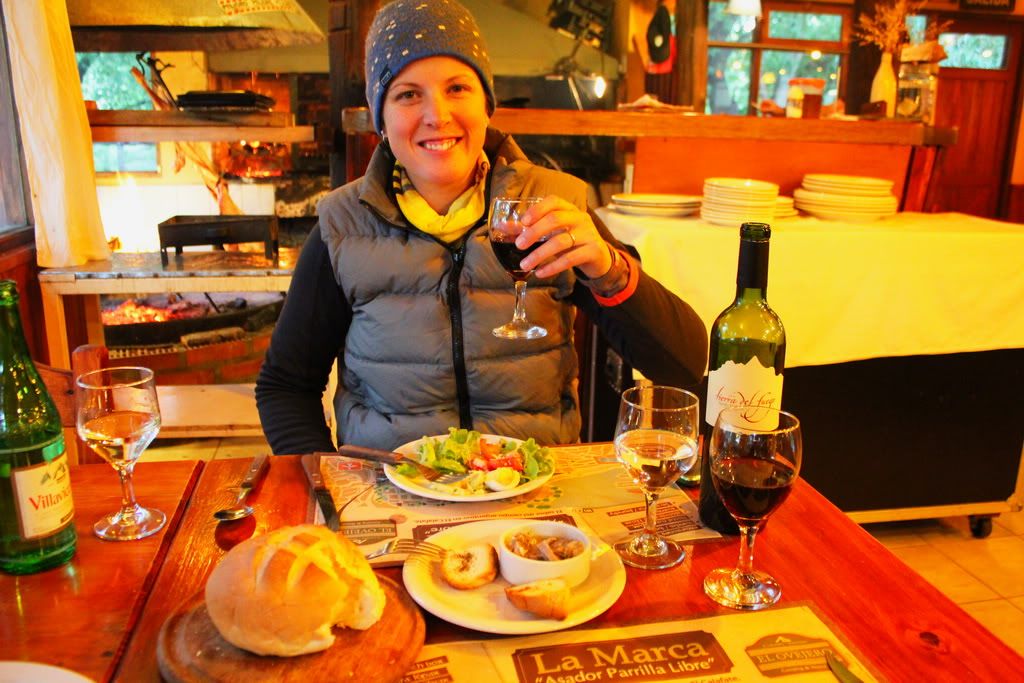 A special treat for dinner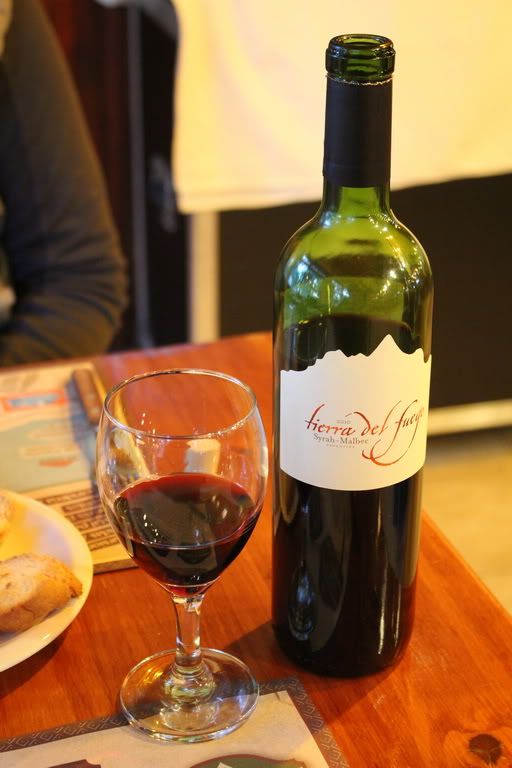 Wine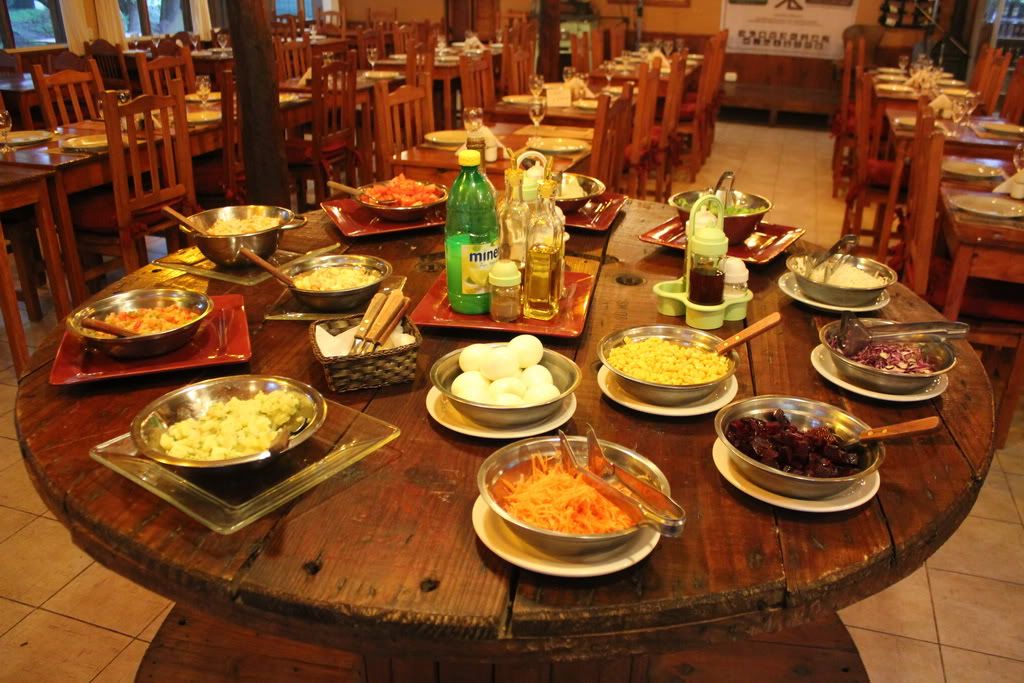 Salad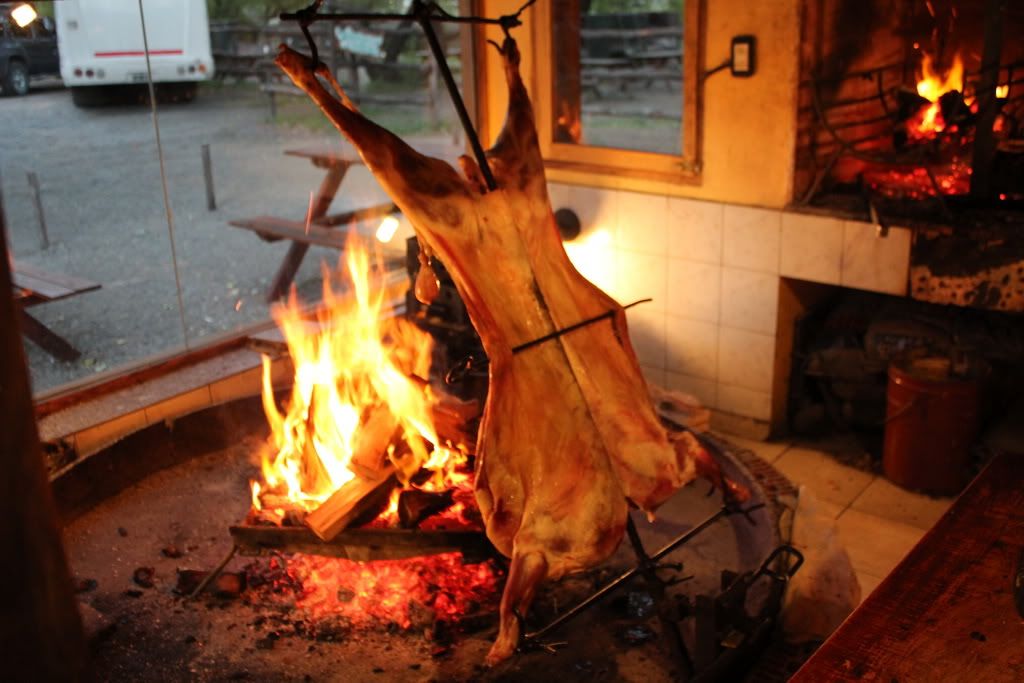 Meat