The moment we've all been waiting for. Riding Ruta 7, or the Carretera Austral will begin today. We had a nice sleep; the cabins were comfortable and warm. We were told it would be light out at 6:30 so that's when we woke up to enjoy the view. It was still dark out for another hour but we did see a bit of a sunrise.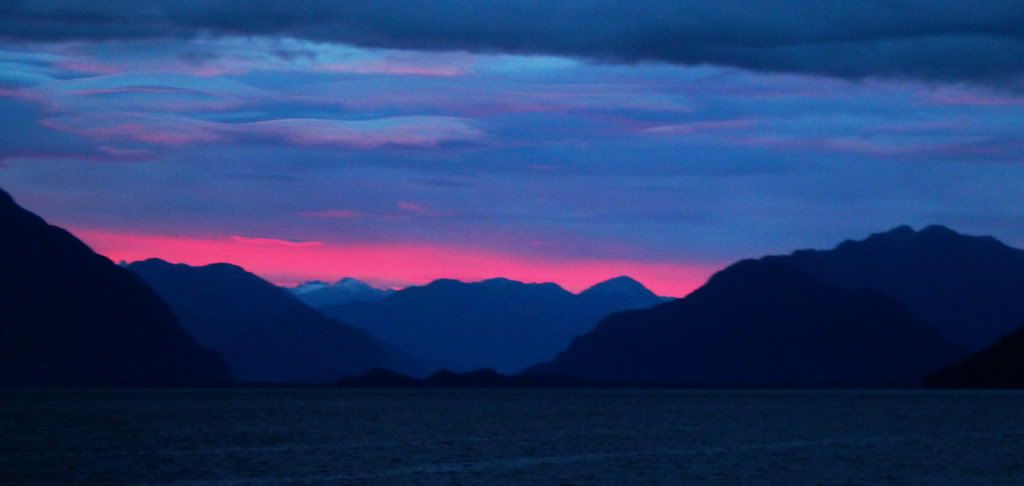 Sunrise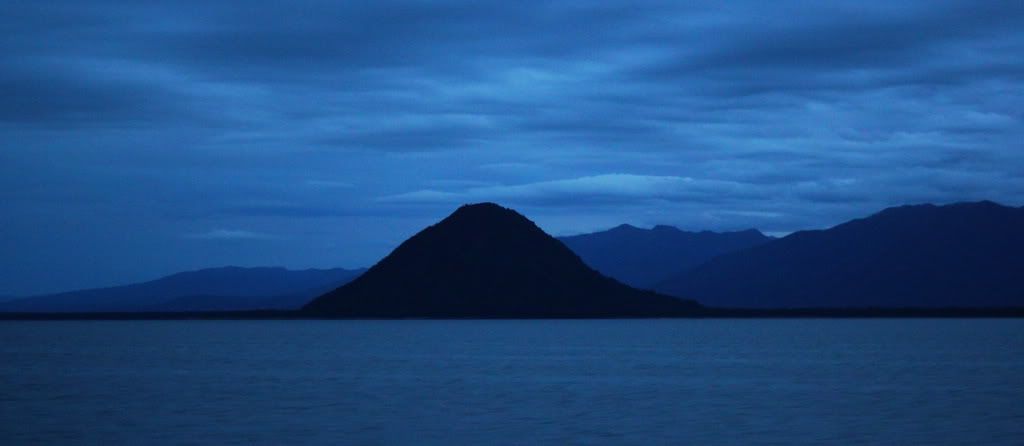 Scenery at 7:30am
Disembarking from the ferry was a bit of a free-for-all. Oh well, the system works. When we got off we spotted Rodrigo on his KLR. Really nice guy and a total gear nerd (like us). He also wears sidi adventure boots and uses Pelican cases. We took this opportunity to gear up and then we hit the road.
Our ferry, the Don Baldo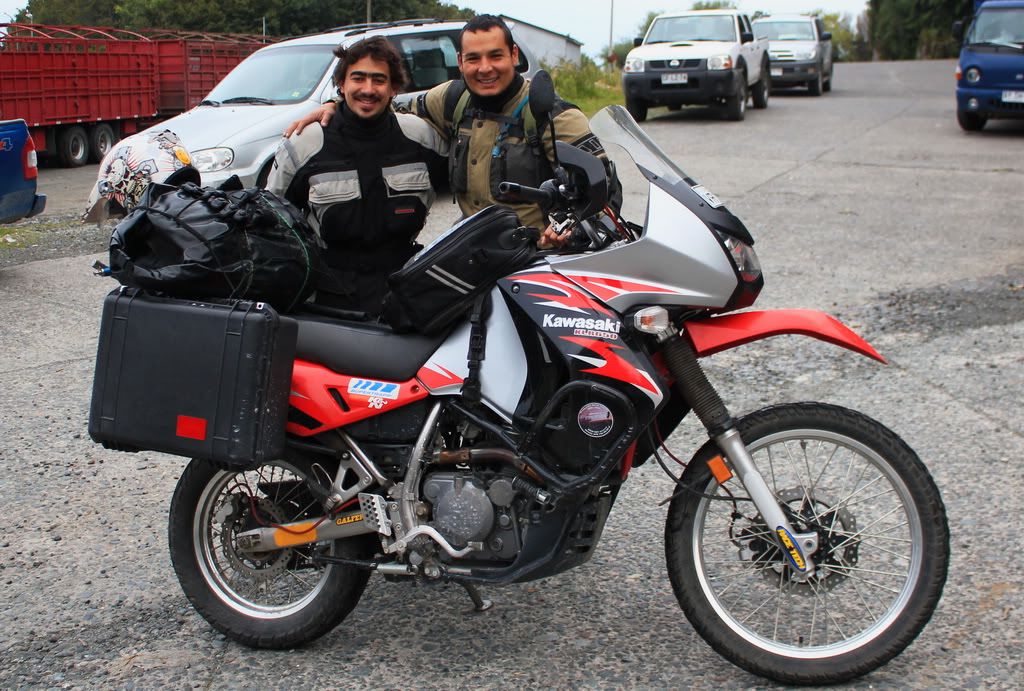 Rodrigo, fellow biking enthusiast
The road was paved for a little while and for the first 1.5 hours of the day it didn't rain. Thankfully we saw lots of amazing things during this time: glaciers, rivers with the most brilliant blues, stunning mountains...

This is what we came for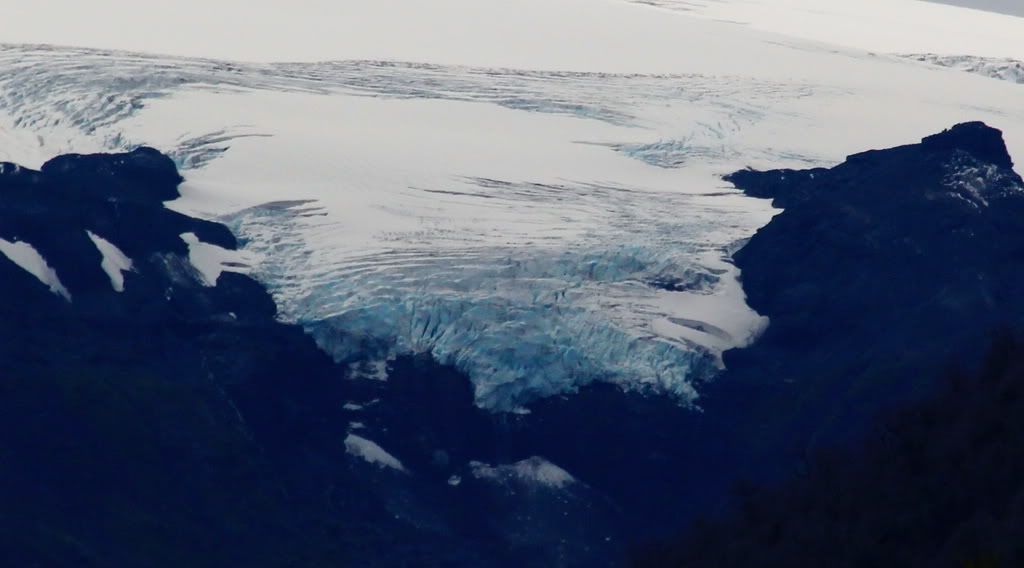 Don't really see this in BC
Some mountain action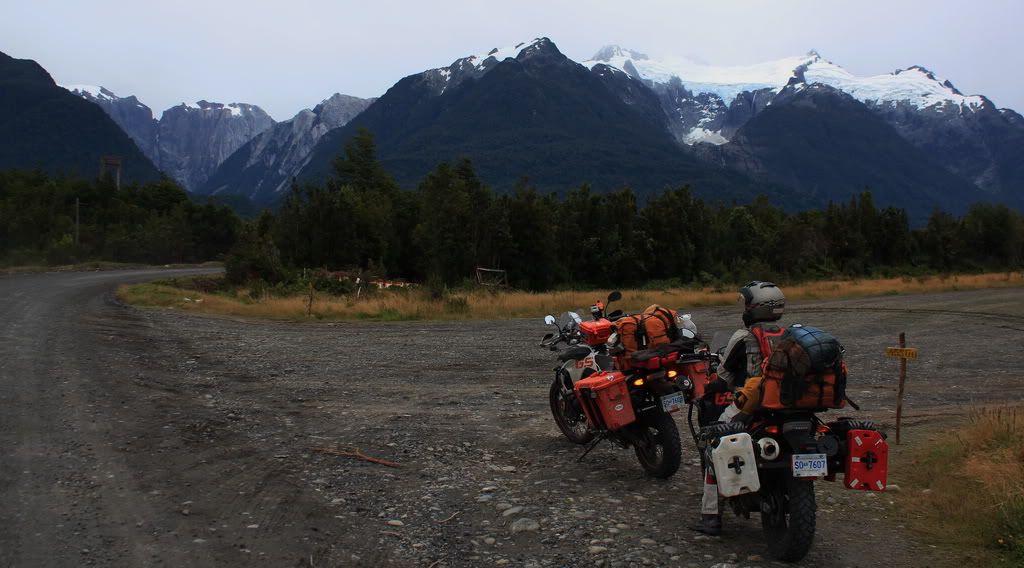 What we got to enjoy before it rained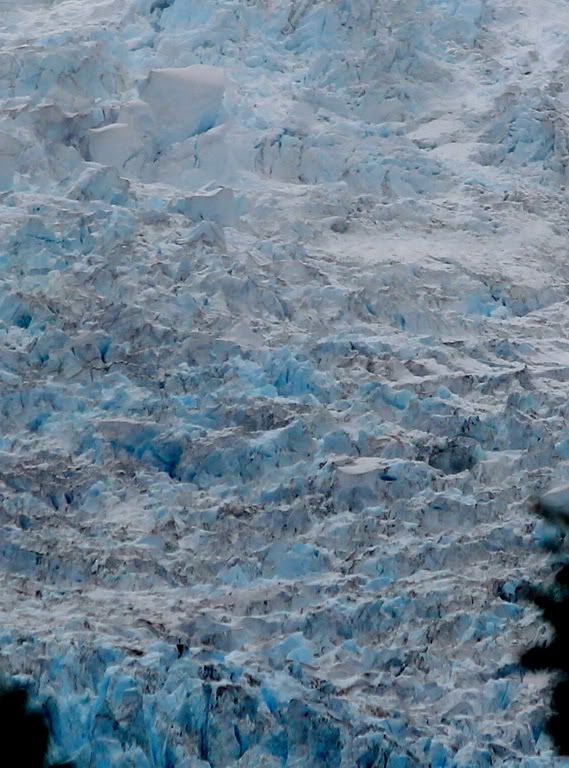 Awesome glacial face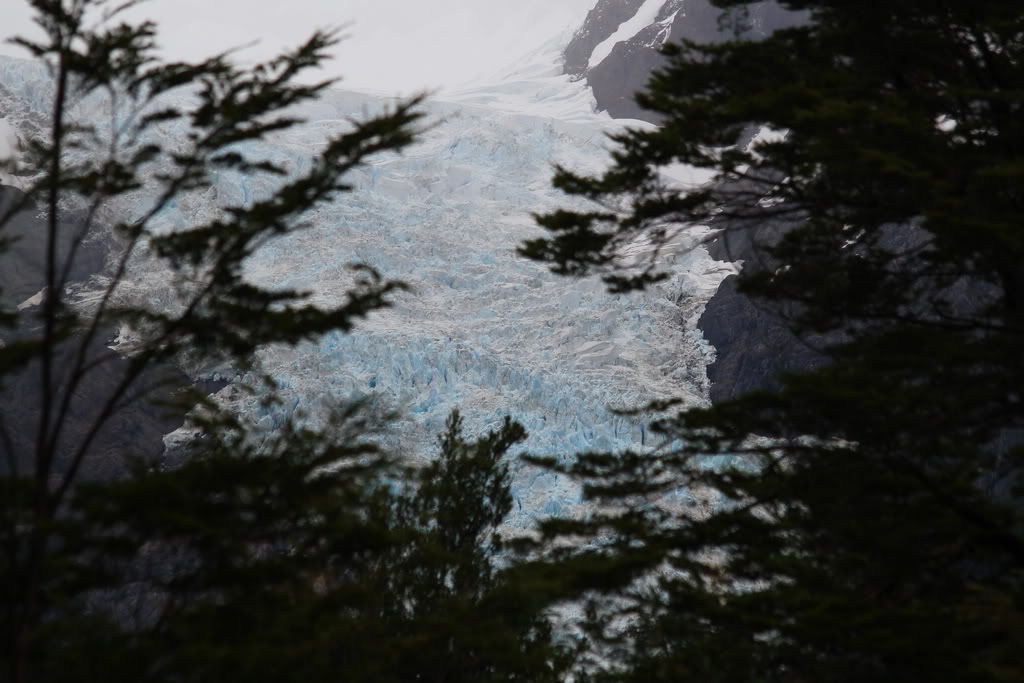 Hiding behind the trees
Then the rain became inevitable. We put on our rain gear, though I'm not sure why I even bother cause mine sucks! Full power to the heated gear! The temperature varied between 7 and 9 degrees all day. The rain was never hard, it was just steady. The road was unpaved but nice. The rain hampered our viewing though. At one point we boarded a small ferry cause there was a section of road under construction? From what I could tell the ferry didn't have a schedule. It just left when it was full.
That's right!
Riding
Random guy stopping in the road to take a picture of us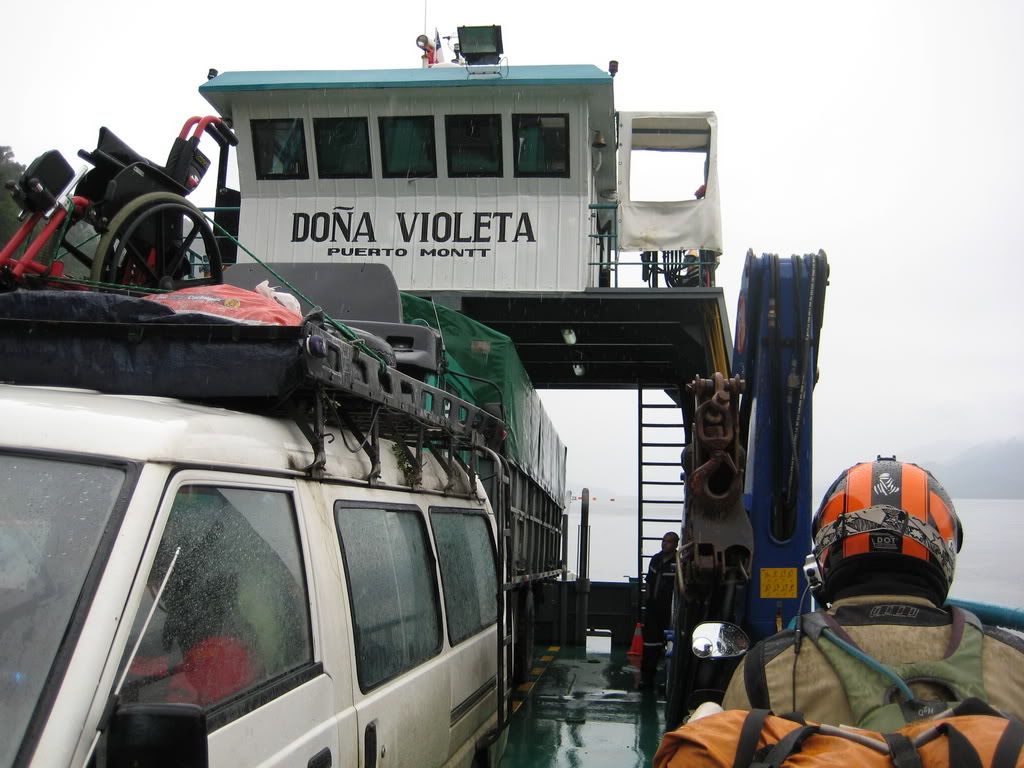 The random ferry
More rain, and my body slowly got chilled. The road became paved again, much to our surprise. I was soggy and cold at this point so the faster speeds that come with pavement were welcomed. There was still nice things to see but when you are wet and cold the motivation to stop just isn't there. We passed mountains and waterfalls, worth a stop if you aren't already beaten by the cold.
When we reached Coyhaique I was shivering. We found a campground and thankfully it had hot water. Hot water in Chile so far means HOT water. I think I was in the shower for 20min. I was still cold when I got out, but in better shape than when I went in. What I really liked about the campground was the shelters for the cooking area on each campsite. We made good use of ours.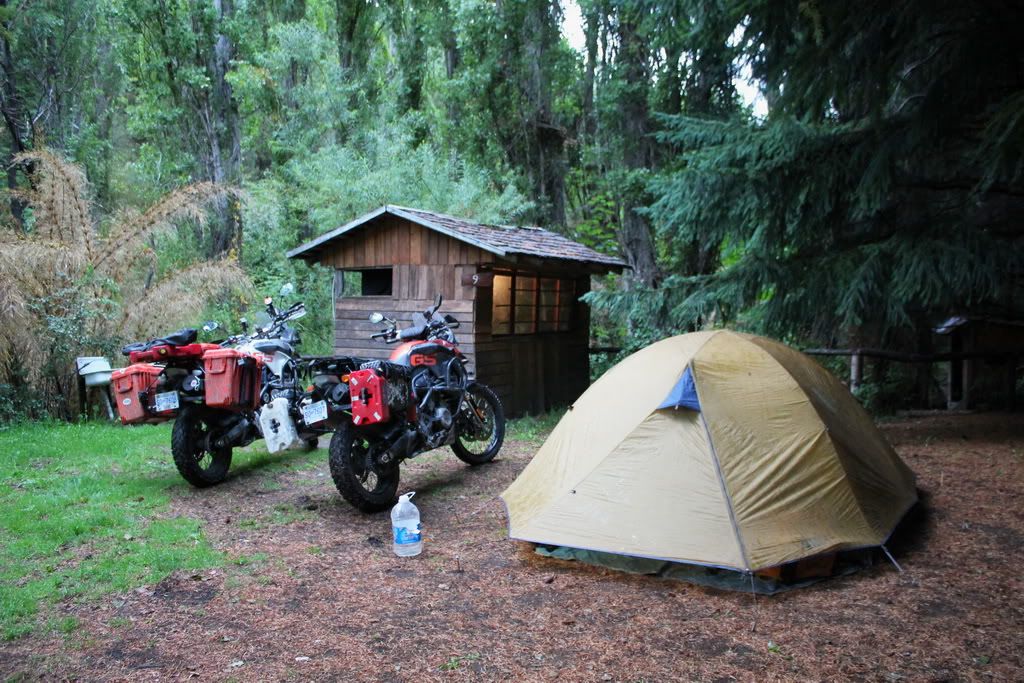 Camping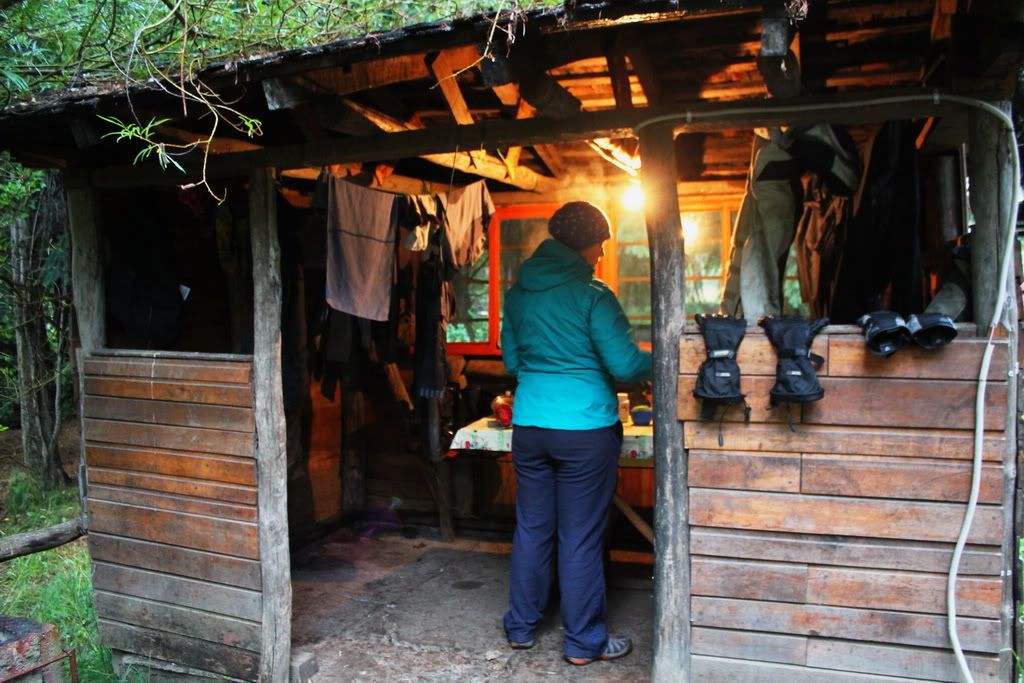 Cooking hut taken over by wet riding gear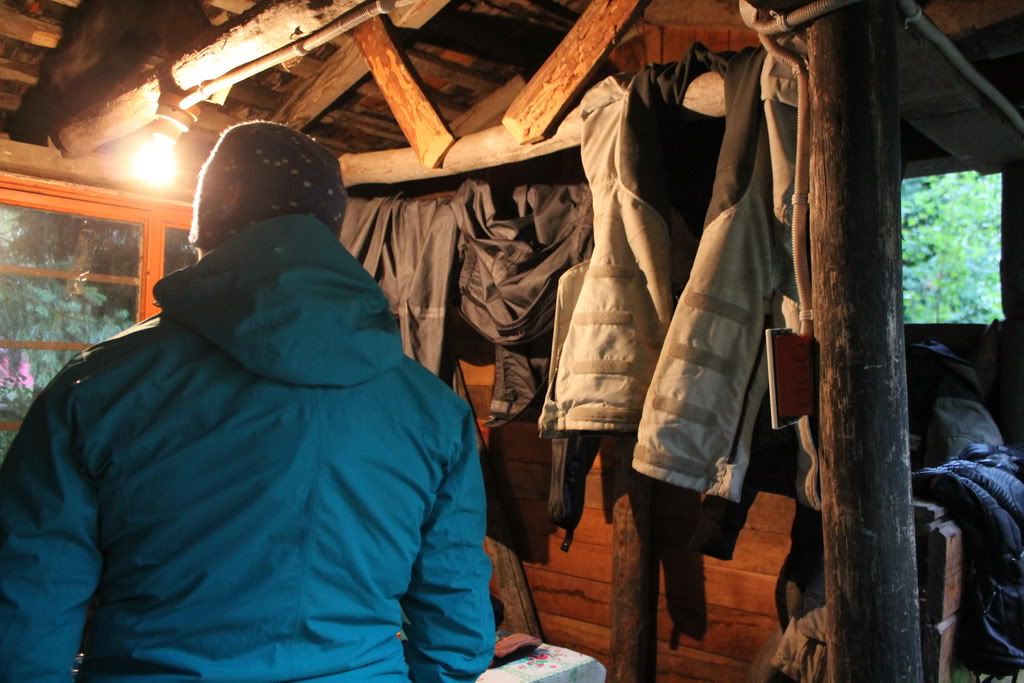 A close-up of the drying action

After some soup for dinner I was eager to climb into my sleeping bag and start generating some heat. Unfortunately I think I allowed myself to get too chilled during the day because I was cold all night and had a hard time sleeping. I just couldn't get warm. I asked for it when I was complaining about the heat.
Overall it really felt like a day of riding in BC.