I guess I got my wish. Today was noticeably colder and it rained. Because we had gone a lot farther than planned yesterday we were in no hurry to get going this morning. We hit the rod at around 11am after a leisurely breakfast.
Since Peru we've left our hoteling ways and have been camping pretty much every night. This means no evenings with wifi. We've been doing pretty good in Chile though cause some gas stations have internet. So we've been able to do quick email checks to make sure no emergencies are going on at home.
The toll booths and straight roads continued. It rained really hard around Osorno and once again I got wet. These stupid hydratex liners suck! Don't fool yourself into thinking other products are as good as gore-tex. Unfortunately due to the rain there wasn't much to see but judging from pictures there are some pretty amazing views on Volcanoes in this area.
We arrived in Puerto Montt, to my knowledge, the end of the Panamerican highway. We navigated our way to the ferry offices. They didn't have any room on the Thursday and Friday sailings for our bikes and we got the one week in the month that the Saturday sailing is on a Sunday, so we will be leaving on the Sunday ferry to Chaiten.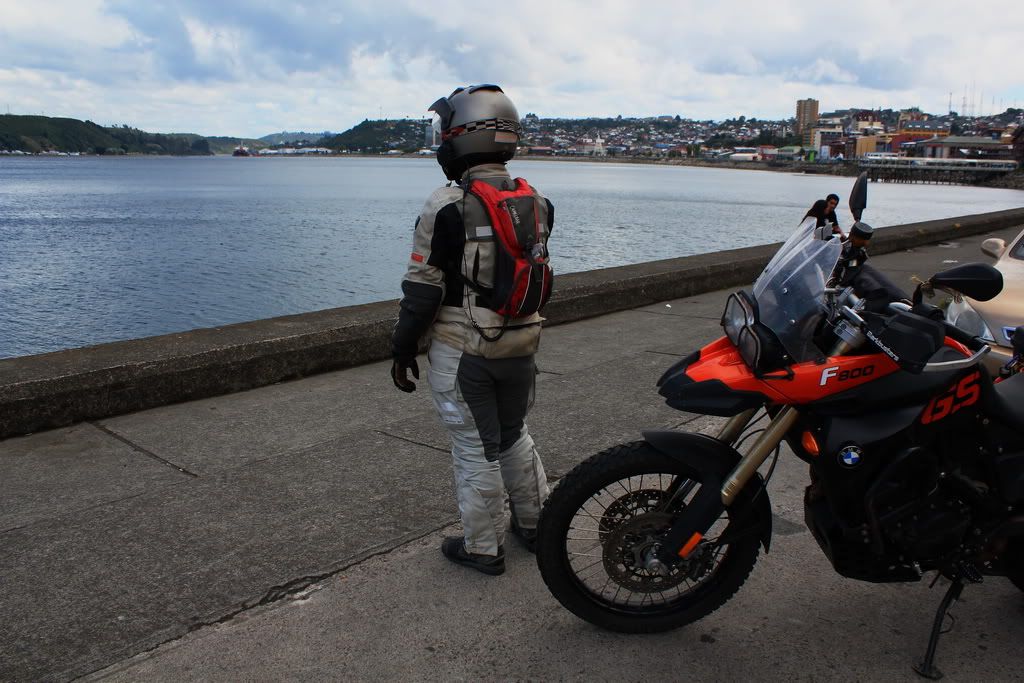 Enjoying the view; this is our first attempt to find the ferries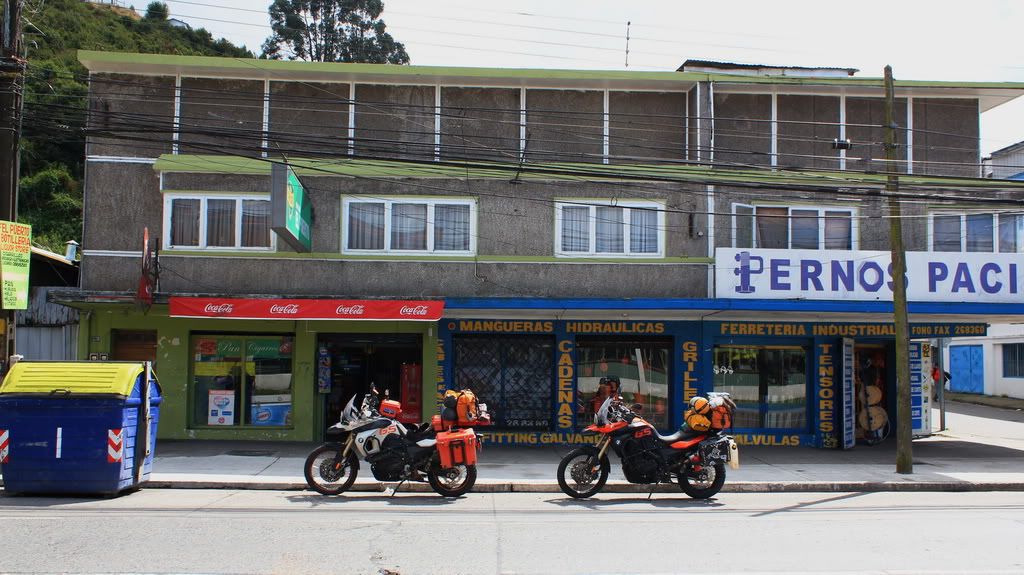 Parked at the ferry office (Naviera is on the other side of the road)
We knew of four campgrounds in the area so we went to explore our options. The first one we saw was pretty ghetto. The second one was pretty nice and very similar to a campground you'd find in Canada. The third one was fancy but pretty far from town. We ended up staying at the middle one and booked in for four nights.
After we had set-up camp we went back into town to buy some groceries. We were just finishing up dinner when it started to rain. Apparently it had been sunny for the last week and the rain had only started today. So we ate dinner in the tent. Throughout the night it rained REALLY hard. It was intense and even woke me up a few times.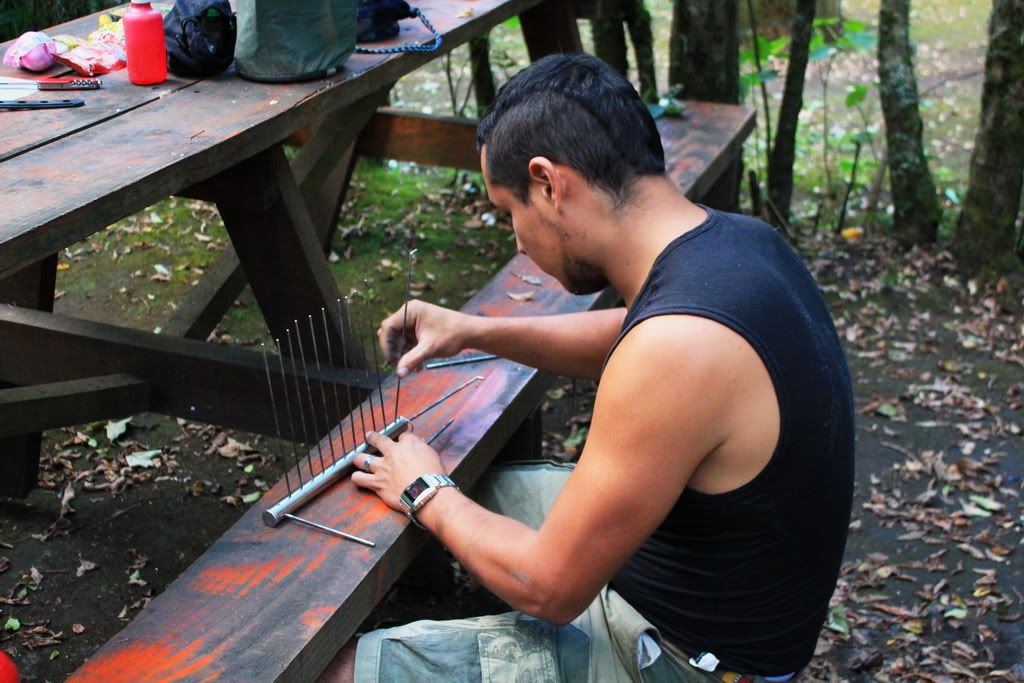 Building the grill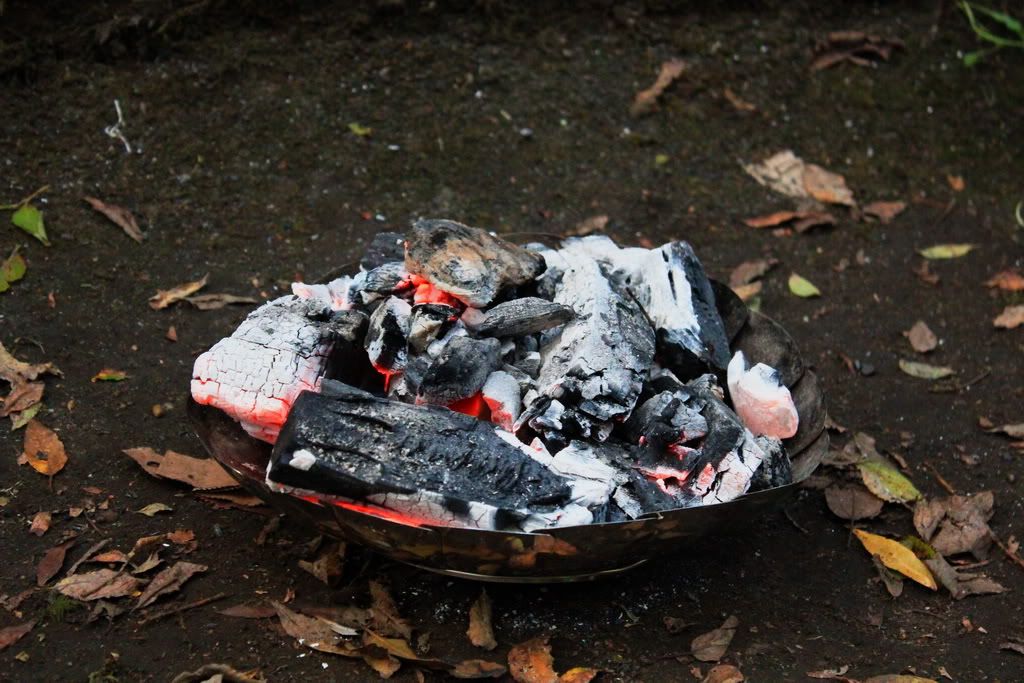 Barnacale in action
Note: This little device above we call Barnacale. It got it's name when I carried it across Canada, freeloading the whole way, and we only used it in our unwanted extended stay in Sudbury. It's a great idea but most of the time, the way we ride, we don't buy meat and have the time to actually grill in the evenings. So it sits around doing nothing like a barnacle and also looks like a barnacle.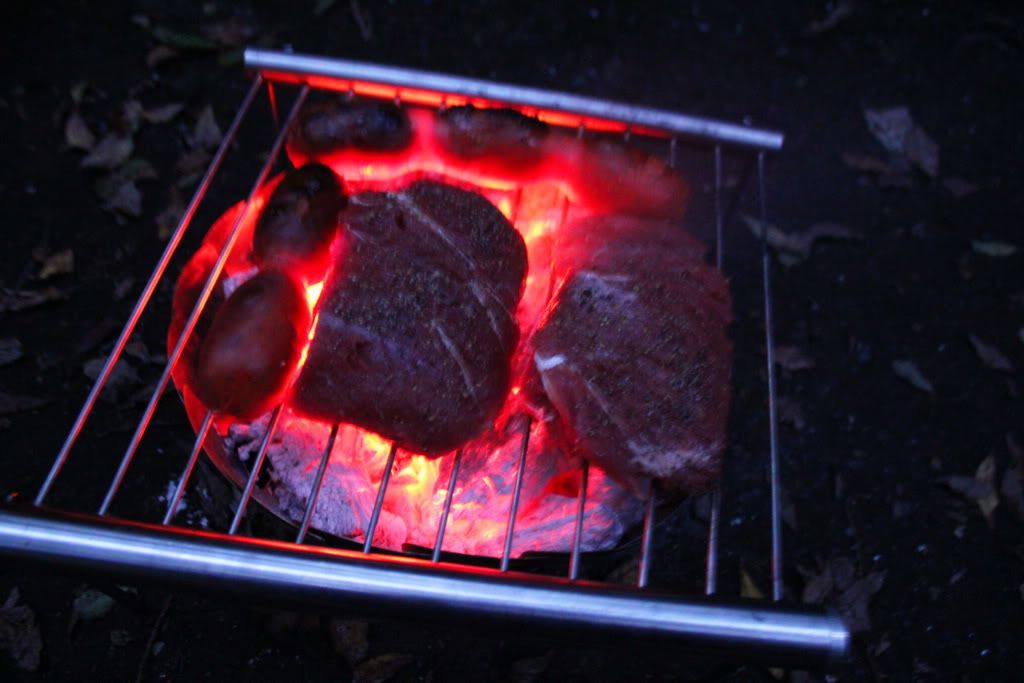 Alberto is always happy to be cooking up meat. I've put him on a no meat diet since meat it too much of a pain camping