The morning was sunny and warm. We had a delicious breakfast prepared at the restaurant and caught up on the Peruvian election situation on TV. In anticipation for our decent to the desert I packed up all my warm clothes and was wearing my warm weather riding gear. We had seen plenty of traffic coming on the road so we were confident that the slides were cleared.
Back on the road we approached the first slide, which was half cleared. The second slide was quite a bit bigger than when we left the area so more material must have come down. It was about 600 tonnes the amount of material that had fell. For several kilometers we passed slides that had been cleared enough for one lane of traffic. A very unstable area it would seem.
The state of the road
At one of the slides I had a chance to talk to a traveler on a KLR coming the opposite direction. He had just come from Ayacucho where he had to detour around the bridge that was out. He said that the Sierra was a mess with mudslides, and detours etc... so I guess it's probably good that we were heading to the coast now.
As well as slides to keep an eye out for there are tons of small river crossings on the highway. Water is allowed to flow over a man-made drainage. In theory this is okay, despite being weird on a major highway, but sometimes debris builds up and it can take you by surprise as you are driving down the road at highway speeds.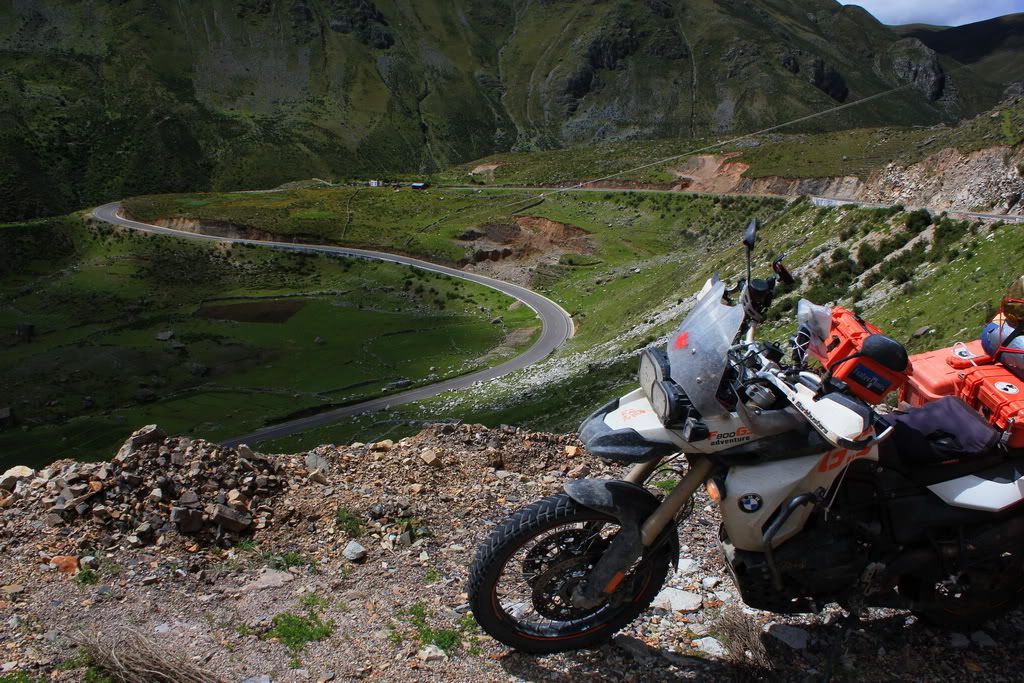 Some nice riding
Instead of descending, the road kept going up. Up, up, up until I got so cold I had to put my heated vest on. We encountered some typically crazy drivers and for the first time on this trip Alberto chased down a mining pick-up that tried to run us off the road. The driver got a not so pleasant earful of spanish when Alberto pulled him over. There is very little skill demonstrated by Peruvian drivers when travelling at speeds.
Curving upwards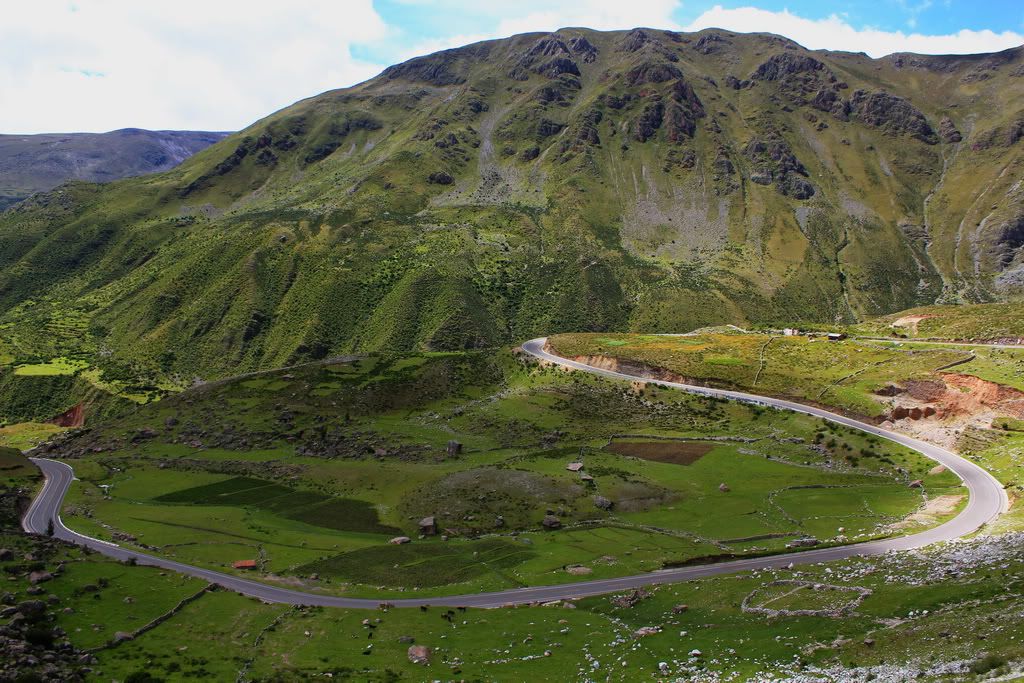 Yay for sun
Curvy road
Cruising
Nice mountains
Take note Peruvians, I manage to stay in my lane and still have fun
Keeping a close eye on that bus
Attempting knee down
The photographer
Scenery
It was sunny for most of the morning and then the dark clouds appeared on the horizon. I could still see some blue sky and lived with the hope that the road would take us that way. We were rained on a tiny bit but it soon stopped raining and our clothes dried from riding. As we were coming into Puquio Alberto was complaining about handling problems with his bike. I said he should check the air in his tire. Sure enough it was low. We had a small compressor but it takes a while to pump up a tire and we were practically in town so we limped the last few kms into town to find some compressed air. First gas station didn't have any; the second gas station didn't have any. They sent across the street where there were some tires laying around and a small child of about 5 years old supervising a store. They didn't have air, but I did buy some snacks from this kid. Oh the experience you get when travelling in 3rd world countries.
A typical highland town
Alberto spotted a real tire shop just down the road and walked his bike over. The tire was repaired in no time but the wheel took some trouble to get back on. After all was said and done 2 hours had passed. The blue sky we were previously staring into had become dark clouds and rain.
Front wheel off
Looking for the leak
The culprit: a tiny spike of metal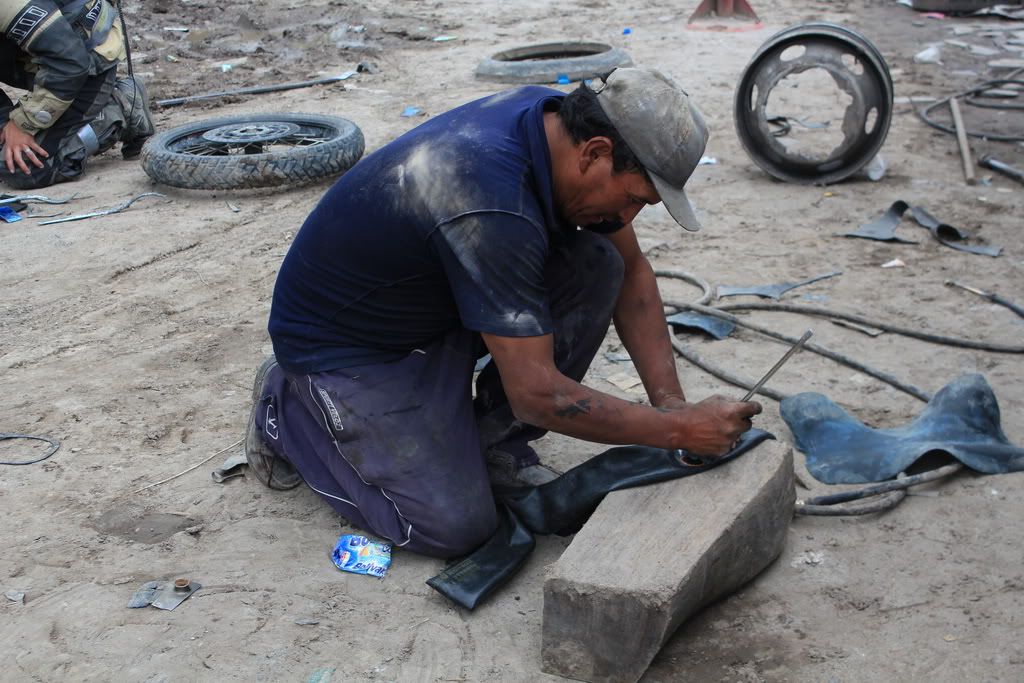 Patching the tube
Getting everything back together
At first there was rain as we climbed back up into the mountains, but just sprinkles. Then there was just fog. We were driving in the fog for a really long time. When we came back out of the fog there was heavy rain and some hail. The hail hurt like hell. The road just kept going up and slightly down not seeming to make any net gain in a downward direction. I kept thinking to myself, do we ever go down to Nazca??
When the rain was really hard I got soaked (since I didn't put my rain liners in) and the road just kept going up with the temperature dropping rapidly. It was very difficult to see because with all the moisture from the rain and the cold air, my visor stayed in a permanent state of fogginess.
At first I thought I was seeing things, but no, there were small patches of snow at the side of the road. Then without warning there was snow on the ROAD. I guess the small patches at the side of the road were the warning. Alberto was leading and he was sliding like crazy in the slush. Luckily he did not crash. I had a sliding experience myself but not as scary as his. Still sliding in slush at speed isn't fun no matter how well it turns out. Because of foggy visor situation it was really difficult to pick out the snow on the road and that's why it took us by surprise.
By this point I was freezing especially my hands. I had all my heated gear turned up to the max and was desperately watching my temperature gauge in hopes that it would start rising. I kept picturing the hot desert in Nazca. The temperature accent was slow at first but once we got into the drier topography it started to rise more quickly. It didn't matter. I was already chilled and left my heated vest on max until we got to Nazca (a comfortable 26 degrees).
Starting our dry descent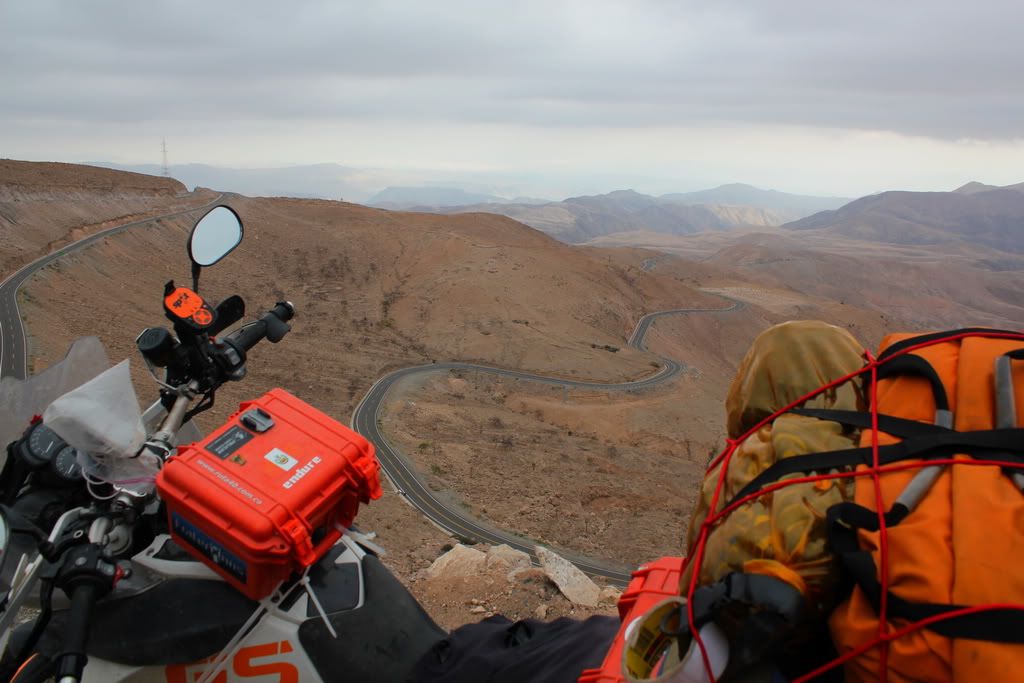 The twisty road
Naomi being twisty
The entire day was twisty mountain roads; which was quite challenging given the smorgasbord of weather conditions we encountered. A few easy days on the Panamericana might be nice. At least we are pretty much guaranteed no rain.
We had never planned to meet up with my family before our little vacation in Mancora but since we have had so many plan changes over the last few days we ended up being in the same city as them so we thought we'd put in the effort to find them. We phoned up their tour company and found out the hotel they were staying at.
Alberto modeling the latest in duct tape fashion
It's a little out of town and on the way there Alberto got another flat tire (in the front again). We didn't want to deal with it (it was getting dark) so we pulled into a gas station, pumped it full of air, and went to the hotel. My family wasn't there yet so we waited. We were under the impression that they were supposed to arrive in the late afternoon or early evening. We waited, and waited. It was dark and Alberto's tire was less than 100%.
The hotel was out of our budget and they wouldn't let us camp in a corner of their parking lot (hidden away). We could have bush camped but the tire was suspect and we didn't know what the deal was with my family. We decided to suck it up and pay for a room at the fancy tourist hotel. We waited as long as we could to have dinner with them but they never showed up.
Eventually, after I had fallen asleep, they arrived. We went out to greet them. Their bus was late and they'd also had a long day. We socialized for a while and then went to bed sometime after midnight. Sounds like they have been having a great time in Peru so far, which is nice to hear.
Sharing stories
That must be one hell of a story, eh Nik?