We needed gas and we saw a sign on the highway last night for Paso de Sico before entering the city so to keep things simple we decided to leave the way we came in. I had seen lots of gas stations on the way in and we wanted to find one that accepted credit cards since we were strategically low on Argentinian pesos. The first gas station only had 98 gas. The second one had 93 but didn't take credit cards. The third one only had 98 gas but took credit cards so we caved and filled up. What a pain in the ass. This has happened a few times; encountering a gas station that only has premium gas.
Back on the highway we see the sign indicating straight for Paso de Sico. As we continued straight I saw signs saying the freeway was ending. I interpreted this as being that the road was going back to single lane. NOPE! The freeway completely ended. Dead end with only a dirt road leading off. WTF?!! The only option is to go into the city, but what really pisses me off is that the highway just dumps you off in some random neighborhood with no signs. After getting lost a few times we find ourselves back at the campground. So messed up. I actually said audibly in my helmet "Get me the f*ck out of here" cause I was just completely fed up with the chaos. We had to ask for directions a few more times but eventually we were on the right track.
My map showed that Ruta 51 was a large highway. This was not the case. It was like a small country road going through some quaint little neighborhoods and then again without warning we take a right and the road becomes dirt. Weird, but I play along. The dirt road was actually fun. We saw signs for Paso de Sico so we knew we were on the right track.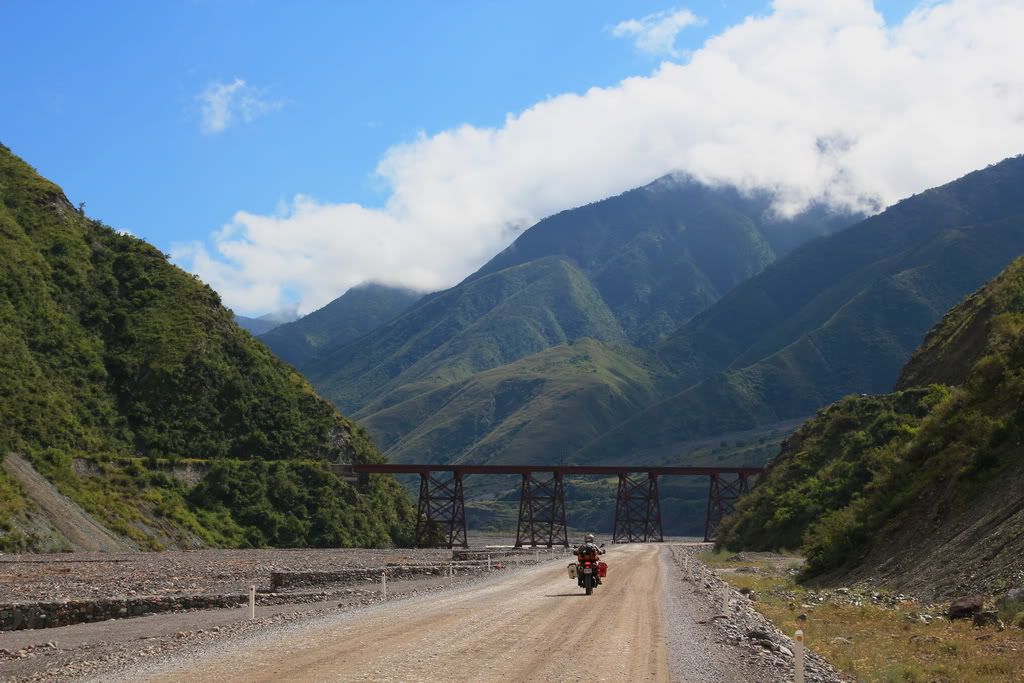 On the dirt road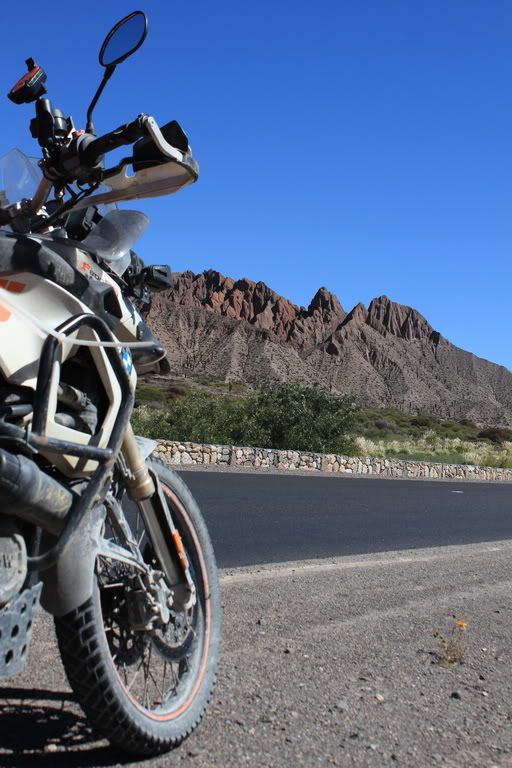 On the paved section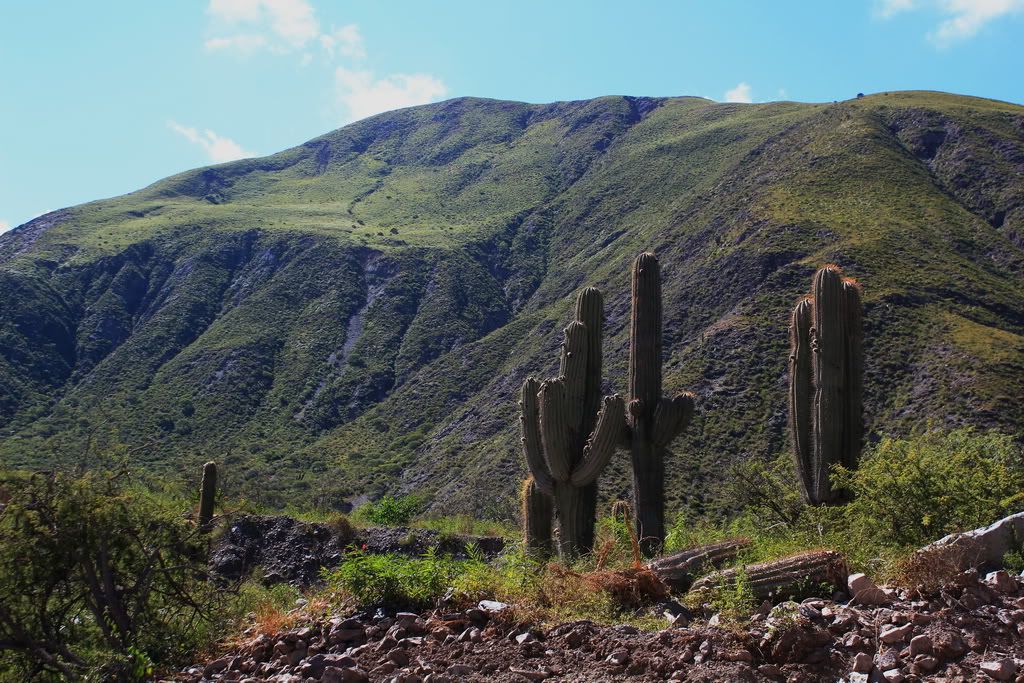 Some foliage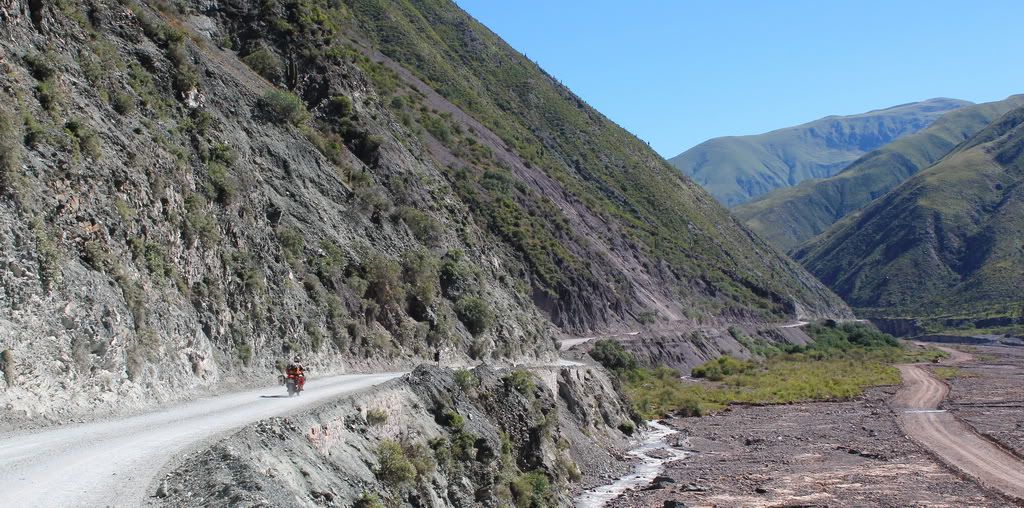 Enjoying the ride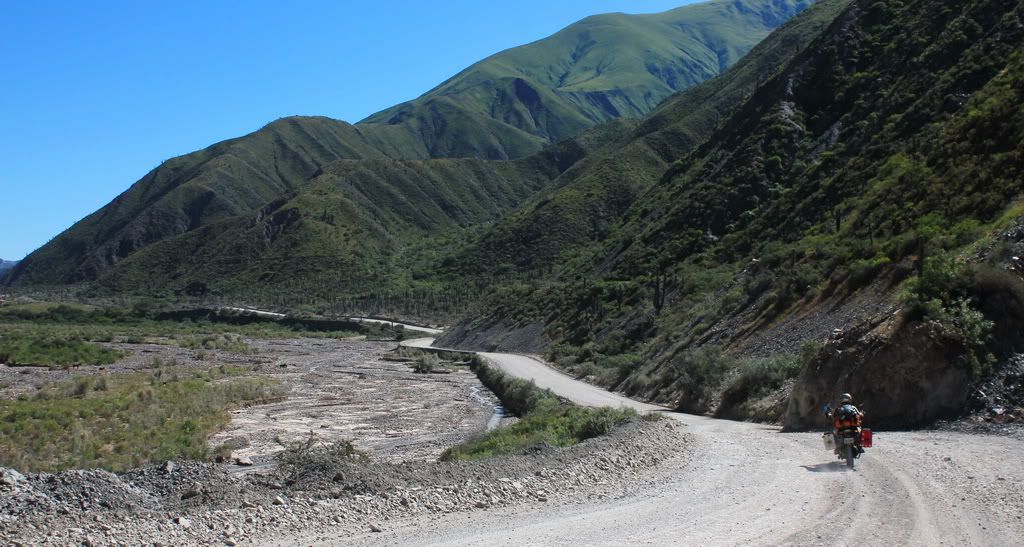 I love those mountains
The road turned into a nice paved road for a while and we were carving up the curves. We arrived in a mining town named San Antonio del Cobre. We spent the last of our cash on gas, which made me sad because I was hungry. Again finding our way out wasn't very intuitive but we managed to escape.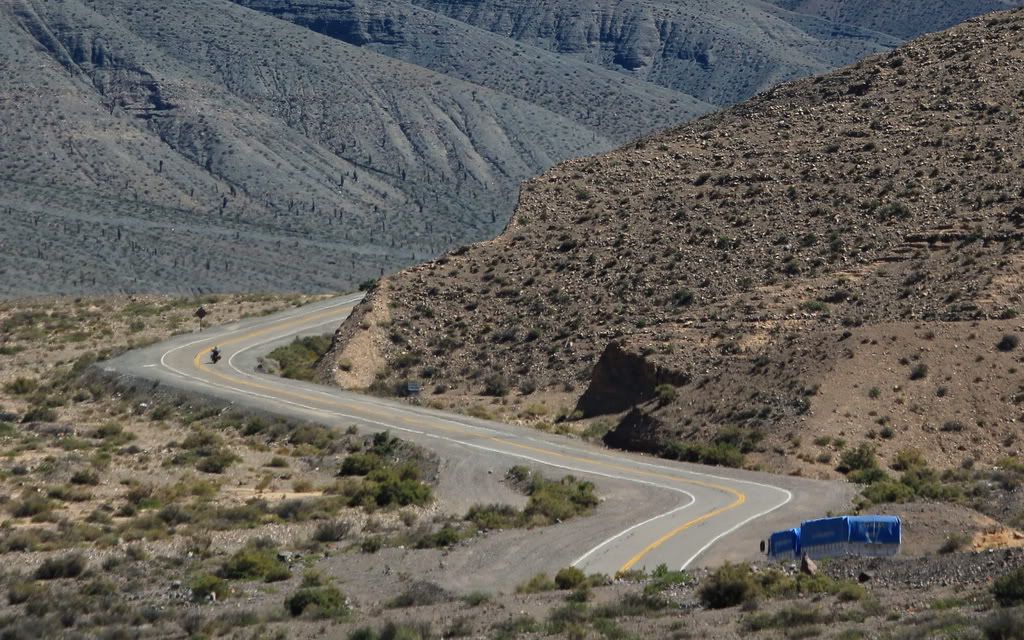 Enjoying the curves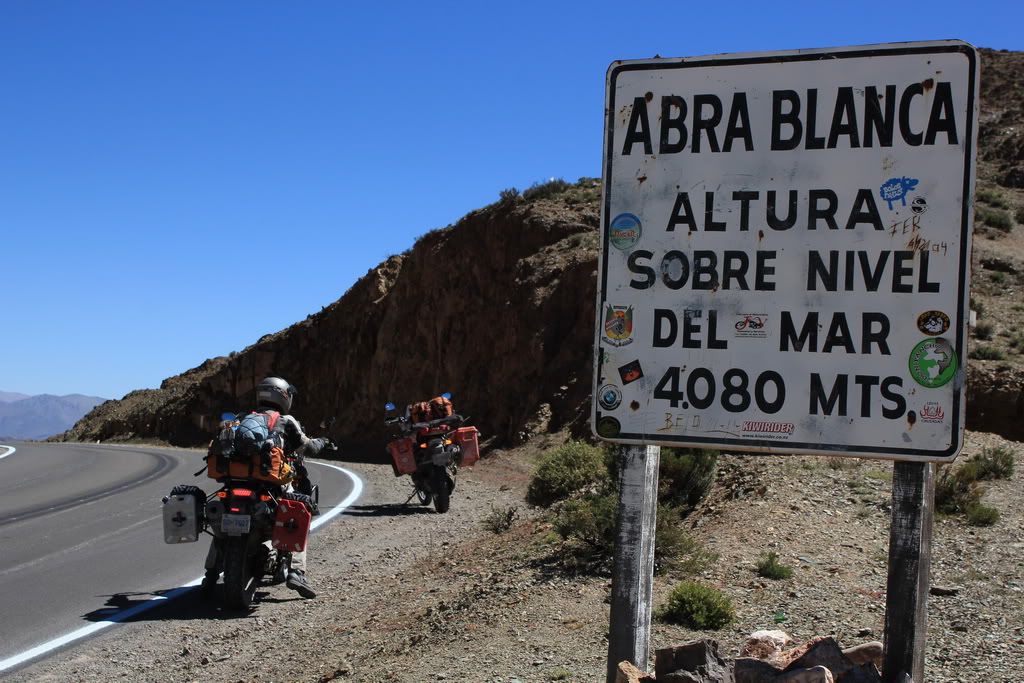 The paved summit
The dirt road quality had been deteriorating but it was equal to Ruta 40. After the mining town the road got really bad. There was surprise river crossings, surprise sand traps, and the most horrendous washboard I had ridden on with this bike. I was sure one of us was going to go down in one of the several sand traps as they would appear without warning, but we didn't. Go ice tires! The washboard was exceptionally bad though and both of us were hating every minute of riding our bikes. This went on for a while until finally we reached the Argentinian border building.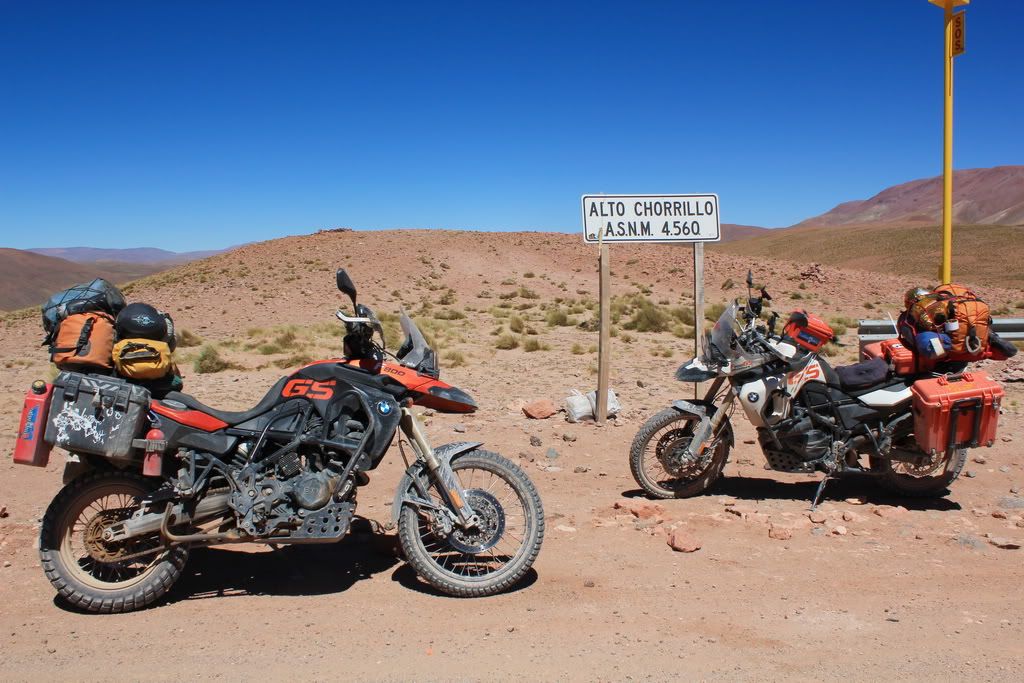 The unpaved summit, a bit higher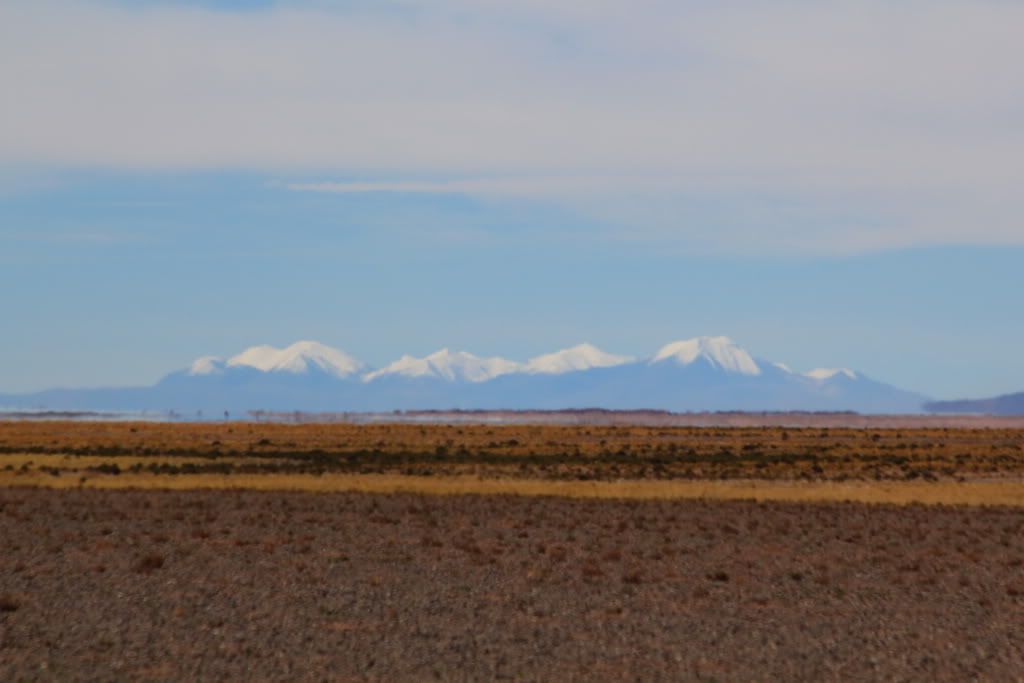 Scenery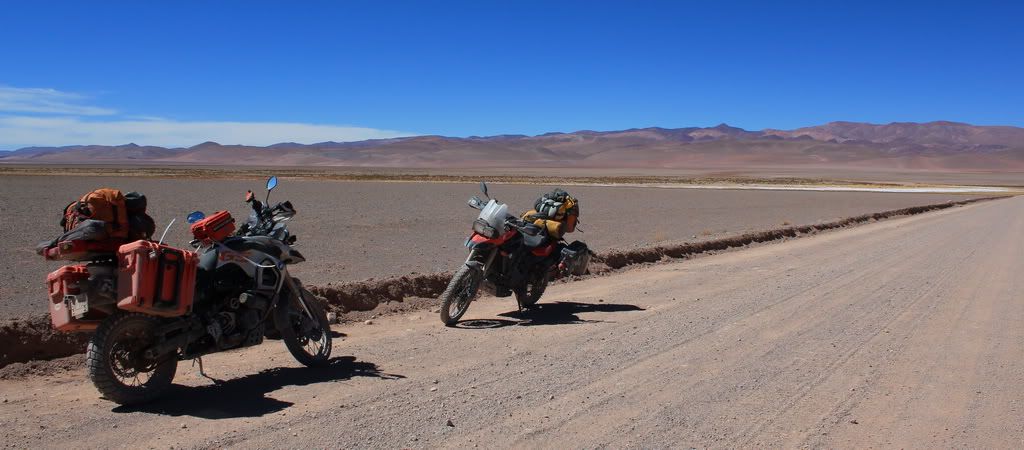 Taking a small break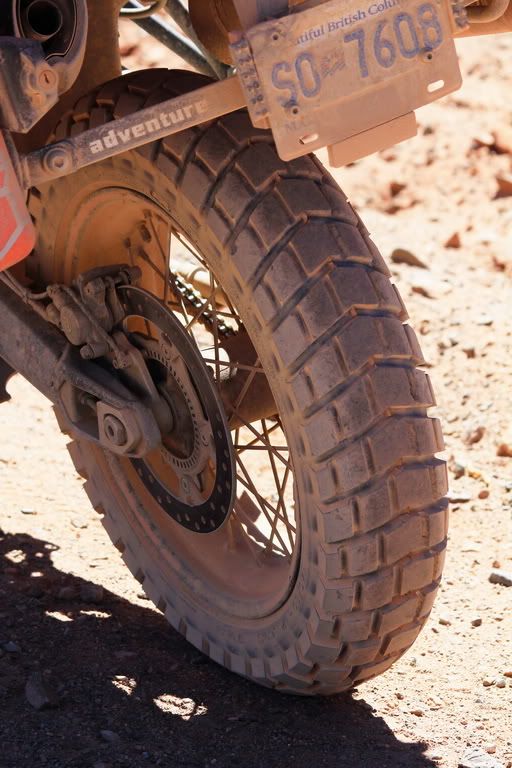 Very dusty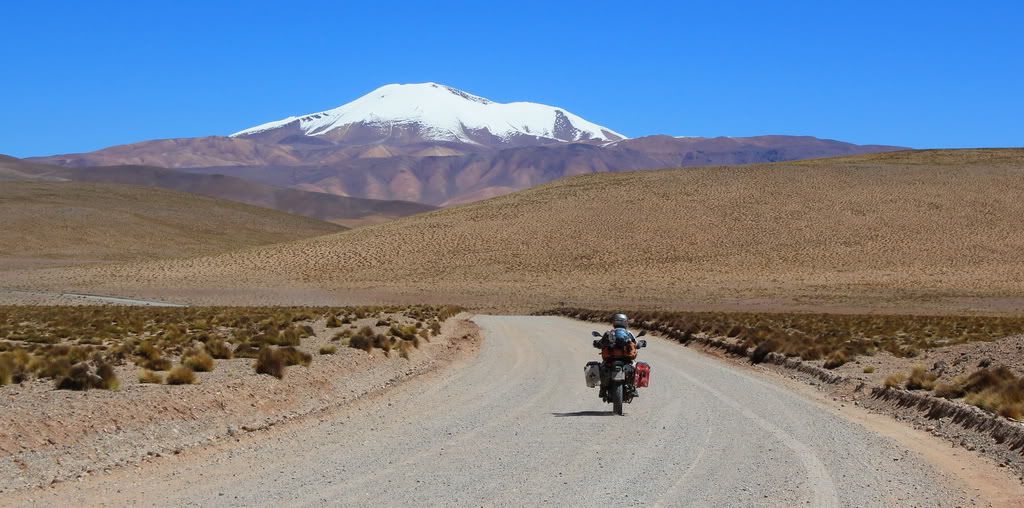 Some white peaks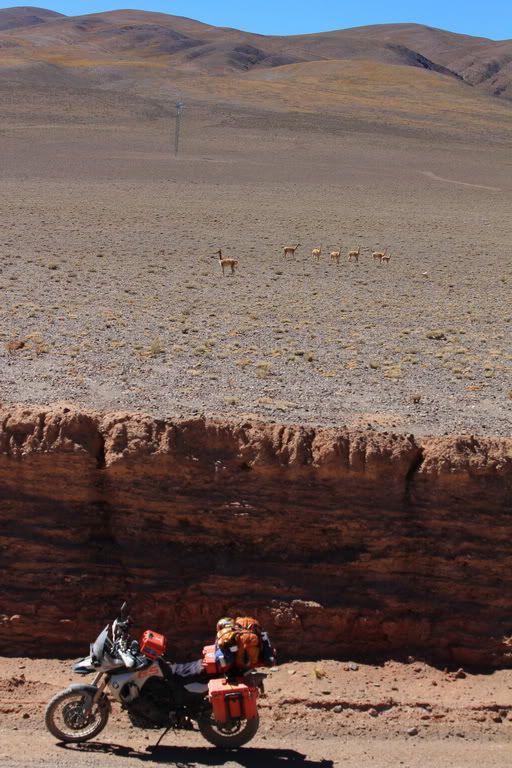 Interesting rock formations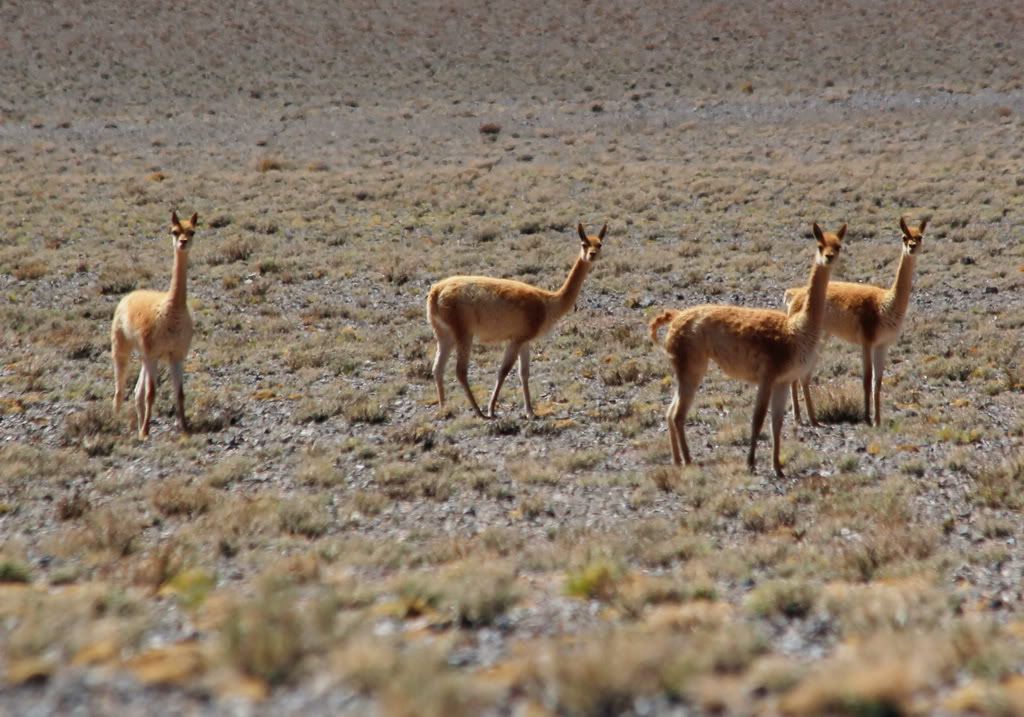 Wildlife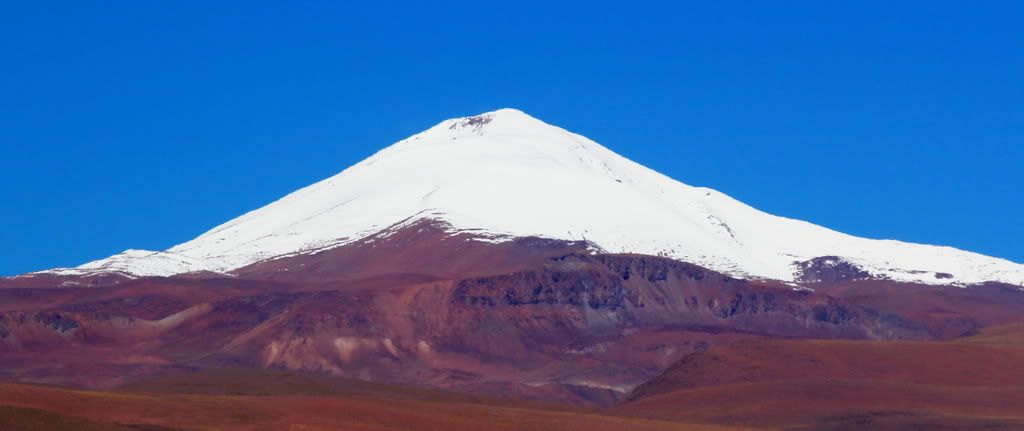 Some more white peaks

Salar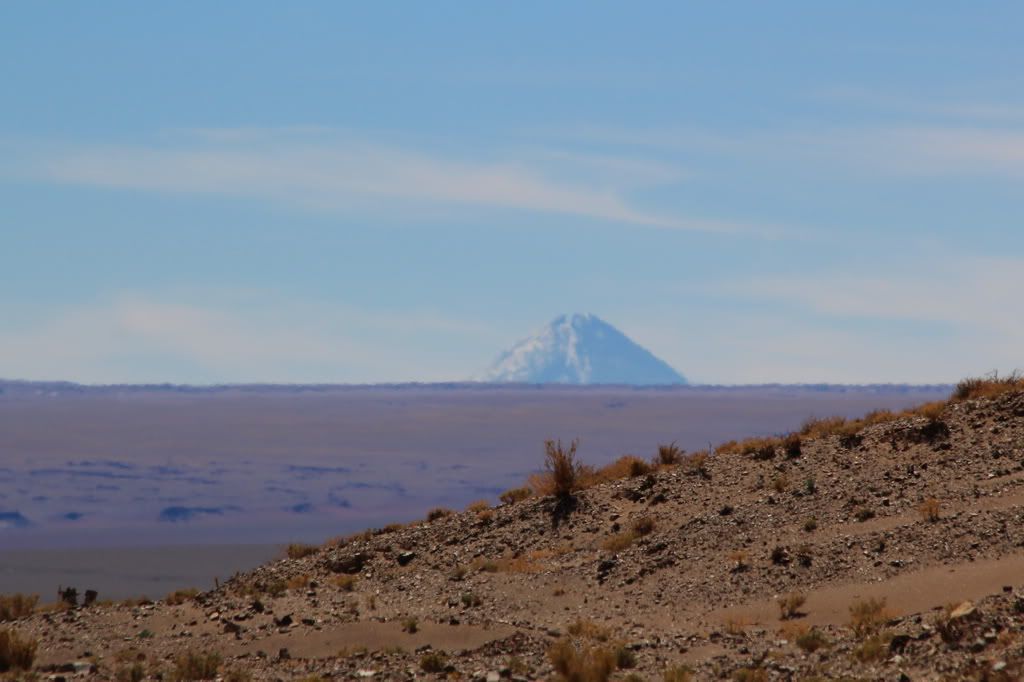 More good scenery
We parked, and it was crazy windy. We went up to the door, but it was locked. We looked inside; no one. We knocked a few times; no one. Eventually someone appeared and they processed us out.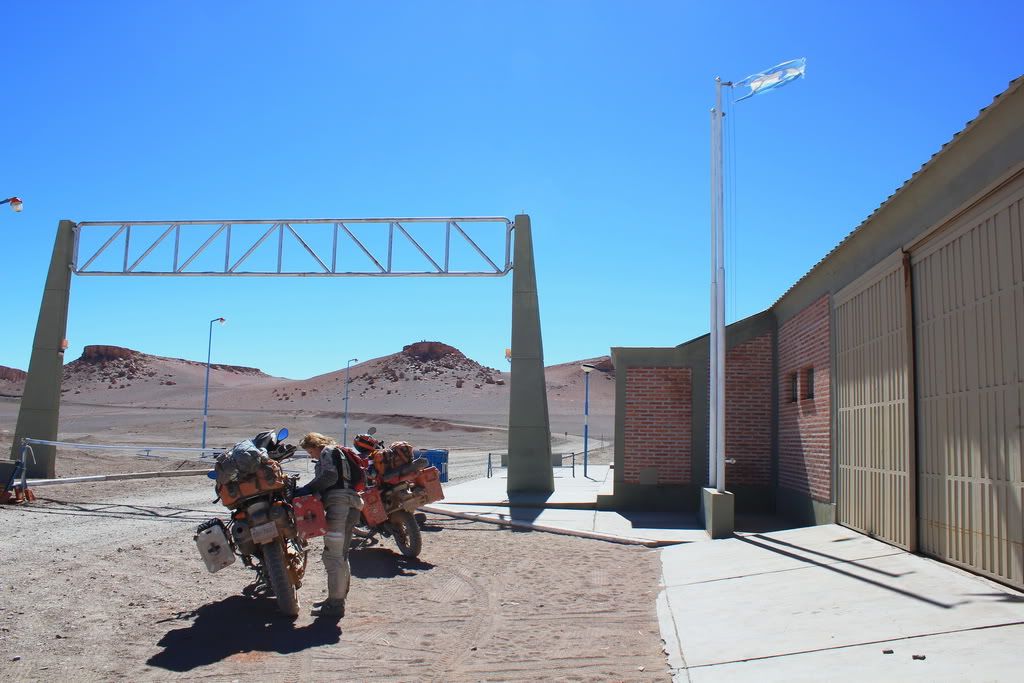 Argentina border
When we entered Chile the roads noticeably improved and the scenery as well. Yay for Chile. We drove and drove and then eventually I spotted a tiny building. We stopped there. It wasn't immigration it was more of a police checkpoint. They took our information and told us we had to do Immigration and Customs in San Pedro de Atacama.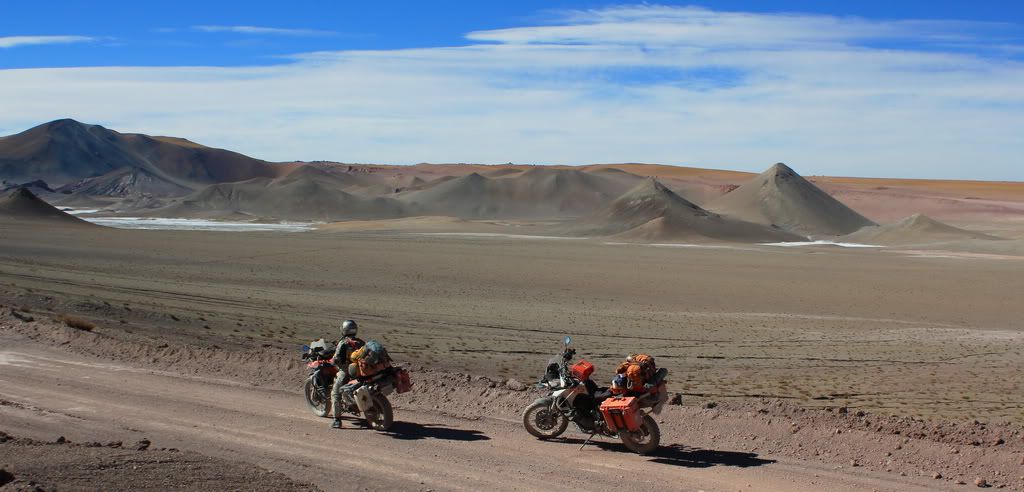 Into Chile
The road ahead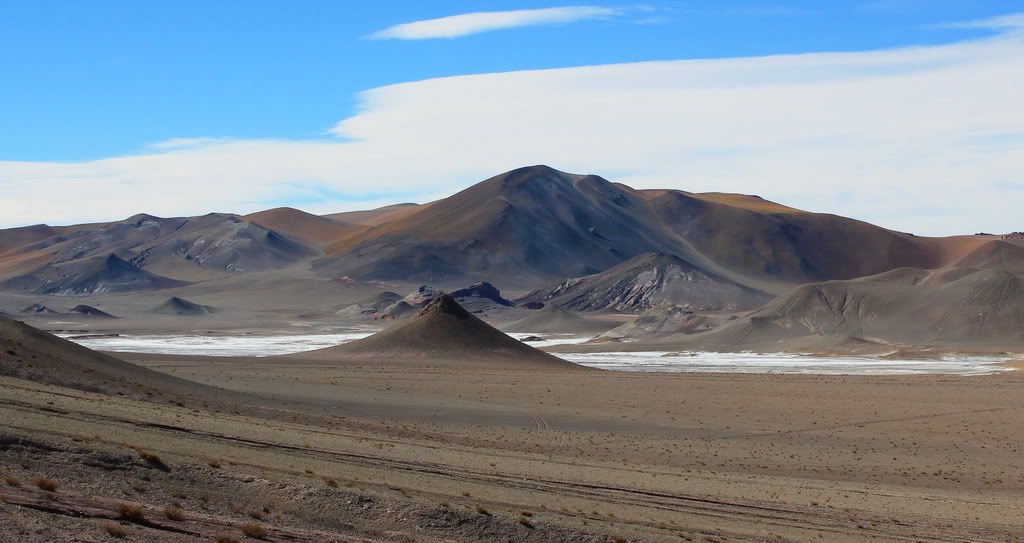 A salar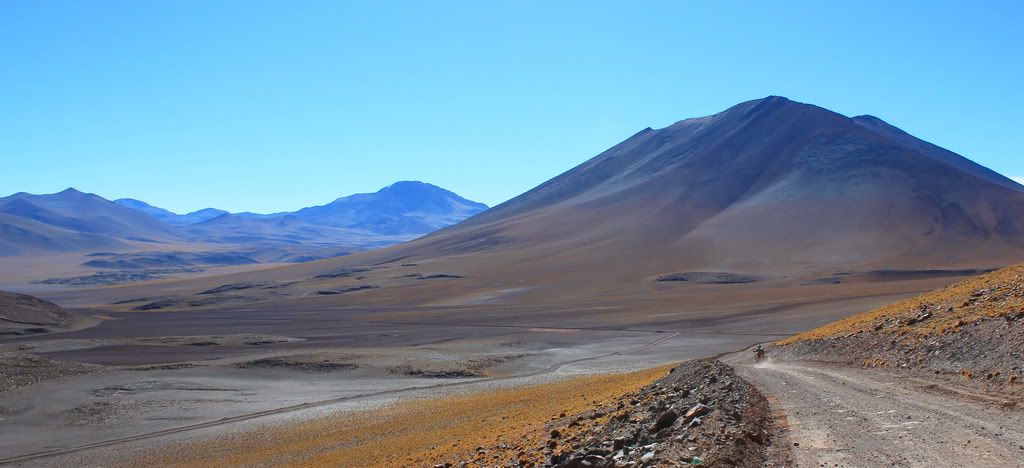 Naomi speeding off into the distance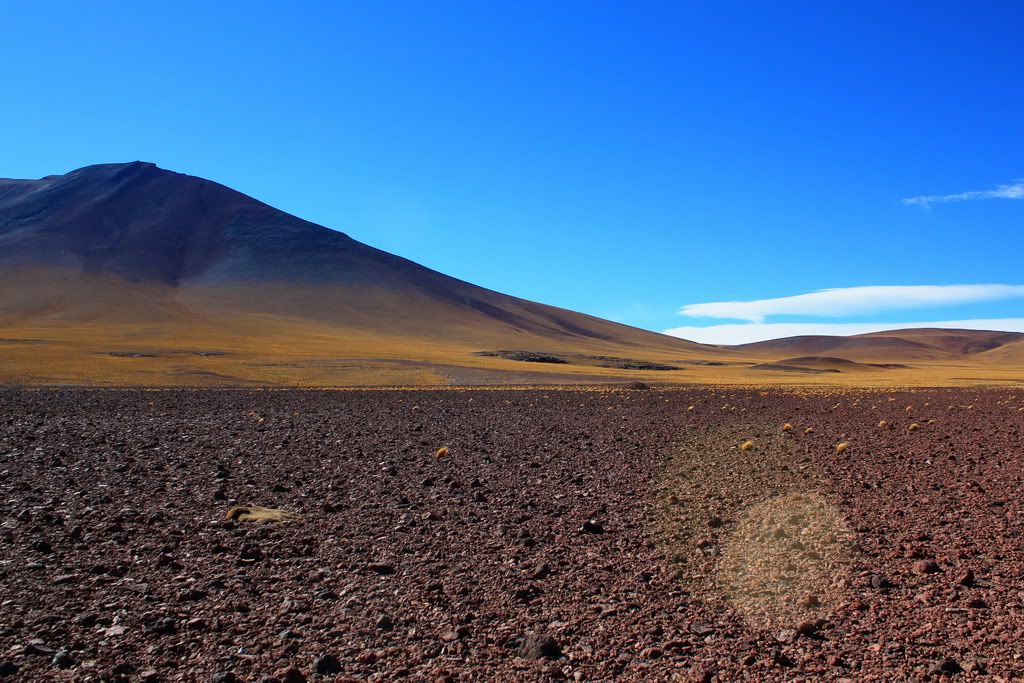 Very unique terrain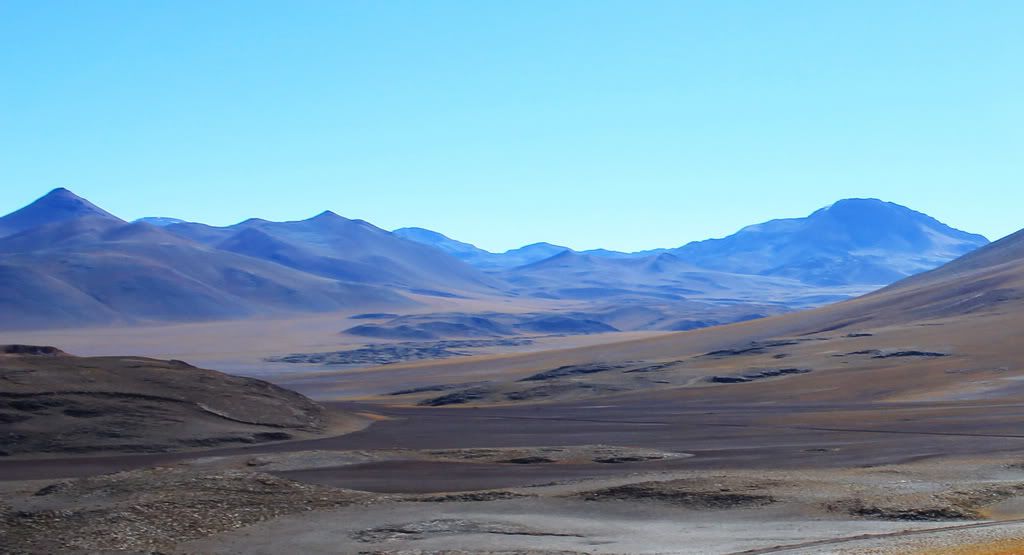 The mountains
Nice contrast with the complimentary colours

Just follow the road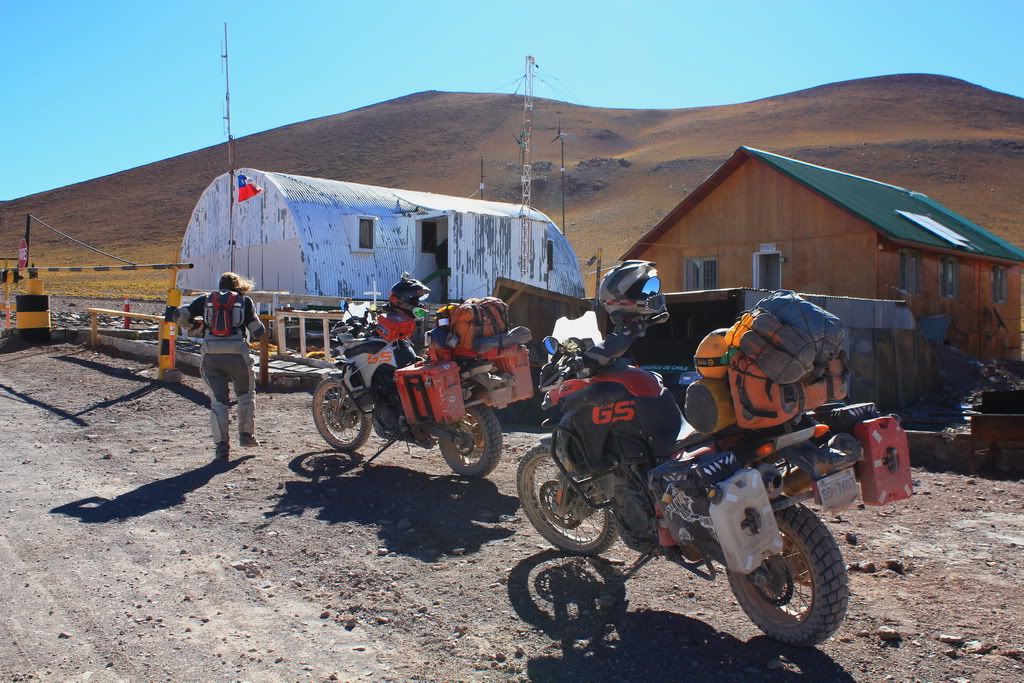 At the Chile police checkpoint; they get stationed here for 1 month at a time
It was late though and we had no intention of going to San Pedro today, so we started the search for a bush camping spot. We found one without too much wind, bonus. It's pretty high up though and I have been feeling the effects of the altitude. I think we are in for a cold night.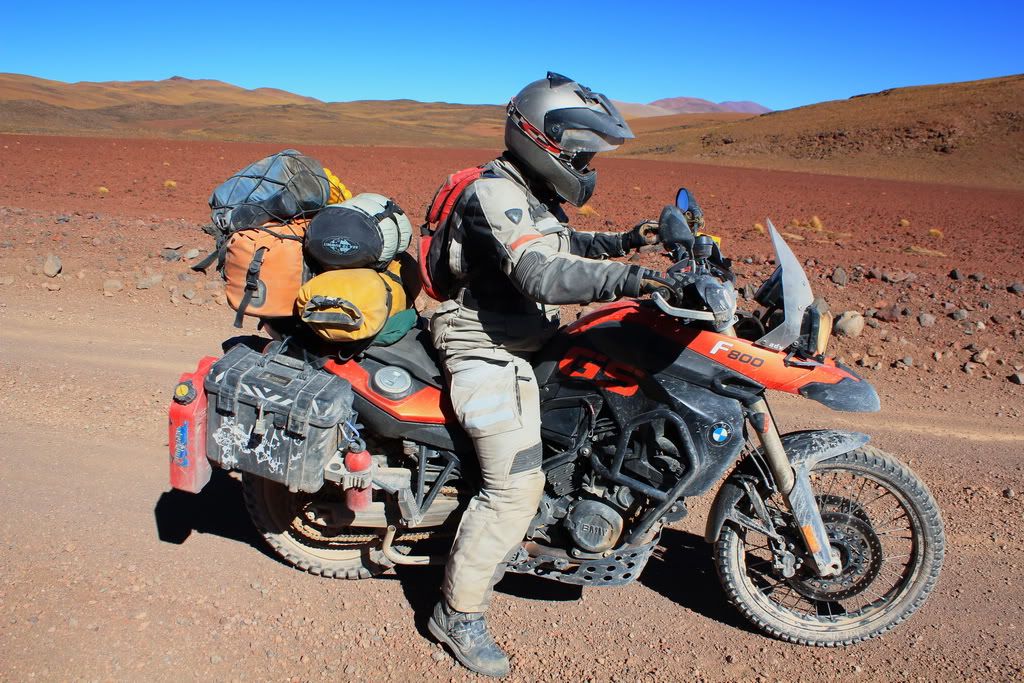 Playing with my menu
Salar
Not enough oxygen to stay up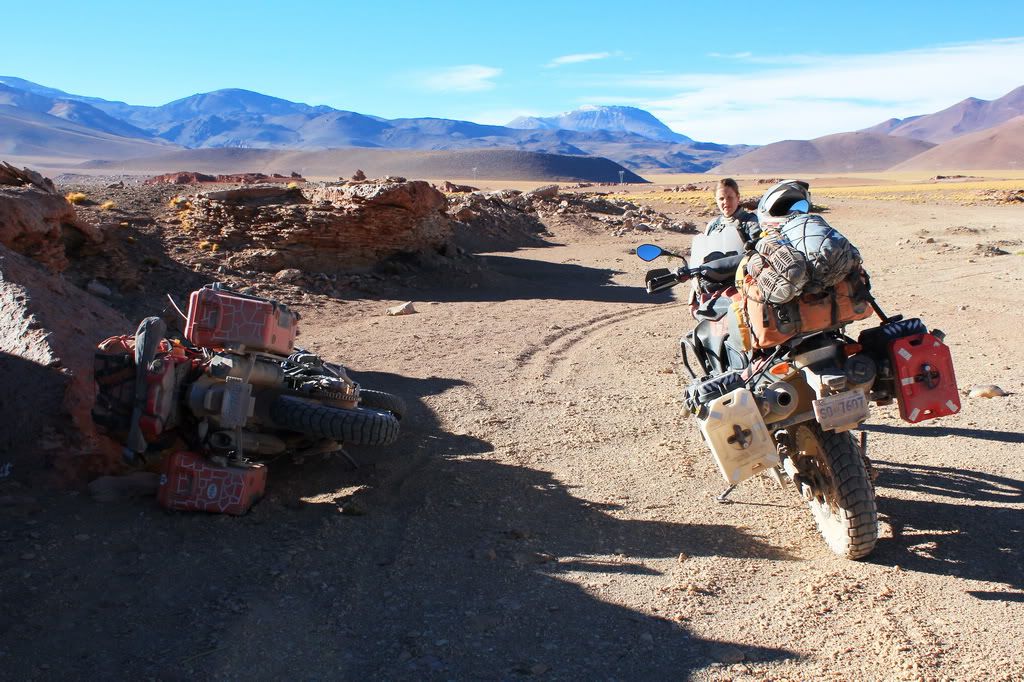 It's an epidemic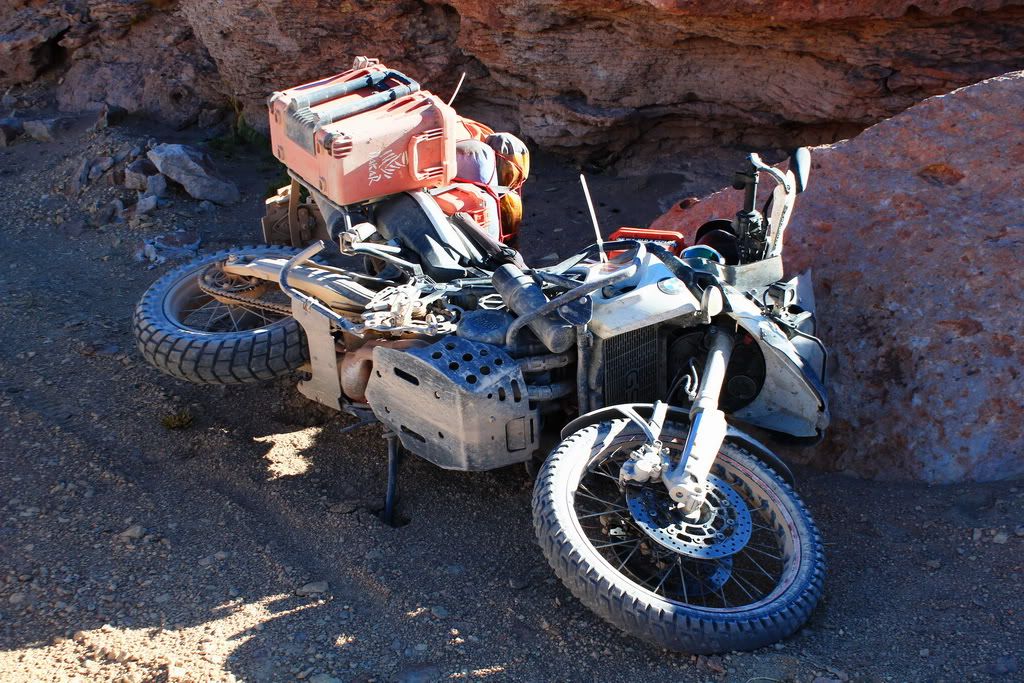 But Alberto found a rock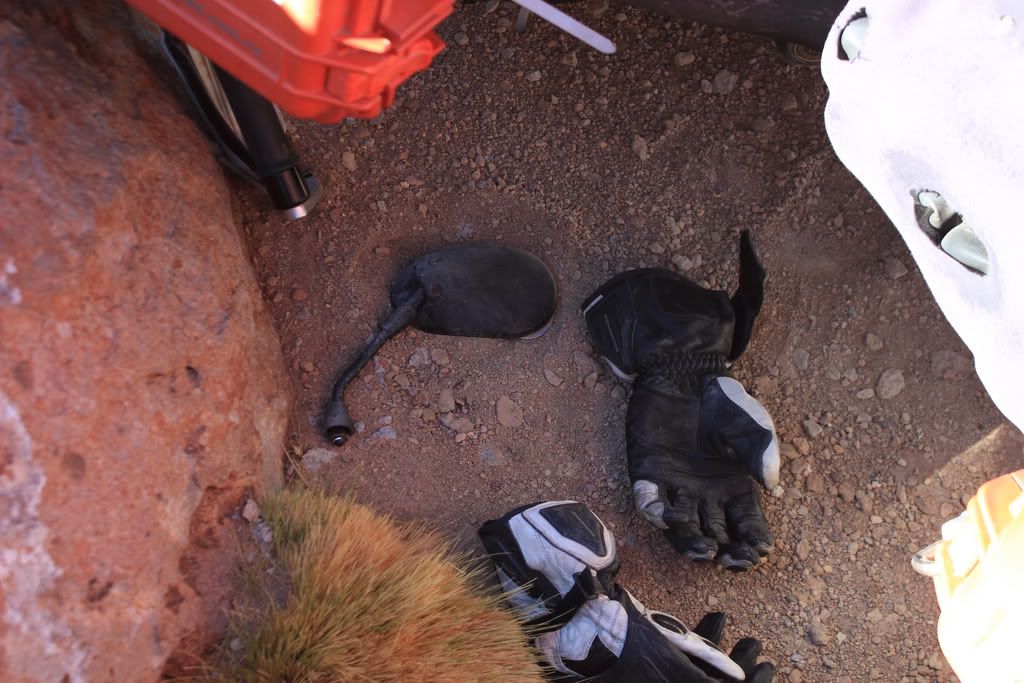 And broke a few things
Argentina final thoughts:
I have to say it, the riding we experienced sucked. We rode north to south almost the entire length of the country and were rarely stimulated. How did Ruta 40 become so legendary? We inadvertently ended up doing a large portion of the full Ruta 40 and not a single section stands out. The non-paved sections are a potential injury waiting to happen and the paved sections are boring and straight with bad road surfaces. Neither of us are big fans.
What I did really like about Argentina were the nice quiet little towns. Good quality towns with good restaurants. While the restaurants open a little late for most Adventure Traveler schedule's the times we did wait it out for dinner it was good. And since we got there when it opened we always had good service and the whole place to ourselves. Also I love that you can expect wifi at pretty much any reputable looking restaurant. So civilized.
The beef was good but Alberto still thinks the best beef he's had on this trip was in Guatemala. I was really enjoying the high quality pasta. I love the italian flavour in Argentina.
While we didn't experience any gas line-ups or waits we did have to use our spare gas on a regular basis. So a vehicle with good fuel range is a must.
Everyone talks about the strong winds in Patagonia and while you know this to be true before you go, until you experience it yourself it's hard to conceptualize. I didn't find the wind to be dangerously strong what I did find is that it slowly broke down my will. Riding in strong wind day after day after day is physically and mentally exhausting. That is what I found to be the worst part of the wind. Isolated, one day of wind, would be fine.
In the south we found very friendly people, but in the north we found the people to be more unfriendly. Nothing like in Northern Chile though. In Argentina we got the most thumbs up from people, waves, flashing of lights. People would approach us to hear our story. Overall people were really friendly and outgoing.
It's great that there is organized camping everywhere. It takes the stress out of the end of the day because you can pretty much end up anywhere and you'll most likely find camping.
Alberto was disappointed with the lack of hot women. He had an expectation that Argentinian women are super hot, but apparently they hide all the hot ones in BA or Rosario.
This is my last final thoughts and it's kind of ironic that on our last day in Argentina (our last new country) Alberto said this: "Even though it's f*cked up in our eyes, it's not in theirs." That sort of sums up what it's has been like to travel on this trip. Sometimes things might seem messed up, but as long as the local people seem happy then I guess do as the Romans do.