Today we had to say goodbye to the luxurious lifestyle we had enjoyed through the comfort of the Marani Hostal and the delicious food options around Cusco. Also we had to say goodbye to Loren. We had lots of fun with him, and I hope we get to see him again in BC this summer. Loren, being the awesome guy that he is, offered to direct us out of town and we were out of the city in no time. I bet that following him probably saved us over an hour of frustration.
Once on our way we were enjoying the legendary twisties. It was very twisty until well after Abancay. It took a lot of focus and at some point before Abancay I started to feel a bit sick; probably from the altitude. So I wasn't really enjoying myself as much as I probably could have. The good part was that we weren't rained on though. That would have added insult to injury.
Packing and getting ready to leave
This is where Loren and us part ways
Bye Loren, have a good ride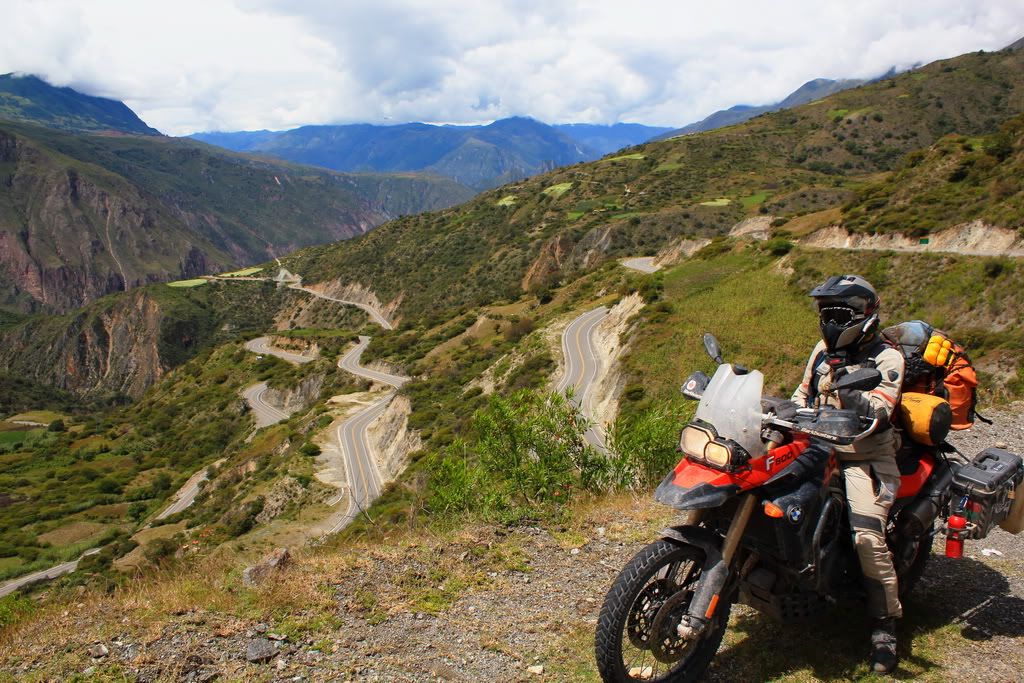 On the road again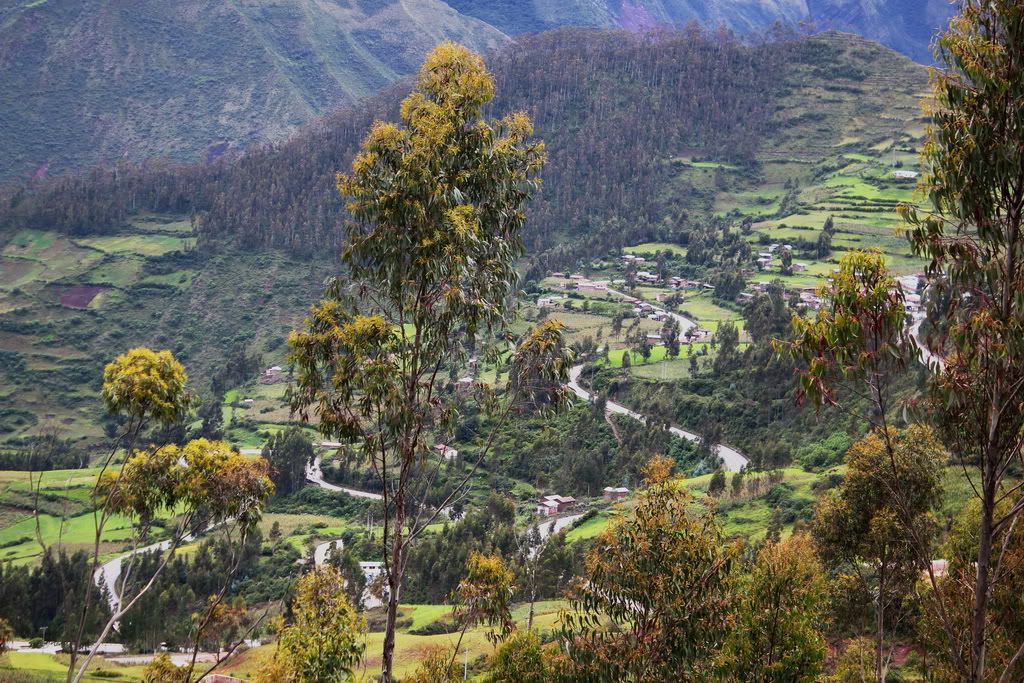 The highlands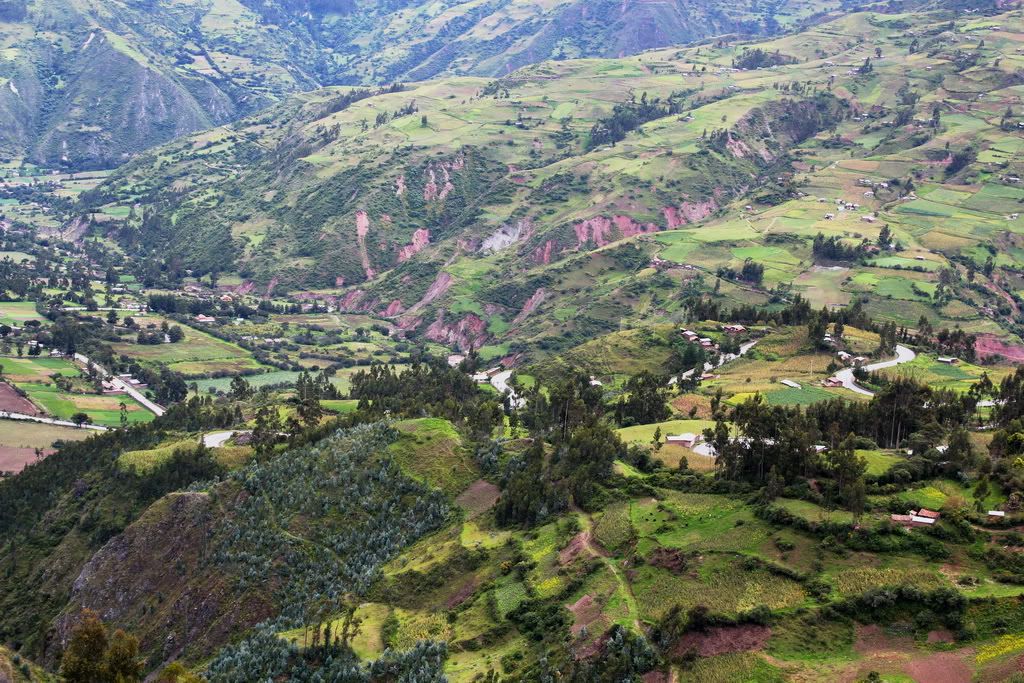 More scenery
We reached a plateau of sorts and the road flattened out. We were able to actually stay in 6th for long stretches (not possible before in the twisties) and started to make some good progress. We had just stopped to put on our rain gear when we noticed a line of traffic ahead. At first we thought it was road construction and then once we got close enough to see, we discovered there had been a landslide. Great.
No sooner had we parked, there was another landslide further up the road. There was a lot of material in the way in the first landslide in front of us and the mud was very unstable. Alberto, cause he always has to try, tried to take my bike over but it was always going to be a losing battle.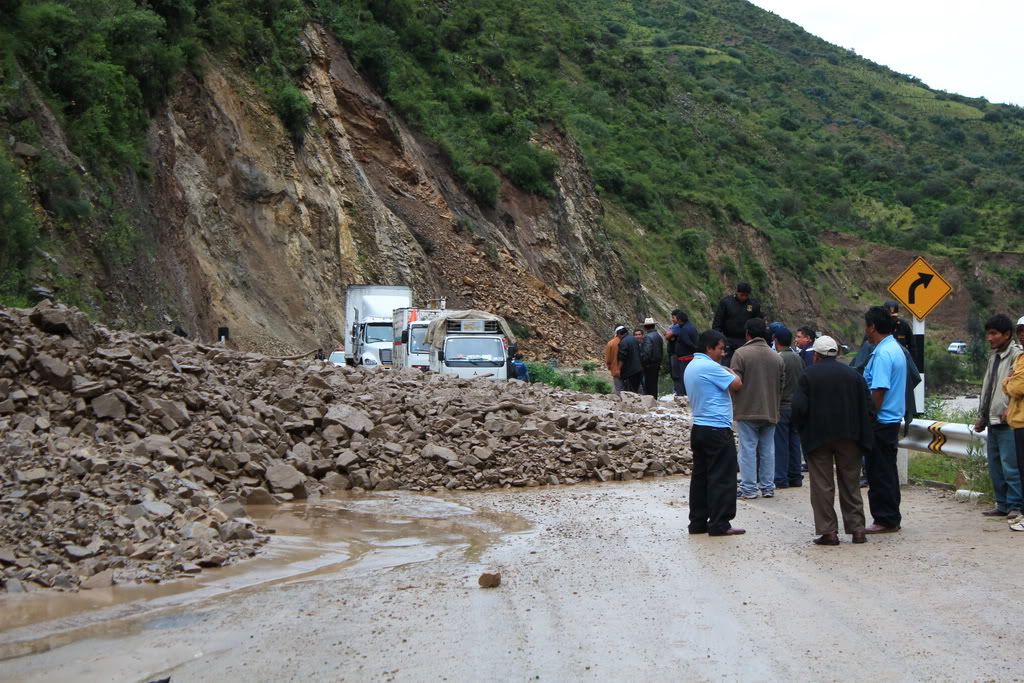 The situation; note the second one in the back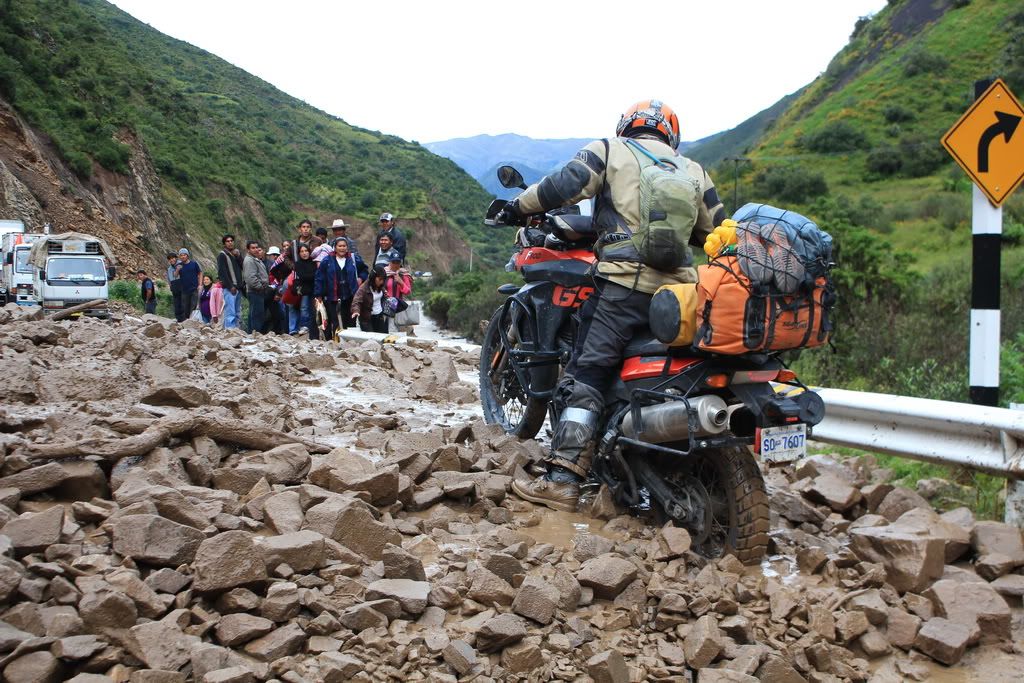 Alberto needs to discover his limits in real time
Needs help to even get out
This guy on his tiny bike BARELY made it past
After that failed attempt we waited. While we were waiting we turned our engineering brains on and decided that the slope we were parked under was potentially unsafe and decided it would be a good idea to move. After we had moved there was another large failure up the road (not where we were). Clearly this was an unstable area and not somewhere you want to hang out.
We talked to the police and they said it would be about an hour before the road was clear. It was already 4pm so we decided it wasn't worth waiting around to see if the road cleared on time. We retreated and went in search of a place to camp. There wasn't many options since the road ran along side a river but then Alberto remembered a fancy hotel he'd seen only 10km back. So we went there and asked the guy if we could camp on the property. We thought we'd have to do some convincing and explain that the road was closed but he immediately said that it was no problem if we camped.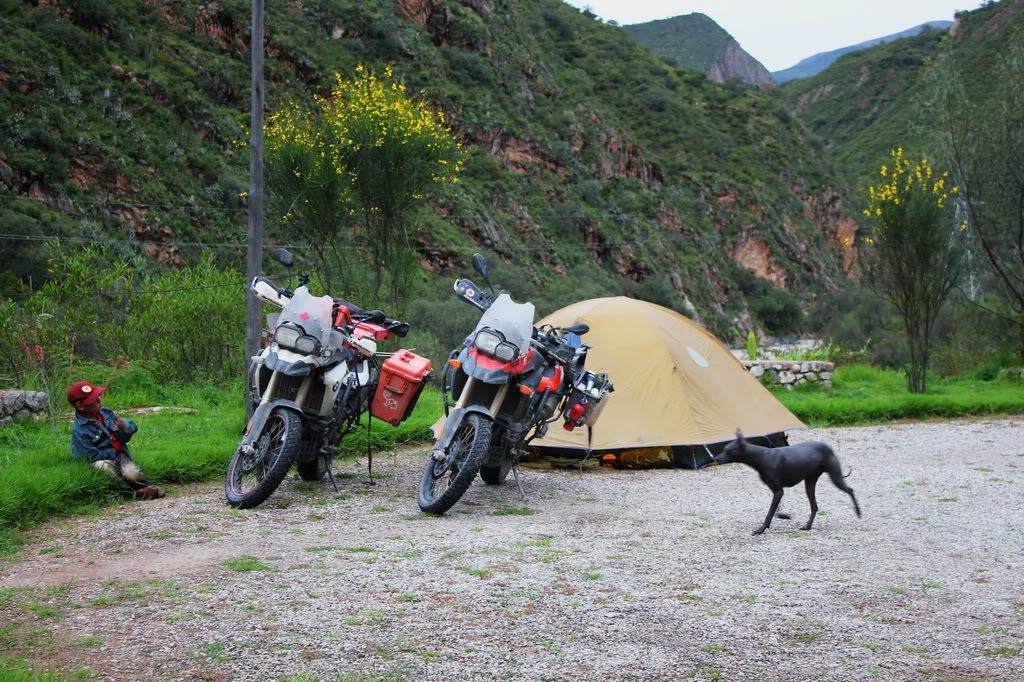 Cutting our losses and camping
While we lay in the tent relaxing we could hear the road opened shortly after 5pm. Even if we had waited it out I doubt we would have found a better camping spot than this further down the road.
We went exploring the grounds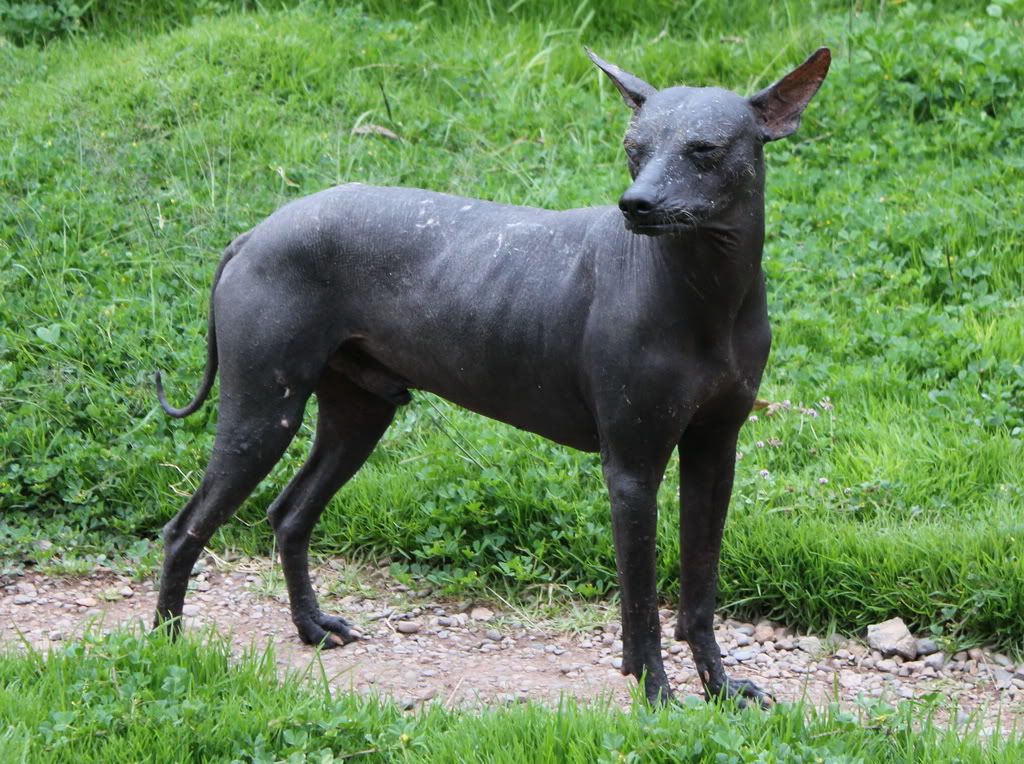 A peruvian dog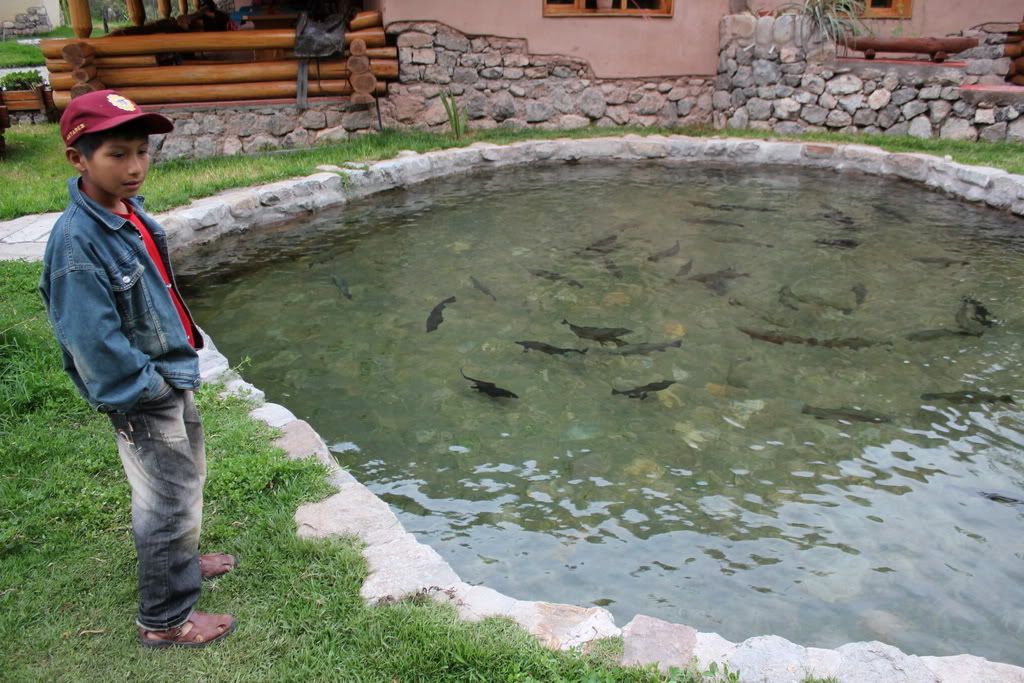 William, our tour guide, and the fish pond
The Hotel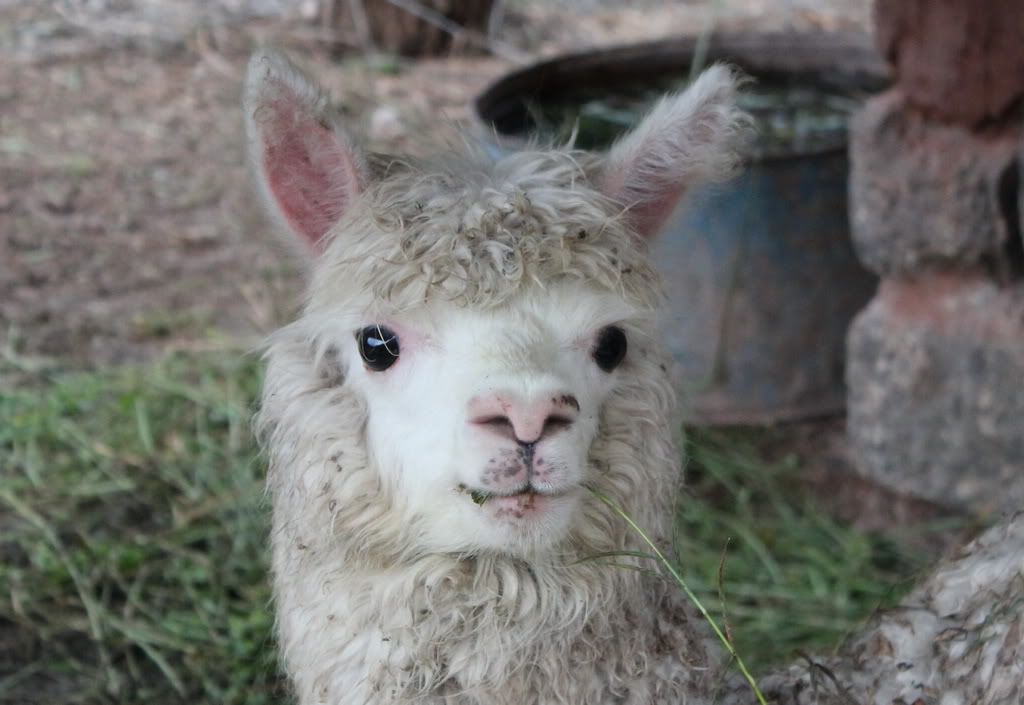 Awww, isn't he cute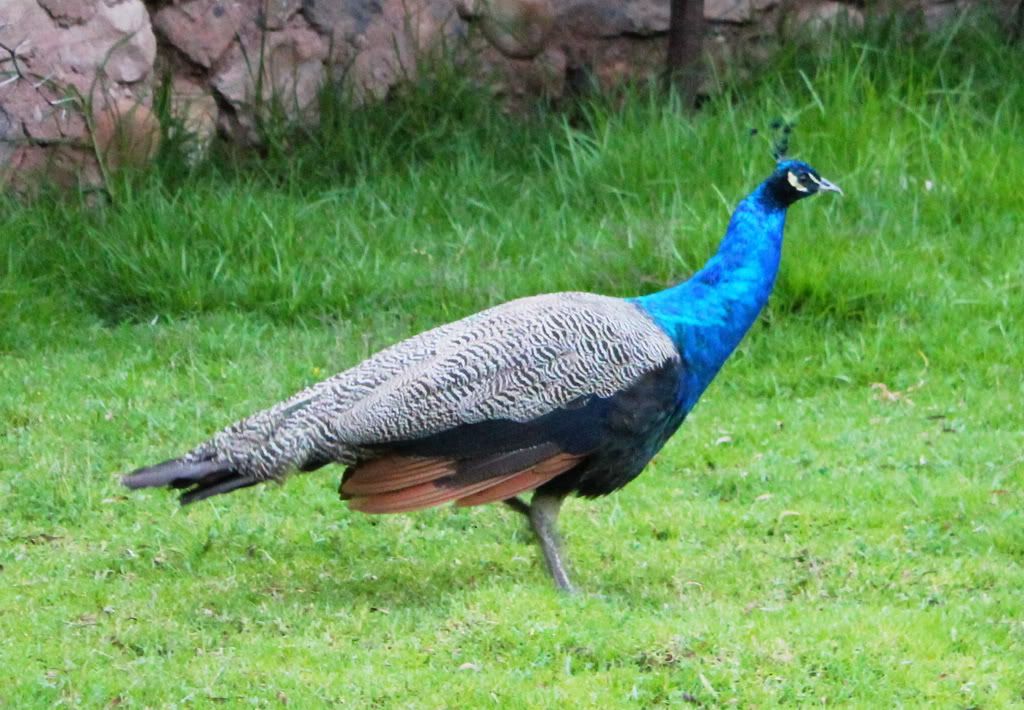 A peacock roaming the grounds
Analyzing the sticker wall