Neither of us slept well. Me because I was frozen and Alberto because he had a headache from the elevation. When the sun had finally been out for a bit I noticed that the tent was frosty. I went out to check the bike and it said -6.5 degrees Celsius! No wonder I was so cold last night. I bet it got down to -10 or worse. Our water was frozen so that meant no breakfast.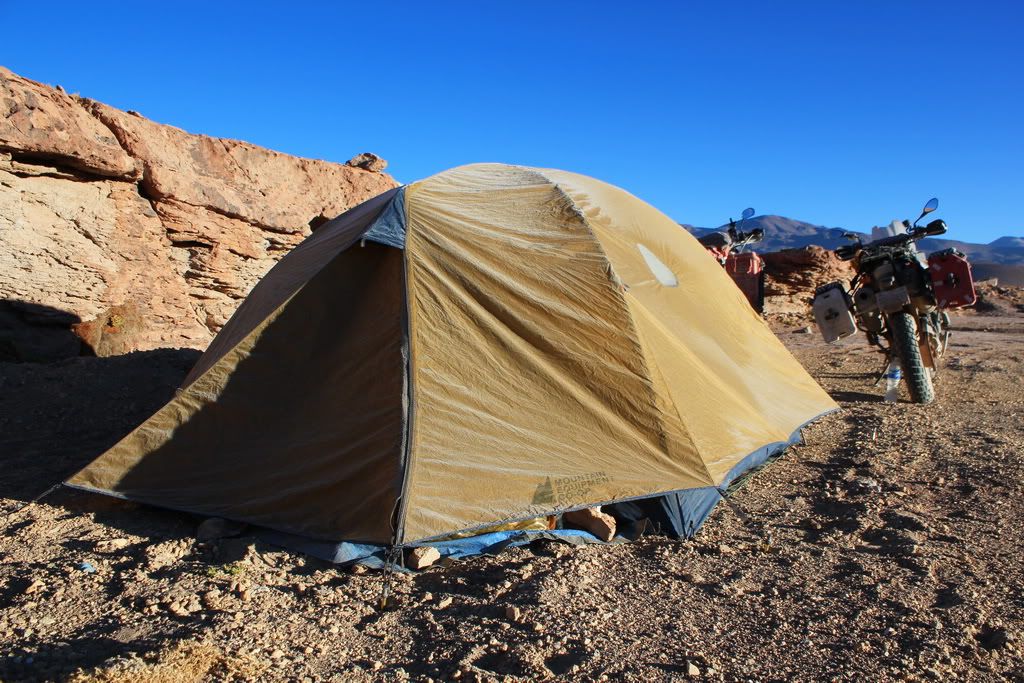 Our frozen tent
Yep it's cold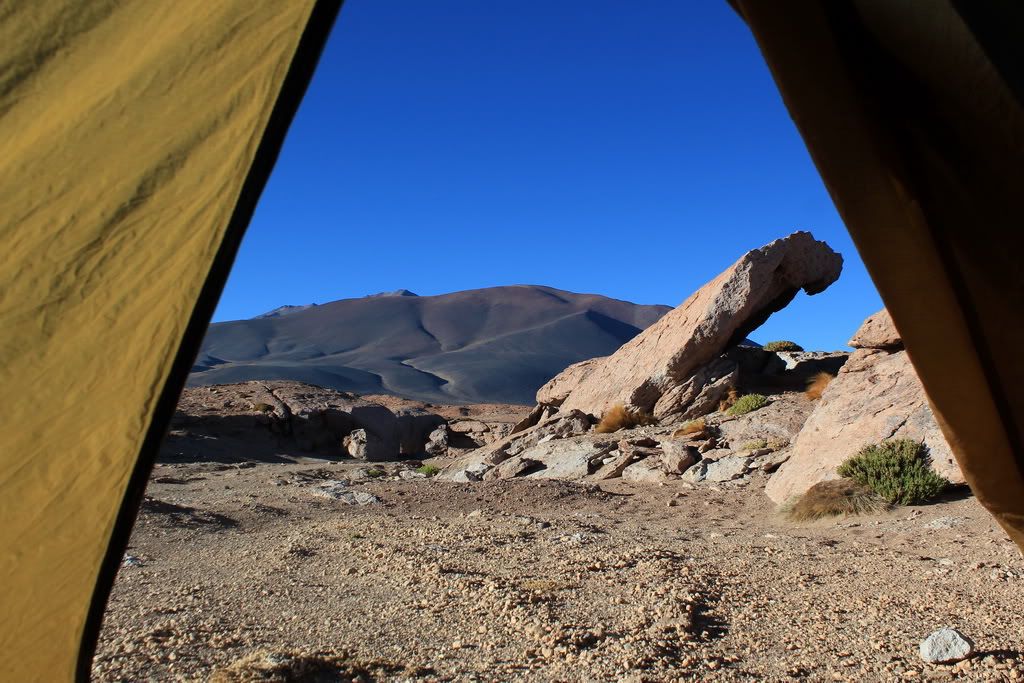 I don't want to go out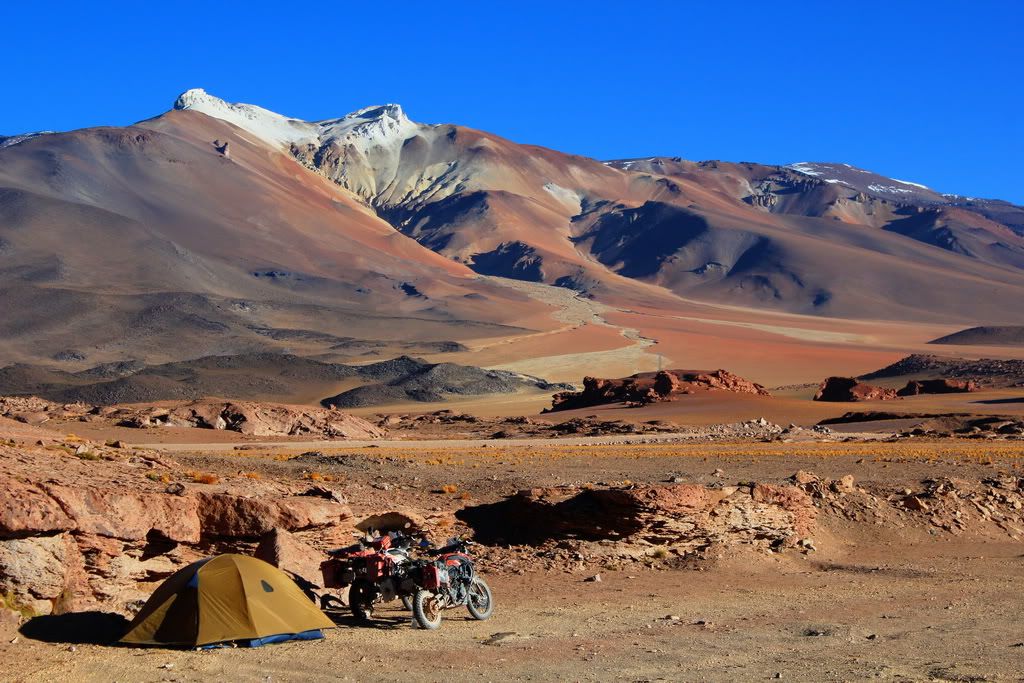 Despite the cold, it was an awesome spot
We had a really nice ride this morning until the road turned paved. We only saw 3 other people and they were on bicycles. The scenery was amazing and we were completely alone. I love riding in moments like that. There was still some washboard sections but not nearly as bad as yesterday. We saw volcanoes, mountains, salars... and the best part was that we had it all to ourselves.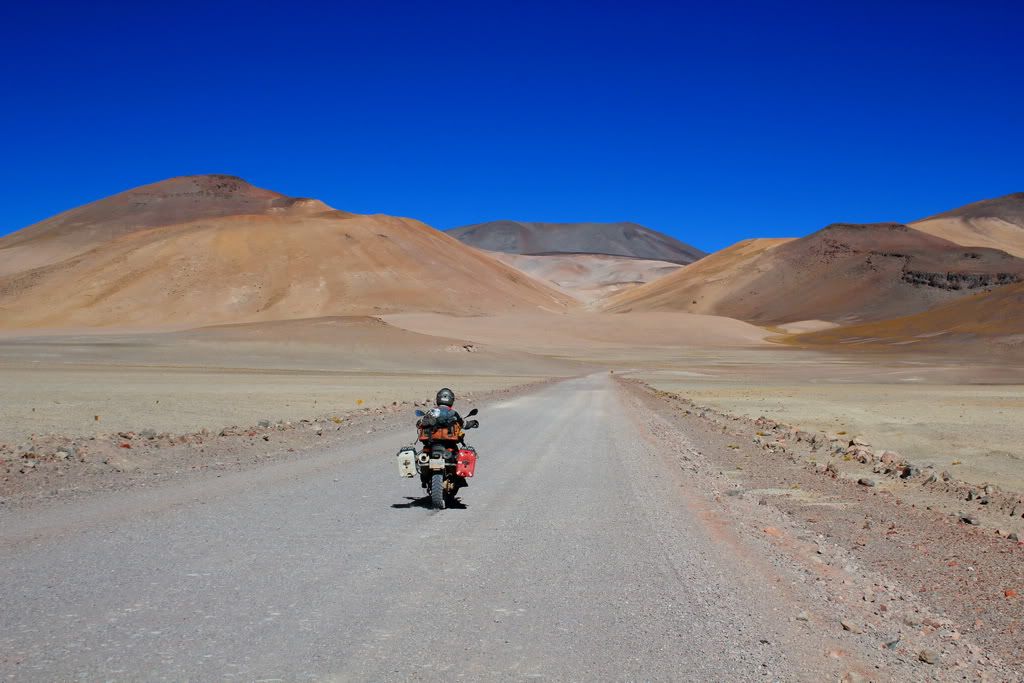 Let's hit the road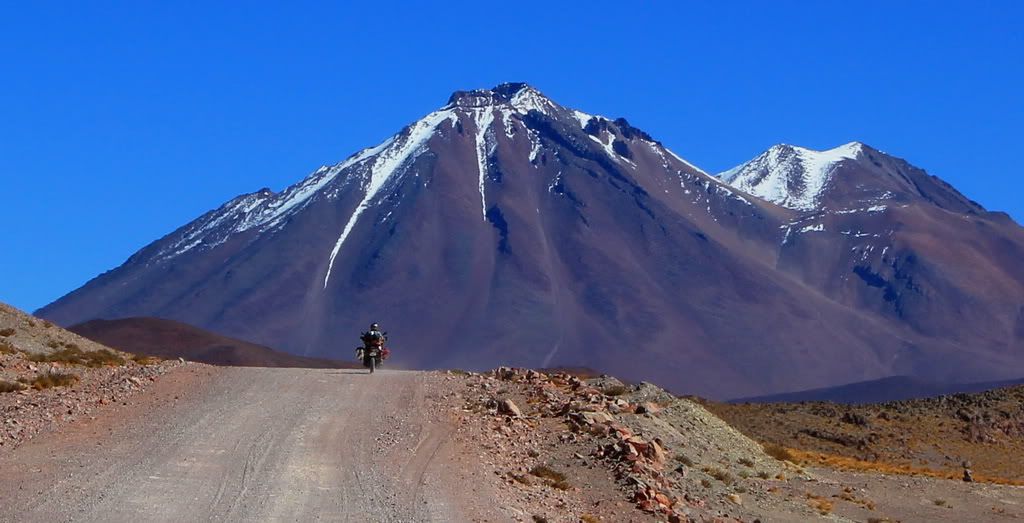 Not a cloud in the sky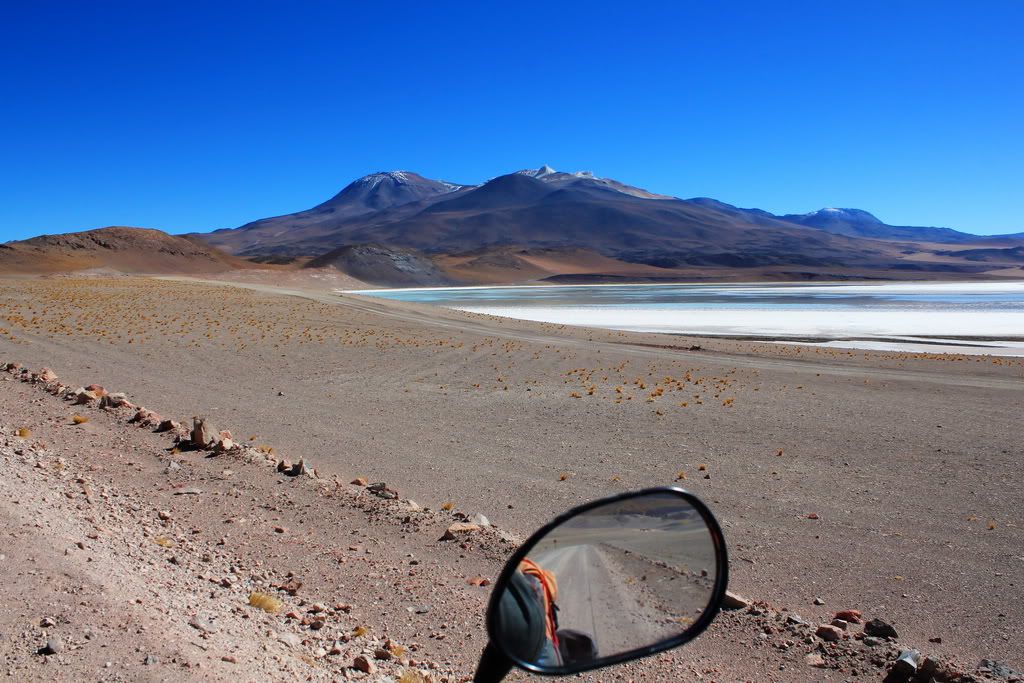 Another Salar
Getting a little dusty
When we reached the first town the road turned paved and things got boring. We rode to San Pedro de Atacama to do the passport/bike import thing. It was fairly speedy. Then we set out to find gas. I'm not sure what the big draw is for this town, since we saw lots of tourists. It's seems kind of crappy. Lots of narrow, dusty streets and very basic looking buildings. Finding gas wasn't very easy. We even took a break during the search to have some breakfast: empanadas and a loaded hot dog. We FINALLY found gas and I'm not sure how people find it without help. It's very hidden, in a maze of roads and houses. We met a fellow Canadian on a KLR at the gas station.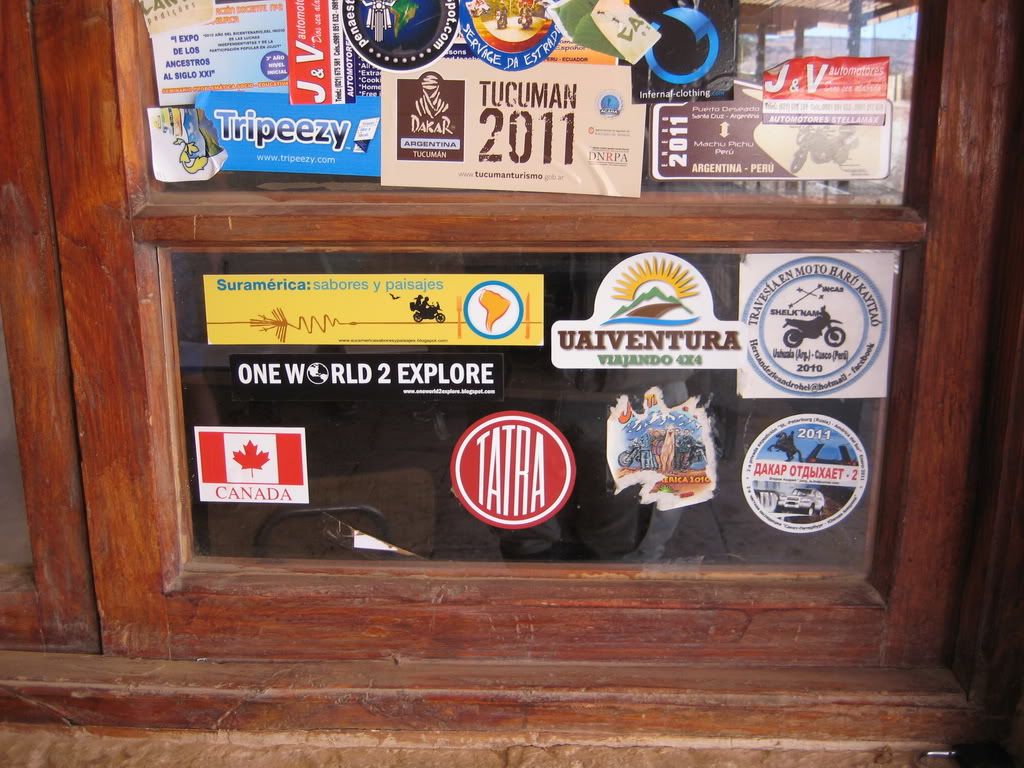 Sticker search: One world 2 explore D&A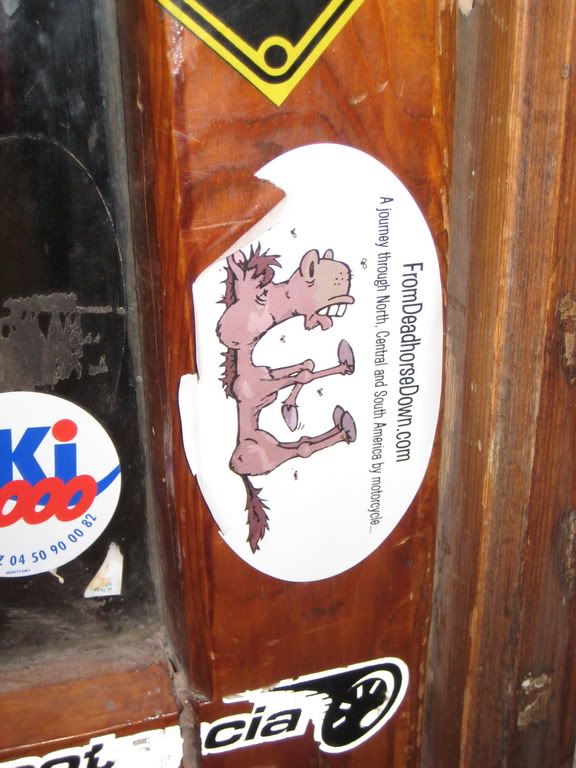 Sticker search: DirtyBones
Stopping for breakfast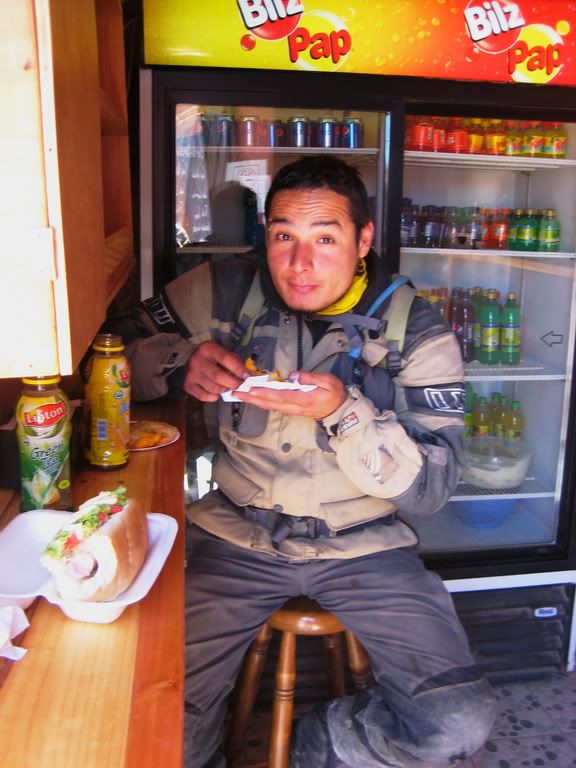 Breakfast at lunch time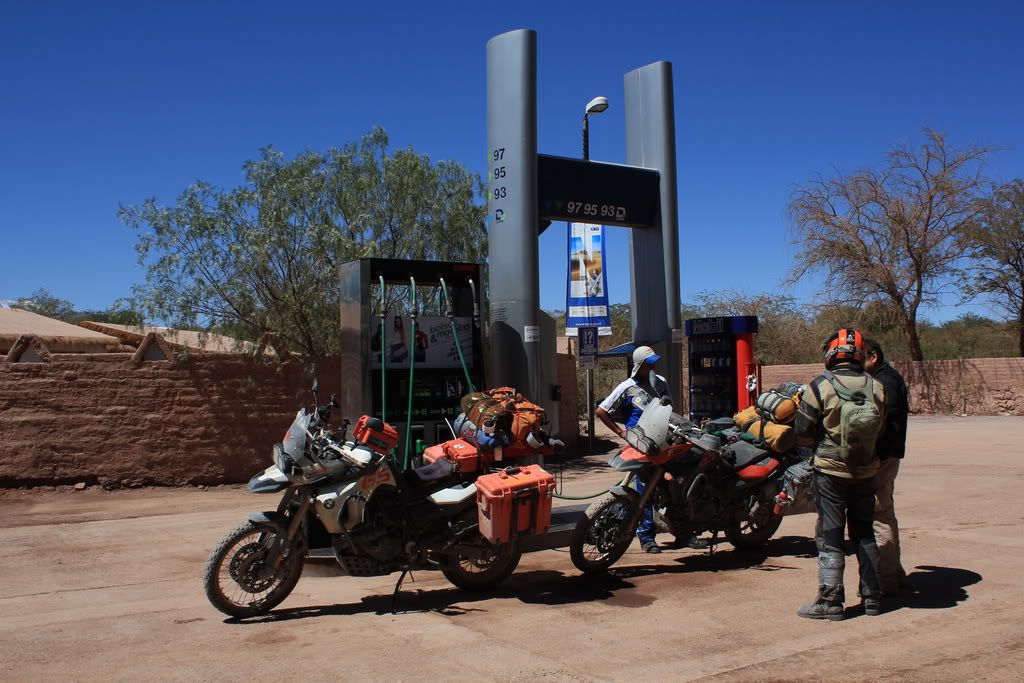 Getting some gas
Happy to be leaving the craziness of San Pedro we find the highway to Calama. There was some cool salt mountain ranges just after leaving the town. After that nothing of interest happened. We got to Calama and filled up with gas again since we knew that once we got on Ruta 5 there would not be gas for a long time. Once again we were reminded of the unfriendliness of Northern Chile. I like the Atacama, it's very unique but the unfriendly people leave a very sour taste in my mouth.
I tried to buy some water and snacks in the gas station. I went to the counter where it says "we take credit cards". I try and pay with a master card. The girl says something but all I catch is visa (I'm wearing my helmet). So I point at the sign where the master card symbol is and say "no, master card". She says something else blah blah visa. So I go tell Alberto I was unsuccessful. He comes in and tries to pay with visa. No. WTF? Only cash? Why do you have a sign accepting all major credit cards. We refused to pay her cash since we only have a tiny bit and want to avoid getting more out of the bank for our brief time in Chile.
We left Calama and I am bitter about the unfriendly people. Chuquicamata is really close. As you are driving on the highway there is an active dump right beside the road. Yikes. The waste dumps don't really stand out like I'm used to, they pretty much blend in. It is obvious that mining rules though. The road then takes a straight line to the coast. Literally straight. We drove 35km without a single bend. Lame.
Back onto Ruta 5 and familiar ground. We were trying to figure out a plan for the evening, when we realized that we'd be near Pozo Alomonte around quitting time. That's where we camped our first night in Chile so we decided to just go back to the same place.
I went too far and went into the sand pit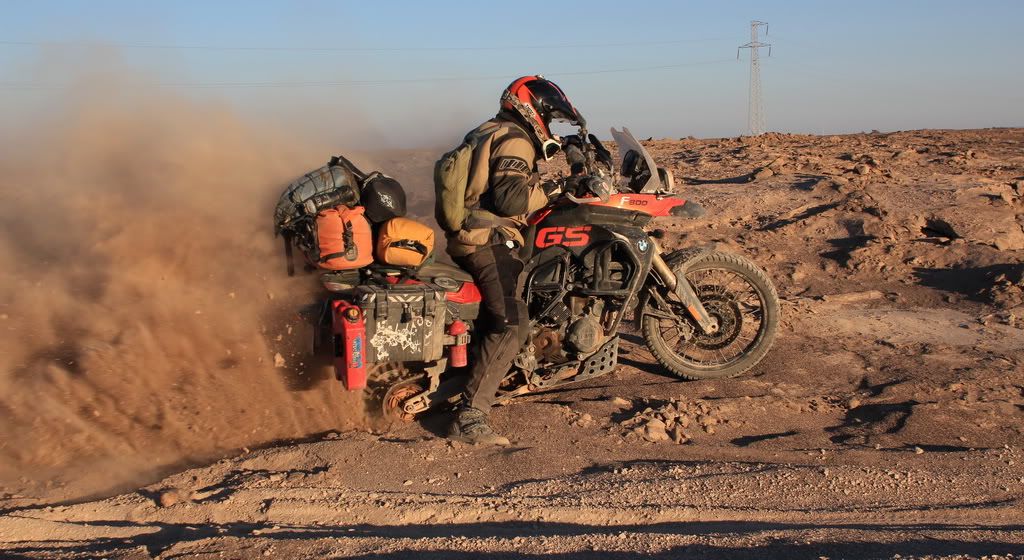 Getting me unstuck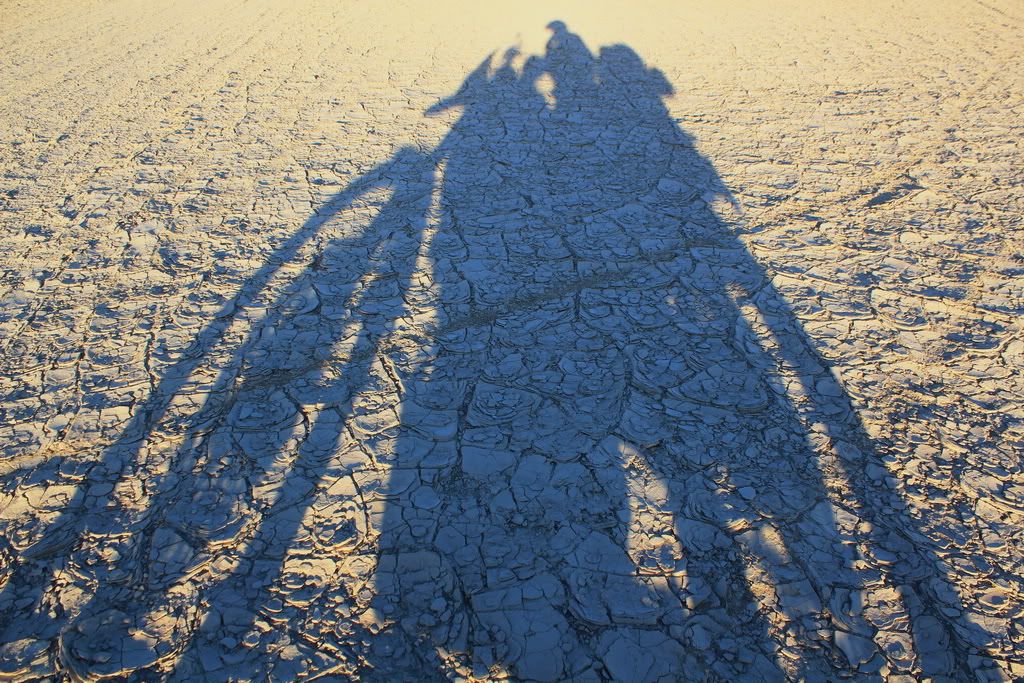 Shadow
Having dinner hiding from the wind and dust
Familiar camping