We were chilling in Mancora and we needed to ship our bikes out of Lima. Mancora to Lima is two decent days of riding. When the time had finally come we set out for Huanchaco, our half way point and refuge. We got there with almost no problems. Alberto got a flat tire when we were still 1.5 hrs from his parent's house. It was getting late and if we stopped to fully fix it it probably would have been dark by the time we got to our destination. So being crafty, or lazy depending on your point of view, we decided to just keep filling it with air (since it was a slow leak) and hope for the best. This worked out and we made it to his parents house before dark. We only had to stop three times for a quick air boost. This was a Friday night. Knowing that we weren't going to be able to do anything productive in Lima on the weekend we decided to stay a second night at his parents house and sort out the bikes.
We spent Saturday organizing the items that would be flying home with us, and what we wanted to stay with the bikes. Oh and Alberto needed to fix his flat tire.
More than once over the past several weeks memories of corrupt police north of Lima had haunted my thoughts. I was absolutely dreading having to run that gauntlet again. I didn't think I would have the strength to deal with all the craziness again. So with great dread we set out for Lima on Sunday morning. To my surprise we didn't get pulled over by a single police officer. Actually for that matter we saw very few police today. I think the fact that it was a Sunday and a holiday (Mother's Day) worked to our advantage greatly. I was relatively happy to be in Peru. The one exciting thing that happened was that Alberto's exhaust fell off. Well the silencer part. It was amusing driving through Lima with his insanely loud bike (we just stuffed the silencer in one of our bags).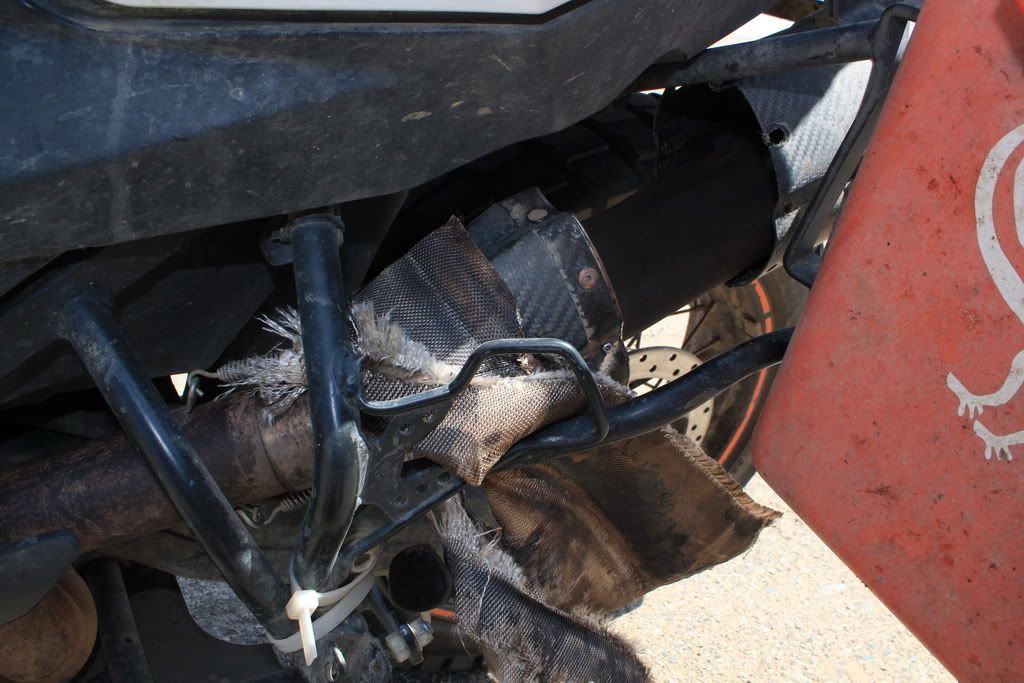 New exhaust configuration
On Monday we started with the shipping formalities. We brought the bikes over to the Lima BMW dealer. With the whole engine debacle back in February we had developed a close relationship with the personnel at the dealer. We asked them to keep some crates aside for us and they did, so we went there to pack up the bikes. They also kindly washed our bikes down, removing all those foreign contaminants. While we were hanging around waiting for things to get done we started contacting our shipping agent to get the ball rolling. By the end of the day we more or less had the bikes packed up in the crates. Now the tricky part. Based on my experience in receiving personal mail in Peru I was somewhat fearful of the gongshow that might await us but it is what must be done.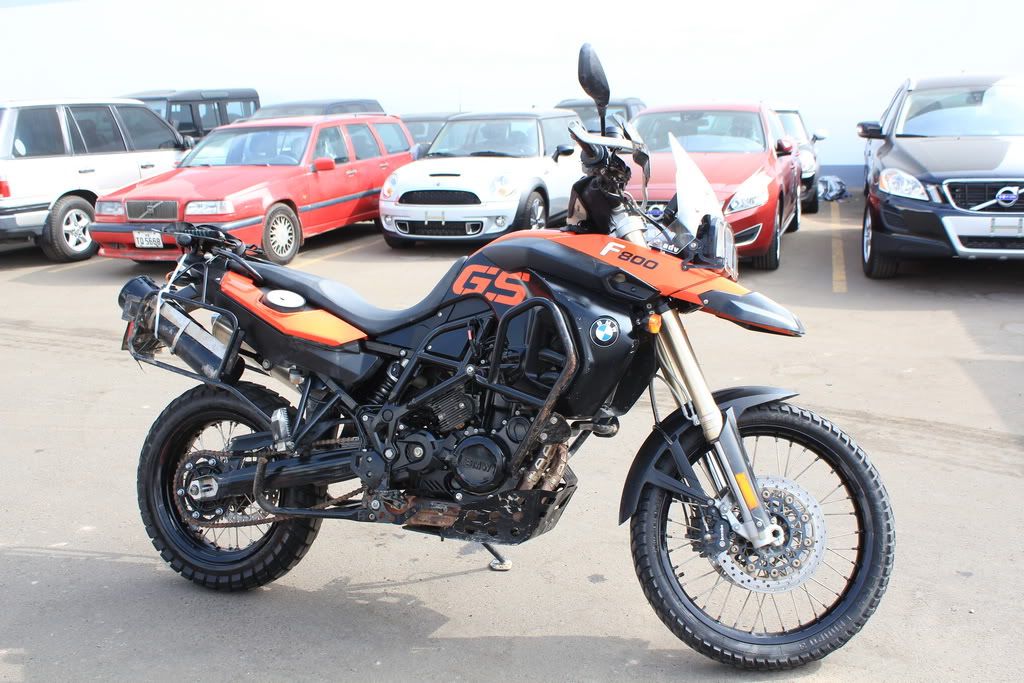 What a clean looking bike
After a rocky start things went pretty smoothly. We handed over all the paper work to the shipping agent so he could take things from there, and then turned our focus to crating the bikes. This was a relatively simple task and we had the bikes ready for pick up Wednesday morning. We had to arrange for a forklift and the agent sent a truck. Soon we were saying goodbye to the bikes as they drove down the street in the back of a Chinese made cargo truck.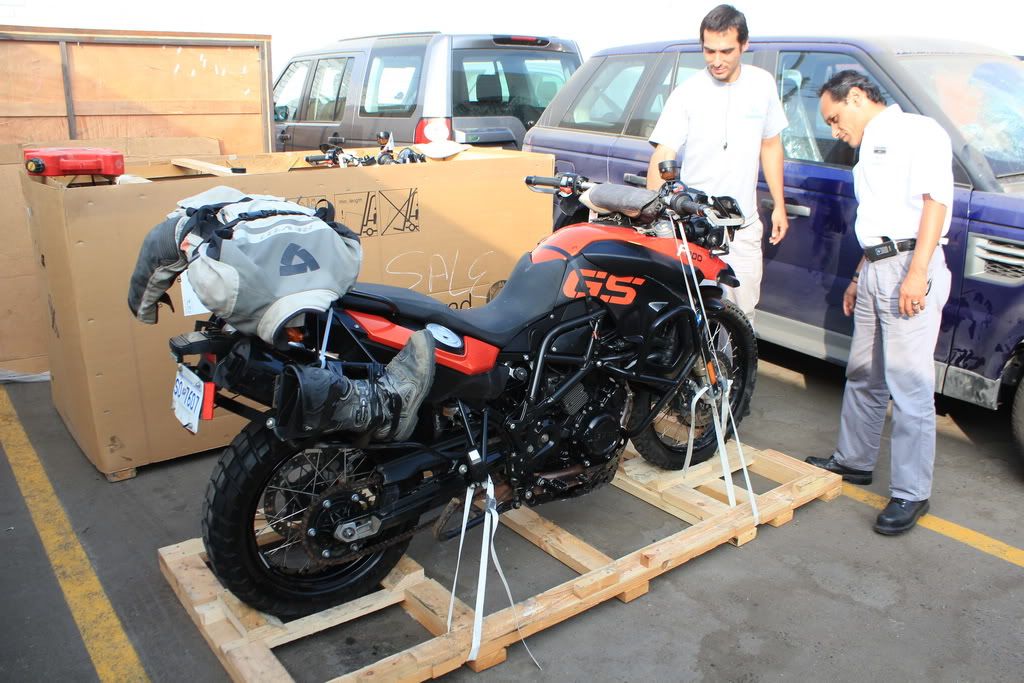 Crating the bikes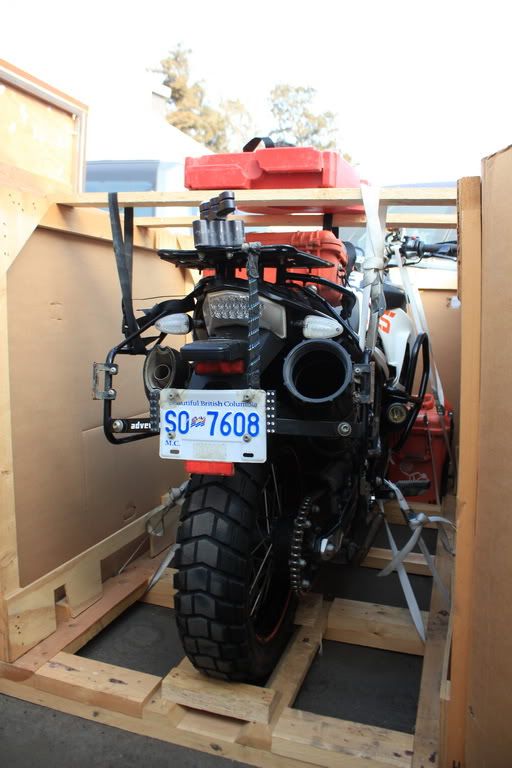 Almost there, just need a roof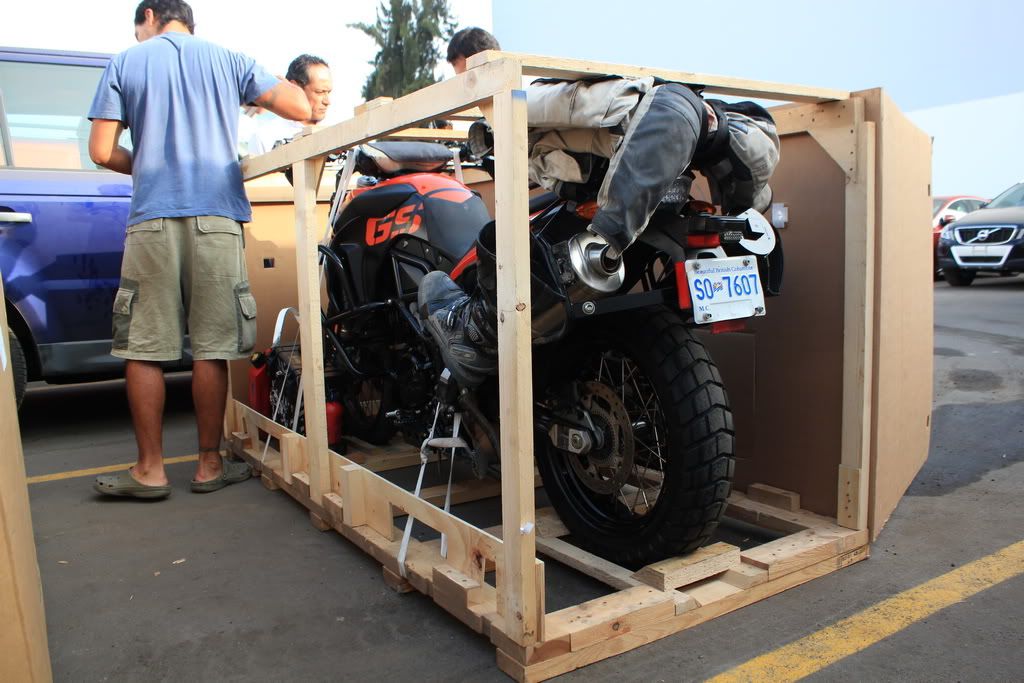 Make sure everything fits inside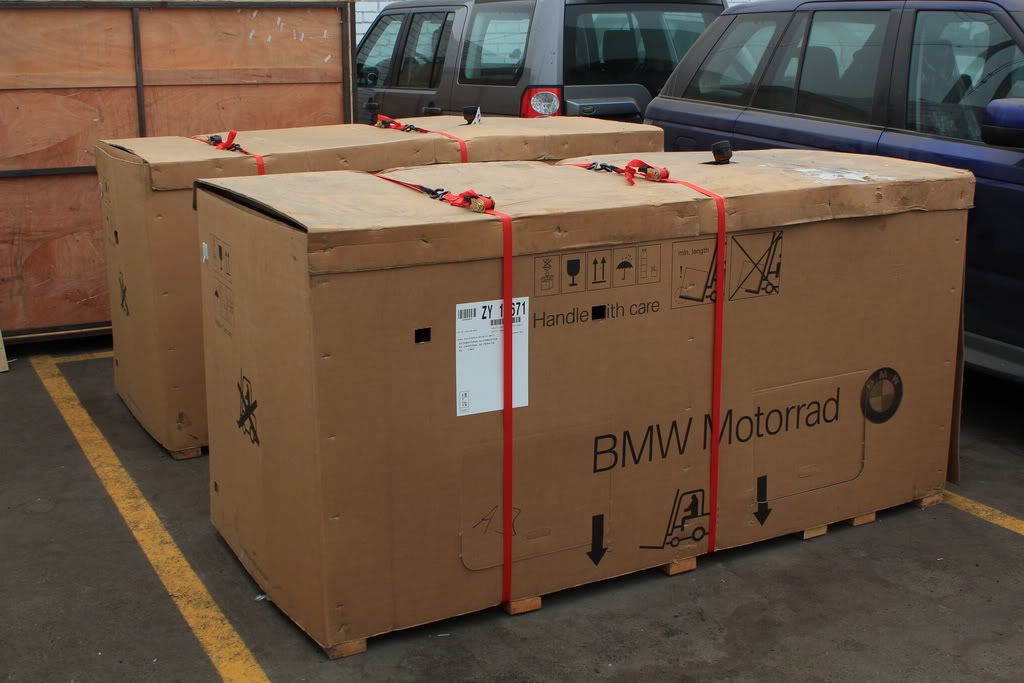 Ready to be picked up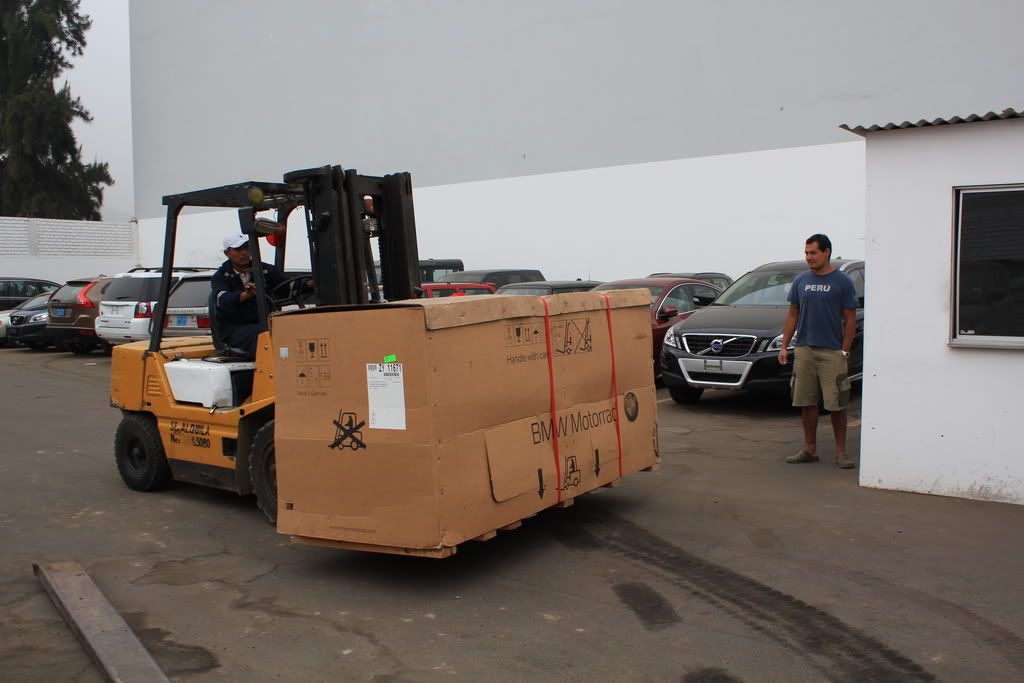 Alberto keeping a watchful eye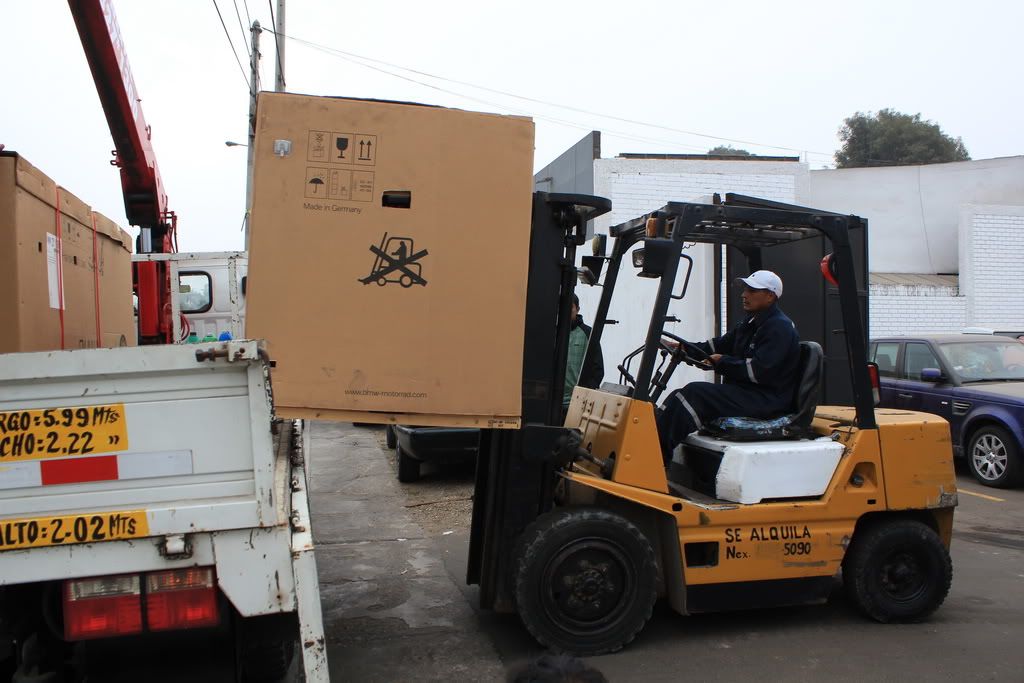 Onto the truck
The Lima BMW dealer was extremely helpful during the whole process. We used them as our base of operations and we thank them very much for their help.
THANK YOU
We caught a bus back to Trujillo that evening because Alberto's friend was getting married. The bikes shipped out successfully on the Sunday. They are travelling via New York to Vancouver. Hopefully we will see them in 28 days. Total cost to us was 2,350 USD for both bikes.
Alberto sad to see his bike leaving him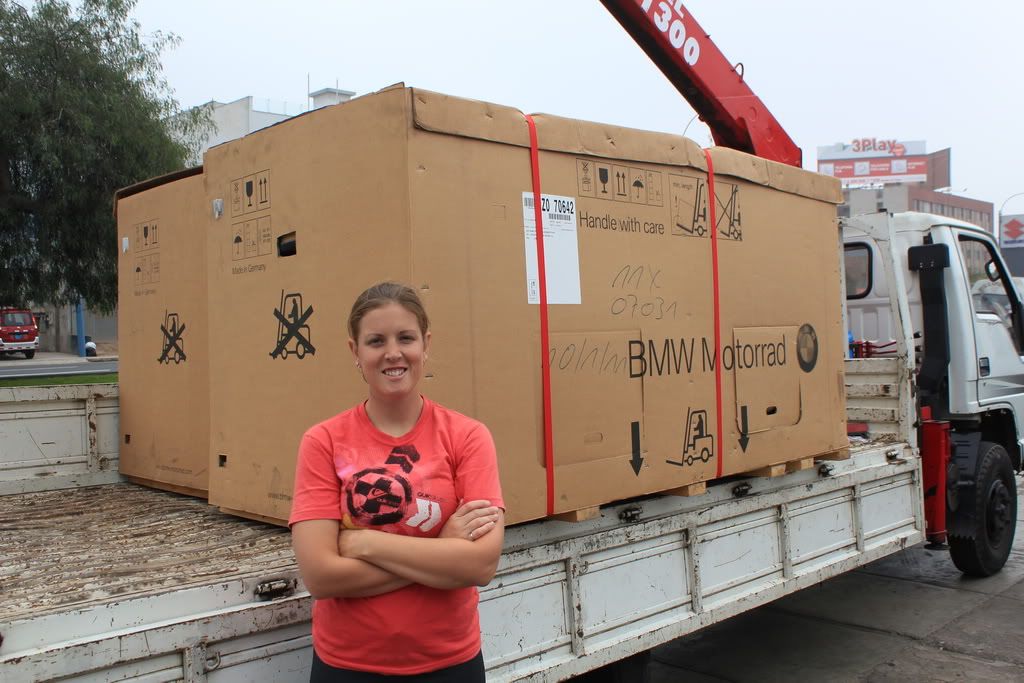 Happy to see mine go. We both need a break from each other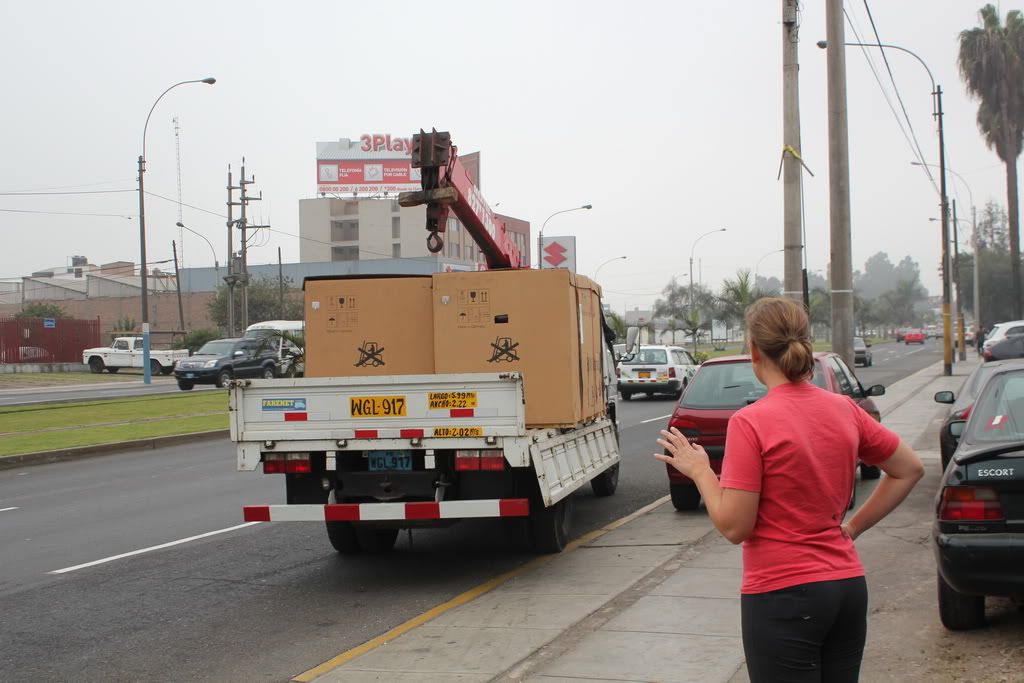 See you in Canada Girls