We are officially starting the trip again with the epic breakdown thankfully resigned to a mere memory in the trip log. Yay! But it is not without resignation. I'll be happy once my BMW is safely returned to Canada and have no plans to remove it from the comfort of Canada and the US anytime soon.
A bit of a reflection on our concluded situation. Its been 37 days with broken bikes and the bottom line is that neither of us is looking for charity, we just want answers. Instead we've been strung along on this crazy journey and still no one is the wiser. I'm happy to have a running bike again but I feel a little bit like the person who has been given fish instead of being taught how to fish.
Could the engine damage have been done by one crazy bad tank of gas? Maybe. The correspondent from Germany still doesn't recognize the fuel mapping change that is done to F800GSs in Canada and the US... very curious. It's still unclear if we are being covered by Factory or Goodwill Warranty. Canada says one thing, Lima says another. I've given up trying to figure it all out.
So without sounding like an Oscar acceptance speech I would like to do a few thank yous. First, thank you to the Motorcycle community (in particular advrider.com) for their input and support throughout this entire experience. It seems as though we are somewhat famous, though sadly for the wrong reasons haha. I should thank the BMW dealer in Lima, in spite of their lack of experience, having an authorized BMW dealer in any shape or form has been better than having none. The real people who stepped up were Island BMW and I thank them for taking action. Lastly I'd like to thank everyone that reads our blog and/or ride report; thank you for supporting us. We are happy to return everyone to regularly scheduled programming.
When we first took delivery of our bikes from Island BMW.
Even though the parts came in late BMW Lima got an extra mechanic who worked like crazy to get our bikes running as soon as possible. It was a bit of a gong show getting the bikes on the road: misplaced parts at the dealer, the engines were overheating on the first test run and various other things... But today, well after the dealer had officially closed, we drove off with our bikes. If felt good to be riding again, and even 30 degree Lima heat and traffic didn't spoil it.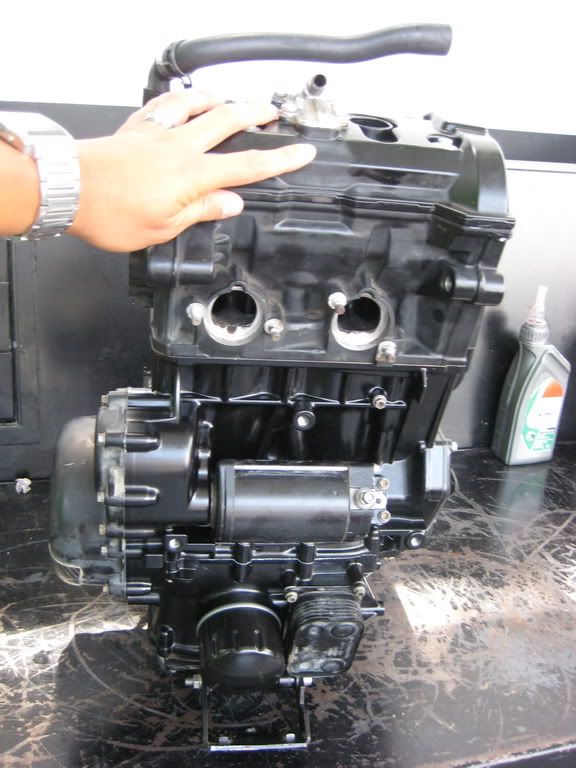 Alberto's rebuilt engine waiting to go in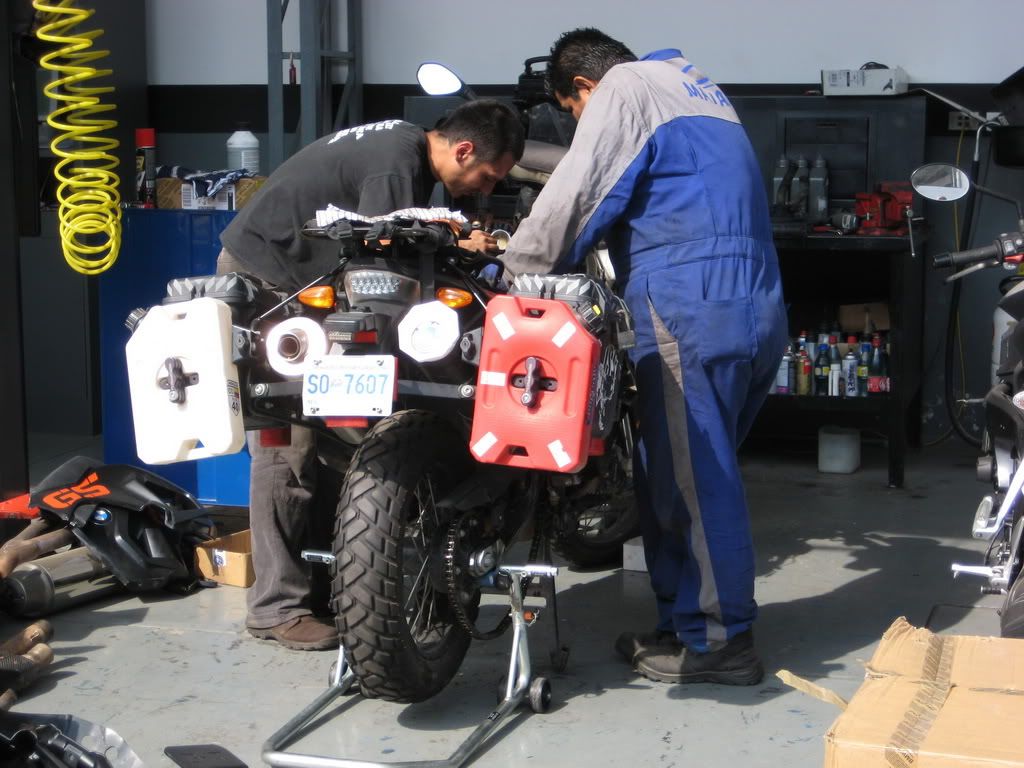 My bike being double teamed
Fellow adventure riding stopping in for a service
There are still unanswered questions but I just want to ride now and will be crossing my fingers that nothing else crazy happens before I get back to Canada. One thing for sure is that the bikes will be getting the best gas available for the rest of the trip. Also I think we've opened not only our eyes but a lot of other riders eyes with this whole experience. Here's a link to the extensive discussion that's gone on regarding our bike breakdowns over on ADV. It's worth a look, I know I've learned quite a bit from what people have been posting in.
If everything goes according to plan we will be hitting the road tomorrow first thing in the morning.
A single line email from my dad sums it up quite well "
get your motors running, head out on the highway - dad
"